Alexander Munro – 1841-1916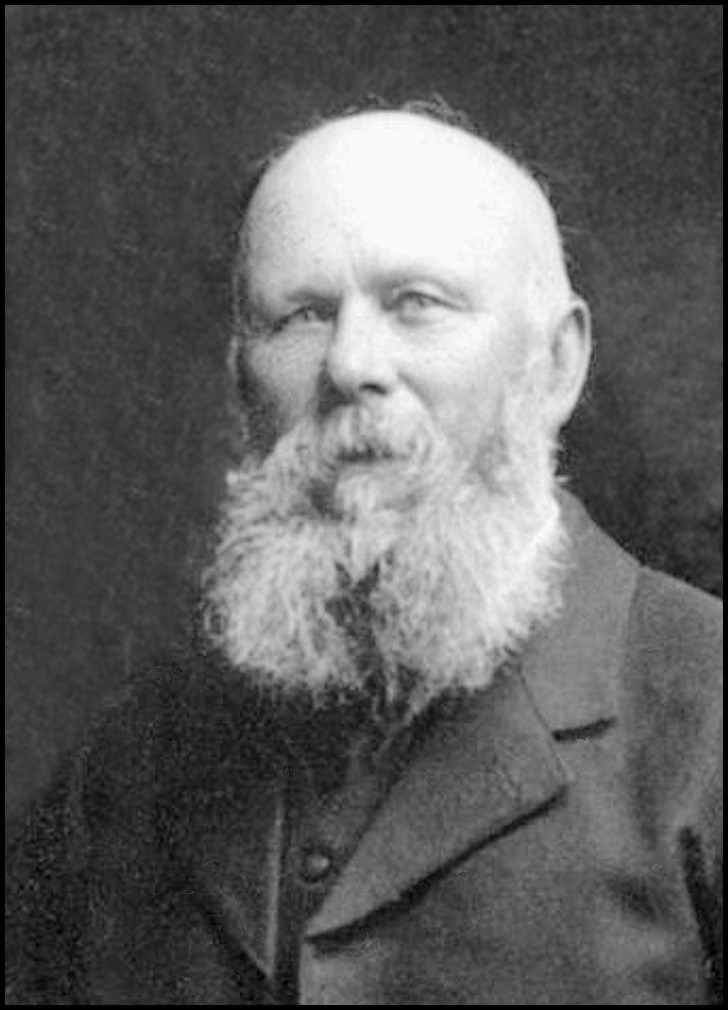 Ground Officer to Lieutenant-General Frederick William Traill-Burroughs, Rousay
Compiled by W. Nicol Manson and forwarded to Rousay Remembered by
Janis Munro, Stromness, Alexander's great grand-daughter.
Alexander Munro was born in Lyth, in the Parish of Bower, Caithness on the 19th of April 1841, to Angus, (born Kildonan, Sutherland, 1809) and Janet Munro, nee McDonald, (born Reay, Sutherland, 1813). Angus and Janet had married in Bower in 1834. The 1851 Scotland Census has Angus and Janet and their family of five daughters at Blackpark in the District of Lyth and Alterwall in the parish of Bower, Angus a tenant farmer of 6 acres. Alexander Munro, aged 9 years old, a cowherd is at a neighbouring farm at Lyth, tenanted by Alexander Dunnet.
The census for 1861 shows Angus his wife and one daughter at Alterwall, Bower, and Angus's occupation given as shoemaker. Alexander Munro, when aged 19, was a ploughman at Lynegar Farm, Watten, where Alexander Murrison was the Farm Manager. It was from here that Alexander Munro was to begin a long-lasting association with the Murrison family, George Murrison, the Lynegar Farm Manager's brother in particular.
Alexander Murrison's son, Robert became gamekeeper to Lieut.-General Burroughs on his estate on Rousay, showing up on the 1881 census with his wife and son at Trumland. Alexander Murrison's brother George, was Farm Manager at nearby Blackpark Farm, Alterwall, Bower and was destined to become Factor to Lieut.-General Burroughs on his Rousay estate in the mid 1870's, taking Alexander Munro with him. George and Alexander Murrison were the sons of Arthur Murrison and Margaret Wallace who were both born and married in Cruden, Aberdeenshire; they had a family of 12 children. In 1852, son George married Margaret Miller from Papa Westray, Orkney, with whom he had a daughter, Ann, born in 1854. In the 1861 census for Westray, Margaret Murrison aged 43 has reverted back to using her maiden surname of Miller and is a Dairymaid working at Brough, Westray. Her daughter Ann was at school, 8 years old. The 1871 Scotland census shows 18 year old Ann Murrison at Old Machar, Aberdeenshire. The 1861 census shows George Murrison, a visitor at the farm of Quoy Hill, Kirkwall and St. Ola, belonging to Forbes Henderson, a farmer born at Tyrie, Aberdeenshire. That same year George Murrison's brother, John Murrison aged 50, is a farmer at Upper Berry Hill St. Ola, living there with his wife and two sons.
In 1861, now employed as a Farm Overseer to Sir John Sinclair of Dunbeath at Barrock Mains in Bower, George Murrison aged 40, met and married his second wife, Mary Johnston, aged 33 from Thurso, on the 6th of June at Barrock House. Mary was a domestic servant working at Barrock House, Bower.
The 1865 Valuation Roll has Angus Munro, one of 13 tenants on the Farm of Alterwall in the Parish of Bower, paying a rent of £3 5s to the Proprietor, Sir John Sinclair of Dunbeath. Alexander Steven, whose daughter Christina his son Alexander was to later marry in 1876, was a neighbouring tenant farmer at Alterwall Farm. By the 1871 census, Angus (62) and Janet Munro (53) are in the Hamlet of Alterwall, Bower with daughter Ann (27) and son Alexander (29). There are also three grandchildren in the household as well as Janet's sister Christina (52) a farm servant. Angus is a Farmer of 6 acres paying rent of £4 10s. Son Alexander's occupation is given as a labourer. In the parish of Bower 1881 census records and 1885 Valuation Rolls Angus (72) a Crofter of 5 acres and Janet (67) are both Gaelic speakers paying a rent of £4 10s. They are living at a farm in Alterwall with their granddaughter Christina (15) at school.
Angus passed away on the 29th of December 1886 aged 77 in Bower and Janet died on January 31st 1899 aged 90 in Watten, Caithness. They had raised five daughters and three sons and had worked most of their lives as Crofting Tenants to Sir John Sinclair, Baronet of Dunbeath and Barrock, then to his grandson who succeeded him, Sir John Rose George Sinclair and his Factor, Col. Alexander Learmonth. Sir John Rose George Sinclair was married to Marion D'Oyly a niece of Lady Eliza D'Oyly Traill-Burroughs of Trumland, Rousay. Children of Angus and Janet Munro were:- Christian, b.1835, George, b.1837, Hugh, b.1839, Alexander, b. 1841, Ann, b.1844, Johan, b.1846, Jennet, b. 1849, and Elizabeth, b.1851.
From the 1874 Valuation Rolls George Murrison, Ground Officer, was living at Roadside, Lyth, paying an annual rent of £2 10/- for the house and £20 for a grass park, working for Sir John Rose George Sinclair's Factor, Col. Alexander Learmonth, who was residing at Barrock House, Bower. Lieutenant-General Frederick Traill-Burroughs retiral from the army in 1873 coincided with the retiral of Robert Scarth as factor for the Rousay estate. He had married Eliza D'Oyly on the 4th of June 1870, Eliza staying at Westness House until he completed his army service. On the 1st of February 1852, his 21st birthday, Lieut.-Gen. Burroughs succeeded to the Rousay estates from his grand-uncle George Traill who died in 1847. Robert Scarth, an agricultural reformer, had overseen the second Quandale Clearances between 1855 and 1859 on behalf of George Traill of Westness and Woodwick. A strict disciplinarian from his army days the new laird was to continue the system of "clearance" instigated by Robert Scarth on behalf of George Traill. By 1875, George Murrison took on the roll of factor of the Rousay and Veira estate along with the farm of Skaill in Sandwick. By the time of the 1875 Valuation Roll George Murrison is living at the Mills of Rango on the farm of Skaill in the Parish of Sandwick, Orkney, paying an annual rent of £60 to the proprietors, representatives of William Watt of Breckness and Graham Watt of Kierfiold. The 1876 Valuation Roll for the Mills of Rango shows George Murrison renting for £60. Another Valuation Roll for the same year shows that he is also paying £16 rent for Veira Lodge, Frotoft, Rousay to Lieut.- Gen. Frederick William Traill-Burroughs. In 1877 George Murrison is still acting as Factor at the Farm of Skaill, renting Mills of Rango in Skaill, Sandwick, rent £60, from the proprietor Mrs Barbara Watt (Liferentrix) of Breckness and on the Rousay estate of Lieut.-Gen. Burroughs, renting the house and grounds of Veira Lodge for the sum of £16.
On 14th of July, 1876, Alexander Munro aged 35, a road contractor, married Christina Steven, aged 26, at Alterwall. Witnesses James Oliphant and John Geddes were both neighbours of Alexander and Christina who was the daughter of Alexander and Janet Steven (m.s. Calder). In the 1881 census Alexander, a general labourer, foreman, aged 39 and Christina aged 36 and daughters Malcolmina, aged 2 and Agnes, aged 9 months are living at Trumland Lodge. Living with them are Alexander's brother George, aged 44, an unemployed forester and John Geddes, aged 32, a blacksmith and wire fencer who was a near neighbour when at Alterwall Bower and had been best man at Alexander's wedding in Bower in 1876.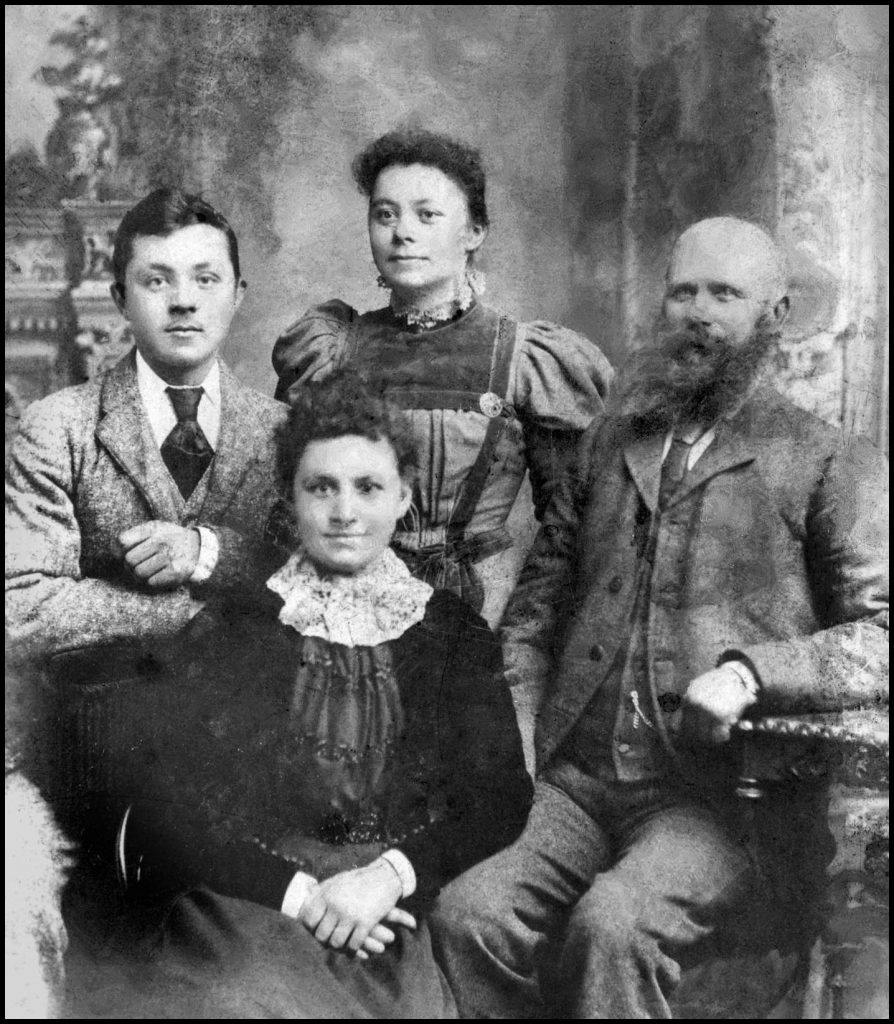 On the 9th of May 1878 the birth of Alexander and Christina Munro's first child Malcolmina Calder Munro was recorded by Thomas Reid, the Rousay Registrar. Alexander, a road contractor, and Christina are living at the Lodge of Trumland, Rousay. So sometime between 14th July 1876 and the 9th of May 1878, Alexander and Christina Munro arrived in Rousay. On June 21st 1880 Agnes Macdonald Munro was born at Trumland Lodge, Rousay, her father Alexander a road contractor. George Murrison Munro third child to Alexander and Christina Munro was born at Old School, Sourin, Rousay on June 18th 1882. Alexander James Munro was born at Cubbierow Cottage, Rousay on May 11th 1884. Father Alexander was still employed as a road contractor, and from the 1884 Valuation Roll he is paying £2 rent to Lieut-Gen. Burroughs for the farm of Cubbierow.
Alexander Munro with children Hugh, Malcomina, and Agnes
The 1884 Valuation Roll for Veira Lodge Frotoft shows that George Murrison, Esquire, Factor, is paying £16 rent for the house and grounds.
From the1885 Valuation Rolls, Alexander Munro is paying £6 6s 6d rent to Lieut-Gen. Burroughs for the Old Schoolhouse and Grounds.
Hugh Munro, fifth child of Alexander and Christina was born on the 25th of July 1886. David William Munro was born to Alexander and Christina Munro on the 17th of October 1887 at Old School, Rousay, Alexander now recorded as a merchant.
Lieut.-General Frederick Traill-Burroughs had advertised through Messrs. J. Watson Lyall & Co., Land Agents, No. 15 Pall Mall, London, S.W., the "Beautiful & Valuable Estate of Rousay and Veira in Orkney, extending to 12,000 acres with handsome mansion house, excellent shooting lodge, fishing's, etc, etc, which will be offered for sale by public auction, at the Mart, Tokenhouse Yard, Bank of England, on Thursday, the 7th of June1889, (unless previously sold by private bargain)". He did not find any buyers and remained on Rousay, becoming a County Councillor in 1889 and appointed Vice-Lieutenant of Orkney and Shetland in 1900. He received a Knighthood in 1904.
On June the 13th 1890 after 15 years as factor on the estates of Rousay and Veira, George Murrison had left Orkney to return to Kintore in Aberdeenshire. On his departure he was presented with a drawing room clock with the inscription:- "Presented by Lieutenant-General F. Traill Burroughs, C.B., of Rousay and Veira, Orkney, to Mr George Murrison J.P., as remembrance of his able, active, zealous, and faithful services as factor of his estate from 1875 to 1890, and as a token of his sincere regret at parting with him on account of the action of the Crofter Commission having stopped all estate improvements, and having rendered useless the further services of a resident factor". He died on the 27th of April 1900 at Braeside of Rothmaise, Warthill, Parish of Rayne, Aberdeenshire aged 83 years old. His wife Mary died on the 26th of October, 1906 at Rayne, aged 79 years.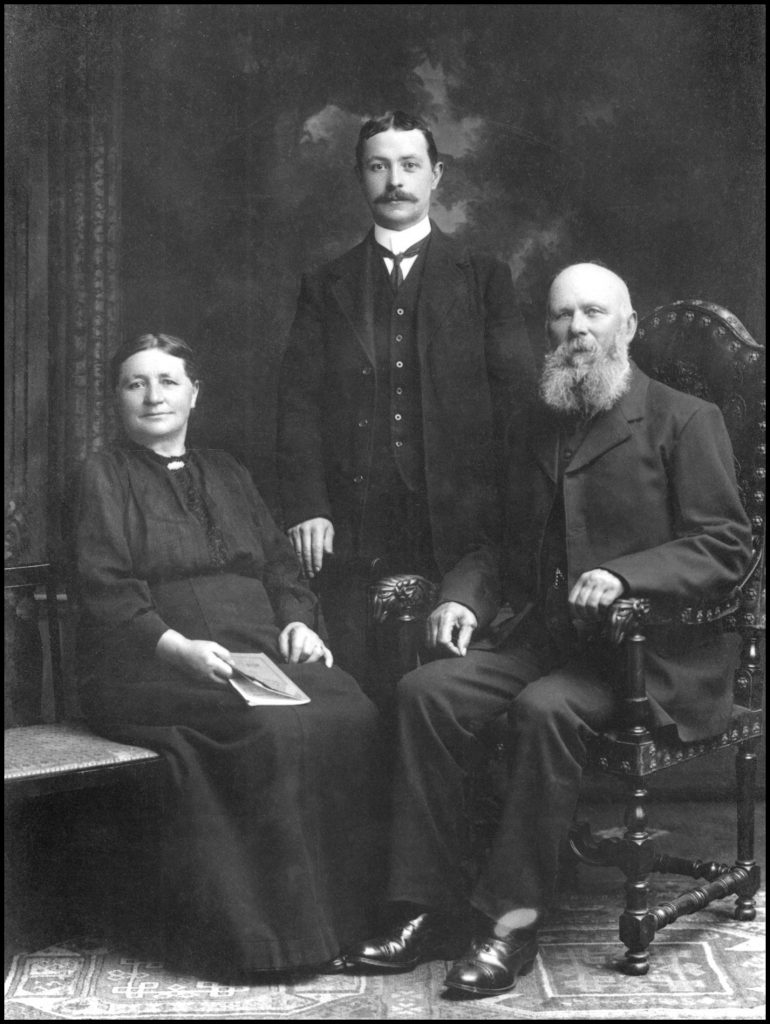 On the 11th of March, 1890 Mary Ann McKay Munro was born at Old School, Sourin, her father Alexander a merchant. Alexander and Christina Munro complete their family with the birth of their eighth child, Albert Edward Munro on the 5th of February, 1893.
The 1891 census shows the family at Old School, Alexander a Merchant. When Trumland Farm was advertised for lease in 1898 Alexander Munro's name was given to contact as "Overseer, living at Old Schoolhouse, Sourin".
In the advertising for the leasing of Westness Farm in 1899 Alexander Munro was delegated to be the one to show the prospective tenants around. He is described in 1899 as "Overseer". The 1901 England Census shows the Burroughs' at their London home so he would have needed somebody to see to his estate in his absence.
The 1901 census shows the Munro family are at Old School, Alexander a farmer. From the 1901 census, son Alexander James Munro is at Westdale, a 16 years old apprentice joiner at the home of William Reid and his family.
Alexander Munro with wife Christina and son George
Below are the written instructions given to Alexander Munro, Ground Officer for the estate of Rousay and Veira, hand written, unlikely by him, in a notebook, dated 24th November 1902, in which he took details of the various jobs which needed to be done on the properties he had visited. Although not signed, it was most likely that the instructions would have been written in the hand of Lieutenant-General Frederick William Traill Burroughs, Proprietor of the estate.
~~~~~
Alexander Munro, Woo, Sourin, The Ground Officer, Rousay
Commenced; 24 November 1902
Instructions and Memoranda For Ground Officer
To visit every Farm and Holding on the Estate at least once a quarter and see that the Estate Regulations are adhered to
and report any contraventions thereof without delay.
To see that Buildings, Dykes and Wire Fences are kept in good repair;
also Farm Roads and Gates.
To see that Woodwork is periodically painted for its due preservation;
also Ironwork.
To see that Ditches and Drains are regularly scoured and kept clean.
To see that weeds are regularly cut down.
To see that Roads are kept in good order and that loose stones are removed.
To see that Quarries are not ill-used, and only used by those having the Proprietor's permission.
To Superintend all Building and Draining, or other Improvements and see that they are properly done.
To report any Poaching by land or water. To protect Grouse, Trout, and all Game.
To stop and report any unauthorised Heather burning.
To see that Hedges are trimmed annually.
To see that Farms are properly stocked, and cultivated, and not mis-cropped.
Wire fencing along Public Roads to be according to the law.
To prosecute persons tethering Stock across the Public Roads.
A multiplicity of dogs to be checked. The Owners of Dogs poaching or trespassing to be proceeded against.
Persons damaging Dykes, Fences, Bridges to be prosecuted.
Not to permit arrears of Road Rates.
To preserve the Peace of the Estate.
Names and addresses to be painted on all Carts as required by law.
The Rules of the Road to be observed by vehicles on the roads.
Disorderly conduct to be reported.
24/11/02.
~~~~~
Last dated entry in Alexander Munro's notebook of visits is January 2nd, 1906. He would have been 65 years old.
In a 1902 "The Scotsman" newspaper carried a report of a fire in the stack yard of a property in Sourin, the tenant of the farm was made known as the "assistant factor of General Burroughs. Police were called when five stacks of bere and oats and one stack of hay were burned. Since the passing of the Crofters Act, relations between the proprietor and the crofters have become strained and it is supposed that the fire may have been the work of incendiaries".
In 1904, when the lease of Westness Farm was again advertised, Alexander Munro, was the "Ground Officer" to be contacted for viewing the subjects of the lease.
Sir Frederick William Traill-Burroughs KCB, died in London on April 9th, 1905 and his wife on the 1st of February 1908. A memorial was erected in St. Magnus Cathedral, Kirkwall by Lady Edith Marion D'Oyly Dunbar or Sinclair, wife of Sir John Rose George Sinclair, 7th Baronet of Dunbeath, Barrock House, Bower, who was executrix of Lady Burroughs's will and niece of Lady Eliza D'Oyly Traill-Burroughs. Sir John Rose George Sinclair and his predecessors were the proprietors of the estate at Alterwall, Bower, Caithness, where Angus Munro and his family lived and where Alexander Munro was born in 1841. One of his crofts was let to Angus Munro who worked all his life as a tenant crofter to the Sinclair's.
Alexander Munro became tenant of Woo, Sourin in 1900, getting a loan of £200 from General Burroughs. From the 1905 Valuation Roll recording the farm and house of Woo, Sourin, Alexander Munro was paying a rent of £25. He was Sub-postmaster, Inspector of Roads and Collector of Rates. He lost two of these appointments when he became bankrupt but retained the post of Sub-postmaster and returned to Old School, Sourin. The Trustees of the Rousay Estate were persuaded by Lady Burroughs to leave Alexander Munro in Old School after they had applied to have him removed from there in 1905. The 1911 census has Alexander Munro, aged 69, a Small Farmer and Sub Post Master. Christina Munro, aged 60, (they had been married for 34 years 8months & 8 days), Agnes McDonald Munro, aged 30, was a cook, home on a visit, Hugh Munro, aged 24 and Albert Edward Munro, aged 18, were horsemen and Mary Ann Munro, aged 21, a general domestic servant. Alexander James Munro a stonemason and building contractor, was at Hallbreck in Sandwick aged 26, a boarder at the home of James Flett Hourston and family. Malcolmina Calder Munro, aged 32, was a domestic servant at the United Free Church Manse, Rousay, where the preacher in residence was Andrew L. P. Jamieson.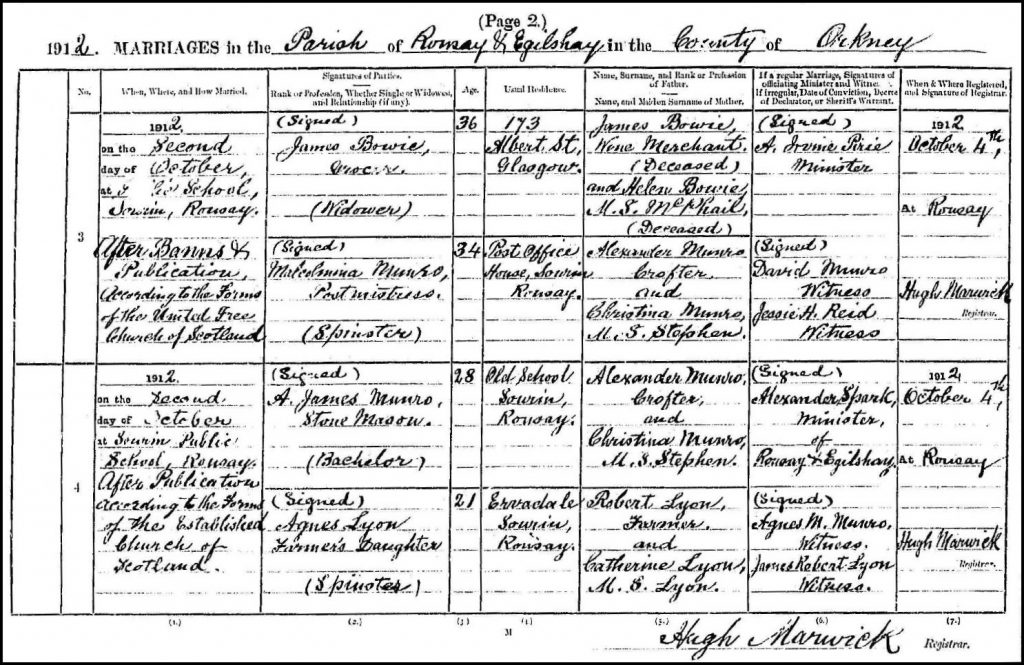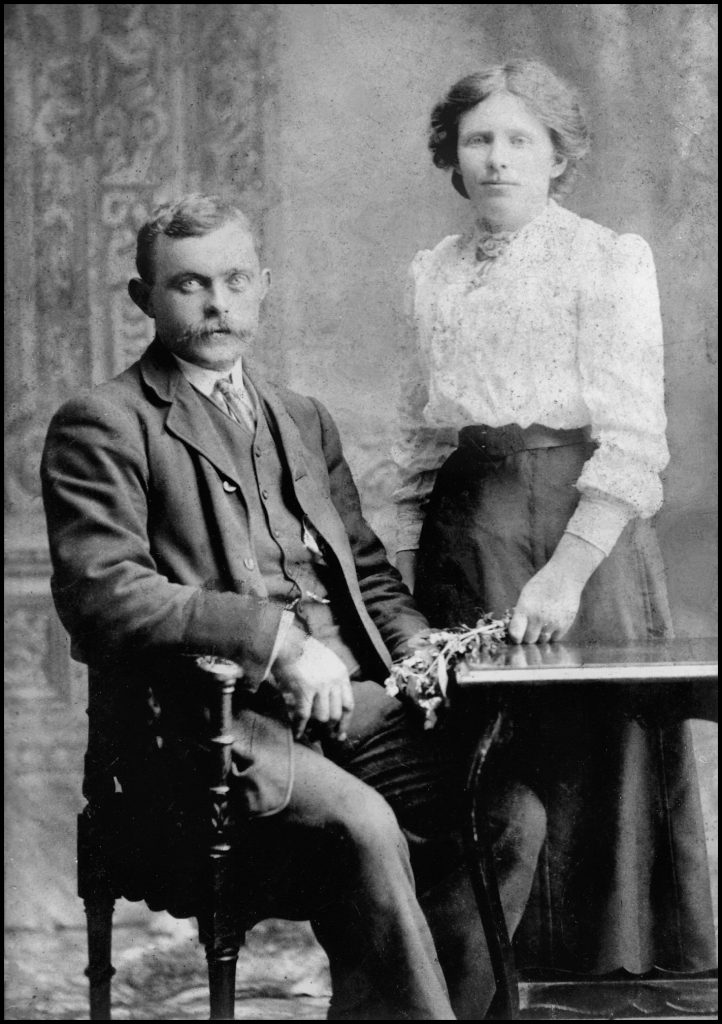 On the 2nd of October, 1912 at Sourin Public School, Rousay there was a Munro family double wedding. Alexander James Munro, 28, stonemason, Old School, Rousay, was married to Agnes Lyon, 21, Ervadale, Sourin, Rousay. Agnes M. Munro and James Robert Lyon were the witnesses. Alexander and Agnes were married by the Rev. Alexander Spark of the Church of Scotland. James Bowie, grocer, 36, (widower), 173 Albert Street, Glasgow, was married to Malcolmina Calder Munro, 34, postmistress, Post Office House, Sourin, Rousay. David Munro and Jessie Harcus Reid were witnesses. James and Malcolmina were married by the Rev. Alexander Irvine Pirie of the United Free Church of Scotland.
Alexander James Munro and wife Agnes Lyon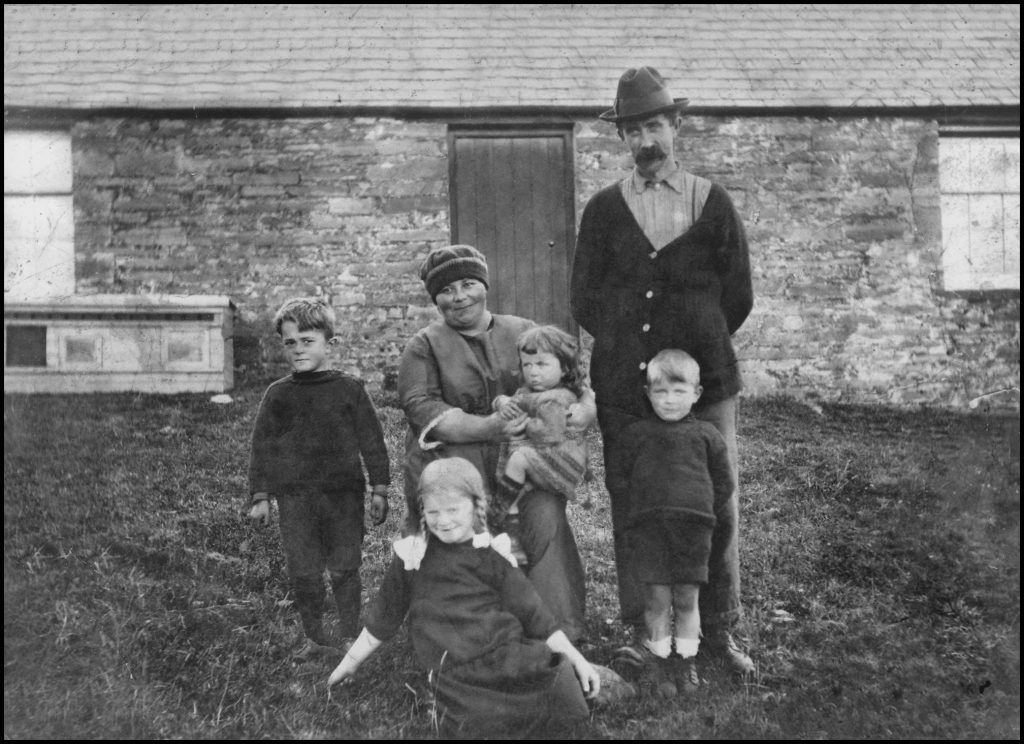 On the 4th of September, 1914, James Roy Sinclair Russell, 26, Farmer, Brendale, Sourin, Rousay, was married at School, Rousay to Agnes McDonald Munro, 34, Postmistress, Old School, Sourin, Rousay. Hugh Munro and Mary Gillespie were witnesses. James and Agnes were married by the Rev. Alexander Irvine Pirie of the United Free Church of Scotland.
Agnes McDonald Russell died at Brendale, Rousay, on April 26th 1934, aged 53. James Roy Sinclair Russell re-married in 1946 to Agnes's sister, Mary Ann McKay Munro. Mary Ann McKay Russell died at Myres, Sourin, Rousay on December 29th, 1962. Alexander Munro (late Ground Officer) died at Old School, Sourin, on September 10th 1916, aged 75, his son, Alexander James Munro was Informant.
Hugh Munro died at Old School, Sourin, Rousay on March 2nd 1920, aged 33. He was unmarried. Albert Edward Munro died in Rousay on the 24th December, 1975, aged 82. He was unmarried.
From "The Orcadian", 5.6.1919; "Christina Munro, Old School, Rousay, applied as a statutory small tenant for the fixing of a first equitable rent. Duncan J. Robertson, solicitor representing the Traill-Burroughs family trustees stated that in 1912 the arrears amounted to £3 5s and these now amounted to £28 12s. Alexander James Munro, son of the applicant, spoke on behalf of his mother. John Cormack was the solicitor representing Mrs Munro and informed the hearing that she was prepared to pay any arrears ordered by the court". Duncan Robertson insisted on the return of Old School to the trustees but was not successful.
Christina Munro died aged 81 on August 7th 1931 at Old School, Sourin. Informant was her son, Albert Edward Munro.
Alexander and Christina Munro had three sons serving during WW1. Private David William Munro was killed in action with D Coy., 15th Battalion Highland Light Infantry on the 17th of March 1916. Gunner Alexander James Munro served with the Royal Horse Artillery and was awarded the Military Medal for bravery. Private Albert Edward Munro was in the 4th Battalion Seaforth Highlanders when severely wounded and was discharged because of his wounds.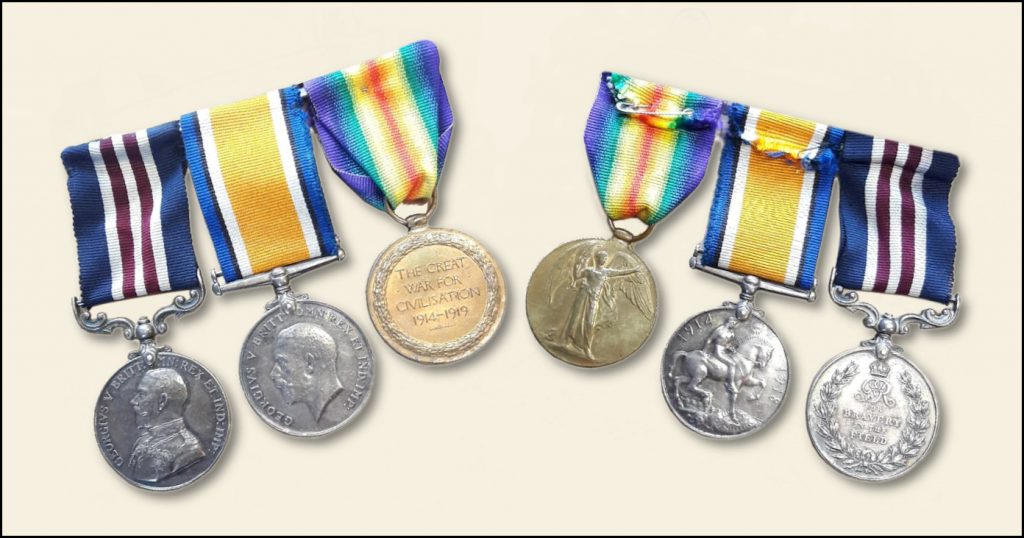 Left: Military Medal. It was an award for gallantry and devotion to duty when under fire in battle on land on the recommendation of a Commander-in-Chief in the Field.
Middle: British War Medal. This silver medal was awarded to officers and men of the British and Imperial Forces who either entered a theatre of war (an area of active fighting) or served overseas (perhaps as a garrison soldier) between 5 August 1914 and 11 November 1918 inclusive.
Right: Allied Victory Medal. The Allies each issued their own bronze victory medal but with a similar design, equivalent wording and identical ribbon. The colours represent the combined colours of the Allied nations, with the rainbow additionally representing the calm after the storm. The ribbon consists of a double rainbow with red at the centre. To qualify, an individual had to have entered a theatre of war (an area of active fighting), not just served overseas. Their service number, rank, name and unit were impressed on the rim.
About 1906, John Logie, a former Butler for the Burroughs family became the Estate Trustees Land Steward and Caretaker, a post he held until the estate was sold to Walter Grant in 1922.
Alexander James Munro died at Braes, Rousay, on 8th October 1960, aged 76. Agnes Munro died in the Balfour Hospital on the 23rd of March, 1949, aged 57. Malcolmina Calder Bowie died on April 13th, 1949, at 5 Wilton Street, Glasgow, aged 70. On 13th October 1914, George Murrison Munro, Police Constable, 738 Argyle Street, Glasgow, was married at 5 Wilton Street, Glasgow to Mary Fraser, The Hydropathic, Kilmacolm. John Fraser and Euphemia Fraser were witnesses. George and Mary were married by Robert Henderson Abel of the United Free Church. George Murrison Munro died at 68 Lumsden Street, Glasgow, on March 10th 1944, aged 61.
—————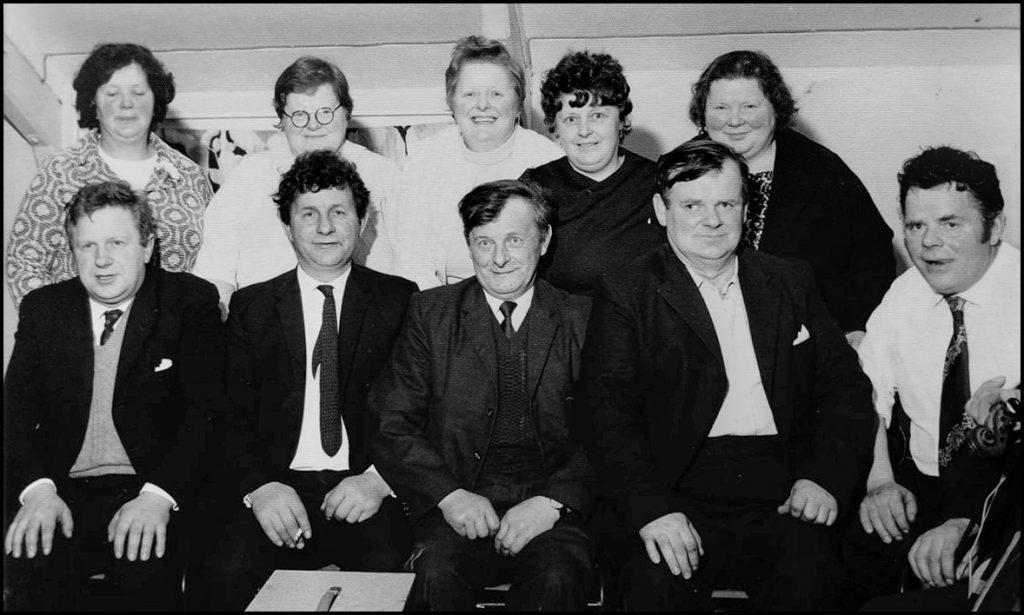 Alexander James and Agnes had thirteen children. Two died in infancy, and Byng, born in 1919, died in Carlisle in 1947. The others are pictured above, and family member Bertie Gillespie, Longhope, says: 'This photo was taken in the Sourin hall at my sister Maureen's wedding to Tommy Watt on April 20th 1973.'
Back row, left to right: Kathleen Christina Gillespie née Munro, Georgina Jessie Calder Gray née Munro, Agnes Dorothy Munro, Maggie Ann Lyon Gibson née Munro, Daisy Williamina Emsley née Munro. Front row, left to right: Hugh Munro, Robert 'Robbo' Watson Lyon Munro, Lionel Alexander Edward Munro, Norman Herbert Munro, Andrew 'Andy' Hunter Munro.
---