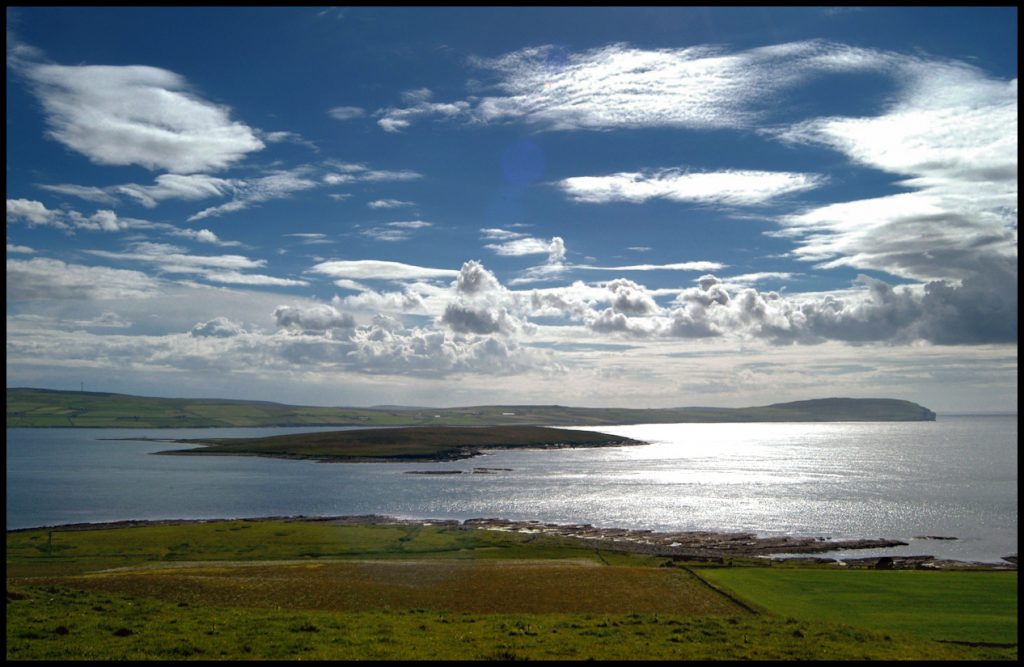 The Knowe and the Bay of Swandro lie south of the old houses of Skaill on Rousay's Westside. Nearby, in 1826, a Viking sword was turned up by a plough near where a shield boss had been previously found. The sword, now preserved in the National Museum of Scotland in Edinburgh, has been recognised by Norse antiquaries as of a type dating from 800 to 850 A.D.
The ruins of a Norse farmstead lie above the Bay of Swandro. A large house about 37m long, divided into two rooms and two smaller buildings, which might have been byres, have been excavated. Westness is mentioned several times in the Orkneyinga Saga, and this may well have been the house of Sigurd, a 12th century friend of Earl Paul Haakonson, who himself was kidnapped at Westness by Sweyn Asleifson in about 1135.
The Knowe of Swandro is the remains of a broch, perhaps plundered in order to erect the Norse farmstead nearby. At the Knowe of Rowiegar is a small ruined chambered tomb, and further on are the substantial ruins of another farmstead.
Towards the end of October 1963 at Moaness, a low promontory close to Westness Farm, a Viking woman's grave was found whilst farm manager John Flett and workers John Dunnett and Ronald Stevenson were in the process of digging a hole to bury a dead cow. Mr Flett recovered two early-mid 9th Century tortoise brooches, a zoomorphic Celtic brooch datable to c. 750 A D, a bronze mount and some human bones. The collection was sent to the National Museum of Antiquities of Scotland (NMAS) by the land-owners, Henry William Scarth and his wife Kathleen. Mr Flett was later sent a letter from the late Frank McGinn, Procurator Fiscal, on behalf of the Queen's and Lord Treasurer's Remembrancer acknowledging his find.


Click > here < to see a detailed description and photographs of the Westness brooch on the National Museums Scotland website.





Image of the Westness brooch courtesy of Caz Mamwell
/Swandro-Orkney Coastal Archaeology Trust.
Further investigation of the site on behalf of the museum showed that the grave had been entirely disturbed, but the rest of the skeleton and part of a baby's skeleton, about 40 beads, a bone comb, fragments of a bronze bowl, other bronze mounts, and pieces of iron implements were recovered. The sides of the grave of which there were no surface indications, had probably been built of slabs laid horizontally.
Subsequent excavation of the Viking site at Westness was carried out by the Norsk Arkeologisk Selskap, revealing a complete grave of a Viking warrior.
Students from Bergen and Oslo Universities, completing their third season of excavations at this site uncovered a third grave, the nature of which is indeterminate as it has been disturbed by rabbits and only leg and foot bones have so far been found.
Further excavation of this Viking cemetery exposed 32 graves as well as earlier foundations. Excavation of a boat-grave produced a male skeleton with weapons and tools. 5 oval graves nearby contained weapons, jewellery and tools, and other graves were of children. C14 [radiocarbon] dating places the cemetery in the 9th century.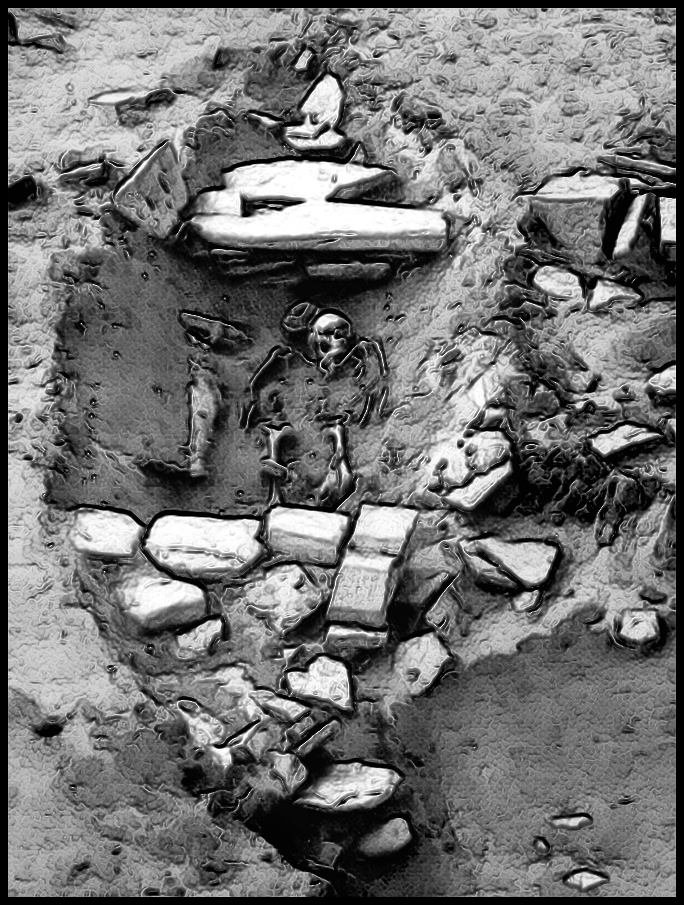 Excavation of the Westness cemetery revealed both Pictish and Viking graves of varying types, both with and without grave-goods. Radiocarbon assay indicates use from the 7th to the 9th centuries AD and skeletal analysis indicates that the remains comprise the whole community; a wide range of pathological conditions is indicated in a population aged up to fifty and measuring up to 1.7m in height. The graves were not identifiable on the surface but apparently had headstones or similar grave-markers at the time of use; the Vikings evidently respected the graves of the native population.
The Pictish burials were unaccompanied by grave-goods and laid extended in narrow and shallow trench-graves, some of which were wholly or partially slab-lined. The Viking graves were rectangular or oval in form. The oval graves were slab-lined and possibly also slab-covered while the lining-stone behind the head was a taller 'stemstone'. Grave-goods varied with the status of the individual and included weapons (sword, axe, spear and arrows), shield-bosses, jewellery, tools (including sickles and adzes) and weaving implements.
Two boat-graves (measuring 5.5m and 4.5m in length respectively) were recognised from their rivet-patterns and decayed outline-stains; they were evidently three- or four-strake vessels of faering form and clinkered-oak construction. The boat from grave II had a rowlock of deer antler on the gunwale and a 'vadbein' of deer antler for the fishing-line on the other gunwale. In each case the burial was formed by placing the vessel in a hole in the ground and stabilising it externally with stones and clay before forming a midships burial-chamber by infilling the bow and stern with stones. Each boat contained the extended inhumation of a battle-scarred male accompanied by tools and weapons; swords, shields, axes and arrows in each case with a spear in one of them. Both burials contained farming tools (including adze and sickle); one also had a hone and a strike-a-light, and the other a fishing weight and bone comb.
[Some of the above text was copied from the Archaeology in Europe Educational Resources website. One is free to use material from this site, and I use this reference to acknowledge that fact.]
---
Westness Burial
by Christine De Luca

Westness, Rousay, 9′" century

On Rousay a young man goes grey-haired
overnight. His infant newborn dead
with his bride of a year.

Gifts are brought: jewels made in Norrawa
well wrought oval brooches for an oval grave.
His gift, an old brooch won in a raid,

its sword shape softened by the cross
twin guardians on her solitary journey
She will marvel at the gold and silverwork

the amber like her hair, the red glass like her lips.
When young women hear, they will stitch
their shrouds for their marriage kyists.


[The poem above is reproduced with the kind permission of its author. Christine De Luca (nee Pearson) was born and brought up in Shetland, spending her formative years in Waas (Walls) on the west side of the mainland. Christine is a poet and novelist who writes in English and in Shetland Dialect, which is a blend of Old Scots with much Norse influence. She now lives in Edinburgh.]
---
Sigurd of Westness.
The Orkneyinga Saga provides a vivid glimpse of Westness in the 12th century when it was the home of Sigurd of Westness, an important landowner and one of the foremost supporters of Earl Paul.
It was while on a visit to Westness that the earl was abducted by Sweyn Asleifsson in one of the most daring and dramatic saga incidents.
After a night spent feasting at Westness, Earl Paul was out early the following morning otter-hunting in the rocks under Scabra Head when he was surprised from the sea by what he had taken to be an innocent merchant vessel and carried off to captivity in Scotland and eventual death.
The following is how the tale was told in the Orkneyinga Saga:-
……..Svein exchanged his ship for a cargo-boat and put out with thirty men aboard. He had a north-westerly wind as he sailed across the Pentland Firth, hugging the west coast of Mainland as far as the Eynhallow Sound, then along the Sound and home to Rousay.
At the far end of the island is a large headland with a great deal of rocky debris at its foot where otters used often to be seen among the rocks. As they were rowing across the Sound, Svein spoke.
'Some people are there on the headland,' he said. 'Let us put in and find out what is happening, but first I want you to make a few alterations to the set-up. We will spread out our sleeping bags. Twenty of you are to get into them while the other ten row. Let us go very quietly.'
When they came closer to the headland, the men there shouted for them to row on to Westness and give Earl Paul whatever they had on board, thinking that they were talking to some merchants.
Earl Paul had stayed overnight at Westness for a feast at Sigurd's. He had got up early and gone to the southern end of the island to hunt an otter which was on the rocky shore beneath the headland. His party were about to go back to the house for a morning drink.
The men in the cargo-boat rowed up to the shore and exchanged news with the others, telling them where they had come from and asking where was the Earl. The men said he was there on the headland with them. Svein and the others lying in their sleeping-bags heard this, and Svein told them to put in at a certain place out of sight of the headland, saying they should arm themselves and kill the Earl's men as soon as they could, which is what they did, killing nineteen men there, though six of Svein's men were killed too. They took Earl Paul by force and led him back to the boat. Then they altered direction, sailed the same way back west to Mainland, right between Hoy and Graemsay, then east of the Swelchie……..
---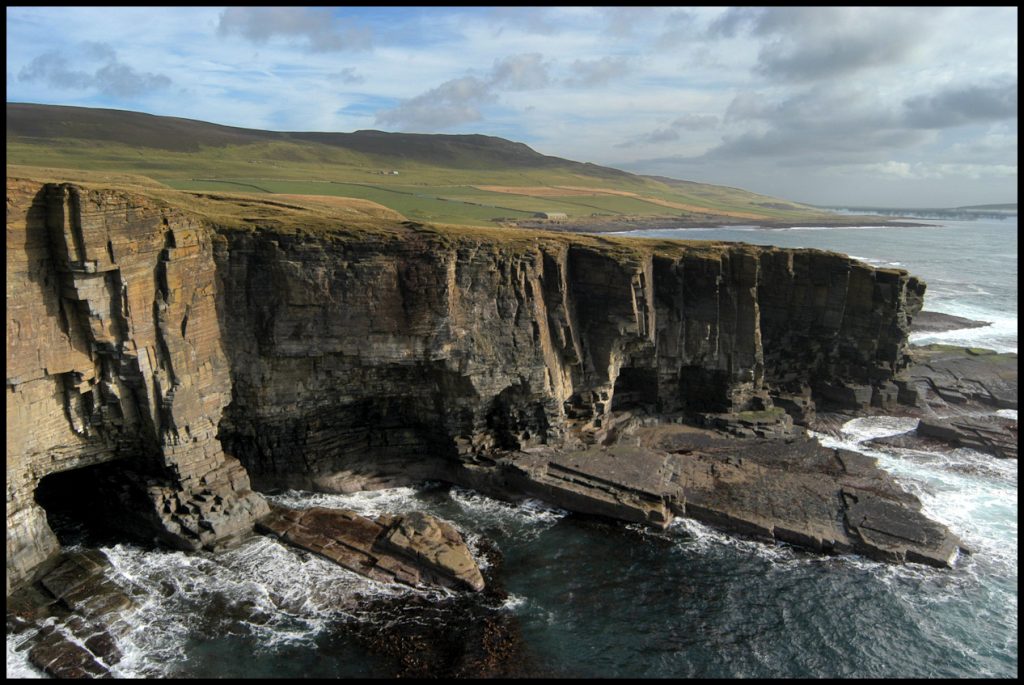 Kidnap of Earl Paul at Westness
by Simon Hall
The rasp o longship keel on shingle shore
sends shalders skirlan, pooders peedie shells,
as clear across the soond the chapel bells
ring: 'Sanctus Magnus, let us hear no more
the vulgar language of halberd and sword.
Let us see no banquet of carrion
birds. Spare us the filthy sprawl of spilled life.
Let us breathe fragrance of seapink on sward.'
But Svein an aal his gang spring fae the ship
and swagger, grinnan, ale-soaked, owre the sands.
Dry-moothed, bright-eyed, black-toothed, like hungry trows.
They kill twathree o Paul's men there and grip
the silent earl wi muckle salt-coorse hands,
then fire him in the bilge, leap owre the bows.


[The above poem, written for 'Poetry in Place' in 1999, is also reproduced with kind permission of its author. Simon Hall graduated from Glasgow University with a degree in Scottish Language and Literature in 1996, winning the university's Ewing Prize for Scottish Literature. In 2004, he completed a PhD in Scottish Literature, also at Glasgow University and up till last year was Principal Teacher of English at Kirkwall Grammar School. More recently he translated Julia Donaldson's The Gruffalo into Orcadian Scots language, and the book is available in all good bookshops – now!]
---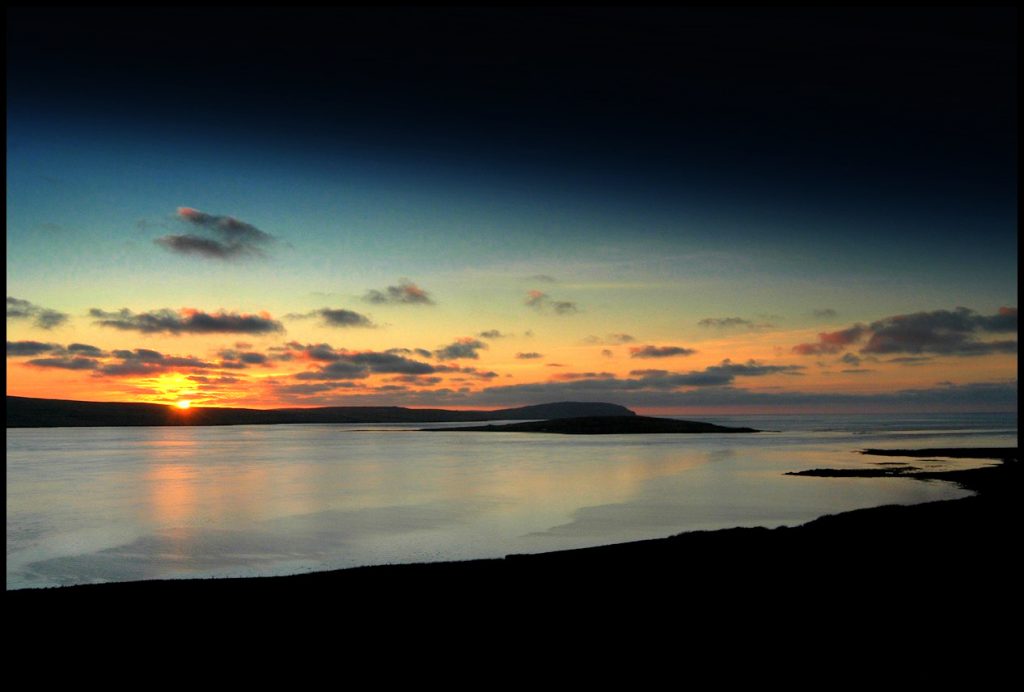 From the 1503 rental it is possible to reconstruct the outline of Sigurd's 12th century estate. From information contained in the saga, it is clear that Earl Paul visited Westness as a veizla, the technical term for a superior who guested with a vassal, consuming the produce of his estate.
Thus it appears that Sigurd, in addition to holding udal land of his own, was also a tenant of earldom land, which is hardly surprising since he was the earl's friend and supporter and was married to his cousin.
One must therefore look to the 1503 rental to discover earldom lands in that part of Rousay, and there one finds the seven pennylands of Auld Earldom land of Inner Westness which surely must have been the land in question. To this can very probably be added the four pennylands of Auld Earldom land in Wasbister and either all or part of Quandale. It is equally certain that Sigurd's own property must have included the seven pennylands of udal land at Brough.
Whether he owned Skaill is less certain. At a later date it was in the hands of the church but originally it had been udal. If it was not already church property in Sigurd's time, it was most probably part of his estate.
The estate of Sigurd of Westness therefore comprised the western part of Rousay and had boundaries similar to the estate George William Traill was to control seven hundred years later.