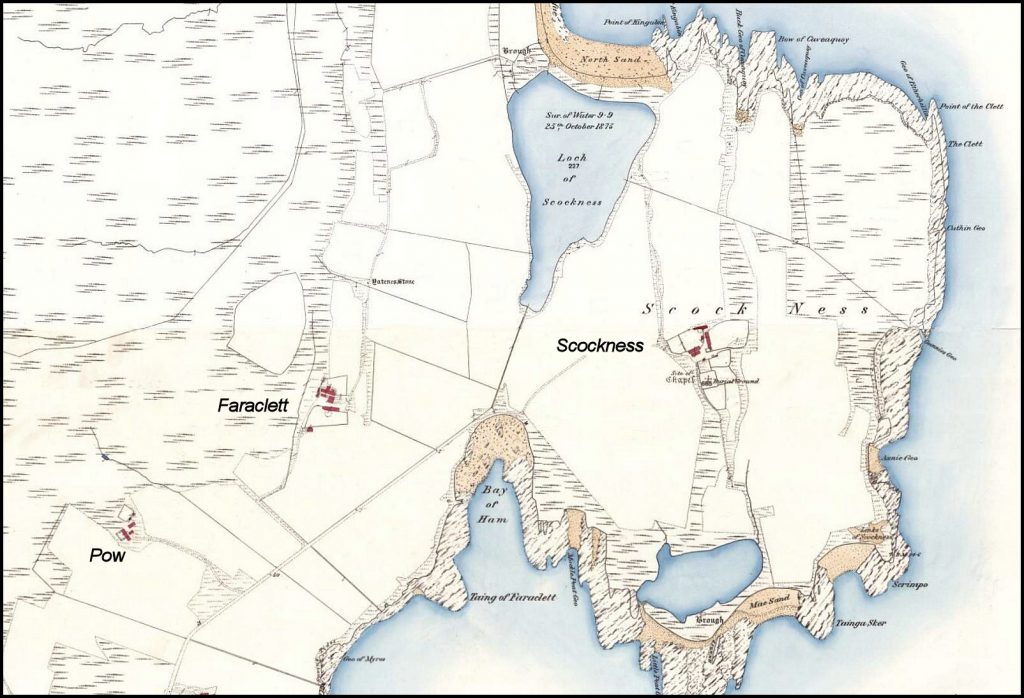 POW
The earliest mention of Pow is in an early rental of 1743-44, its occupant at that time being David Craigie. It is not until the census of 1841 that names and dates become clearer, with John Gibson and his family living at and working on the surrounding land at Pow, located south-west of the farm of Faraclett.
John earned his living as a farmer and fisherman. He was born on December 14th 1808, and he was married to Rebekkah Stevenson, daughter of James Stevenson and Rebekkah Sinclair, who was born in Stronsay on August 28th 1814. Between 1835 and 1854 they had eight children: James was born in August 1835; Rebecca, in January 1837; Margaret, in May 1839; Christina, in June 1841; John, in October 1843; Anne, in December 1846; Robina, in October 1850; and William, who was born in May 1854 – the same year that his father John died, at the age of 45.
In Sockness kirkyard there is a headstone to John Gibson of Pow. He died in his boat while out fishing on October 1st 1854, possibly of a heart attack. His son, James, would not set foot in a boat after his father's death.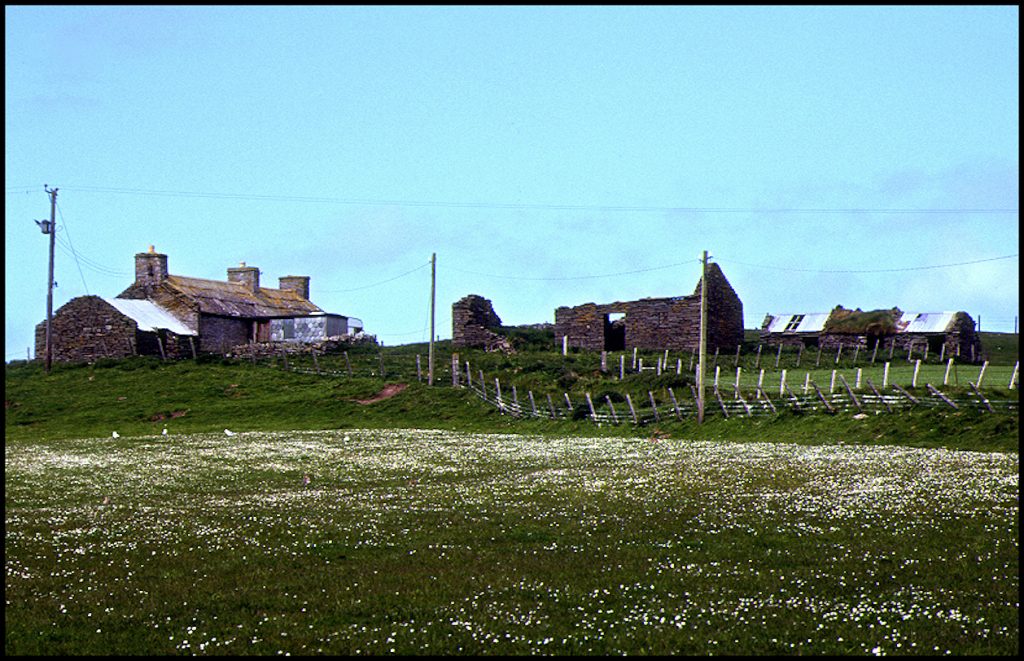 Rebekah and her children continued to farm the 28 acres of land at Pow for many years, oldest son James eventually becoming head of the household. The rent had increased over the years from £6.12s., to £11 in 1857, and £12 13s. between 1863 and 1878. In 1881 James was paying £18 a year rent, but this was reduced by the Crofters Commission in 1888 to £12 5s.
In 1881 James' sister Anne married Stronsay born John Elphinstone. They had a family of three children: Mary Stevenson, born in 1882; John, in 1883; and Rebecca Jane, who was born in 1887. They all lived with James at Pow, though he remained unmarried all his life.
Later occupants of Pow were Hugh Grieve and his wife Janet Sinclair Mainland. Hugh was the son of William Leonard Grieve, Whiteha', and Christina Craigie, Fa'doon, and was born on August 23rd 1908. Janet was the daughter of Hugh Mainland, Hurtiso, and Alice Gibson Craigie, Falquoy, and she was born in 1912. They were married in 1933 and raised a family of five children between 1936 and 1949.
The Grieves moved to Saviskaill, and Pow was later occupied by Bobby Gillespie and his family between 1940 and 1972. Robert William Gillespie was born in Wyre in 1918, and was married to Kathleen Christine Munro, daughter of Alexander James Munro, Old School, and Agnes Lyon, Ervadale.
Above left – Wedding Day 1939: Bobby Gillespie and Kathleen Munro, with best man Lionel Munro, and bridesmaid Violet Gillespie. In the centre are three of the Gillespie brothers, Leslie, Kenneth, & George, Pow. 1954.  To the right is Bertie Gillespie, Pow, with Maggie Ann Gibson, Faraclett. c.1960.
Bertie Gillespie has been good enough to send me the following 'snippets' of information regarding his time at Pow:-
"Circa 1954 was a big move for the Gillespie family. We left our home in Longhope (The Old Manse) and moved tae Sourin in Rousay. Me Mum Kathleen was a Rousay Munro. We flit to a place full o' relations – Pow. Me Dad, Bobby Gillespie, was a roadworker in Longhope, and transferred tae working on the roads in Rousay. His claim to fame was driving the road roller. At that time there was five o' us: Bertie, George, Kenneth, Leslie, Maureen, and Norma – born in Rousay.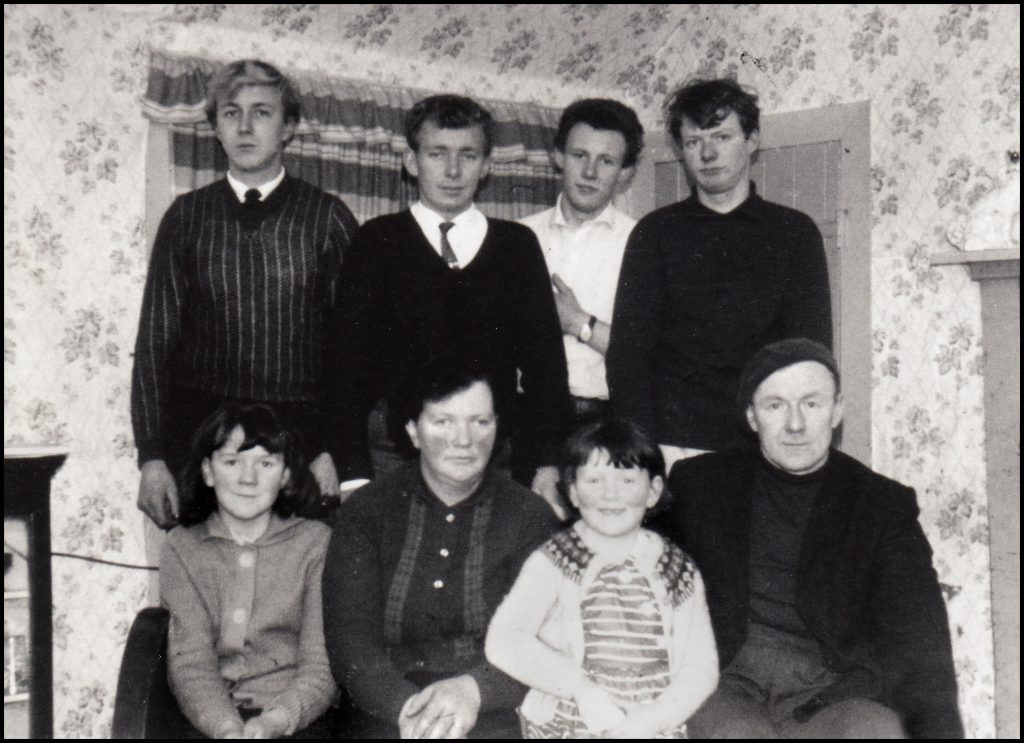 [Bertie says the above photo]…..was taken after I came back from the Far East in December 1965 & the reason we took the group photo George & Kenneth were heading doon tae England working on Hydro power so it would have been early 1966.
We moved to a stone-built cottage called Pow. It belonged to John Gibson and me aunty Maggie Ann, who lived next door at Faraclett. The last time Pow was occupied before us was Hugh Grieve, later Saviskaill, who was a farm servant at Faraclett. The house needed a lot o' work tae make it habital. Me lasting memory was us four boys being put in the box bed. It was not easy tae get tae sleep mind it was really warm!
Another thing that always sticks in me mind is the carrying o' drinking water, two buckets on a frame, one each side – the frame kept the buckets off your legs. I think it was at least half-a-mile, as the well was at the Head of Faraclett. I think it was about a year after we moved into Pow me fither invested in enough polythene pipe tae run the water fae the well to a tank doon at the hoose wae a stop-cock at the water tank. Whit a relief!!
I spent a lot o' time at Faraclett after school helping on the farm, mainly working with the big Clydesdale horse, Big Harry. A big attraction too was they had purchased a new tractor, a David Brown Cropmaster. I got many a go on it. Mind you it was a help tae have an uncle as the farm servant. Hugh Munro later moved tae a dairy farm called Braebister in Deerness.
Some other activities I spent a lot of time at – going tae creels wae fither – and working on old motorbikes."

FARACLETT
The old farm of Faraclett is situated on the south-eastern slopes of the Head of Faraclett, incorporating the lands of the earlier farms of Eastafea, Midfea, and Quoynanea. The pronunciation of Faraclett as it is spelled is rarely if ever used locally. In old rentals and birth registers the farm is variously spelled Faraclee, Ferraclott, Farraclet, and Faraclay, the latter being the common pronunciation today. The earliest mention of its occupants come from old rentals – William Yorston in 1734-5, and Patrick Sinclair in 1753.
In the early 1800's William Louttit farmed the land at Faraclett. He was one of five sons of Thomas Louttit and Margaret Craigie, and he was born in 1771. He married Isabella Craigie, and they had six children; Isabella, born in 1798; Marian, on March 8th 1799; Jean, on January 14th 1802; twins Margaret and Janet, born on January 19th 1803; and William, who was born on April 28th 1805.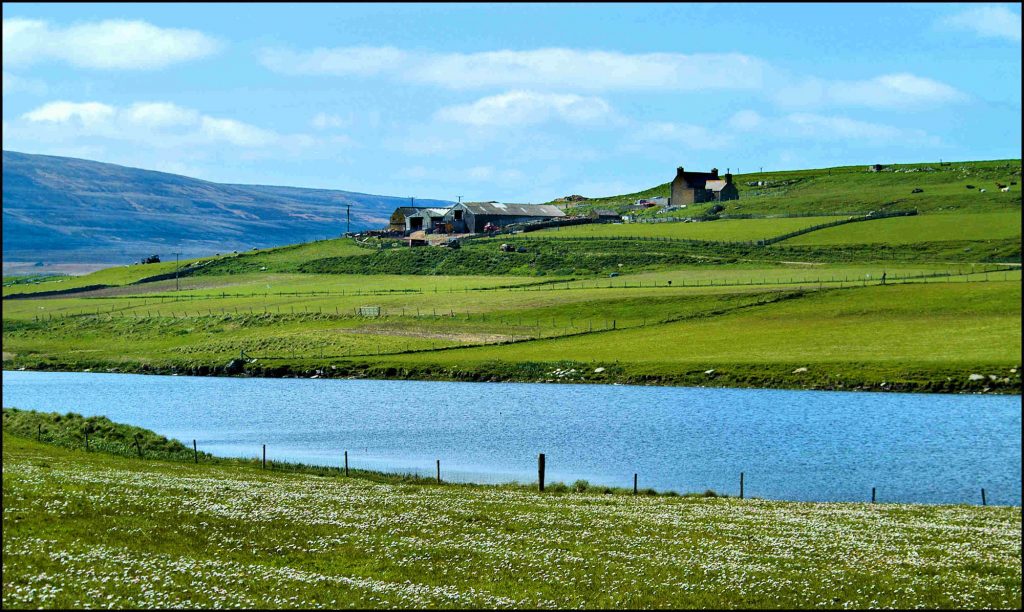 In 1841, William was a 70-year-old widower. Living with him was his son William who earned his living as a blacksmith. He was married to Christina Cormack and at the time of the census enumerator's visit they had a 2-month-old son, also named William. There were two female servants, Nanny Wurke who was 45 years old, and 15-year-old Margaret Costie, and four agricultural labourers, Edward, John and William Louttit and Hugh Costie.
With such a large farm to run William senior need help. He got that by the use of farm servants, and the census of that year records the following details of those servants: the oldest was 36-year-old Hugh Costie; Anne Inkster was 23; James Inkster, 20; Margaret Inkster, 18; and James Leonard, Alexander Costie, and Thomas Craigie, were all fourteen years of age.
Farm work was very labour intensive. Horses were used to pull ploughs, harrows and carts, but sowing, weeding, harvesting and threshing was all done by hand. Cattle needed feeding up with turnips and other fodder, especially during the long winters. Horses were well cared for: their harness needed cleaning and upkeep, their stables mucking out and the horses themselves needed feeding, watering and grooming. Dykes needed to be dug and kept clear to improve drainage, and farm machinery needed cleaning and maintaining. All the farm servants, as well as the farmer's family, needed feeding and accommodating. So Faraclett was well populated and was a busy place.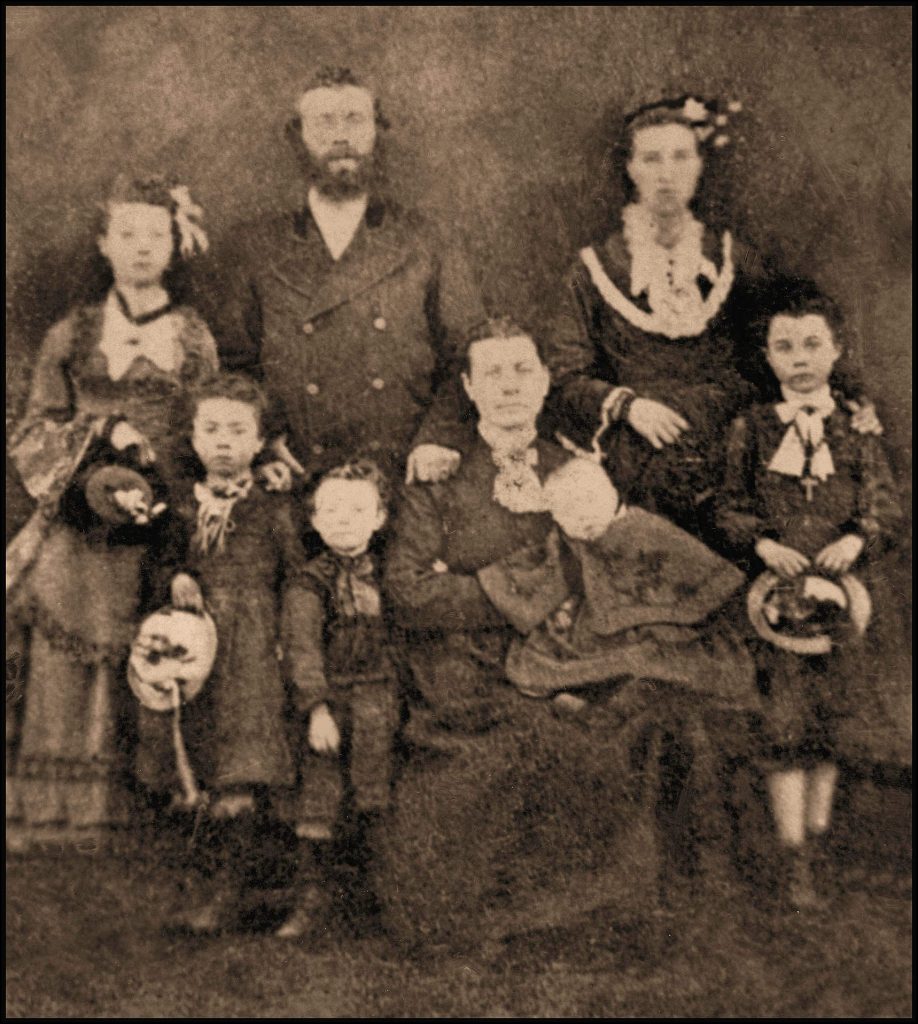 William Louttit senior passed away at Faraclett in 1862 at the age of 91. His son William and wife Christie had six children by that time, and the oldest, the above-mentioned William [2 months old in 3rd paragraph], was working as a ploughman and married to Helen Leonard. She was the daughter of Peter Leonard and Isabella McKinlay, Digro, born in March 1841. They had six children: Peter, born in April 1859; Mary, in November 1860; Margaret, in April 1863; Matilda Leask, in August 1865; Helen, in July 1870; and William, who was born in September 1873. Farm servants moved on on a fairly regular basis, and those at Faraclett at this time were Robert Sinclair, a 33-year-old ploughman; Robert Grieve, a 12-year-old cowherd; and Mary and Harriet Craigie, who were employed as domestic servants.
By 1871 William Louttit junior and his wife Christie, and their son William and his wife Helen, worked on the land at Faraclett, the area of which had increased to an impressive 400 acres. William died in April 1873 at the age of 67, and young William and his family moved to Digro with his father-in-law Peter Leonard, who was a wool weaver.



Christie Louttit, née Cormack, with her son William Louttit,
Faraclett, his wife Helen Leonard, Digro, and their children,
Mary, Maggie, Matilda, Helen, and William. Peter, their
firstborn died of diphtheria at the age of seven.
The size of the farmland at Faraclett had increased to 408 acres by 1881, 74 of which were arable, and the tenancy had been taken over by 33-year-old farmer James Alexander, for which he paid an annual rent of £90 8s. He was the son of James Alexander and Isabella Louttit of Breckan, and he was born on January 5th 1848. On January 27th 1871 he married Ann Sinclair, daughter of Hugh Sinclair and Isabella Gibson, Stennisgorn, who was born on October 10th 1849. They had five children: Mary Sinclair, who was born in 1871; James Louttit, in 1873; Isabella Louttit, in 1883; Lydia Gibson, who was born in 1886. The family later moved to Hermisgarth, Sanday, where another boy, Alfred, was born in 1893.
Ten years later, in 1891, Faraclett was in the possession of 55-year-old William Learmonth, who moved there having previously worked at Westness Farm. The rent for Faraclett at this time was £90. per annum. William was the son of George Learmonth and Anne Wigham, and was born at Old Monkland, Lanarkshire on October 6th 1835. On June 5th 1857 he married Mary Sarle Gibson, daughter of Alexander Gibson and Janet Carmichael Marwick of Stennisgorn and later Geo, Westness, and she was born on May 12th 1830 when they were living at Bucket, Wasbister. William and Mary had seven children: Jane Lawrie, who was born in May 1858; Ann, in April 1860; George, in October 1862; William, in August 1865; and twins, Alexander, and Mary, who were born on June 15th 1868; and Robert, who was born in 1877.
Farmer and miller John Gibson died at Hurtiso in 1893. The Learmonth family left Faraclett for Sanday, and John's widow Margaret and her seven children moved into Faraclett, the oldest of whom, John Louttit Gibson, took on the responsibility as head of the household. The rent at that time was £78, and the census of 1911 records John's occupation as 'farmer/employer', with his brother William working as a cattleman, other brothers Alfred and David employed as horsemen/ploughmen, and sister Maggie, who also assisted in work on the farm. On September 15th 1898 their other brother James, also a ploughman, married 21-year-old housemaid Mary Ann Cooper, daughter of the late William Cooper and May Linklater, Hillside, Sourin. The ceremony at Faraclett was conducted by the Reverend John McLeman, minister of the Free Church, and the witnesses were James's brother John, and Mary Ann's older sister Mary Elizabeth Cooper, who was a sewing maid.
In 1899 another of the Gibson brothers decided to get married. Hugh Gibson was 23 years of age when he wed Betsy Craigie, daughter of John Craigie and Betsy Leonard, Triblo, who was born on March 1st 1881. They lived at Oldman and raised a family of three children: Hugh, who was born in 1899; John, in 1902; and Annabella, who was born in 1920.
At the outbreak of the First World War, it was Field Marshall Lord Kitchener's face and pointing gloved hand, on probably the most iconic poster in the world, saying "Your Country Needs You", that incited thousands of eager young men to join up and fight the Germans. Many brave Orkney lads joined up – including young Hugh Gibson, who served as a private in the 7th (Service) Battalion Seaforth Highlanders. In 1918 they were fighting on the Somme, in the Battles of the Lys and The Advance in Flanders. Hugh died of wounds in hospital on 2nd May 1918, aged just 19, and is buried in the Etaples Military Cemetery, Pas de Calais, France.






Hugh Gibson [rear, right], photographed shortly before
setting off to war. He is pictured with his parents,
Hugh and Betsy, and younger brother John
In 1942 Hugh's brother John married Margaret Ann Lyon Munro, daughter of Alexander James Munro and Agnes Lyon, Ervadale, who was born in 1923. They had a daughter, Annalizabeth Craigie, born in 1943 – and she married Frederick James Garson in December 1964. Fred was the son of Frederick Rowland Garson and Jean Gorie Miller, Midhouse, Costa, where he was born in April 1941. At the time of their marriage Fred was working at Westness Farm, tending more sheep than he cared to remember. Come the day of the wedding, Rousay was hit by a blizzard and guests from the mainland were stranded at Tingwall, unable to make the crossing. After the ceremony Fred and his bride had to wade through snowdrifts to Faraclett, Anna having to hitch up her long white wedding gown on the way. They had no honeymoon, for there were cattle to be fed and hard work to be done on the farm.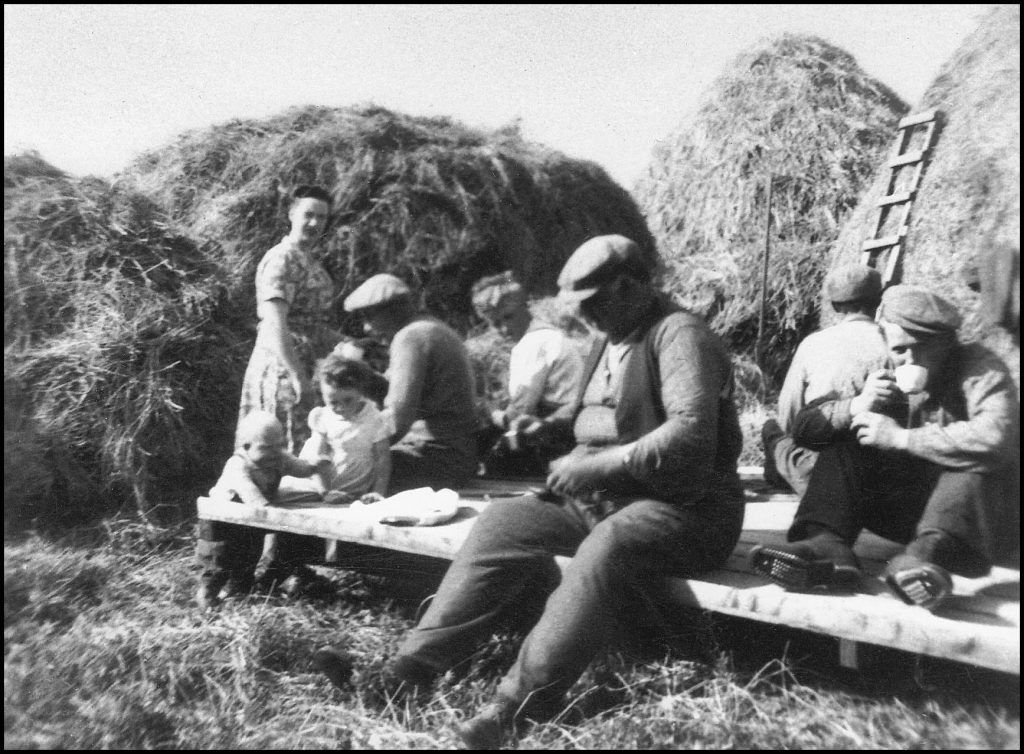 SCOCKNESS
Scockness was a peninsular farm in Sourin, the most easterly part of the island. Variously spelled in old rentals and records as Skowkness in 1549, Skoknes in 1576, and Scocknes in 1595, the first mention of any occupant was made in 1549 when Edward Sinclair lived there. It was in that year that Bishop Reid, in return for his "faithful kindness and support, especially in the defence of Christian faith and the liberty of the Holy Kirk," granted a lease of "all and hail our landis of Skowkness in Rousay, with ye miln and holme of the samyn with yair pertinentis" to no less a man than Edward Sinclair of Strome and his wife – for their whole lives. Edward was a brother of Sir James Sinclair of Sanday and one of the Orkney leaders at the Battle of Summerdale.
In a court case in 1817 concerning grazing rights on the Head of Faraclett, Hugh Marwick stated that at one time he had been joint tenant of Scockness with his father Magnus. It is claimed by some that he was related to the Marwicks who were in Langskaill and Saviskaill in the 1700s.
According to Robert C. Marwick in Rousay Roots, Magnus Marwick was born and married during the period when there was a gap in the Rousay records, though his son Hugh's birth is known to have taken place at Scockness in 1766. Hugh married Betsy Sinclair, daughter of George Sinclair, Brendale, later Faraclett. They raised a family of ten boys: first-born was Magnus, and though no date is forthcoming is was generally thought to have been in 1794; Thomas, was born in 1796; James, in 1798; William, in December 1800; John, in January 1803; Hugh, in July 1805; Robert, in July 1806; Hugh, in February 1810 [who died young – like his brother Hugh before him]; Isaac, in July 1812; and Craigie, who was born in January 1815. In her old age Betsy was asked how many children she had had. "ten devils," she replied. Thereafter, her sons were collectively known as the 'Ten Devils'.
The Marwicks were evicted from Scockness in 1830 after a dispute with the laird over kelp-making. Kelp was the ash produced by burning certain kinds of seaweed in stone-lined pits at the shore. Twenty tons of wet seaweed yielded about a ton of kelp. The ash fused into a solid mass which had to be broken up before being shipped south to chemical plants. The main chemicals obtained from kelp were potassium phosphate (about 12%) and iodine (about 4%). In the 1830s cheaper sources of these chemicals were found elsewhere and the kelp market, on which Orkney was heavily dependent at that time, collapsed.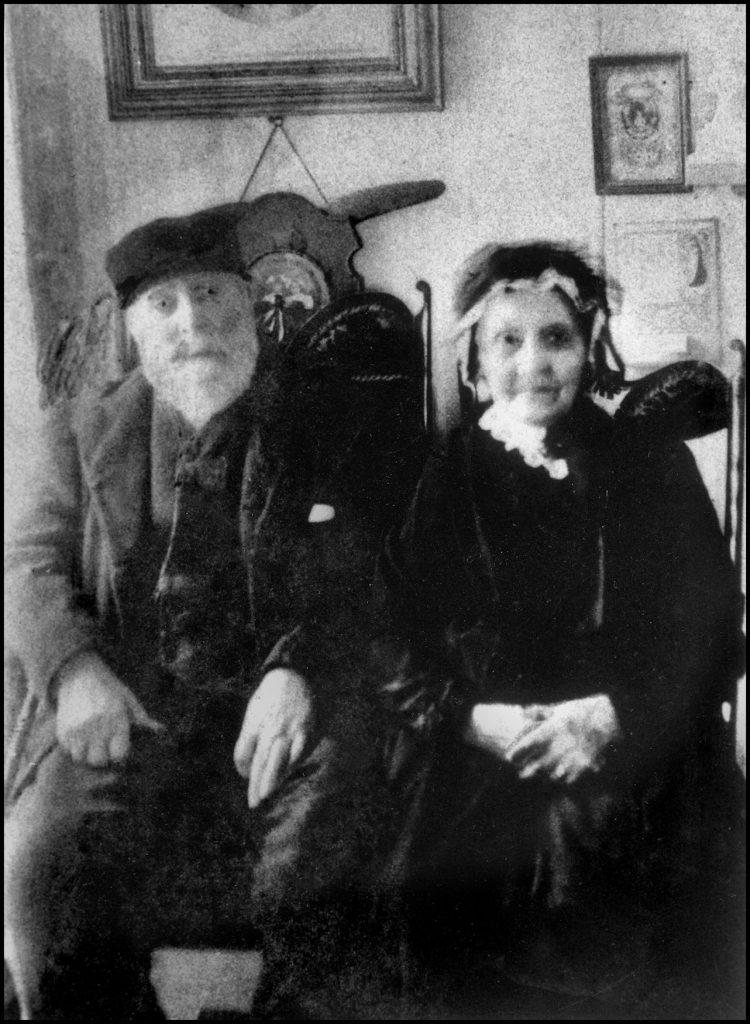 It was the Stevenson family who took over the tenancy of Scockness after the eviction. James Stevenson, who was born about 1774 in Stronsay. He married Rebekkah Sinclair in 1813 and they had six children, all of whom were born on the island. Daughter Rebekkah was born in August 1814; James, in January 1817; George, in September 1819; Barbara, in October 1822; Robert, in August 1826; and Margaret, who was born in 1828.
Robert Stevenson [b.1826] married Margaret Marwick, daughter of 'devil' number 2 Thomas Marwick, Woo, and Ann Gibson, Broland, who was born in March 1837. They had eight children: Margaret, born in December 1860; Rebecca Ann, in January 1863; Isabella Marwick, in February 1867; Robina Gibson, in November 1868; Robert, in April 1872; James Mainland, in January 1874; William Neil, in 1876; and Mary Sinclair, who was born in November 1877.
In 1858 Margaret Stevenson [b.1828] married William Melville of Sanday, who came to Rousay to work as a miller at Sourin. Her sister Barbara [b.1822] married William Mainland of Cott Mowat. He came from a poor family and at first was not regarded by the Stevensons as a suitable husband for Barbara. He went to Australia for several years and made a lot of money. On his return he married Barbara. "At that time," he boasted later, "I could have bought out all the bloody Stevensons!"




Robert Stevenson and wife Margaret Marwick, c.1912
Back to the census of 1841, and James Stevenson was a busy farmer and his sons George and James were fishermen. At this time there was another tenant at Scockness, Thomas Gibson, a 50-year-old farmer, and he and James paid £20 each a year rent. Thomas was the son of John Gibson and Isabella Craigie of Scockness, and he had a brother, Robert, who lived at Bigland. He married Isabel Harcus on December 5th 1815, and they lived at nearby at Bigland where their seven children were born between 1816 and 1823.
By 1851, Thomas and Isabella Gibson had moved over to Egilsay to farm the land at Onziebist and James and Rebekkah Stevenson were the sole tenants at Scockness. Rebekkah died in 1853 at the age of 70. Their sons Robert and George were employed as carpenters at this time. George married Janet Marwick, the daughter of Hugh Marwick and Mary Yorston of Clook, Frotoft, but she died in 1860 at the age of 40.
In 1861, 40-year-old widower George Stevenson was farming 50 acres at Scockness, together with William Mainland who was joint tenant, and they both paid £30 a year rent. He was the son of Alexander Mainland and Mary Cooper of Cott Mowat, which stood near the shore on what is now part of the land of Avalshay, a short distance from Brinian House. He was born on February 16th 1823, and was 34 years of age when he married George's sister Barbara in 1857. They had five children: Janet Margaret was born in May 1858; William Muir, in January 1860; Mary, in April 1861; James Alexander, in February 1863; and John, who was born in December 1866.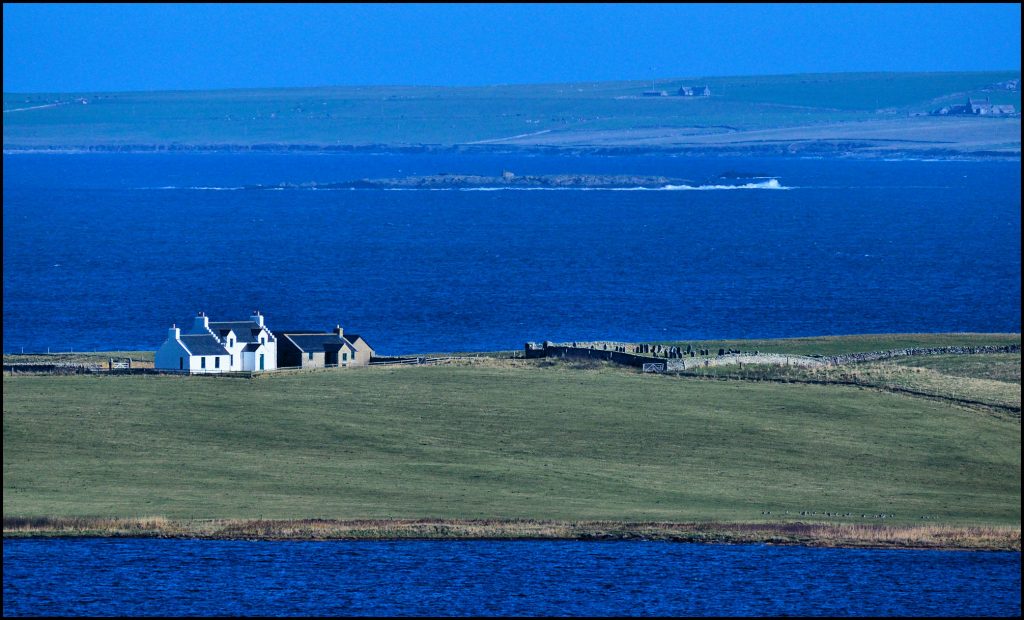 The following information is from the 1861 Rousay census, and tells us who was at Scockness farm when the enumeration was carried out on Friday April 8th. 38-year-old William Mainland was head of the household and a farmer of 50 acres. Wife Barbara was 37 and at this time they had three children; two year-old Margaret; one-year-old William; and 1-day-old Mary. Robina Marwick (28) was their domestic servant; William Johnston (14) was an agricultural labourer; Malcolm Corsie was an 11-year-old cowherd; Margaret Melville, Barbara's sister, was then 32 years old and a miller's wife; Mary Mainland, William's 68-year-old widowed mother; Mary Mainland, his unmarried 37- year-old sister, who was employed as an agricultural labourer; and last, but by no means least, the lady who delivered baby Mary, 70- year-old midwife Isabella Donaldson from Sanday.
By 1871, the Mainland family had done what the Gibson family had done twenty years previously and moved over to Onziebist on the neighbouring island of Egilsay. This left George Stevenson as the sole tenant of Scockness, and by that time he had married again. His wife was Mary Gibson, daughter of Hugh Gibson and Janet Craigie of Skatequoy, born on August 26th 1830. They had two children, Mary, born in 1866, and George, born in November 1869.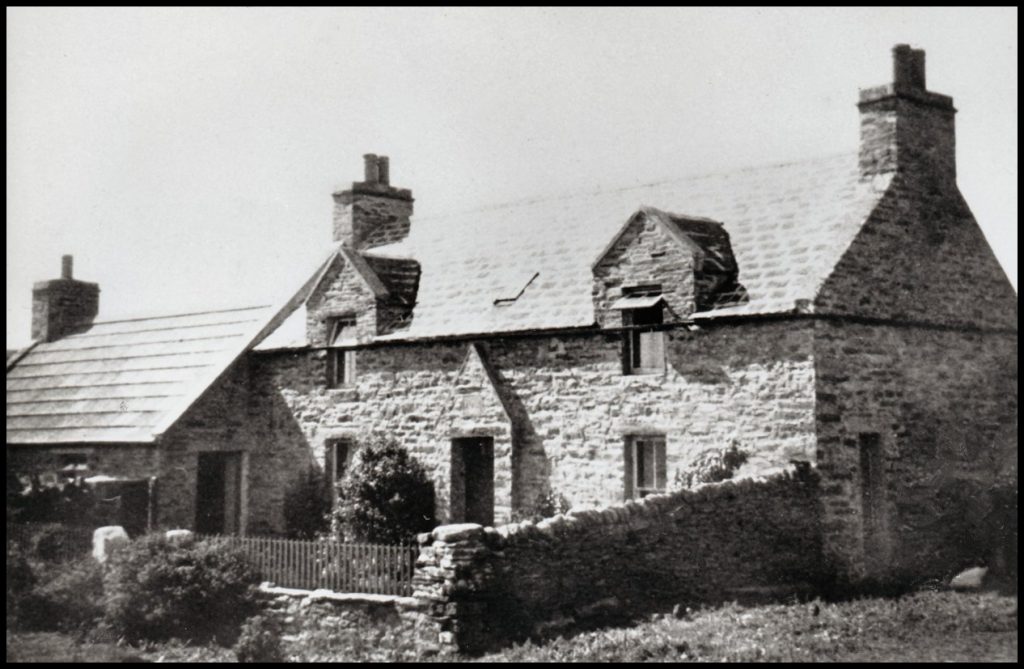 George Stevenson died in 1877 and Mary his widow died in the late 1880s. Their children Mary and George took over the tenancy, the rent at that time being £73 per year, but this was reduced to £60 because they had been left as orphans. The pair left Rousay before the end of the century, for the census of 1901 tells us Scockness was occupied by Robert Marwick, who was by then a 56-year-old widower. Robert was the son of Robert Marwick, one of the Ten Devils who lived at Essaquoy, and his wife Bell Mainland of Cotafea. Born on September 4th 1845, Robert junior, or Robbie o' Scockness as he was known, was 21 years old when he married Ann Blalick Hourston of Tankerness on October 25th 1866. They raised a family of seven children: Isabella, born in June 1867; Mary Ann, in July 1869; Jemima Baikie, in December 1871; Robert William, in April 1874; Margaret Johan, in August 1876; Elizabeth, in July 1879; and Jessie, who was born in November 1882.
Robert's wife Ann was 52 years of age when she passed away on February 1st 1892 when the family were living at Woo. Robert moved to Scockness with unmarried daughters Mary Ann, Maggie, and Jessie. In 1903 Mary Ann married Hugh Corsie Robertson, son of Hugh Smith Robertson, South Tofts, Egilsay, and Margaret Mainland Corsie, Brendale, who was born in September 1847. They had three children: George Marwick, born in 1905; Annie May, in 1907; and Hugh, who was born in 1909.
Mary Ann Marwick had a son, William, born on July 2nd 1892. Her sister Margaret Johan also had a son, Robert William Marwick, who was born on November 18th 1903. In 1915 she married Hugh Craigie, son of Hugh Harold Craigie, Ha'breck, Wyre, later Swandale, and Mary Mainland, Ervadale and they had three children: Hugh Harold, born in 1917; Annie Mary, in 1920; and George Mainland, who was born in 1922.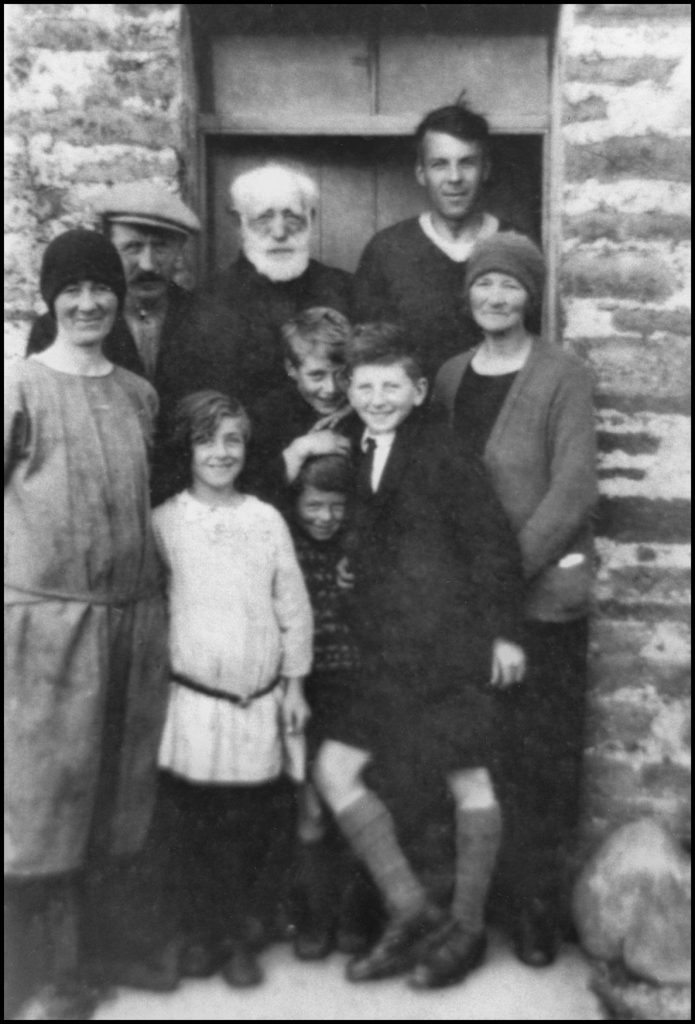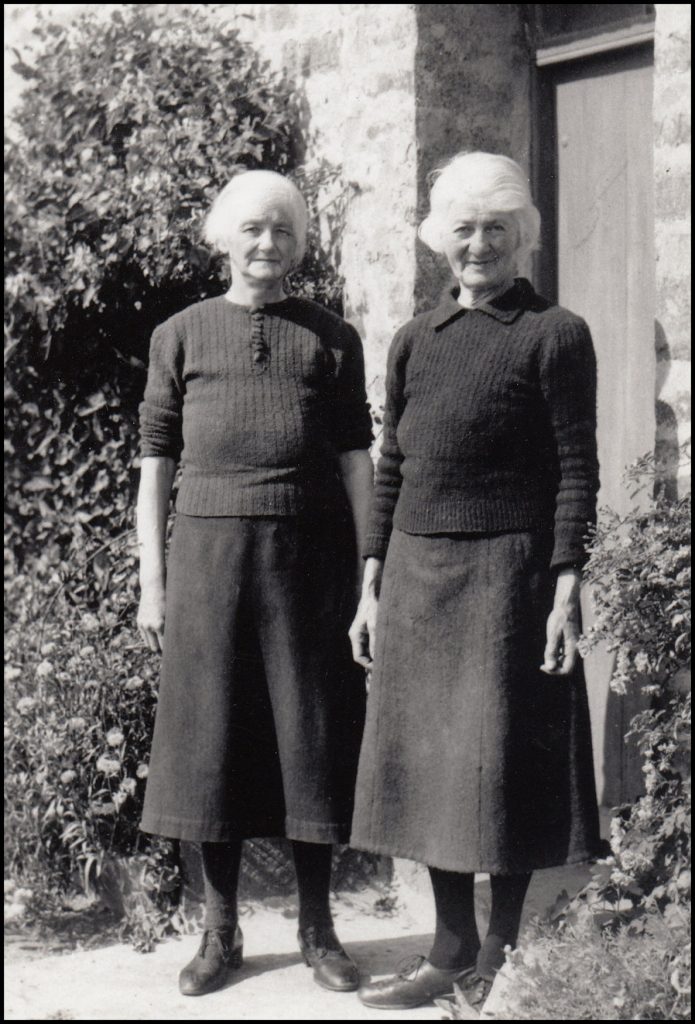 The two photos, above and below, show Robbie o' Scockness with members of his vast family. His daughters, Maggie and Mary Ann in the picture above left, both had children christened Annie, George, and Hugh – and the naming on the reverse of each photo is insufficient to properly identify who is who! – Above right are the Scockness sisters in their latter years – Mary Ann Robertson (left) and Maggie Craigie. – The photo below right shows Maggie's husband Hugh Craigie carting ware at North Sand.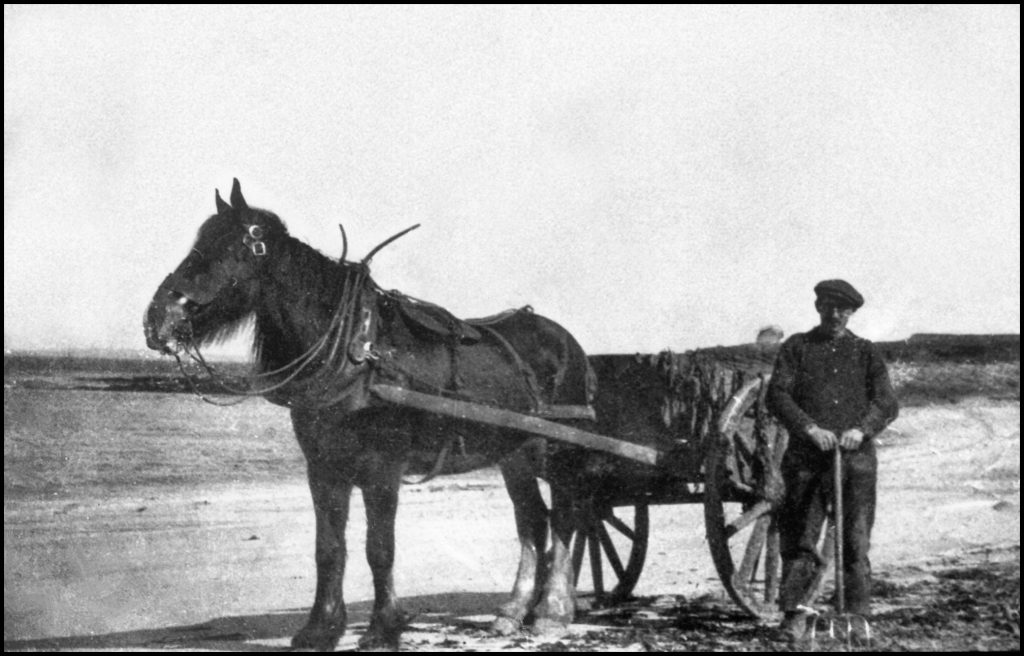 [All black & white photos are courtesy of the Tommy Gibson Collection, unless otherwise stated.]