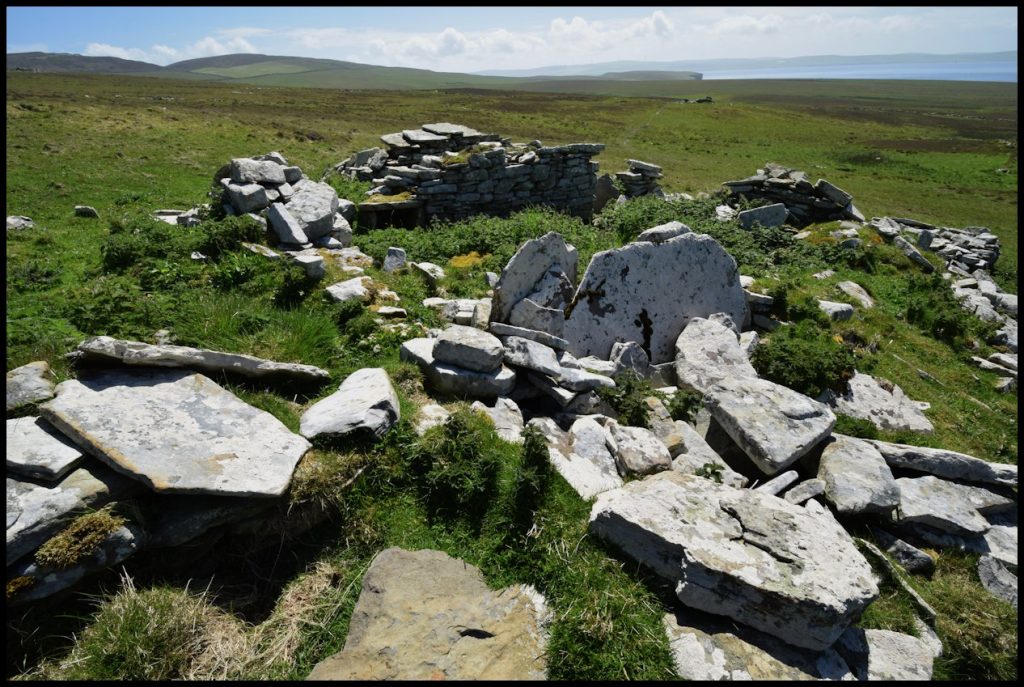 Hestival was the name of an old house in Quandale, about 500 yards northeast of Tofts. In Old Norse the word hesta-vollr means horse field. A rental of 1841 tells of Marjorie Irvine paying £1 2s 3d annual tenancy. The census of 1851 records Mary Randall, a 55-year-old unmarried pauper living at Hestival – before the clearance.
The 1861 census tell us Mary was living at 'Quendale' and in 1871 she resided at Brough on the Westside.
~
North House was the most northerly croft in Quandale. It was occupied in 1841 by Alexander Louttit and his family, when the rent was £2 10s 0d a year. Born in about 1781 Alexander married Barbara Craigie of Whoam in 1816. They had two children; Janet, born in December 1816, and Mary on August 19th 1818.
Alexander later married Janet Craigie, daughter of James Craigie and Oslay Marwick, and between 1822 and 1835 they had six children; Edward, John, Barbara, William, Margaret, and Betsy. Alexander and his family were the last people to inhabit North House due to the clearance of 1845. In 1851 they were living at Lower Blackhammer in Wasbister.