BIGLAND
Bigland is a very old Sourin farm, and referred to in the 1595 Rental as being skatted, or taxed, as a 3d. land. Its name probably came from the Old Norse word bygg-land, 'bere-land,' the word bygg meaning bigg or bere, a kind of barley.
The discovery on this farm of the now famous Rinyo settlement indicated human occupation from a very early date. This is where we have proof of a quite substantial island population in Rousay over 3,000 years ago. So that might suggest that the name Bigland is not bygg (bere) but bygð, in the sense of a place already 'settled on.' Its origin is therefore rather uncertain.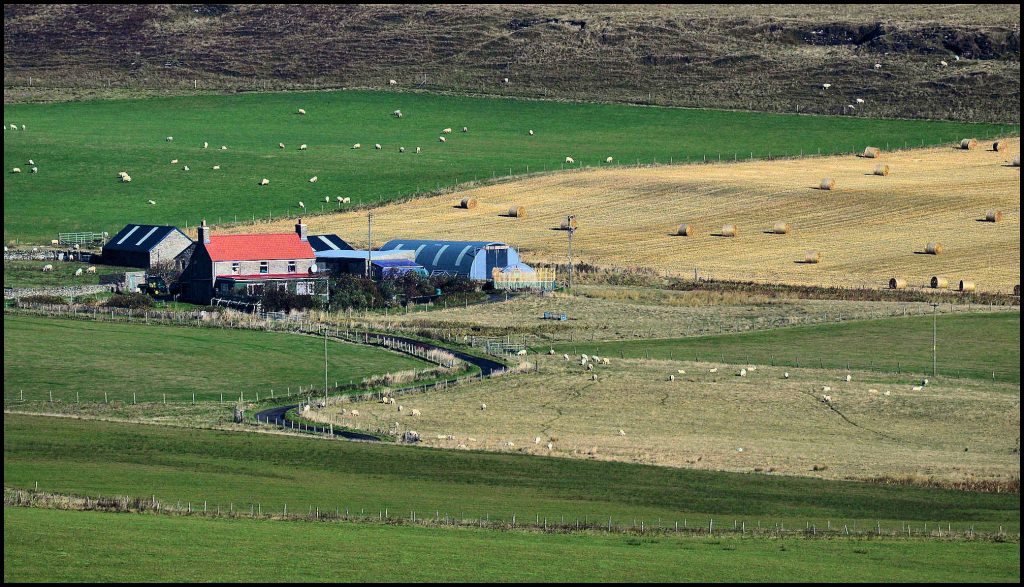 Bigland was jointly tenanted by David and Hugh Craigie in 1734. In the early 1800's the land there was farmed by Robert Gibson, paying £21 16s. rent. He was the son of John Gibson and Isabella Craigie and was born in 1789. He married Christian (Christie) Hourston, the daughter of Walter Hourston and Margaret Harcus, who was born on March 8th 1793. Between 1815 and 1835 they had nine children, seven sons and two daughters: Robert was born in June 1815; John, in April 1817; William, in July 1819; Thomas, in November 1821; James, in April 1824; David, in February 1827; Samuel, in August 1827; Margaret, in August 1832; and Mary, who was born in July 1835.
Two views of Bigland and its surrounding land. Above left shows the farm buildings in the foreground; the houses of Breck and Myres; the northern parts of the Holm of Scockness and Egilsay; and the western coast of Eday across the firth. Above right is a southerly view from the Rinyo settlement area, with Bigland nearest the camera, and the prominent buildings of Hurtiso, the Sourin mill, and the farm of Banks in a line above it.
By the time the 1851 census was carried out Robert and Christie's oldest son Robert and his wife and child also lived at Bigland. On February 27th 1850 Robert married Mary Gibson, daughter of Robert Gibson and Robina Irvine, Langskaill, who was born on July 14th 1829. Their daughter, christened Robina Irvine after her grandmother, was born on March 14th 1851, just 18 days before the census enumerator came knocking on Bigland's door. Very soon after their daughter's birth Robert, Ellen and Robina emigrated to Australia, arriving in Melbourne aboard the 841-ton three-masted sailing ship The Sea on August 20th 1851. This voyage was the first of two made by The Sea, transporting English, Irish, and Scottish emigrants to Melbourne. She arrived in August 1851 with single men and married couples under charter to Her Majesty's Emigration Commissioners. According to the local newspaper of the day's Shipping Intelligence we are told that during the 90-odd-day passage five births and six deaths occurred, all infants, and from 'casual diseases'.
Three of Robert's brothers, John, Thomas, and David, also emigrated to Australia.
John Gibson married Ellen Douglas [born 1827] in Victoria, Australia, in 1854. They had seven children: the first two were born in Collingwood, Victoria, William, in 1855, and John, in 1856. The family then moved to Morang, where their siblings were born: David, in 1859; Joseph, in 1861; Christina, in 1864; James, in 1867; and Ellen, who was born in 1869.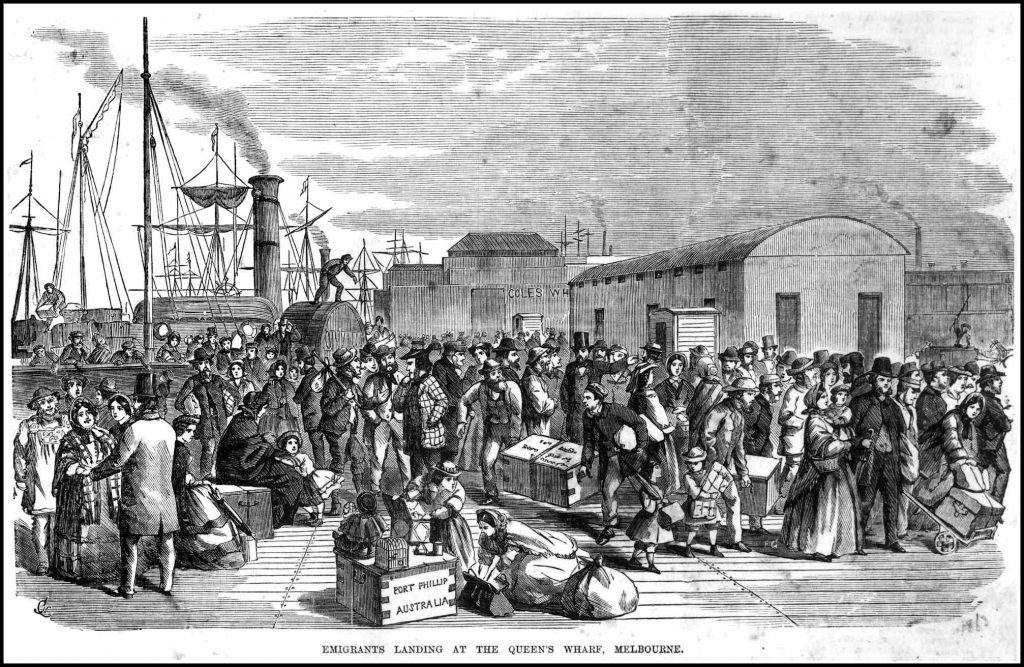 Thomas Gibson married Mary Ann Cook at the Church of St Thomas, Stepney, in London, on October 19th 1845. She was the daughter of Alexander Cook and Elizabeth Ann Grant, and she was born on December 18th 1825 at St. George in the East, Middlesex, England. They had two children: Thomas Meldon, born c.1846, and Robert William, born in July 1849 whilst living in London. They then emigrated to Australia, arriving at Port Phillip in May 1855. Son Robert William died that year, possibly during the voyage. They set up home in Collingwood, Victoria, where a further five children were born: a second child christened Robert was born in 1856, but died just four years later; Elizabeth Ann was born in 1859; Samuel James, born in 1861, but died within a year; another Robert, born in 1862, but also died very young, just four years of age; and William, who was born in 1863.
David Gibson married Christian Gibson on March 15th 1848. She was the daughter of James Gibson and Christian Hourston, of Brendale, who was born on June 14th 1820. They emigrated to Australia, departing from Plymouth and arriving at Port Phillip, Melbourne on August 18th 1848 aboard the 621-ton barque Cheapside – 'William Lewis, master, with 233 emigrants; no cabin passengers.' There they raised a family of seven children: John was born in 1851; James, in 1854; James Cattanach, in 1856; Christina, in 1858; Robert William, in 1860; Mary Ann, in 1862; and Margaret Jane, who was born in 1865.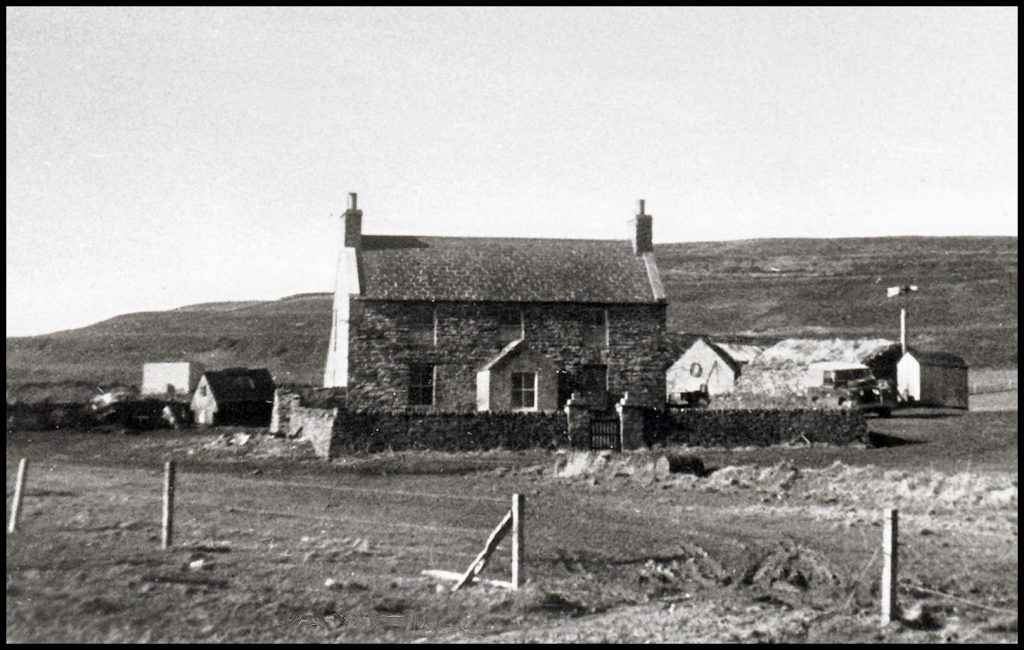 When Robert Gibson senior died in 1872 at the age of 83, his youngest son Samuel took over the running of the farm, paying annual rent of £27. In 1879 he was paying £50 for Bigland and its 39 acres of arable and 75 acres of pasture land. Samuel married Ann Mainland, daughter of Robert Mainland, Classiquoy, and Julia (Giles) Mainland, who was born on May 20th 1849.
At the time of the 1891 census Bigland was unoccupied. Samuel's mother Christie died on December 23rd 1881. Samuel retired from farming, and he and his wife Ann moved to Classiquoy, keeping her widowed mother Julia company.
By the turn of the century Bigland was in the hands of Westray-born farmer Peter Sinclair. Peter was the son of master tailor John Sinclair and Betsy Scott, South Ettit, Rendall, and was born in 1849. On November 28th 1872 he married 20 year-old Catherine Bain, daughter of farmer James Bain and Catherine Scott, of Dyke, Rendall. They had two daughters, both born at Dyke: Margaret Ann Linklater, on November 15th 1873, and Jane Agnes Cursiter, who was born on October 8th 1876.
In 1894 Margaret Ann Linklater Sinclair married John Harrold, son of John Harrold and Jane Walker, Kirkha'. They had two daughters: Annie Jane, born in 1895, and Catherine Agnes (Cissie), who was born in 1897. In 1899, 22-year-old Jane Agnes Cursiter Sinclair married Allan Corsie Gibson, son of John Gibson, Finyo later Langstane, and Lydia Craigie, Myres, who was born on December 5th 1861. They had two sons: Hugh Inkster Gibson, born in 1900, and John Stanley Gibson, who was born in 1905.
Son of John Marwick of Woo, later Bigland, and Margaret Gibson [mentioned as being born at Bigland in 1832 in the third paragraph], Robert Marwick was born on July 8th 1861. On May 23rd 1884 he married Matilda Leask Louttit, daughter of William Louttit and Helen Leonard, Digro, who was born on August 7th  1865. They raised a family of six children: Robert William was born in August 1882; Matilda, in September 1884; John, in December 1886; Margaret Ellen, in September 1892; Mary, in July 1897; and Lizzie, who was born in September 1899. Robert C. Marwick was told by their great-grandson that Robert and Matilda failed to win the consent of Matilda's parents to their marriage until the second child was on the way.
Pictured above left are Hughie and Cissie Gibson. Hugh Inkster Gibson was 24 years old when he married Jessie Alexina [Cissie] Craigie at Furse on April 17th 1925. She was the daughter of John Craigie, Furse, and Ann Seatter Russell, Brendale. The ceremony was performed by the Rev. Frederick Fraser, and witnessed by John Craigie, Furse, and Lydia Gibson Baikie, Sourin Schoolhouse. – As well as farming the land at Bigland, Hughie was also an Auxiliary Volunteer in charge of Rousay Coastguard.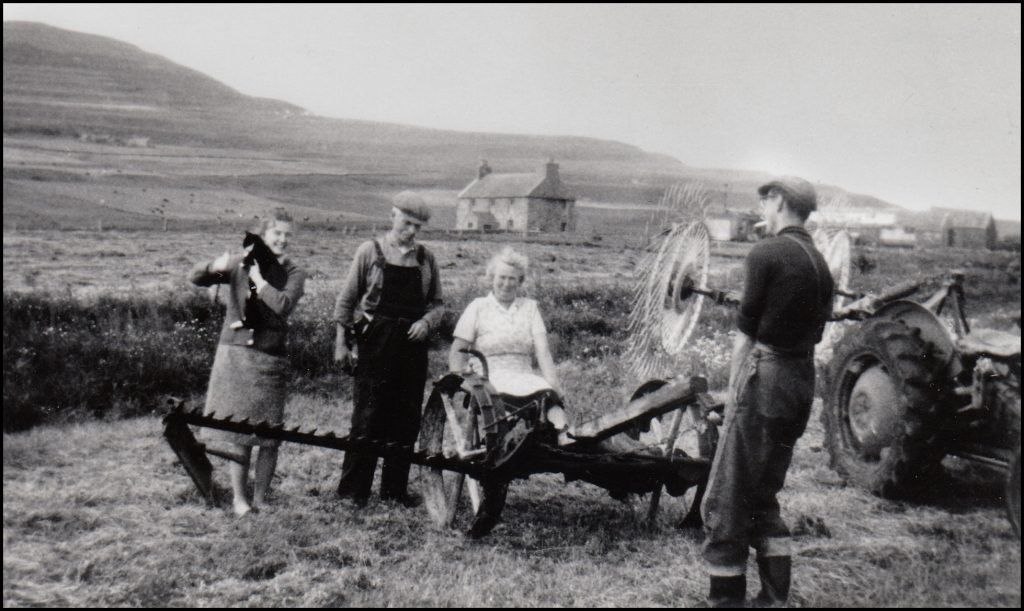 ---

BROLAND
Known in 1562 as Brewland, and Browland in 1595, Broland was an old Sourin farm skatted as a one pennyland. It was occupied in 1653 by John Mainland, and in 1740 by Rolland Marwick.
In 1841 the land was farmed by John Gibson. He was the son of John Gibson and Christy Mainland of Sourin and he was born about 1771. He married Giles (Julia) Grieve of Hurtiso in 1799, and they had seven children between 1800 and 1814: Ann and John were born at Hurtiso on November 29th 1800 and October 17th 1802 respectively. Their five siblings were all born at Broland: William, in May 1805; Margaret, in February 1807; James, in September 1808; Robert, in May 1811; and Thomas, who was born in June 1814.
John Gibson had passed away by the time the 1851 census was carried out on March 31st that year. Spelled Brawland by the census enumerator, head of the household was John's youngest son Thomas Gibson. On January 14th 1842 he married Jane Grieve, daughter of Robert Grieve and Ann Work of Outerdykes, who was born on August 22nd 1819. They raised a family of eight children: twins Ann and John were born on December 14th 1843; Thomas, on June 8th 1845; Robert, on November 11th 1847; Mary, on December 1848; Margaret, on December 27th 1851; Jane, on June 14th 1855; and Isabella Marwick, who was born on April 23rd 1859.
Thomas was paying rent of £11 18s 7d a year. Between 1879 and 1887 he was paying £33, but in 1895, when he was in his 81st year, he paid £24 rent for Broland and its 32 acres arable and 21 acres of pasture land.
Thomas's son John married Janet [Jessie] Skethaway in 1877. She was the daughter of Simpson Skethaway and Margaret Craigie, Knarston, and she was one of twins born on December 26th 1853. They had two children: Margaret Jean [Maggie Jane], who was born on June 13th 1877, and Thomas, who was born on June 6th 1880.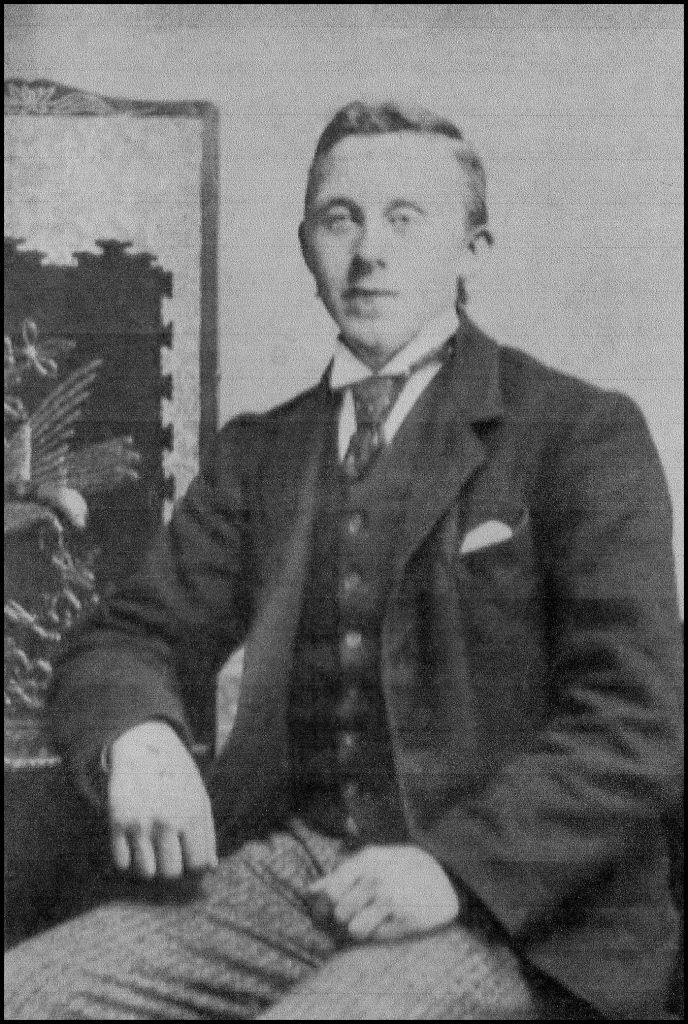 In 1905 Maggie Jane married Archibald McCallum Leonard, son of James Inkster Leonard, Quoygray, later Cruannie, and Ann Marwick, Tou, who was born in 1881. They emigrated to Canada, raising a family of seven children in Winnipeg, Manitoba.
On May 9th 1932 Thomas Gibson [born 1880] married Mary Alexina Wylie, daughter of John William Wylie and Maggie Ann McLean, Grindlay's Breck, who was born in 1911. They were married by warrant of the Sheriff-Substitute of Caithness, Orkney and Shetland at 5, Bridge Street, Kirkwall, by declaration in the presence of James Sinclair Scott, Tankerness Road, Kirkwall, and Clara Clouston Muir, Warrenfield House, Kirkwall. Thomas and Mary raised a family of four children at Broland between 1932 and 1946.






Thomas Gibson (senior), 1880-1958
---

ESSAQUOY
Variously spelled Ossaque in 1563, and Ossaquoy in 1595, other old rentals mention later occupants – James Mainland in 1653, and George Allan in 1734. This old farm of 24 acres lay immediately north of the old lands of Husabae in Sourin.
This was home to another of Betsy Marwick o' Scockness's "ten devils", this one being Robert Marwick, born on July 29th 1806. On February 6th 1829 he married Isabel (Bell) Mainland, daughter of James Mainland and Christian Louttit of Cotafea, who was born on June 24th 1811. Between 1830 and 1857 they raised a family of thirteen children, seven daughters and six sons: Lydia was born in February 1830; James, in September 1831; Elizabeth, in September 1833; Mary, in June 1835; Ann Mainland, in April 1838; Margaret, in April 1840; John, in June 1842; Robert, in September 1845; William, in February 1847; Isabella, in July 1849; David, in April 1852; Elizabeth, in September 1853; and Isaac, who was born in October 1857.
Robert farmed the land here for many years, and having retired his son David took over the running of the farm. On May 26th 1876, 24-year-old David married Ann Leonard. She was the daughter of George Leonard and Margaret Clouston of Stourameadow and later Triblo and was born in 1856 when the family lived in Quandale. As a small child she was carried across the Rousay hills in her father's arms when they were evicted from the Westside and moved to Triblo.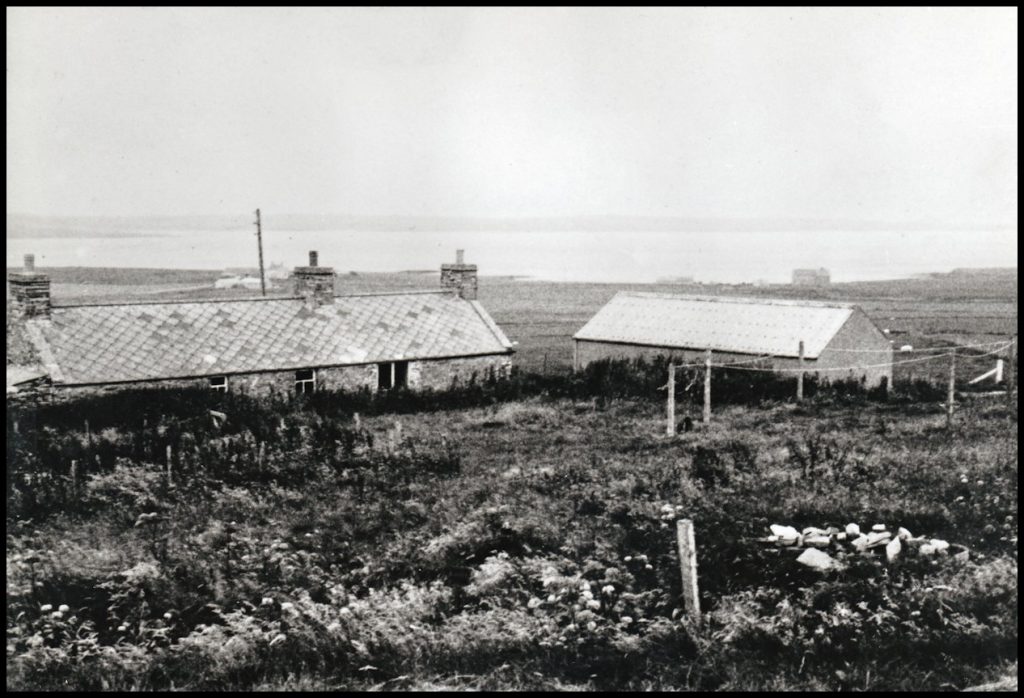 David and Ann raised a family of seven children at Essaquoy: Robert was born on February 10th 1877, followed by George on January 25th 1880, Bella, on January 11th 1882, Mary Ann on September 9th 1886, David Baikie on November 16th 1890, William Leslie on May 23rd 1895, and John Hourston, who was born on April 30th 1897.
Between 1880 and 1887 David was paying £16 a year rent, but in 1888 it was reduced by the Crofter's Commission to £10 8s. At that time Essaquoy was made up of 24 acres arable and 1 acre pasture land.
In the early 1900s David and his family moved to Quoys in Wasbister. The new occupants of Essaquoy were widowed farmer John Mainland, with two of his daughters and a son to keep him company. John was the son of James and Mary Mainland, Onzibist, Wyre, and was born on January 4th 1839. On November 29th 1868 he married Margaret Mainland, daughter of Magnus and Janet Mainland, Testaquoy, later Cavit, who was born on May 21st 1846. They raised a family of eleven children between 1869 and 1891: Annabella was born in 1869; William, in 1871; Janet, in 1872; John, in 1874; James, in 1876; Magnus, in 1878; Margaret, in 1880; David, in1883; Hugh Wood, in 1885; Mary Jane, in 1887; and Robert, who was born in 1891. The children's mother Margaret passed away in 1903.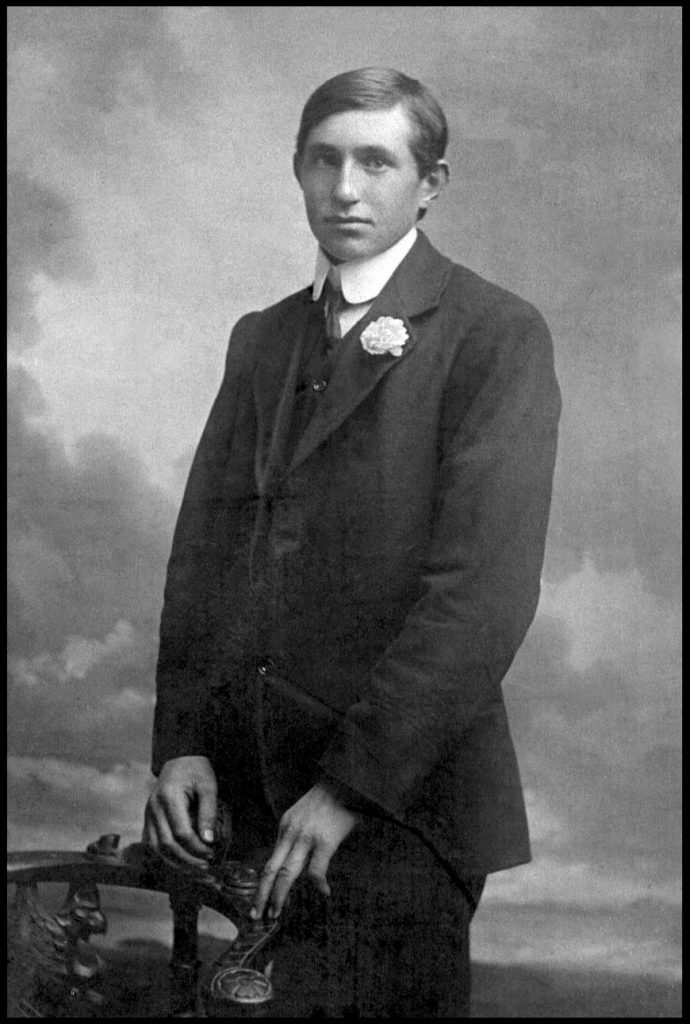 Pictured to the right is John Hourston Marwick, born at Essaquoy on 30th April 1897, the son of David Marwick and Ann Marwick (née Leonard). Serving with the 58th Battalion, Machine Gun Corps, formerly 13092 Seaforths, he was killed in action near Epéhy in the Department of the Somme on 7th September 1918, aged 21. He is commemorated on Panel 10, Vis-en-Artois Memorial, Pas de Calais, France – and the Rousay War Memorial.
The name of John's uncle, Isaac Marwick, is also inscribed on the memorial. Serving with the Mercantile Marine, he died on 25th February 1916, aged 58, in the sinking of S.S. "Southford" (Glasgow), which struck a mine and sank when leaving Harwich harbour.  All the crew were saved, but Isaac died of a heart attack, brought on by the sudden immersion in cold water after being in the heat of the engine room.
Born at Essaquoy on 28th October 1857, the son of Robert Marwick and Bella Mainland, Isaac was married to Sarah Harrold from Rendall. They had two children, Robert and Maggie Ann. Isaac was a blacksmith at Rousay Pier, and was engineer on the steamer "Lizzie Burroughs" for a time. He was later engineer on S.S. "Hoy Head" for many years, and was aboard the S.S. "Southford", when he met his death.


[All black & white photos are courtesy of the Tommy Gibson Collection]