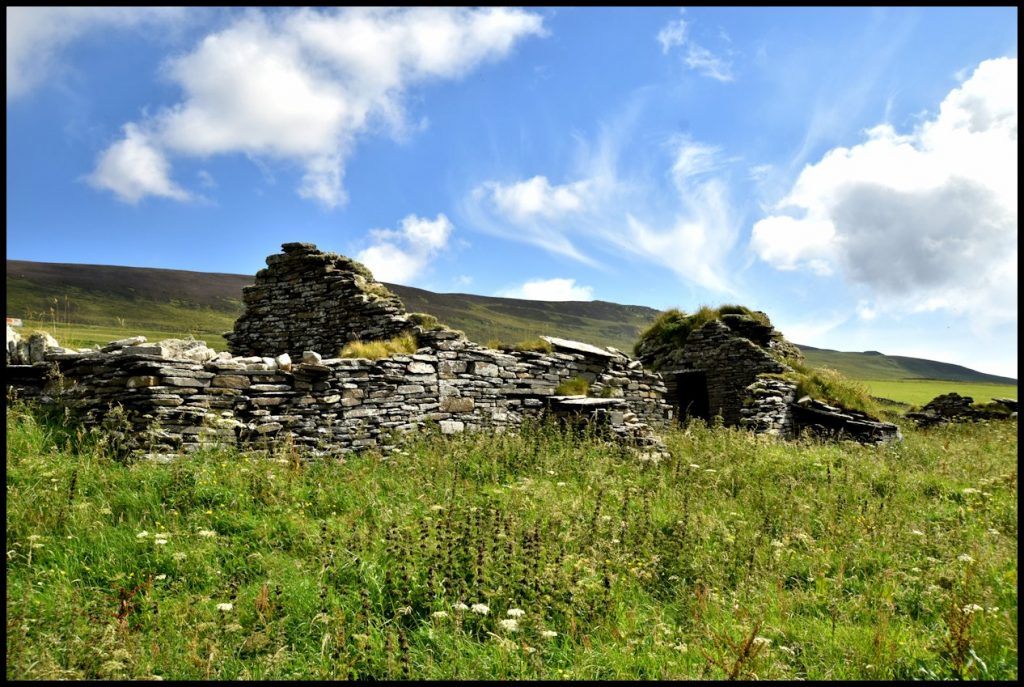 Brough, spelled Brugh in a rental dated 1503, is the famous old homestead of the Craigie family, situated in Outer Westness. Westness – the home of Earl Paul Thorfinnson's great friend, Sigurd – features prominently in the Orkneyinga Saga, but there is no doubt at all that Sigurd's homestead was not at the site of the Westness of today, which is in the old Inner Westness, but at Skaill – in the old Outer Westness. There it must have been that Earl Paul was on a visit at the time of his capture and final disappearance from the Orkney scene.
How much of the original Westness was Sigurd's own property it is now impossible to say. The Saga twice speaks of Earl Paul as being a veizlu when staying there with his friend Sigurd. Veizla was a technical term for the 'guesting' a vassal was obliged to provide for his lord when on a tour round his estates, and hence one would infer that some part, at least, of the Westness area was private earldom property. Sigurd too, was married to a granddaughter of Earl Paul I, and it is possible that part of Westness may have come to him through his wife, as a daughter's portion.
That is merely a speculation, but two facts may be held to support it. In the 1503 Rental it is recorded that the rents of 2¼ pennylands in Quham, part of Outer Westness, which had belonged to Sir Malise Sperra were then "in Sir Thomas Cragy's and John Cragy's hands – I was nocht quhy. Remember thereon….." The compiler of the Rental apparently suspected that these rents should be paid to the Earl, and intended to investigate the matter. But the real interest lies in the reference to Sir Malise Sperra who had died over a century previously. The Rental further refers to 1½d. land in Quandale, also in Outer Westness, as having belonged to Sir Malise Sperra. He was of course of Earl's descent, and was an actual claimant for the Earldom in 1379, when it was granted instead to Earl Henry St. Clair. The 1503 Rental mentions his having owned lands also in Instabillie in North Sandwick, and the most obvious explanation is that all these lands represented some part of his udal inheritance through descent from the earls. Here then is a clear hint that part of Westness at least had been in private earldom property.
The other fact is the presence of the Craigies in Rousay, and in particular as the udal owners of Brough in Outer Westness through most of the 15th and 16th centuries. As udallers, their property must have come to them through the female line, for Craigie is of course a Scottish name. One of the earliest recorded in Orkney was James of Cragy – described in 1422 as "dominus in Hupe," and he was in fact married to a daughter of Earl Henry St. Clair. In an inventory of the Brough charters there is a record of a charter of February 28th 1415 between "the brethren of the Craigies," and it is not at all improbable that it was through James's marriage with the Earl's daughter that Brough first came into Craigie hands.
From the foregoing facts it would appear there is every probability that Sigurd owned at most only part of the old Westness, and that as a gœðing of the earl he held the rest of the estate as veizlu-land from his overlord. He lived there in the 12th century, and three or four hundred years must by then have elapsed since the date of the earliest Norse settlement at Westness.
Of that original Westness settlement, the two old farms of Skaill and Brough may be looked on as the very heart or core. The houses and farm buildings of both are now derelict and deserted – the lands being all part of the modern huge farm of Westness – but no nook or corner of Orkney speaks more poignantly of the past.
Brough was, in the 15th and 16th centuries, one of the most important houses in Orkney, no fewer than three Craigies of Brough having been Lawmen of Orkney. The farm was a 7d. land, and in 1503 the Rental shows us that 6d. land was the udal property of John Craigie the Lawman, who also occupied the seventh pennyland as tenant of the Earldom.
Brough remained in Craigie hands up to 1556, when Magnus Craigie sold it with the 'fortalice' and head-house (capitale messuagium), mill, and the right of patronage of the chapel of St. Christopher in the Cathedral of St. Magnus, to his kinsman Magister Magnus Halcro, precentor or chantor of the Cathedral – a cleric whose career, if not altogether exemplary, was perhaps only too typical of churchmen of that time.
At this period the Reformation in Scotland was about due, and he was not slow to move with the times. In 1560 – the very year of the Reformation – he secured from the Bishop and chapter a tack of the Bishopric lands in Rousay, including the lands of Inner Westness and all the lands or Sorwick (Sourin), and he quickly celebrated his legal release from celibacy by marrying no less a lady than Margaret Sinclair, daughter and heiress of Sir James Sinclair and his wife Barbara Stewart, daughter of the first Lord Ochiltree.
After Magnus's death, his Brough property was 'adjudged' in a suspicious manner to Earl Robert Stewart in 1584 for alleged arrears of dues by the widow and other heirs, and in 1586 the Earl assigned 500 marks from the lands of Brough and Eynhallow to Marjory Sandilands – a Caithness woman who had borne him three illegitimate sons. By 1593, however, Brough was again in possession of the Halcros – Henry Halcro owning the property between then and 1609. The following are the names of those who owned Brough from that time onwards. 1609 – 1626, Robert Elphingstoun; 1626 – 1638, Roland Ingisgar; 1639 – 1653, Robert Stewart the younger; 1659 – 1675, James Traill; 1675 – 1683, Roland Mowat and William Harcus; 1733 – 1751, John Flaws; 1774 – 1781, Magnus Harcus and Nicol Robertson; 1781 – 1785, Magnus Harcus and William Corsie; 1785 – 1796, William Harcus and others; 1796 – 1809, Hugh Craigie and John Inkster; 1809 – 1823, Hugh Craigie the younger.
From 1823 Brough was occupied by Magnus Craigie. The census carried out in Rousay in 1841 tells us that Magnus was then a 40-year-old farmer, his wife Mary was 35 years of age, oldest daughter Janet was 20 and employed as a servant, and younger daughter Mary was 13 years old.
In 1851 there were some new faces at Brough. Magnus Craigie was still there, but he was joined by two farm labourers, David Gibson (18), and John Harcus, who was 12 years old. Margaret Craigie (23) and Margaret Louttit (19) were employed as farm servants. Mary Flaws also lived at Brough. She was a 46 year-old pauper.
By 1861 Magnus and Mary Craigie had moved from Brough at Westside to Frotoft and were living in what the census of that year called Section 3 (Brough). Magnus was in his 63rd year, and he was farming five acres of land there. His wife Mary was then 56 years of age
At this time Brough at Westside was occupied by Peter Reid, a fifty-year-old ploughman. He had recently moved from the nearby farm of Garson. He was the son of George Reid and Barbara Logie of Pow and Garson, Westside, and he was born in 1810. He was married to Mary Louttit, the daughter of Drummond Louttit and Betty Flaws, who was born in 1807. They had three children; Elizabeth Traill, born on June 16th 1841, Mary, born on December 7th 1842; and Peter, who was born on January 22nd 1847.
Elizabeth Traill Reid died in Glasgow in 1863 and her brother Peter died in 1872. Their father Peter Reid died in 1879 at the age of 69.
Head of the household at Brough in 1881 was Alexander Learmonth Reid. He was the son of Peter and Mary Reid's daughter Mary, and he was born in 1862. In 1881 he was earning a living as a farm servant, and living with him at Brough at that time was his widowed grandmother Mary. She died in 1893 at the age of 86.
Alexander Learmonth Reid married Harriet Logie. She was the daughter of Robert Logie and Mary Murray of Geo and later the Old School, Westside, and she was born in 1866. They had two sons, Alexander, born in 1890, and Harry, who was born in 1894, but Harriet died shortly after his birth.
[Hugh Marwick's The Place-Names of Rousay was referred to in the early part of this text.]