In the mid-1850s there a house named Cott on the Westside, there was one in the Brinian, also known as Coatmode, and one at No. 4, Frotoft.
Living at No 4 at that time was Peter Louttit, a 69-year-old farmer of 6 acres, his wife Jean, who was 62, their son David, a 15-year-old scholar, and 22-year-old Lydia Mowat, who was employed as a house servant. Between 1847 and 1859 Peter was paying £5 10s 0d rent.
In 1871 James Mainland was farming the 8 acres of land at Cott and paying £9 rent. He was one of triplets born to Alexander Mainland, Cruseday, and Janet Kirkness, daughter of James Kirkness and Ann Harold. James and his siblings were born on February 23rd 1839. He was 19 years of age when he married Margaret Mainland, the daughter of Nicol Mainland and Margaret Louttit of Banks, Frotoft, and she was born on April 24th 1831. They had seven children; William, born in April 1858; Lydia, born in January 1860; another William, in March 1863; John, born in August 1865; Nicol, in January 1869; Harriet, who was born in December 1870; and Margaret, born in May 1875.
In the early 1900s Cott was occupied by John Shearer, born at Lady, Sanday, in 1865, and earned a living as a farmer, cutter, and tailor. With him was his wife Lydia, and their six children: John, William, Robert, Eva, James, and David.
By the time the 1911 census was carried out on April 5th of that year, the Shearer family had left Rousay. Cott was then occupied by John Mainland, a 47-year-old seaman, who was captain of the steamer Fawn for a time. He was the son of John Mainland, Cotafea, and Mary Reid, Wasdale, and he was born in March 1864. His wife was Betsy Craigie Mainland, daughter of John Mainland, Cruseday, and Lydia Mowat from Scowan, below Redlums, Sourin. Married in 1896, John and Betsy had three children; George William, born in September 1897; John, born in September 1899; and Lydia Mary, known as Edda, who was born in August 1902. The family were living at Mount Pleasant, above Hullion, before moving down the hill to Cott.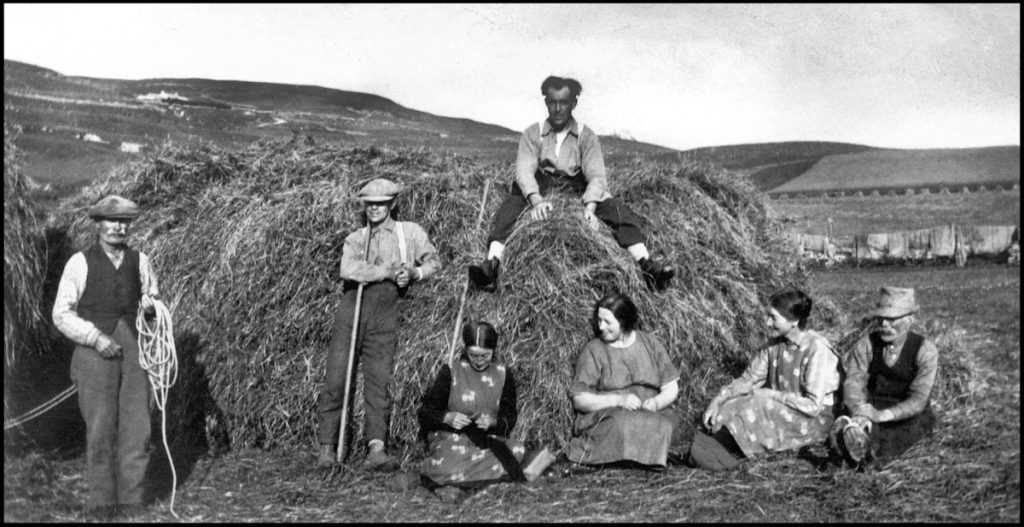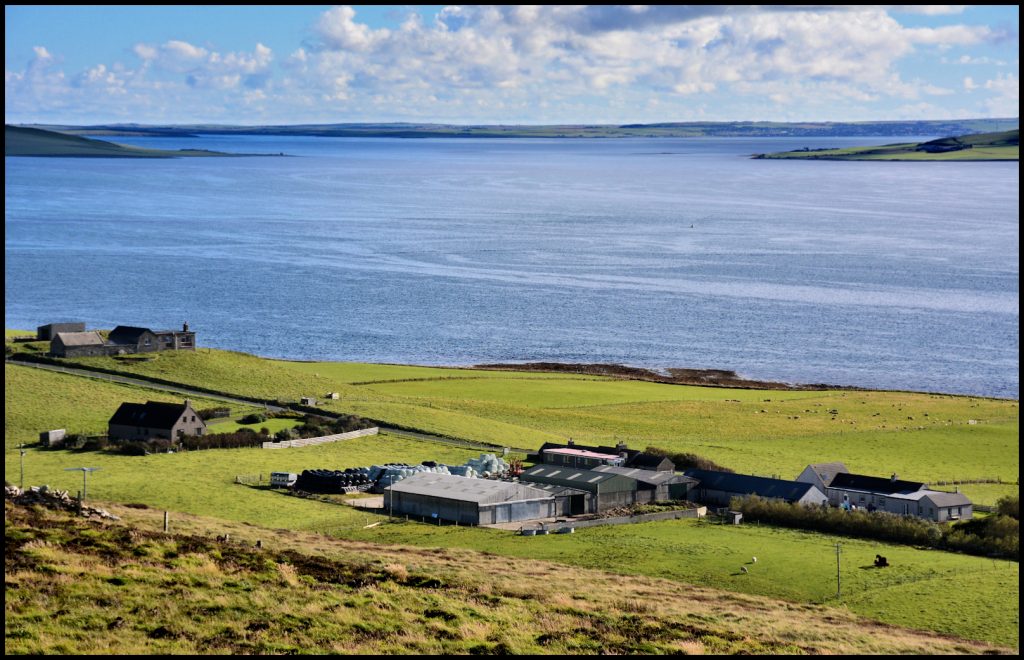 Langstane was the name of a small croft in Frotoft, named after the old 'standing stone' adjacent to the farm buildings. It was also known as Section V, or No. 5, Frotoft, and John Mowat paid £7 10s 0d rent annually to farm the eight acres of land in the late 1840s.
John was the son of Thomas Mode and Helen Peace of Milnhouse, halfway between the public school and Woo in Sourin, and he was born in 1794. In 1824, he married 34-year-old Isabella Yorston of Trumland and they had five children; Margaret was born on February 25th 1825, Betty on April 17th 1827, Lydia on March 30th 1829, Jean on July 23rd 1831, and John, who was born on October 7th 1835.
John died in 1869 at the age of 75, and his widow Isabella moved into a cottage at neighbouring Cotafea. In 1852 their third oldest daughter Lydia married farmer and boat builder John Mainland of Upper Cruseday, and by 1871 they and their family had moved into Langstane. John was the son of David Mainland and his second wife Marion, and was born on March 1st 1819. Between 1854 and 1873 he and Lydia had nine children: Hugh, who was born in February 1854; John, in September 1855; Mary, in October 1857; Jane Hughina, in March 1860; Janet, in October 1862; Duncan, in May 1865; Betsy Craigie, who was born on February 16th 1867; Isabella, in August 1869; and Lydia Ann, who was born on June 18th 1873. John paid £11 5s 0d rent on the property in 1875. This rose to £13 in 1876 and stayed at that rate between then and 1887. Langstane was made up of 10 acres arable and 4 acres pasture land.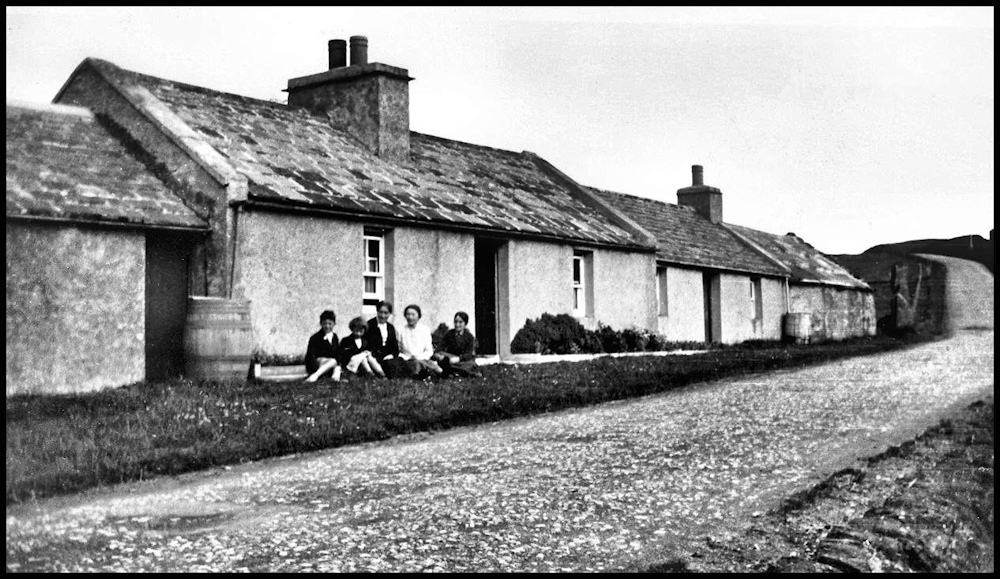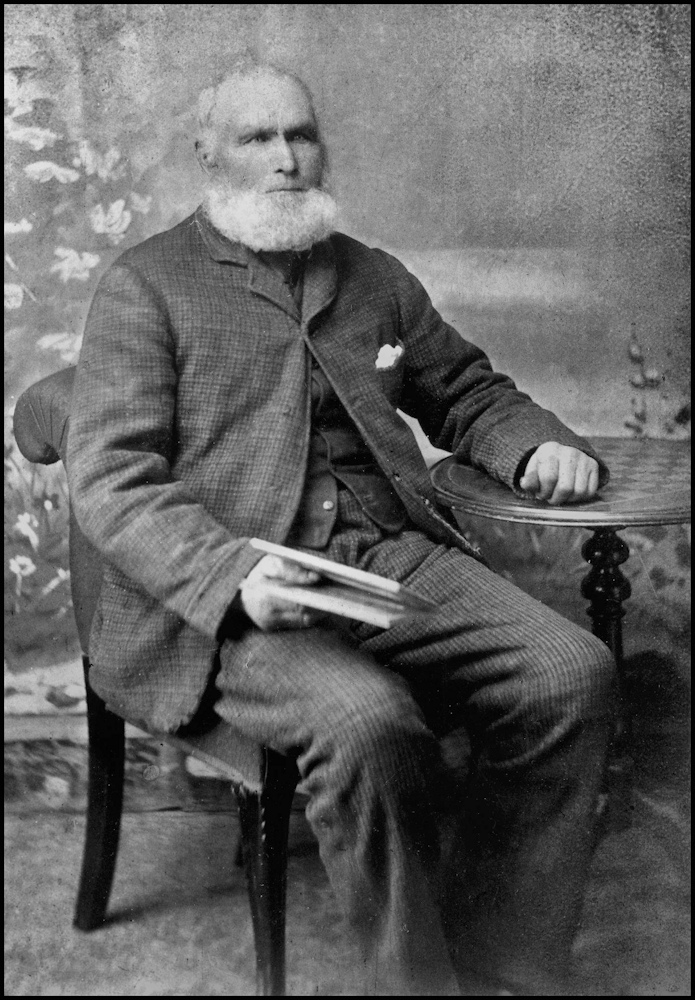 I am reliably informed the Mainland family were evicted from Langstane by General Burroughs, as he wanted the building to house his factor Robert Graham – the last eviction to be carried out on the island. The census of 1901 shows retired carpenter John Mainland, then in his 83rd year, and his 72-year-old wife Lydia living up at Mount Pleasant. Lydia died in 1903, and John passed away four years later 1907. Also living at Mount Pleasant, under another roof before her parents died, was their daughter Betsy, who by that time had married seaman John Mainland of Cotafea, already mentioned under the Cott heading.
Robert Graham and his family moved away, and Langstane was then occupied, in 1911, by 76-year-old John Gibson and his 62-year-old wife Matilda. John, pictured to the left, was the son of Hugh Gibson and his second wife Margaret Harcus, and was born at Geo, Westness, in February 1834. He lived at Finyo with his first wife Lydia Craigie of Myres. She died in 1873, and he then married Matilda Saunders of Evie.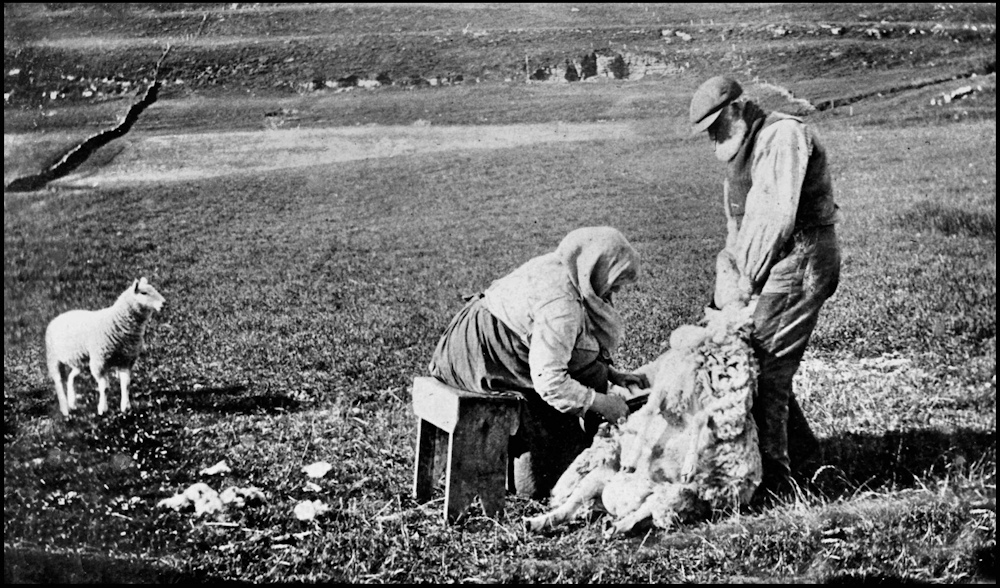 Langstane was eventually occupied by Mainlands again for many years – sisters Isabella and Lydia Ann ending their days there in the 1950's when they were 90 and 82 years old respectively.
Grateful thanks to Graham Lyon, Sandwick, for allowing its reproduction here. Graham writes:- "This was a wedding gift to my great-grandparents Betsy and John Mainland, and dated the year they married."
[All black & white photos courtesy of Tommy Gibson]