Woo, an old farm in Sourin on the north bank of the Sourin Burn, was spelt Owe in the Early Rental of 1595, when it was skatted as a 3d land, this being the annual rent due from the tenant in occupation. Woo was jointly tenanted in 1653 by Henry Harrold and Andrew Moss and in 1738 the tenant was James Craigie.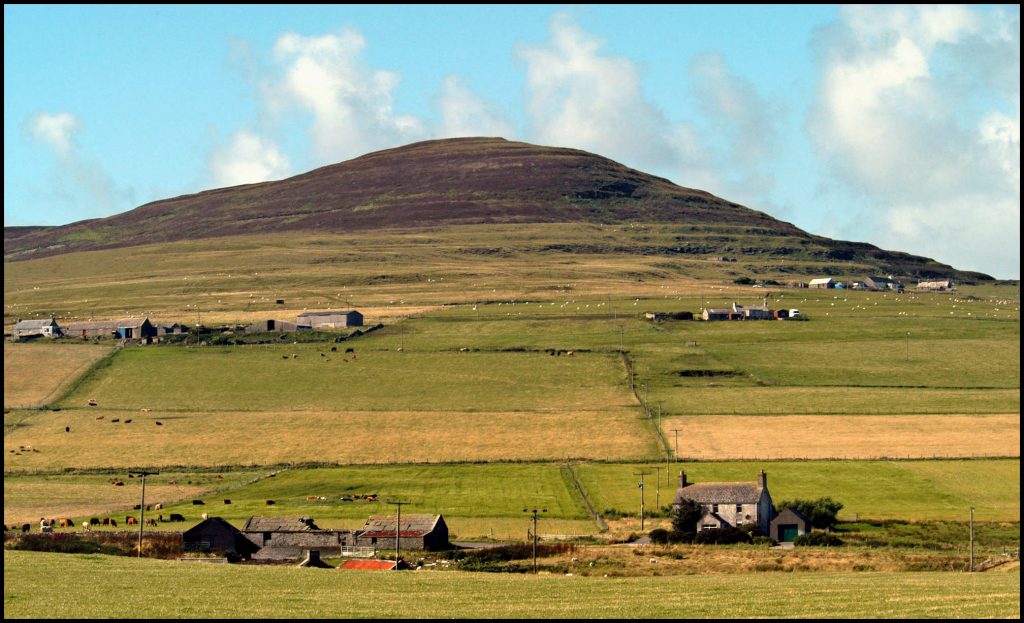 In 1841, Woo was occupied by farmer William Mainland and his family. William was the son of Leslie and Jean Mainland of Avelshay, and he was born on March 9th 1811. On January 2nd 1835 he married Betsy Reid, daughter of Peter Reid and Betsy Marwick, who was born in Stronsay c.1810. William and Betsy had eight children – the first of which were twins, christened William and Betsy, who arrived on November 1st 1835. Jane was born in July 1837; Anne, in April 1839; John, in April 1841; James, in June 1845; Peter Mowat in December 1847; and David, who was born in April 1850. The family later moved the short distance to the farm of Banks.
Thomas Marwick was the next tenant of Woo, paying £15.8.0 rent in 1845 and £28.0.0. in 1857. He was the son of Hugh Marwick and Betsy Sinclair of Scockness, and was born in 1796. He was the second oldest of Betsy's "ten devils." On January 28th 1820, he married Ann Gibson, the daughter of John Gibson and Giles (Julia) Grieve of Broland, Sourin. She was born on November 29th 1800 when they were living at Hurtiso. Between 1821 and 1845 Thomas and Ann had ten children: Hugh, was born in September 1821; Elizabeth, in October 1823; John, in July 1826; Thomas, in March 1829; William Gibson, in August 1831; Mary Mainland, in August 1834; Margaret, in March 1837; Isaac, in December 1839; Isabella Ritchie, in April 1842; and Ann, who was born in October 1845.
Their mother Ann died in 1861, and was buried in Scockness kirkyard. The inscription on her tombstone reads as follows:-
Erected by Thomas Marwick
in memory of his beloved wife
Ann Gibson
Who died 21 April 1861.
"Weep nothing my friends and children dear;
Lamented I am sleeping here."
All but two of this family emigrated to New Zealand, most of them going in the 1850's. The others, along with their father, went in 1862 after their mother's death.
The two who did not emigrate were John and Margaret. She married Robert Stevenson of Kirbust, Egilsay, in 1860, where they raised a family of eight children. On February 21st 1860 John married Margaret Gibson, daughter of Robert Gibson and Christian Hourston of Bigland, who was born on August 20th 1832. Between 1861 and 1879 John and Margaret brought up a family of eight children at Woo: Robert, was born in July 1861; Thomas William, born in January 1863; Margaret Ann, in February 1865; John, in September 1867; Mary Gibson, in July 1870; Samuel Gibson, in March 1873; Isabella, in June 1876; and Elizabeth, who was born in September 1879. Between 1879 and 1886 John paid annual rent of £50.0.0. for Woo and its 66 acres of land.
By 1881 he was joined by another tenant – Peter Mainland. He was the son of William Mainland and Barbara Reid of Cotafea, and he was born on January 29th 1832. On February 21st 1860 he married Margaret Gibson's younger sister Mary at Woo and they had six children: Peter, was born in April 1863; Robert William, in June 1865; Samuel, in December 1867; David, in January 1871; Mary Christina, in May 1873; and Annie, who was born in January 1878.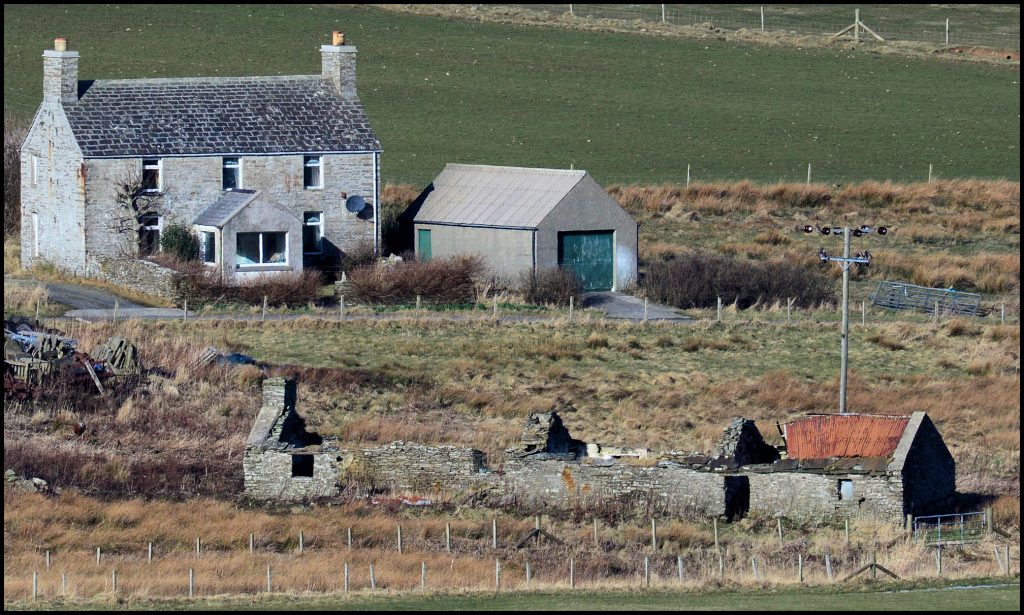 By 1891, John Marwick and his family had moved down to the Glebe at Knarston, and Peter Mainland and his family had moved over to Georth, Evie. Woo was then occupied by farmer Robert Marwick. He was the son of Robert Marwick and Bell Mainland of Essaquoy. He was born on September 4th 1845, and was later known by one and all as Robbie o' Scockness. On October 25th 1866 he married 26-year-old Ann Blalick Hourston of Tankerness, and they raised a family of seven children: Isabella was born in June 1867; Mary Ann, in July 1869; Jemima Baikie, in December 1871; Robert William, in April 1874; Margaret Johan, in August 1876; Elizabeth, in July 1879; and Jessie, who was born in November 1882. Robbie's wife Ann died in 1892 and she was interred in the Scockness kirkyard. Daughter Isabella died at the age of 16, and her brother Robert passed away in 1899 at the age of 25, and interred in the same burial ground. It was not long before Robbie and the remaining members of his family moved into the farm buildings of Scockness – right next door to the kirkyard.
In the early 1900s a new two-storey dwelling house was built at Woo, the old house being converted for use as a shed and cattle shelter.
Woo was occupied by James Kirkness Inkster and his wife Maggie. James was the son of John McLellan Inkster, Barebraes, and Betsy Inkster, Innister, and he was born in 1877. Maggie was the daughter of Alexander Gibson, Vacquoy, and Margaret Learmonth, Westness, and she was born in Oct 1865. James and Maggie married in 1902, though had no children. In 1914 James was paying an annual rent of £25 for both Woo and nearby Burnside.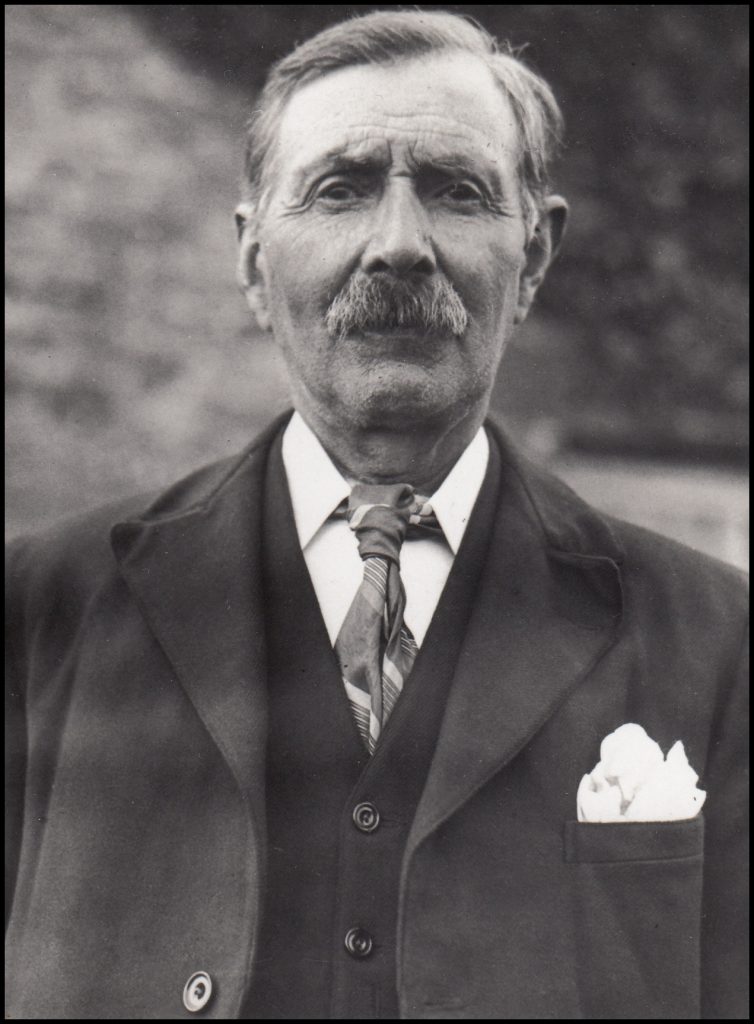 Now we come to John Inkster [pictured left], who, at the time of the 1911 census, was a crofter and rural postman living at Swartifield, Sourin. John Alexander Leslie Inkster was the son of Robert Inkster [1813-1892], Swartifield, and Mary Leonard [1827-1909], Digro, and he was born on August 3rd 1864. On December 28th 1894 at Swartifield he married 23-year-old Jane [christened Jean] Irvine, daughter of James Irvine and Jean Williamson, Tingwall, Shetland, who at the time was a domestic servant at the nearby Free Kirk manse. The officiating minister was the Rev. John McLennan, and the witnesses were James William Grieve, and Jane's younger sister Annie Irvine. John and Jane raised a family of eight children: Maggie Jessie, who was born in 1895; Mary Jane, born in 1897; John Angus Munro, in 1900; William Leonard, in 1902; Samuel James, in 1905; Robert Spark, in 1907; Elizabeth [Elsie], in 1910; and Thomas Work, who was born in 1912. During this time the family moved to Essaquoy, and later John and his wife Jane moved down the hill to live at Woo.
Above left is Maggie Jessie and her sister Mary Jane [Jeannie] Inkster, pictured together c.1913. – In the centre is their brother John Angus Munro Inkster. In WW1 he served as a private in the 4th (Reserve) Seaforths. He died of meningitis in Loanhead Hospital, near Edinburgh on 1st July 1918, aged 18. John's body was returned home and buried in the Scockness Cemetery. – Seated above right is Willie Inkster and his friend James Sabiston, Gripps. c.1922.
Here is an article from the columns of The Orcadian of 1932 recording the retirement of John Inkster:
ROUSAY. POSTMAN HONOURED
Walked 65,000 miles in 35 years
Rousay publicly honoured Mr John lnkster, of Woo, at the Recreation Hall on Thursday evening, on the occasion of his retiral after 35 years' service as postman in the Hillside district of Sourin. During that time, Mr Inkster estimates he has walked close on 65,000 miles. Mr W R Walls presided at the gathering and Rev. R R Davidson handed over a handsome chiming clock for Mr lnkster, and an umbrella for his wife.
Mr Inkster's Career: Born on August 3, 1864, the fourth son of the late Mr and Mrs Robert lnkster, of Swartifield, Rousay, Mr lnkster, as a young man, spent some time at the fishing, and later took the tenancy of Housebay [Essaquoy] Farm. Appointed to the postal service in 1898, his round till 1914 was a daily one. During the War the service was reduced to three days per week, the daily service being resumed in 1931. Only five families occupy houses they were in when he started as a postman. Many homes he once called at are now in ruins.
Varied Activities: Apart from his work as a postman, Mr Inkster has taken a keen interest in Church and public affairs. He has been Superintendent of his Sunday School for 48 years, and an elder since 1894. In the social life of the island Mr Inkster has occupied an important part, and he is a popular chairman at social gatherings. Mr Inkster has acted as registrar for Rousay for 14 years.
He is a successful farmer also: Ten years ago he bought the holding of Woo in the Sourin valley, where he will spend his retirement. Two sons, Messrs William and Thomas lnkster, are now to work the farm. Mr lnkster won outright the silver cup, presented by Messrs Reith and Anderson, Aberdeen, for the best five lambs, at Rousay's annual show a fortnight ago.
An Orkney-Shetland Wedding: Mr Inkster was married on December 28th 1894, to Miss Jane Irvine, a native of Shetland. Seven of eight children survive. The eldest son, John, served in the Seaforth Highlanders in the Great War and died in hospital in July 1918. The second son, William, is at home. The third son, Samuel, was a bridegroom in the double wedding recently reported in The Orcadian. He lives at Wasdale, Rousay. The fourth son, Robert, is in Canada, and Thomas, the youngest, works at home.
Maggie Jessie, the eldest daughter, is married to Mr A Donaldson, blacksmith, Orequoy. Jeannie is the wife of Mr A Harcus, miller, Rapness Mill, Westray. Elsie, the youngest daughter, is married to Mr Ronald Shearer, Curquoy, Rousay.
——————–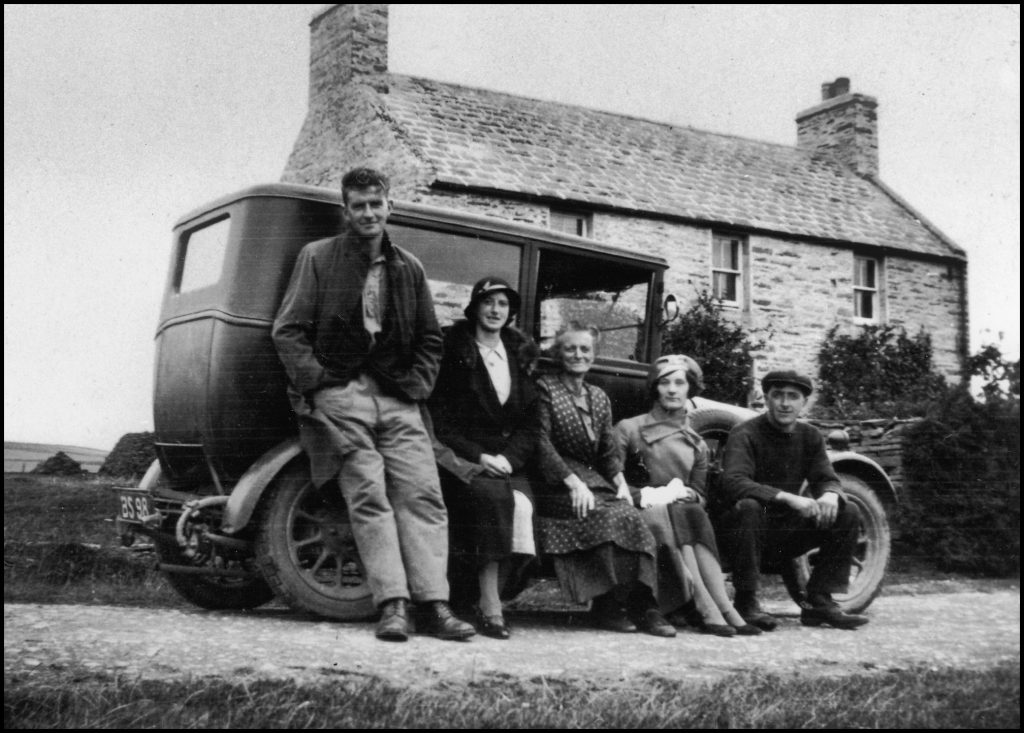 Above left are brothers Sammy and Tommy Inkster, c.1930. Standing next to Tommy on the right is Billo Mainland, wearing his Home Guard uniform c.1945. Born in 1921 in Gairsay, Billo was the son of Hugh Mainland, Weyland, Egilsay, Gairsay, and Hurtiso, and Alice Craigie, Falquoy. He married Nessie Alberta (Netta) Russell, Brendale, in 1946, and they had five children: Wilma, Muriel, Eric, Thora, and Vincent. They lived at Woo – where Billo celebrates his 97th birthday today [29 12 2018]
---
MILLHOUSE
Mill House, or Milnhouse, was situated half way between the General Assembly Schoolhouse and Woo, which stood on the bank of the Sourin Burn. In 1845 John Inkster's grandfather William paid rent of £2. 5. 0. The Laird wrote in his rent book – "Must pull this house down, as the tenant poaches the salmon trout that come up the burn." In 1851, William Inkster was living with his wife Margaret Gibson at Nether Swartifield, and the census of that year described him at 81 years old and 'helpless.'
---
HANOVER
Hanover is a house in Sourin on the south bank of the Sourin Burn above Woo. According to Hugh Marwick in his Place-Names of Rousay it is pronounced 'haino'ver', the usual spelling is probably due to assimilation to the German place name. In Sanday the same name occurs, though there an 'h' is sounded in front of the 'o,' thus hainho'ver. The meaning of the first element is put practically beyond doubt by its presence in another Sanday farm name, Hinegreenie, which is obviously = the green pasture: Old Norse haginn groeni . The second element in Hanover is very much less certain, but may perhaps represent O.N. ofarr or ofr– in sense of 'above' or 'higher up,' the whole thus signifying 'the upper pasture.'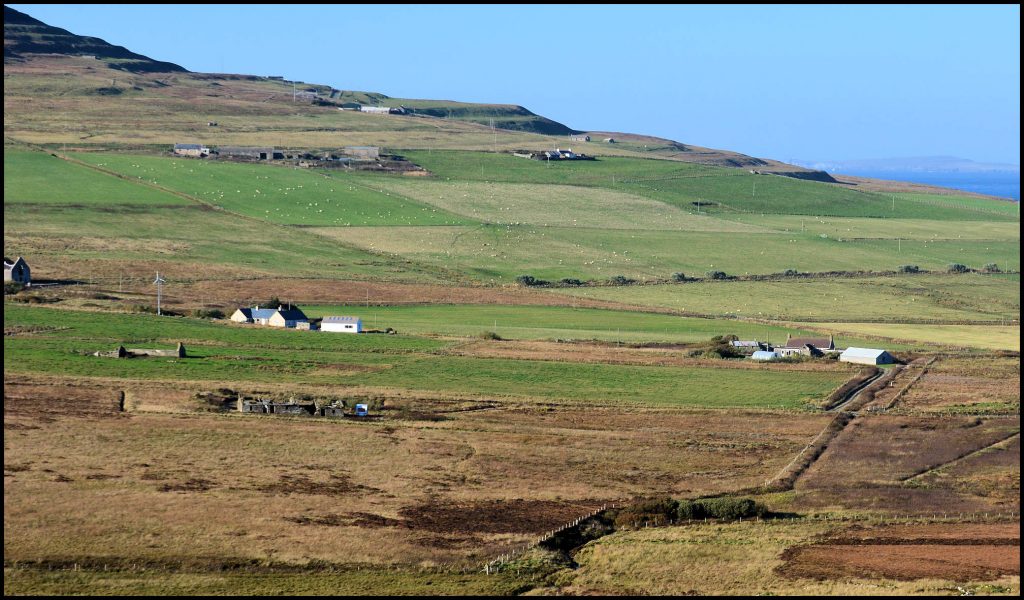 In the early 1800s Hanover in Sourin was occupied by the Marwick family. William Marwick was an under-miller, and living at Clumpy at that time was miller Hugh Marwick, though whether they were related or not I do not know. William's parents were James Marwick and Ann Mainland, and he was born in Westray c.1781.
On March 9th 1816 he married Jane Work, and between 1816 and 1838 they had ten children, six sons and four daughters: James was born in December 1816; Ann, in October 1818; William, in October 1820; John, in August 1822; David, in July 1825; Alexander, in February 1828; Jane, in April 1829; Betty Yorston, in July 1831; Samuel, in August 1834; and Elizabeth, who was born in November 1837. William was a brother of James Marwick of Milnhouse, Sourin, who married Christian Groundwater of Eynhallow, in 1824.
The census of 1851 tells us more about the Marwick family. William was then in his 71st year and described as a pauper, and wife Jane was 58. Ann, the eldest daughter, was married, and at that time her husband John Cooper, Whistlebare, Egilsay, was in Canada, working for the Hudson's Bay Company. Second oldest son William was a blacksmith, second oldest daughter Jane, then 21 years old, was an agricultural labourer, and thirteen-year-old daughter Betsy was an errand girl.
Thirty years on, and by 1881, blacksmith William was head of the household at Hanover. He married Helen Grieve of Nethermill, Egilsay, in 1852. Over the years in the census Helen was also called Ellen, and in 1881 Nelly. She was the daughter of Navy pensioner James Grieve and Elizabeth Davie and was born on March 15th, 1819. She was actually christened Eleanor Bews Grieve. She and William had three children; Helen, born in 1854; William Reid, in 1857; and David, who was born in 1863, earned a living as a fisherman – eventually emigrating to America.
In the early 1900s Alexander Munro paid an annual rent of £1 for Hanover's land, while Betsy Cooper rented the house and poultry yard after she and her daughter Betsy had moved from Pretty.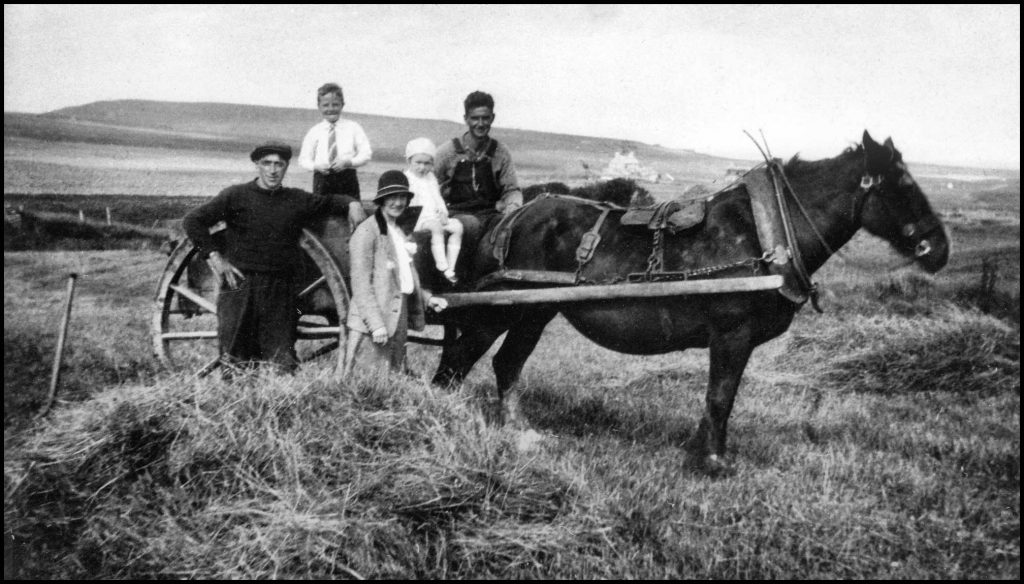 FARO
Faro, or Quoyfaro, was a small croft on the south bank of the Sourin Burn, close to the Free Kirk. Its earliest known occupant was William Mowat, as recorded in a rental dated 1653. When a birth was registered there in 1822 it was spelled Quoyfaras, and seven years later Quoyferras when recording another birth.
According to the 1841 census the following people lived under three roofs at Faro. Firstly there was Betsy Craigie, a 30-year-old straw plaiter, and two children, William Garrioch, 7, and Betsy Gibson, 5. Then there was Isabella Mowat, a 70-year-old hemp spinner; and thirdly there was the Leonard family. Peter Leonard, born in November 1805, was the second of four children born to Peter Leonard and Janet Louttit who lived at Cutclaws, Quandale. On December 18th 1832, fisherman Peter married 20-year-old Eleanor [Helen] Bews, the second of seven children of Thomas Bews and Magdalene Grieve, Mid-skaill, Egilsay. She and Peter raised a family of eleven children: Thomas, who was born in September 1833, but died young; Peter, born in September 1835; a second Thomas, born in December 1837; William, in November 1840; John, in April 1843; Mary, in August 1845; James, in July 1847; Charles Reid, in November 1850; Alexander, in February 1853; Isabella, in April 1855; and Helen, who was born in April 1857.
Ten years on and in by the time the 1851 census was carried out the Leonard family had left Rousay, and were living at Quotquoy, Firth. Faro was called Quoy Faris. Still there was Isabella Mowat, then described as being 84 years old and a pauper. Also living there was another pauper, Isabella Craigie, widow of George Craigie of Hurtiso, and with her were her two surviving unmarried daughters, Janet, a 52-year-old agricultural labourer, and Barbara, a 45-year-old straw plaiter. William Garrioch still lived here, now 17 years old and described as a farm servant. Lastly, there was Betsy Costie, a 31-year-old seamstress.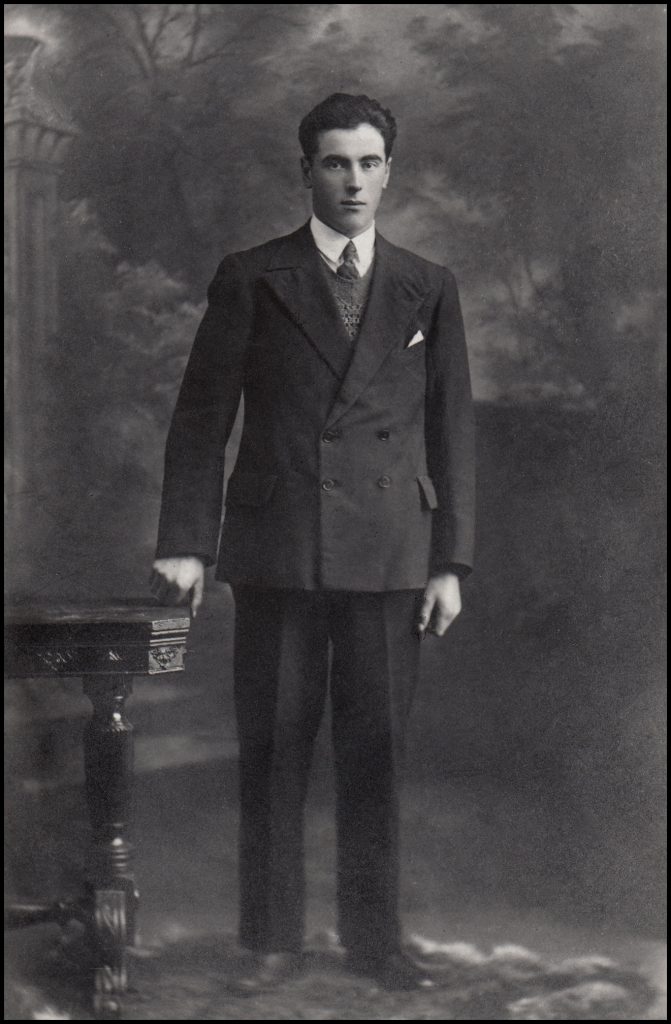 Faro, in 1871, was spelt Pharo and the Craigie sisters were still in residence. Barbara was head of the household, 65 years old now, and she worked as a letter carrier. Her elder sister Janet was then 72, and a pauper. Living under another roof at Pharo was 78-year-old William Corsie and his wife Betsy, then 65. They had been evicted from the Westside and were classed as paupers, living at Faro rent free. Mary Mainland, a 79-year-old widow lived in the other property. Her parents were William Cooper and Cecilia Corsie and she married Alexander Mainland of Cott Mowat. He died in 1856 aged 86, and Mary died in 1877 at the age of 84.
By the time William Corsie died his son Malcolm had taken over the tenancy of Faro. Born in November 1849, he was 23 years of age when he married Mary Inkster, daughter of James and Margaret Inkster of Gorn, Wasbister, who was born on December 14th 1842. Malcolm and Mary raised a family of seven children: Mary Jane Learmonth, was born in October 1873; Jemima, in August 1875; Annabella Eunson, in 1877; Elizabeth, in June 1879; Malcolm, in August 1881; Maggie Inkster, in 1884; and Jessie, who was born in 1886.
In 1881 Malcolm was 31-years-old and was paying rent of £4.0.0. for Faro and its 3 acres arable and 7 acres of pasture land. In his rent book the laird wrote "In getting this holding he agreed to give his mother a home and to keep her off the poor roll." In 1888 Malcolm Corsie paid rent of £2. 0. 0. Which prompted a further comment – "He threw his mother on the poor roll! So reduced by Crofter's Commission!!!"


Samuel Inkster Corsie
The son of Maggie Inkster Corsie [born 1884], he was
born in 1911, and died in Edinburgh in 1974

FREE CHUCH, SOURIN
The old Sourin Kirk was built as the result of a momentous upheaval in the Scottish Church in 1843 when hundreds of ministers and their congregations left the Established Church and set up the Free Church of Scotland. Among the ministers who left, taking most of his congregation with him, was the Reverend George Ritchie of the Established Kirk in the Brinian. That was the beginning of the Free Kirk in Rousay.
George Ritchie was born in Glasgow in 1799. In 1851 the census tells up he was living at the Free Kirk Manse with his 39-year-old wife Isabella, and children John, 8, Isabella, 5, and James,5. There were two house servants too – Mary Baikie, 23, and Betsy Hutchinson, 15, both from Evie.
Ten years on and the manse was occupied by Ritchie's successor, the Reverend Neil Patrick Rose and his newly married wife Mary Catherine Leslie. He was the son of farmer Alexander Rose and Elizabeth Payne, and was born in Thurso in 1832. Mary was the fifth oldest of eleven children born to John Leslie and Mary Wallace, and she was born in 1835 in Edinburgh. Neil and Mary married on September 24th 1850, and went on to have five children: John Alexander Leslie, born in January 1863; Neil Cunningham, in December 1864; Mary Wallace Leslie, in February 1868; Henry Wellwood Moncrieff, in January 1870; and Arabella Jane Leslie; who was born in December 1880.
Here is an interesting article concerning the Free Kirk from the columns of the Orkney Herald, dated April 19, 1870:
ROUSAY – A FRUIT SOIREE was held in the Free Church here on the evening of Wednesday week. There was a large attendance of people from all parts of the island – many even from the neighbouring islands of Weir and Egilshay. The services commenced at half-past seven o'clock by the choir, under the leadership of Mr Leonard, singing the 100th Psalm.  After prayer, the Chairman – Rev. Mr Rose, pastor of the congregation – rose, and spoke on the nature and uses of social meetings. The Rev. John McLellan, of the U.P. Church, then delivered an excellent address on the power of habit, concluding by giving some suitable counsels to the young. The Rev. Mr Roy, of Firth, delivered an able and telling speech on "Lighthouses and their Lessons," which was listened to with deep attention. During the evening the choir sang several pieces of sacred music, to which Mrs Rose, who presided at the harmonium, played the accompaniments. An abundant supply of fruit and cake was served to the company by Messrs Thomas R. Reid, George Reid, John S. Craigie, and John McLellan, who acted as stewards. After spending a very pleasant evening, the meeting separated about 10 o'clock, after the benediction had been pronounced by Mr McLellan.
Rousay was one of the few parts of Orkney where crofters had organised and prepared a case for the Napier Commission, more formally known as The Royal Commission of Inquiry into the Condition of Crofters and Cottars in the Highlands and Islands, held in Kirkwall in July 1883. This political awareness owed much to the radicalism of the Reverend Rose in the Free Church in Sourin. In 1880 Rose had left the island to take a church in Edinburgh, but in the summer of 1883 he returned on holiday and was active in urging crofters to put their case to the Commission.
The Reverend Rose's position as minister of the Sourin Free Church had been taken up by the Reverend Archibald MacCallum, and as the Crofters' Movement centred on the Free Church community it was inevitable that he should be drawn into the conflict. In 1883 MacCallum was thirty years of age and had been in Rousay for only three years, during which time his relationship with the laird had been fairly normal. He had spoken to Burroughs about one or two cases of hardship but, when he found the laird unsympathetic, he had not pursued matters. It was the Napier Commission that turned MacCallum into a determined opponent and revealed him to be a leader of considerable ability.
MacCallum played no part in the crofters' first meeting and he was, in fact, away from Rousay at the Free Church Assembly in Edinburgh. However, by invitation he attended the final meeting two days before the Napier hearing in Kirkwall. Only crofters were to be admitted and the factor, who attempted to gain entry, was turned away. MacCallum, however, rented a small croft near the manse and so it could be argued that technically he was a crofter. He was brought in to give an acceptable literary form to the statement which the crofters had already discussed and which James Leonard had drafted. As those present went over the document line by line, the minister objected to such phrases as a reference to Burroughs' 'wanton and inconsiderate inhumanity.' His efforts met with little success although this particular phrase was replaced by a criticism of 'the utterly inconsiderate and unrighteous manner in which we are treated by the proprietor.' The minister had not won much of a modification but it was as far as the crofters were prepared to go.
When the crofters were at the height of their power, with their management of the School Board vindicated at the poll and their rents recently reduced by the Crofters' Commission, the crofters' movement received a blow from which it never properly recovered – the scandal of MacCallum's departure. Unmarried and living alone in the damp and cheerless Sourin manse, his drinking bouts were becoming increasingly frequent. His lapses were at first a closely guarded secret in the Free Church congregation but the point was eventually reached when the problem could be concealed no longer. In December 1888 he submitted his resignation to the Free Church Synod 'as his health did not agree with the climate conditions in Orkney.'
By the time the census of 1891 was carried out on April 5th the Free Kirk and its manse were in the capable hands of the Rev Robert Bonellie. He was the son of earthenware printer William Bonellie and Ann Nicolson, and was born in 1855 in Dysart, Fife. On April 23rd 1889 he married Marion Goodall Baillie, the 29-year-old daughter of plumber and gas fitter James Baillie and Rose Blair of Musselburgh, East Lothian. Back to the census, and the Bonellis had company at the manse – 34-year-old John Dykes Lang, a visiting Free Church minister from Hamilton, South Lanarkshire; a boarder named Augustus Althridge, a 25-year-old registered physician from England – all of whom were catered for by 19-year-old servant Jemima Baikie Marwick, daughter of Robert Marwick and Ann Blalick Hourston, Woo.

The paragraphs referring to the Napier Commission and the Rev. Archibald MacCallum were extracted from The Little General and the Rousay Crofters by William P L Thomson
and reproduced by permission of Birlinn Ltd.
[All black & white photos are courtesy of the Tommy Gibson Collection]