Curquoy is the name of a farm on the north side of the Sourin Burn, high up in the valley between what was Upper Gripps and Wasdale. It was occupied by Peter Allan in 1734 and Alexander Robertson in 1798. In the 1830's it was where fisherman Thomas Sinclair lived with his wife Mary Corsie. Both born at the turn of the century, Thomas and Mary had five children: Barbara, who was born in September 1829; James, in March 1831; Mary, in November 1833; Thomas, in September 1837, but who died soon after; and a second Thomas, who was born in August 1838.
In 1851, when the annual rent was £1 7s 0d, farmer James Marwick lived at Curquoy with his wife Christie Groundwater, son John and daughter Mary, who were employed at home, and Christy's widowed sister Mary. James was the son of James Marwick and Ann Mainland and was born in Westray in 1794. In 1824 he married Christian, the daughter of John Groundwater and Ann Harrold, and she was born on the island of Eynhallow in 1791. They had three children; James, born on December 13th 1824, John, on February 21st 1827, and Mary Wood, born on May 4th 1831.
The Marwick family moved to Midgarth near Knarston, and in 1861 Curquoy was occupied by blacksmith James Gibson and his family, having been moved from Flintersquoy during the clearances at Quandale. James was the son of Alexander Gibson and his second wife Margaret Craigie, and he was born on March 24th 1798. He married Mary Marwick, daughter of George and Barbara Marwick, and they had three daughters; Mary, who was born in October 1830; Maggie, in October 1832; and Anne, who was born in November 1835.
Ann died when she was nearly sixteen years of age. She was buried in the Westside kirkyard and her tombstone reads as follows:-
Erected by James Gibson, Curquoy,
to the memory
of his beloved daughter
Anne Jemima Marwick Gibson,
born on the 2nd November 1835
and departed this life
August 11th 1851.
"My race is run, my grave you see:
Therefore prepare to follow me:
A sinner saved by grace,
to the spirit home above:
When every sound of sin and strife:
Is quenched in songs of love."
In 1861 James was in his 63rd year and wife Mary was 69. Also in the house on the night the census form was completed were Mary's brother William, a retired ship's captain, then 72 years of age; James and Mary's 30-year-old daughter Mary, her husband James Gibson, a 35-year-old sailor, and their five-year-old son James; Margaret Marwick and Anne Clouston, who were domestic servants; and a visitor, Barbara Craigie, a 64-year-old farmer's widow, and her grandson William Stevenson, who was a 6-year-old scholar.
Mary died in 1872 and husband James passed away in 1875. They were interred together in the Westside kirkyard, and the following inscription was inscribed on their gravestone:-
Erected to the memory of
James Gibson, Curquoy,
born 24th March 1798,
died 7th January 1875.
A faithful and beloved
disciple of Jesus.
Also of his wife Mary Marwick
born 24th June 1794,
died 23rd August 1872.
They were lovely and pleasant
in their lives and in death
were not divided.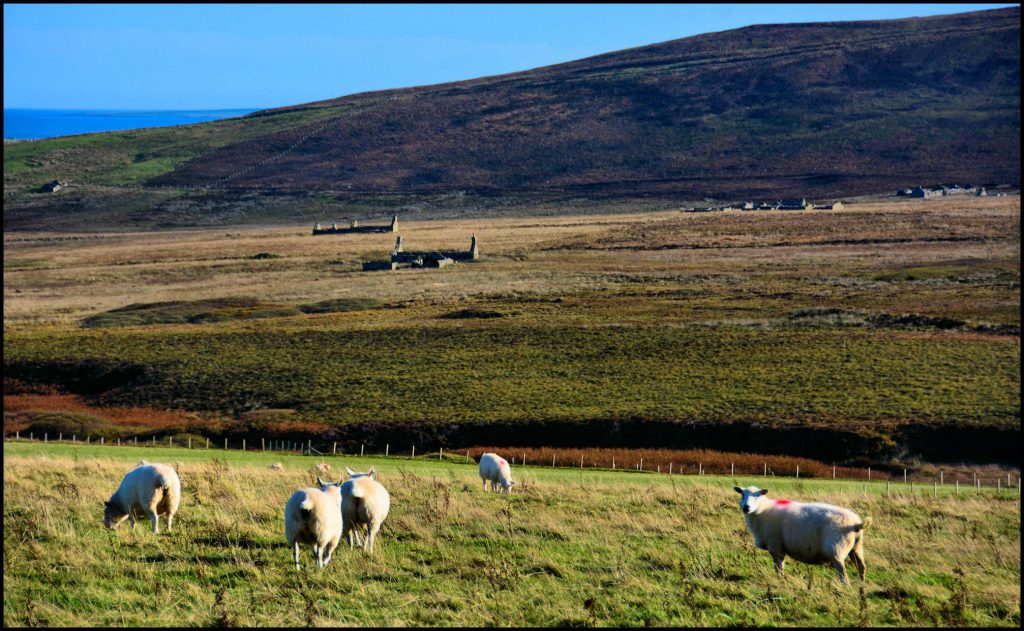 By 1871 James and Mary's son-in-law James Gibson had swapped the sea for the land and he was tenant of both Curquoy and Brittany and their grazings which covered 220 acres, costing him £25.0.0. a year in rent. In 1881 James was 56 years old and his wife Mary was in her 53rd year. They had four children: James, born in March 1856; William David, in June 1861; Mary Ann, in December 1863; and Margaret Marwick, who was born in September 1867. On the night of April 3rd 1871 when the census was carried out, there were two boarders from Edinburgh staying at the farm, 51-year-old Thomas McCrie, a paper stainer, and his brother George, classed as a 33-year-old annuitant. William David Gibson was known as Big Bill, and was a member of police bodyguard for King Edward VII. In 1897 his sister Mary Ann married Robert Irvine Gibson, son of Robert Gibson and Isabella Craigie, Langskaill, his second marriage. In 1901 Margaret, the youngest, married George William Mainland, son of John Mainland, Cotafea, and Mary Reid, Wasdale, who was born in February 1867.
Back to the census of 1891, and by that time James was a widower, for his wife Mary had passed away in 1888. He was described as a crofter, living at Curquoy with his daughters Mary Ann and Margaret. George McCrie was still living there as well, and employed as the island's Inspector of Poor, living on private means. He had replaced Thomas Balfour Reid, the previous Clerk of the School Board, Registrar, and Inspector of Poor. McCrie was an unpopular man. Click here > George Meikle McCrie < to find out why.
James Gibson passed away in 1900. The eldest of his two sons, James, had himself died in 1889, so his brother William David returned to Rousay and took over the tenancy of Curquoy. He did not stay long though, for by the census of 1911 Curquoy was occupied by 39-year-old farm manager James Linklater from Stromness, and his wife Elizabeth Johnston Black, then 45, from Milltown, Ross-shire. They had been married for precisely 22 years, eight months, and eight days. Their children were Robert, 13, Annie, 11, William, 9, and David, who was 5 years old.
Annie Linklater, who was born at 10pm on September 12th 1899, married joiner Hugh Alexander Sinclair on January 23rd 1920. He was the son of John Sinclair, Stennisgorn, later Vacquoy, and Barbara Gibson of Vacquoy, and was born in 1901. They had a son, Hugh Paterson Linklater Sinclair, born on September 7th 1920, and the family later emigrated to Sovereign, Saskatchewan, Canada, in 1930.
Ronald Shearer was an 18-year-old ploughman living at Curquoy when he married Elsie Inkster on September 21st 1928 at Woo. She was the daughter of John Alexander Leslie Inkster and Jane Irvine, Woo, and was born in 1910. The record of their marriage was entered into the parish register by the then registrar – Elsie's father John. Ronnie's parents, Thomas Meil Shearer and Margaret Ann Miller were married in Stronsay on February 24th 1898, and moved to Shetland the same year. They had three daughters, Tomima, Robina [Ruby], and Ann. Their brother Ronnie was born on June 22nd 1910 when they were living at Blythoit, Tingwall, Shetland.


WASDALE
Wasdale was a farm east of Curquoy and west of Ervadale in Sourin. It was built by George Reid after he and his family were evicted from Pow on the Westside in 1848.
George Marwick Reid was the son of George Reid and Barbara Logie of Garson, and he was born in 1807. In his younger days George went on one or two trips to the whale fishing in the Davis Straits in Greenland. On March 6th 1831 he married Janet Harcus, the daughter of William Harcus and Christy Flaws, Upper Mounsay, Quandale, who was born on June 21st 1801. They raised a family of eight children. William, who was born in April 1832; George, on New Year's Day 1834; Mary, in March 1835; John, in November 1837; Peter, in November 1838; Hannah, in December 1840; William, in December 1842; and Lydia, who was born in October 1844.
The Reids were victims of the clearances and evicted from Pow, along with many other tenants in this area, and they moved over to Sourin, where George built a farm called Wasdale – named because of its situation to the 'west' of Ervadale and Brendale. It is said George slept in the heather up in the hill until the house was completed. He also dug the first fields at Wasdale by hand.
The census of 1861 records the fact that by that time George was farming 36 acres of land there. Ten years later his 28-year-old son William, a master joiner, and his wife Catherine Baikie also lived at Wasdale. Catherine, born in Stromness in 1836, was the daughter of Magnus Baikie and Mary Hunter. The ceremony took place on September 17th 1863 at the Free Church Manse, where Catherine was employed as domestic servant. The officiating minister was the Reverend Neil Patrick Rose, and the witnesses were James Johnstone and William's sister Lydia. Catherine and William had seven children: George William was born in November 1864; Mary Catherine, in July 1866; Lydia, in February 1868; Peter, in September 1869; Jessie Harcus, in April 1871; William John, in January 1873; and James Marwick, who was born in February 1875.
The area of land farmed by George at Wasdale in 1881 had increased to 50 acres. He was in his 74th year by then, and his wife Janet was 79. Their 47-year-old son George lived with them then – he was skipper of the Rousay packet Lizzie Burroughs for a year or two. Another of General Burroughs' ventures was the founding of the Rousay, Evie, and Rendall Steam Navigation Company, which first brought a steamship service to the islands of Rousay, Egilsay, and Wyre. For thirteen years the company and its little steamer, the Lizzie Burroughs, struggled in the face of constant financial difficulties, mechanical trouble, shipwreck and the suspicion of many of the islanders. Like everything else in which Burroughs was involved, the steamer was controversial. One reason for its lack of success was her failure to gain the mail contract. Mail continued to be brought across Eynhallow Sound in a small open boat which also carried a few passengers. It was a difficult and dangerous crossing, which sadly the Reids of Wasdale were soon to find out.
Above left is an old photograph of the steam ship Lizzie Burroughs, lying off Rousay in the 1880s – and to the right a painting of the Rousay post boat that was lost between Evie and Rousay in 1893, with the loss of five lives.
In 1887 George paid £25.0.0. rent, but the following year this was reduced by the Crofter's Commission to £18.0.0. At this time the land at Wasdale comprised 21.102 acres arable and 35.319 acres of pasture land.
The Westside kirkyard is the final resting place for a number of the Reid family. George died on March 30th 1900 aged 92 years. His wife Janet passed away on March 1st 1894, and their eldest son William died in 1843, just 10 years of age – the headstone for their communal grave being erected by their daughter Lydia. George and Janet's son John died by drowning during the loss of the Rousay mail boat while crossing Eynhallow Sound on October 11th 1893. William Reid died on May 29th 1915 at the age of 72, and his wife Catherine passed away on March 11th 1925, when she was 90 years old.
John Louttit, born at Faraclett in 1843, was postmaster at Coatbridge and later in Edinburgh. He was instrumental in obtaining post office positions for several relatives and friends from Rousay – one of whom was Peter Reid, born in September 1869. He lived at Old Monkland, Coatbridge, Lanarkshire, and was employed as a sorting clerk and telegraphist.
Peter was 28 years old when he married Mary Arthur on July 1st 1898. She was the daughter of railway yardsman James Arthur and Margaret Dean, and she was born in 1875. They had three children: William, James Arthur, and Margaret Dean [known as Peggy]. Peter's wife Mary died in October 1918. Two years later, in Glasgow, Peter married a second time. The bride was his cousin Margaret Reid, daughter of John Reid [who drowned with the mail boat in 1893], and Sarah Sinclair Mainland, Tratland. Peter ended his career as postmaster at Gourock, Renfrew, and died after an illness in November 1929. His daughter Peggy came to Rousay and married John Mainland, the island's famous taxi driver, son of John and Betsy Mainland of Cott.
Later occupants of Wasdale were Sammy Inkster and his wife Violet Johnston. Samuel James Inkster was the son of John Inkster and Jane Irvine, Woo. Violet was the daughter of James Halcro Johnston, Crook, Rendall, and Margaret Ritch, Binaquoy, Firth, later Trumland Farm. They were involved in Rousay's only double wedding, for on the same day, July 26th 1933, Violet's brother James William Johnston married Johan [Nan] Johnston Leslie at Trumland church. Johan's parents were monumental mason George Gerrard Leslie and Johann Johnston Sabiston, Aberdeen, who was a sister of George Harrold's wife Barbara Sabiston, and having been a regular visitor to Rousay on holiday since childhood. At the time of the double wedding 27-year-old Sammy was farming the land at Wasdale and 23-year-old Violet was employed as a housemaid. James William was a 26-year-old research worker, living at Strathcona House, Aberdeen, and Johan, also 26 years of age, a 'clerkess,' living at Bedford Place in the same city. The ceremony was conducted by the Reverend Robert R. Davidson, and the witnesses were Sammy's brother Tommy Inkster, and Isabella Craigie of the Sourin school house, and Robert Ritch Johnston and Robina Ann Johnston, Testaquoy, Wyre.
I am indebted to Margaret Green, daughter of James William and Johan for the photograph below and certain information regarding it. The wedding guests were a mixture of people from Rousay, Rendall (where the Johnstons had previously lived), and Aberdeen, and I'd like to thank the following for putting names to faces in the photograph: Margaret Green, Adele Marie Park, Sheila and Graham Lyon, Elizabeth Herdman, Clara Craigie and Margaret Gray.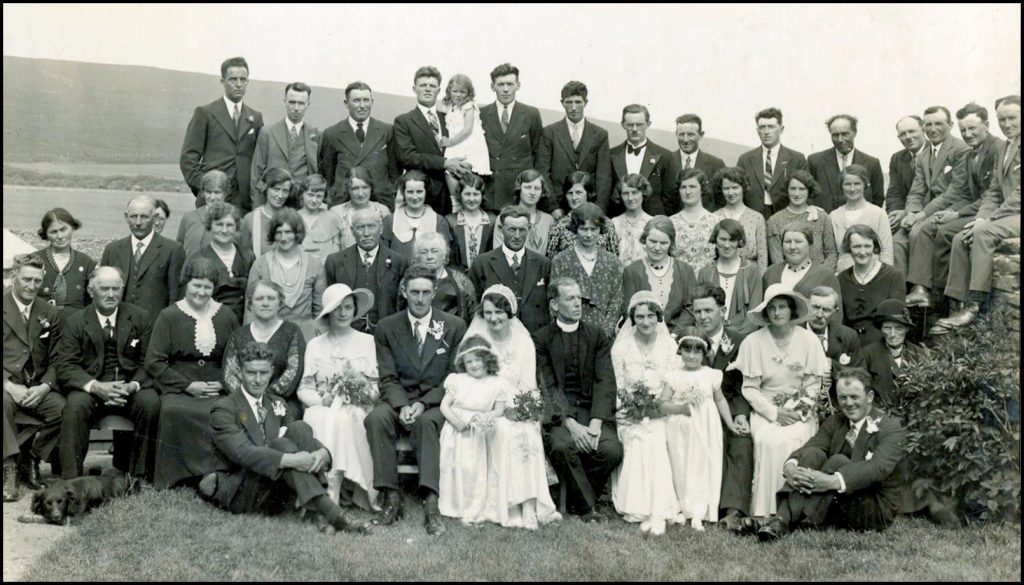 Front row, from left: 1 George Leslie, Aberdeen, father of Nan. 2 James Johnston, Trumland Farm. 3 Margaret Johnston, Trumland Farm. 4 Mrs Johann Leslie, Aberdeen. 5 Bridesmaid, Isabel Grieve, Fa'doon. 6 Groom, Sammy Inkster, Wasdale. 7 Bride, Violet Johnston, Trumland Farm. 8 Flower girl, Marian Ritch, Aberdeen, a cousin of Violet. 9 Rev. Robert R Davidson. 10 Bride, Johan [Nan] Leslie, Aberdeen. 11 Groom, James William Johnston, Trumland Farm. 12 Flower girl, Joyce Ford, Aberdeen, daughter of Nan's sister. 13 Bridesmaid, Ina Johnston, Testaquoy, Wyre. 14 John Inkster, Woo. 15 Jean Inkster, Woo. 16 Seated on grass, front left: Best man, Tommy Inkster, Woo . 17 Seated on grass, front right: Best man, Bobby Johnston, Trumland.
Second row: 1 Maggie Johnston. 2 Mr Fraser, Feavel, Birsay. 3 Mrs Fraser, Feavel. 4 Jessie Donaldson, Vacquoy. 5 George Harrold, Russness, Wyre. 6 Barbara Harrold, Russness, Wyre. 7 Jeck Yorston, Drydale, Stromness. 8 Bella Yorston, Drydale. 9 Violet Ritch, Kierfold, Sandwick. 10 Eliza Ritch, Myrtledene, Sandwick. 11 ?. 12 Maggie Jean Ritch, wife of Jamie Ritch and mother of Violet's flower girl. .
Third row: 1 Clara Johnston [half hidden]. 2 ?. 3 Edda Mainland, Cott. 4 ?. 5 Bella Johnston, Trumland. 6 ?. 7 Lily Fraser, Feaval, Birsay. 8 Louisa Ritch, Braehead, Holm. 9 Anna Mathieson, Sourin Manse . 10 Jessie Ford, Aberdeen, sister of Nan and mother of Nan's flower girl. 11 Tina Craigie nee Mathieson, Wasbister School. 12 Peggy Marwick, Ronaldsay. 13 Elsie Shearer, Curquoy, later Housegarth, Sandwick. 14 Jeannie Harcus, Knapper.
Fourth/back row: 1 ?. 2 Jim Craigie, Deithe. 3 ?. 4 Ronnie Shearer, Curquoy. 5 Thelma Shearer, Curquoy. 6 Bill Flaws, Hammerfield. 7 John Cormack, Witchwood. 8 David Craigie, Trumland. 9 Jamie Ritch, the youngest of the Ritch brothers, father of flower girl. 10 Willie Inkster, Woo. 11 Sandy Donaldson, Vacquoy. 12 Angus Harcus, Knapper. 13 Robert Ritch, Barrhead, Holm. 14 William Ritch, Kierfold, Sandwick. 15 Jock Ritch.

[All black & white photos, unless otherwsie accredited, are courtesy of the Tommy Gibson Collection]