BRECK
Breck was a croft in Sourin, between Myres and Hurtiso. It was occupied by Alexander Gibson in 1734 and William Craigie in 1738.
In the census of 1841 it was spelt Braik, and was occupied by William Marwick, the fourth oldest of the ten sons of son of Hugh Marwick, Scockness, and Betsy Sinclair [another of her 'ten devils], and he was born on December 13th 1800. He married Barbara Reid of Pow on March 14th 1820, but she died not long afterwards. On February 2nd 1827 he married 23-year-old Anne Shearer, the daughter of William Shearer and Isabella Rendall of Shapinsay. There were no children from either marriage.
In the census of 1851 the house is spelt Brake, the annual rent for which at this time was £8. William Marwick was then earning a living as a farmer and fisherman, and his wife Ann was 46 years of age. Living with them were two farm servants; 22-year-old Betsy Mowat and Mary McGillvary, the 12-year-old daughter of James and Hellenor McGillvary of Upper Cornquoy, Egilsay.
Living at Nether Brake at this time was William's nephew Hugh Marwick. He was a 27-year-old boat builder when he married Margaret Sinclair of Swandale on March 9th 1849. This family emigrated to New Zealand in the 1850's, and shortly afterwards moved to Australia. They had six children; Annie, born in 1853, who married her cousin William Yorston; Elizabeth, who died during the voyage aged 1 year; Thomas, born in 1856 and died in 1904, unmarried; Robert, born in 1858, but died in infancy; Hugh, born in 1859, and died in 1885, unmarried; and Margaret, born in 1861, who was also unmarried.
William Marwick died at Breck in 1880, at the age of 80. When the census was carried out in 1881 his widow Anne was still living there, and was helped by Ann Inkster, a 52-year-old general servant. Anne died later that year in her 77th year.
Another tenant at Breck at that time was Craigie Marwick, who was farming the 36 acres, for which he paid an annual rent of £15, but in 1888 this was reduced by the Crofters Commission to £10. He was the son of James Marwick and Janet Craigie of Eastaquoy and was born on July 16th 1845. He married 22-year-old Ann Mowat of Evie on February 6th 1869. They had no children. In 1881 they employed Jean Harcus, a 16-year-old general servant, and Jessie Alexina Craigie, who was then a 12-year-old farm servant, and daughter of James Craigie, Falquoy, and Janet Sinclair, Stennisgorn. [Jessie Alexina married John Mainland Craigie, Cruar, in 1916 and lived to the age of 101]. Craigie Marwick was said to have been a well-liked and much respected man in Sourin.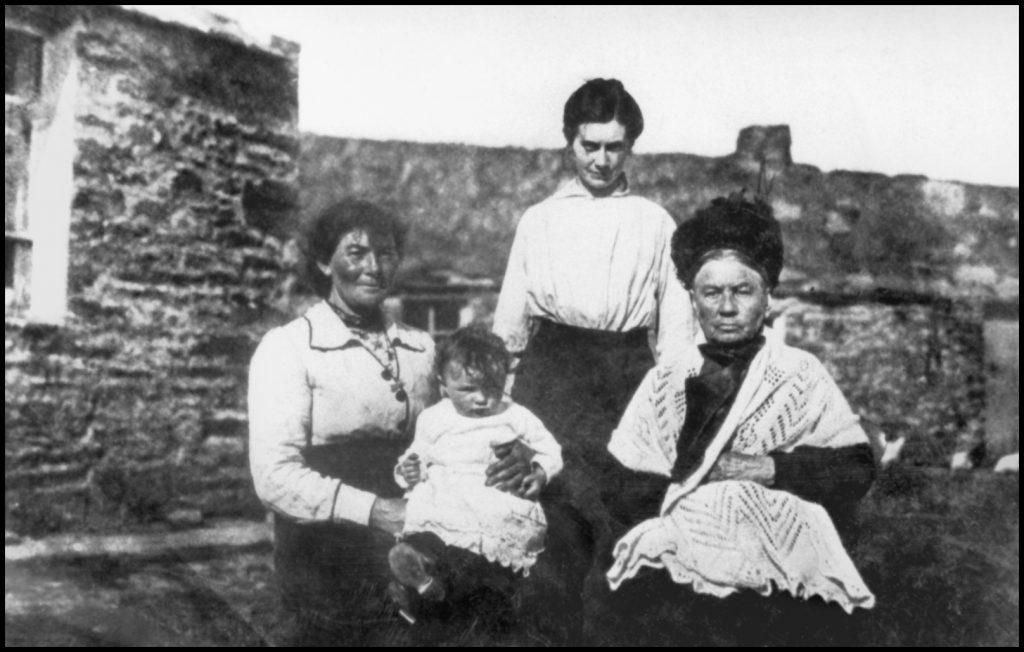 John Marwick Craigie, son of John Craigie and Mary Wood Marwick of Grips, Sourin, was born on November 30th 1866. At a young age John and his family went south, and he worked as a coachman to the Coats family of J. & P. Coats Thread Mills in Ferguslie, Paisley, Renfrewshire. John decided to return to Orkney, and when he left their service, he was presented with a bicycle, apparently the first one to come to Rousay. On December 6th 1906 he married Helen Louttit, her second marriage, and they lived at Breck, where, on March 30th 1908, their son John was born. Helen was the daughter of William Louttit, Faraclett, and Helen Leonard, Digro, and was born on July 1st 1870. On April 1st 1892 she married fisherman James Craigie, Cruar, but he passed away on May 1st 1903. They had four children: James William, born in June 1892 [he married Lizzie Craigie, Bu, Wyre, in 1915]; John, in April 1894; Helen, in February 1896 [she married John Harcus, Westray, in 1918, and had three children: James, Nellie, and John Angus]; and William, who was born in July 1898.
Later occupants of Breck were John Craigie, just mentioned as being born in 1908, and his family. On June 29th 1933 he married 16-year-old domestic servant Jane Maria Harrold Clouston, daughter of Archer Clouston senior and his first wife Helen Findlay (Ellen) Lyon. John and Jane had four daughters, the first of whom, Ellen Mary (Lena), was born in 1936. John and Jane are pictured above, on their wedding day, and proudly showing off their first-born.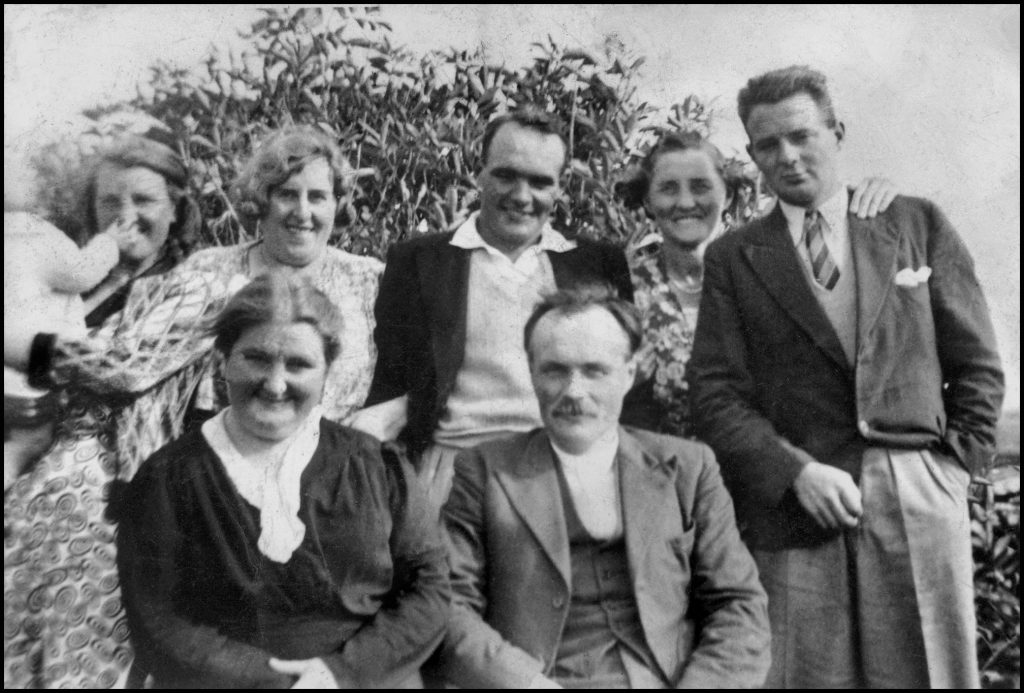 Breck was eventually home to members of the Marwick family. John William Marwick was the youngest of the six children of William Marwick and Sarah Inkster Leonard, Quoygray, who were married in May 1871. Born in 1892, he was 21 years of age when he married Agnes Elizabeth (Aggie) Johnston, daughter of James Johnston, Brinian, and Isabella (Bell) Corsie, Breek, who was also born in 1892. They had three sons: John William, James Leonard, and Hugh Edward, all born in November of the years 1913, 1914, and 1915. John William junior married Lorna Margaret Miller in 1943; James Leonard married Ella Simpson, also in 1943; and in 1941 Hugh Edward was married to Margaret Annette (Netta) Sinclair.


MYRES
Myres was a croft in Sourin, formerly a cot of Scockness, described in volume 16 of the Orkney Ordnance Survey Name Books (1879-1880) as 'a farm house situate at 9 chains north east of Breck. It is built of stone thatched one storey high and is in fair repair. It is the property of Colonel Burroughs C.B.'
It first known occupants were John Craigie, originally Hurtiso, later Myres, and his wife Marian (Mary Ann) Louttit, Faraclett, both of whom were born in 1799. John was the son of John Craigie and Christian Marwick. Married in February 1823 they had three children; Lydia, born in December 1823; John, in February 1826; and Margaret, who was born in July 1829.
John Craigie passed away before the census of 1841 was carried out. Between the years 1845 and 1862 Marian was paying an annual rent of £4 10s. Employed as a midwife, Marian's rent gradually rose to nine guineas by 1863, and higher still by 1879, when she was paying £15.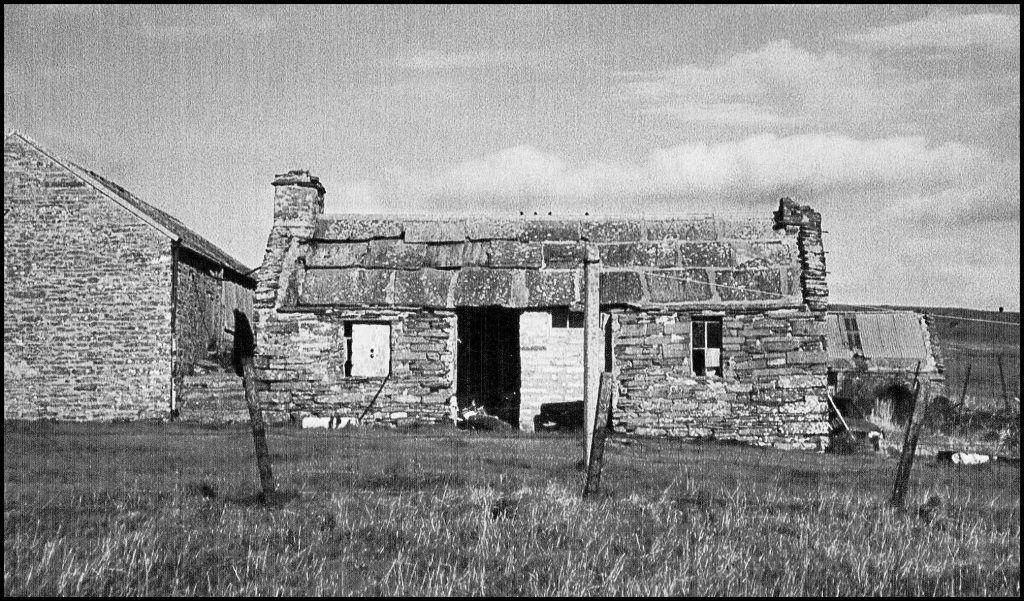 On December 1st 1857 Marian's daughter Lydia married John Gibson, son of Hugh Gibson, Burness, and his third wife Margaret Harcus, who was born in February 1834. Between 1858 and 1868 they raised a family of four children: John, born in 1858; Allan Corsie, in 1861; Lydia Craigie, in 1864; and Agnes Davie, who was born in 1868. On January 26th 1860 Lydia's brother John married 28-year-old Margaret Inkster, daughter of William Inkster and Margaret Gibson, Ervadale, and they raised a family of seven. The first two children, John and Margaret Gibson, were born in Rousay in 1860 and 61, but they moved to Unst, Shetland, where William, Ann Cameron Mowat, James Jaffray, Mary Jane, and Isabella, were all born between 1865 and 1872.
The 1881 census reveals that Marian was then in her 81st year and described as being a farmer of 28 acres. Living there with her at that time was her unmarried 50-year-old daughter Margaret. Daughter Lydia died of lung cancer in May 1873. Her farmer/fisherman husband John Gibson married a second time, in November 1874, his bride being Matilda Smith Saunders, who was born in December 1848. She was the daughter of Peter Saunders and Mary Louttit, St. Ola, and was working as a domestic servant at Scockness at the time of the marriage. They lived at Myres and at the time of the census John's daughter Agnes was 13 years of age.
In 1888, the Widow Craigie was, according to the Laird, "bedridden and forced to become a crofter by her grandson Alan Gibson!!!  £8 15s 0d rent – so reduced by Crofter's Commission!!!" Marian Craigie died in 1890, her daughter Margaret continuing to live at Myres on private means.
Come the census of 1891 we find Alan Corsie Gibson [referred to above and being born in 1861], and his sister Agnes Davie Gibson living at Myres. In 1898 Agnes married Hugh Inkster, son of James Inkster, Ervadale, later Quoys, Sourin, and Margaret Pearson, Kirkgate, who was born in January 1869. They later emigrated to South Africa. In 1899 Alan Corsie Gibson married Jane Agnes (Aggie) Sinclair, daughter of Peter Sinclair and Catherine Bain, and was born in 1876. They had two sons, Hugh Inkster, born in 1900, and John Stanley, who was born in 1905.
John Logie, son of Westside shepherd Robert Logie and Mary Murray, Tofts, Quandale, was born October 13th 1871. In 1897 he married Mary Jane Inkster, daughter of Hugh Inkster, Gorn, Hammer, Geo, later Knapper, and Georgina Harcus, Westray, and she was born on March 20th 1873. John and Mary Jane had five sons: John William, born in May 1898; James Robert, in July 1900; George Harcus, in February 1902; Alexander (Sandy) Reid, in February 1912; and David Hugh, who was born in March 1919, but died just less than four months later.

[All black & white photos are courtesy of the Tommy Gibson Collection]