The name Outerdykes is a corruption of the older house name Out o' Dykes, spelled that way in Rousay Birth Records of the early 1800s. Volume 16 of the Orkney Ordnance Survey Name Book of 1879-1880, which covers Rousay, has the name Outerdykes, and uses the island's Inspector of Poor, Thomas Balfour Reid, as an authority for its spelling. Description remarks in the book state that the name 'applies to an ordinary farm situate 13 chains SW from 'Hanover' and 25 chains SW from the 'School.' Today we know it as a ruined farmstead in the Sourin valley which, when it was built, was outside the old hill dyke.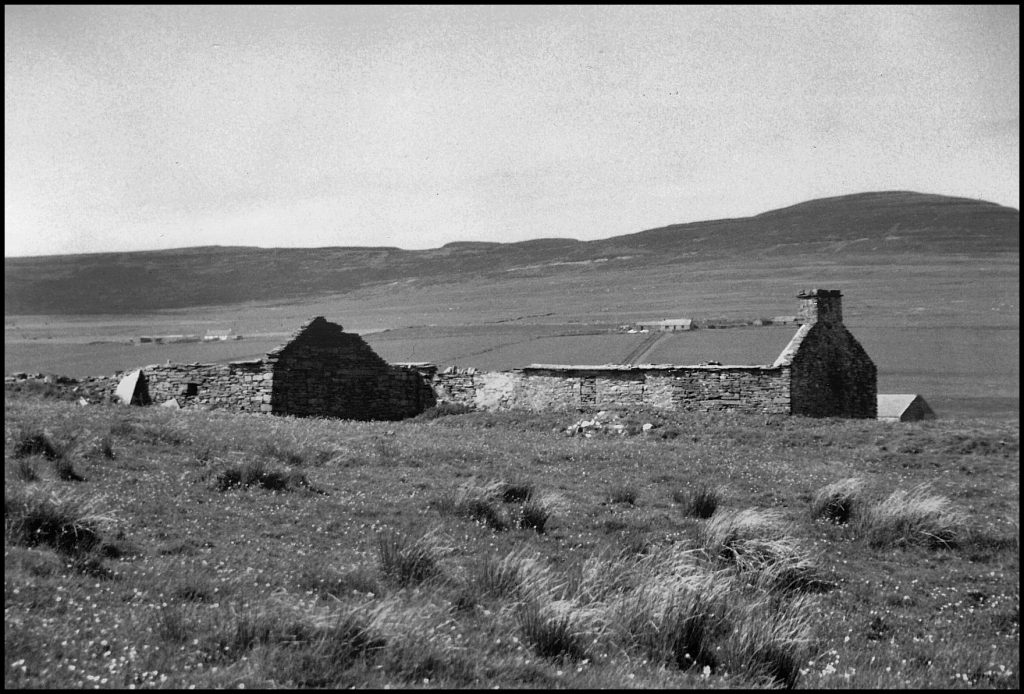 Its first known occupants were farmer Robert Grieve and his family. Born c.1790, Robert married 23-year-old Ann Work in 1812. They had seven children: Jane, who was born in August 1819; Ann, in May 1821; Robert, in December 1822; Alexander, in August 1824; James, in March 1826; William, in March 1828; and Malcolm, who was born in November 1830.
Robert passed away before the census of 1851, his widow Ann, then 61 years of age, head of the household, with sons James at the fishing, William and Malcolm employed as agricultural labourers.
Wiilliam Grieve, born in March 1828, was married to Jane Flett, daughter of William Flett and Betsy Harvey, and she was born in Stromness on June 3rd 1833. In the late 1850s they decided to emigrate to Australia. Jane was pregnant at the time, and their first child, Mary, was born during the voyage in 1857. Another eleven children were to be born in their new surroundings at Walcha, New South Wales, between 1859 and 1877.
Ann herself had passed away by 1871, son Malcolm now farming Outerdykes' 12 acres of surrounding land. He was thirty years of age when he married Frances (Fanny) Costie on April 12th 1861. Fanny was the daughter of David Costie and Christian Mowat, and was born in March 1840. They had two daughters, Ann Gibson, born in July 1862; and Jean Craigie, who was born in May 1868. In 1888 Jean married John Kent, Musland, Westray. Between 1889 and 1910 they had eleven children.

By 1881 the area of land Malcolm was farming at Outerdykes had increased to 22 acres, and his older brother James also lived there. In December 1875 he married Mary Mainland, daughter of William Mainland and Barbara Reid of Banks, Sourin, who was born on March 29th 1827. Mary was employed as a housemaid at the laird's house at Trumland.
James had been in Australia for 25 years with his brother William but later returned to Rousay, fairly affluent by local standards. The laird, General Burroughs had approached him with a view to his taking the tenancy of one of the Rousay farms, but Grieve had boasted that he intended to buy a farm of his own and that he would not consider paying the rent Burroughs was asking. James settled as a sub-tenant on his brother Malcolm's croft of Outerdykes. He gave very brief evidence against General Burroughs at the hearing of the Napier Commission, set up in 1883 to look at the condition of crofters in the Highlands and Islands. The Chairman said to him: 'You have heard the statement read by the Rev. Mr MacCallum and the verbal statements made by James Leonard and George Leonard: do you concur with them?' James replied: "I do." – and those two words were sufficient to result in his eviction from Outerdykes. He found accommodation at Mount Pleasant in Frotoft which was situated on land outside General Burroughs' control.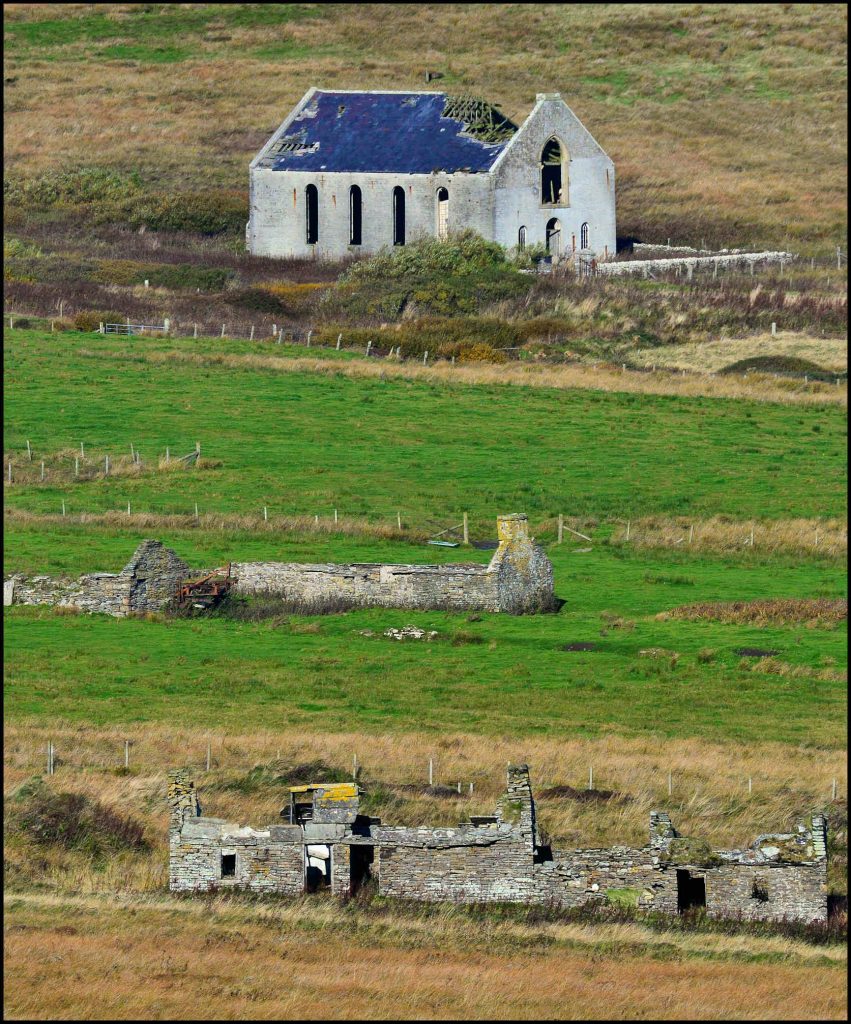 The census of 1901 tells of John Craigie working the land at Outerdykes. A 34-year-old single man, John lived with his widowed mother Mary, described as a 69-year-old housekeeper. Mary was the daughter of James Marwick [1794-1875] of Westray and Christian Groundwater, who was born on Eynhallow in 1789. Mary was christened Mary Wood Marwick after she was born in May 1831. She was 22 years of age when she married John Craigie, son of John Craigie, Guidal later Gripps, Sourin, and Janet Grieve. Their son John, mentioned in the census above was born in November 1866 and was christened John Marwick Craigie.
Ten years on, and Outerdykes was in the hands of James Grieve, described in the census as a 59-year-old small farmer and employer. With him was his wife Isabella Alexander, and they had been married for exactly 39 years, 3 months and 2 days when the census papers were filled in. James, born in March 1852, was the son of James Grieve, Egilsay later Nethermill, and Margaret Craigie, Claybank. Isabella was the daughter of James Alexander, Netherskaill, Egilsay, and his first wife Douglas Garson, and was born in November 1845.








Ruins: Outerdykes in the middle, Eastaquoy in the foreground, and the old Free Kirk above
---
WHITEHALL
In the early 1800s Whiteha', just north of Triblo, was the home of handloom weaver James Pearson and his wife Cecilia. In 1845 James paid rent of £1.8.0. In 1857 he was paying £3.0.0. but they were later classed as paupers and lived there rent-free. James had passed away before the census of 1861 was carried out, his widow had a young visitor to keep her company though – seven-year-old Anne, who was George and Margaret Leonard's daughter who lived at nearby Triblo.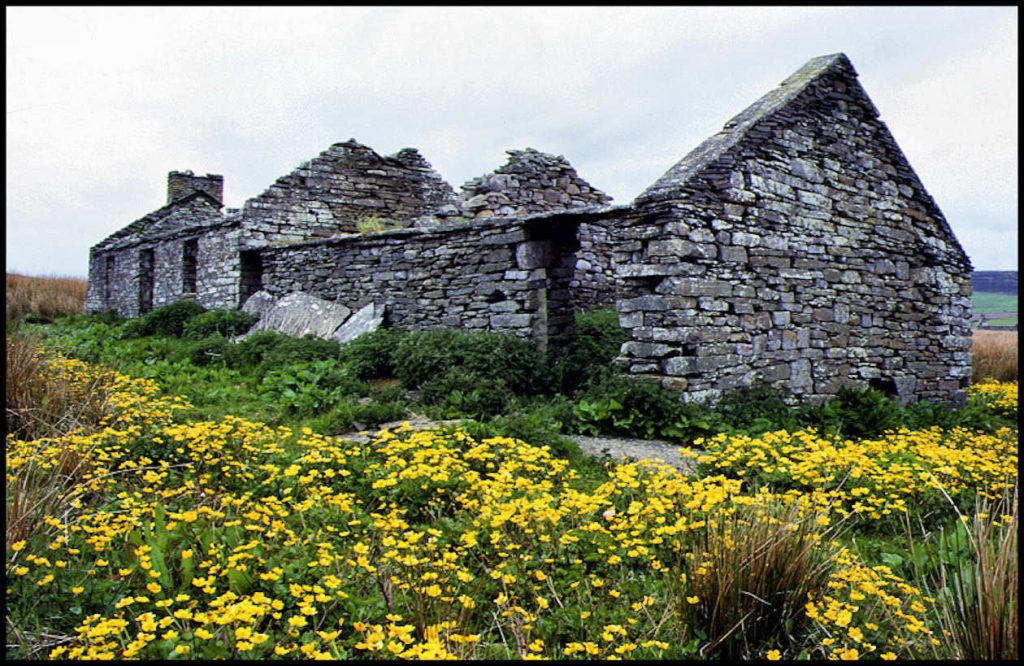 By 1871, the tenancy had been taken over by Robert Grieve. He was the son of Robert Grieve and Ann Work of Outerdykes, and he was born there on December 18th 1822. He married Isabella Leonard, the daughter of Peter Leonard and Isobel McKinlay of Digro, who was born on August 3rd 1828. Married in February 1848, they had six children; William Leonard was born in 1850; Isabella Ritchie in 1854; James Calder in 1856; Robert Irvine in 1862; Mary was born in 1865, but died just two years later. She had been suffering from croup for four days, and died on March 16th 1867. Her brother Peter Leonard was born the following year, but he had just reached the age of 11 when he passed away at 8pm on the evening of January 11th 1879. According to his death certificate the cause of death was unknown, and no regular medical attendant was present.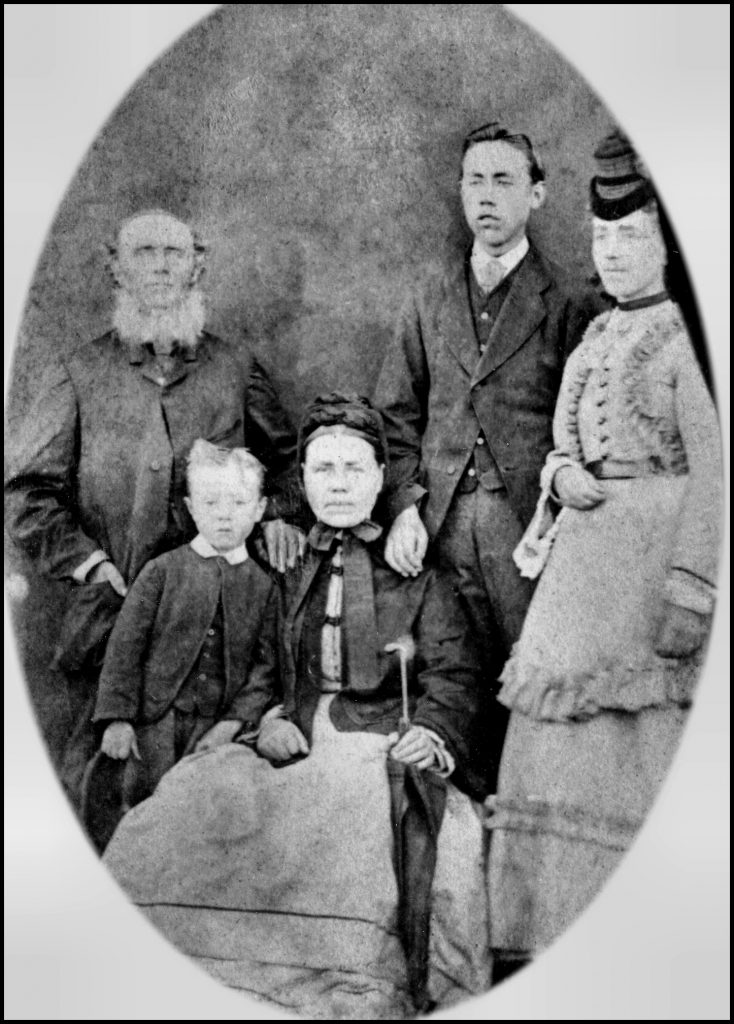 Of the children just mentioned, William Leonard Grieve [born 1850] married Christina Craigie, Fa'doon, and had seven children. Isabella Ritchie Grieve [born in 1854] gave birth to a son at Whiteha' at 5am on July 27th 1875. Named James William Grieve, there is no mention of who the father was on the birth certificate. James Calder Grieve [born 1856] married Williamina [Mima] Fiddler in 1875, and had five children: Malcolm Costie, born in 1876; Robert William, in 1879; James Alexander, in 1883; Isabella Leonard, in 1885; and Frederick, who was born in 1888. Malcolm married Lizzie Thomson in 1898, Isabella married John Magnus Gorn of Kirkwall in 1905, and Robert, James, and Frederick all emigrated to America.
At this time Robert Grieve and his son William were fishermen, but later Robert turned his hand to farming the 12 acres at Whiteha'. Between 1879 and 1887 Robert was paying £5.0.0. a year rent, but this was reduced to £4.0.0. by the Crofter's Commission in 1888.
Crofter Robert Grieve was 64 years of age when he died on the morning of February 17th 1890. Cause of death was 'supposed' bronchitis. In the early 1900s his widow Isabella was working the croft, with the assistance of her grandson James William Grieve, her daughter Isabella's son. He was married to Mary Ann Harrold, daughter of William Harrold, Hammermugly [Blossom], and Elizabeth Marwick, Hanover, who was born in June 1876. They married in February 1897 and had a daughter in 1898, keeping the name Isabella in the family. In 1931 she married Bob Harvey of Birsay.




Robert Grieve and his wife Isabella Leonard
with three of their six children: Isabella, born
in 1854; James Calder, born in 1857;
and Peter Leonard, born in 1868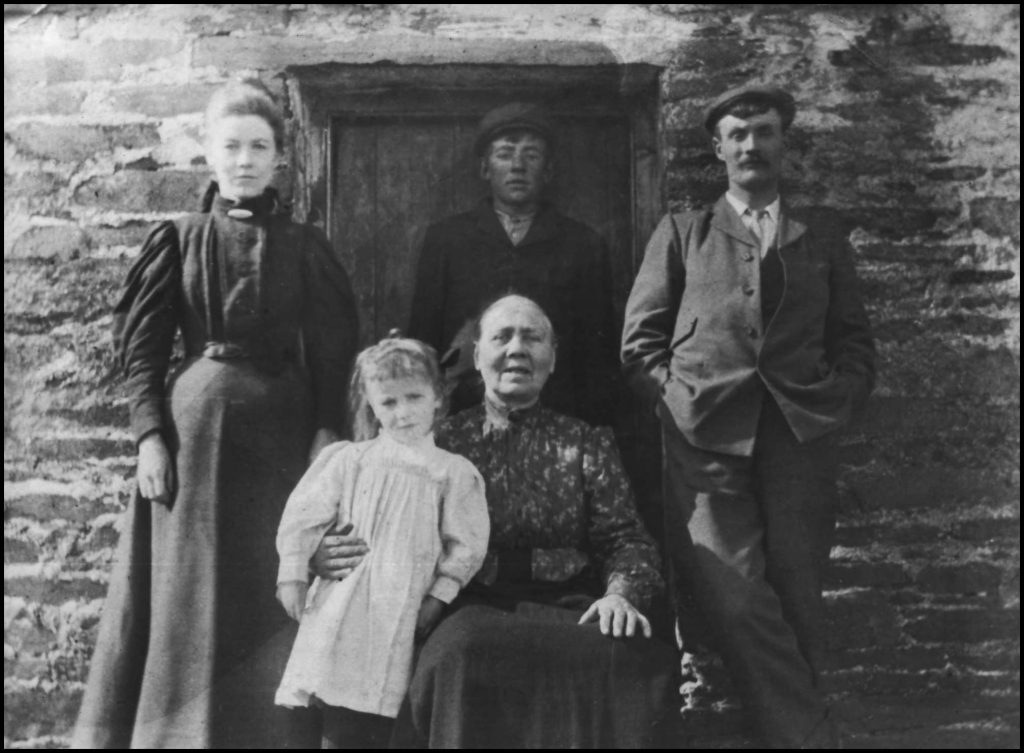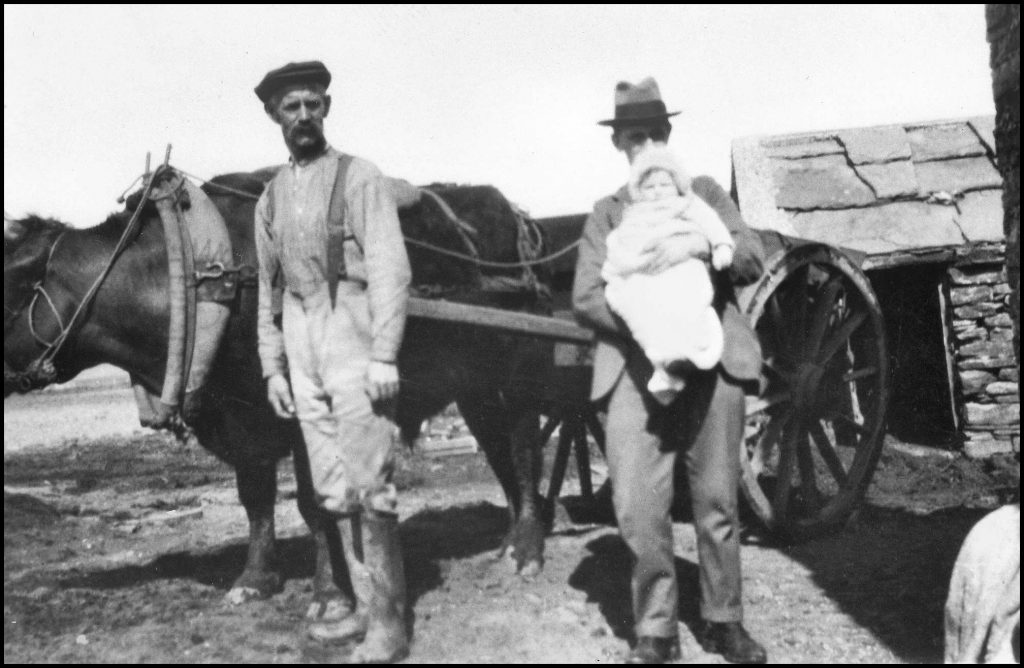 BREVAL
Variously spelled Breval, Bravel, Brayvale, and Bravehill, this small hill croft lay on the south side of the Sourin, or Suso Burn. In 1851 it was occupied by William Work, a 44-year-old farmer and fisherman, his wife Isabella, who was 48 years of age, and Barbara Leonard, his 84-year-old mother-in-law who earned a living as a hemp spinner. William and Isabella lived at Breval and farmed its 30 acres of land throughout the 19th century, employing Mary Forbes of Stromness as a farm servant, who they later adopted.
Breval cost William £1 2s 0d to rent in 1845. In 1857 this rose to £5, £6 15s 0d in 1872 and £7 in 1887. In 1888 he paid just £4 10s 0d…..'So reduced by the Crofter's Commission !!!' – wrote the laird in his rent book, much to his annoyance! William became bankrupt in 1892 and later died at Gue, Westness.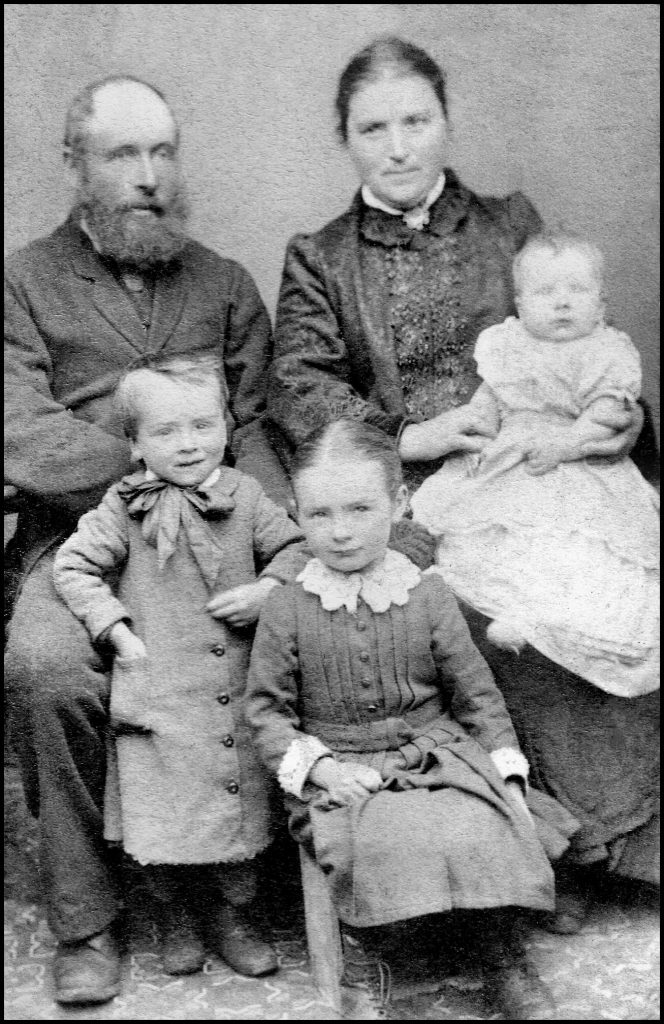 In 1893 Ross-shire-born Duncan McLean became the new tenant of Breval having moved from the cramped confines of Lower Clumpy, paying £6.0.0. annual rent for the property and the surrounding 7 acres arable and 30 acres of pasture land. As mentioned under the heading of Clumpy, Duncan was employed as a roadman in Rousay, and Duncan's Quarry, near the top of the Leean road, is named after him.
What exactly brought Duncan to Rousay is unclear, though during the late 1860s and early 1870s there were great improvements concerning transport in Rousay. Not only was a new road created round the island, but General Burroughs founded the Rousay, Evie and Rendall Steam Navigation Company and a new pier was constructed at Trumland. Duncan was born in 1838 in Polglass, a long crofting township between Achiltibuie and Badenscaillie, on the north shore of the sea loch, Loch Broom, Coigach, in the civil parish of Lochbroom, Ross-shire. He was one of eight children of boat carpenter Kenneth McLean [1790-c.1855] and Ann McLeod [1803-1861], Kenneth himself being the son of John McLean and Christy McKenzie.
Duncan was 39 years of age and living in the Brinian when he married Jane Grieve at Clumpy on February 11th 1881. She was one of twin daughters of James Grieve, Nethermill, and Margaret Craigie, Claybank,  born on December 31st 1845. The officiating minister was James Gardner of the Established Church, the witnesses were Alexander Munro and James Craigie, and Thomas Balfour Reid was the registrar.





Duncan McLean and his wife Jane Grieve,
with children, Maggie Ann, Kenneth [left]
and John James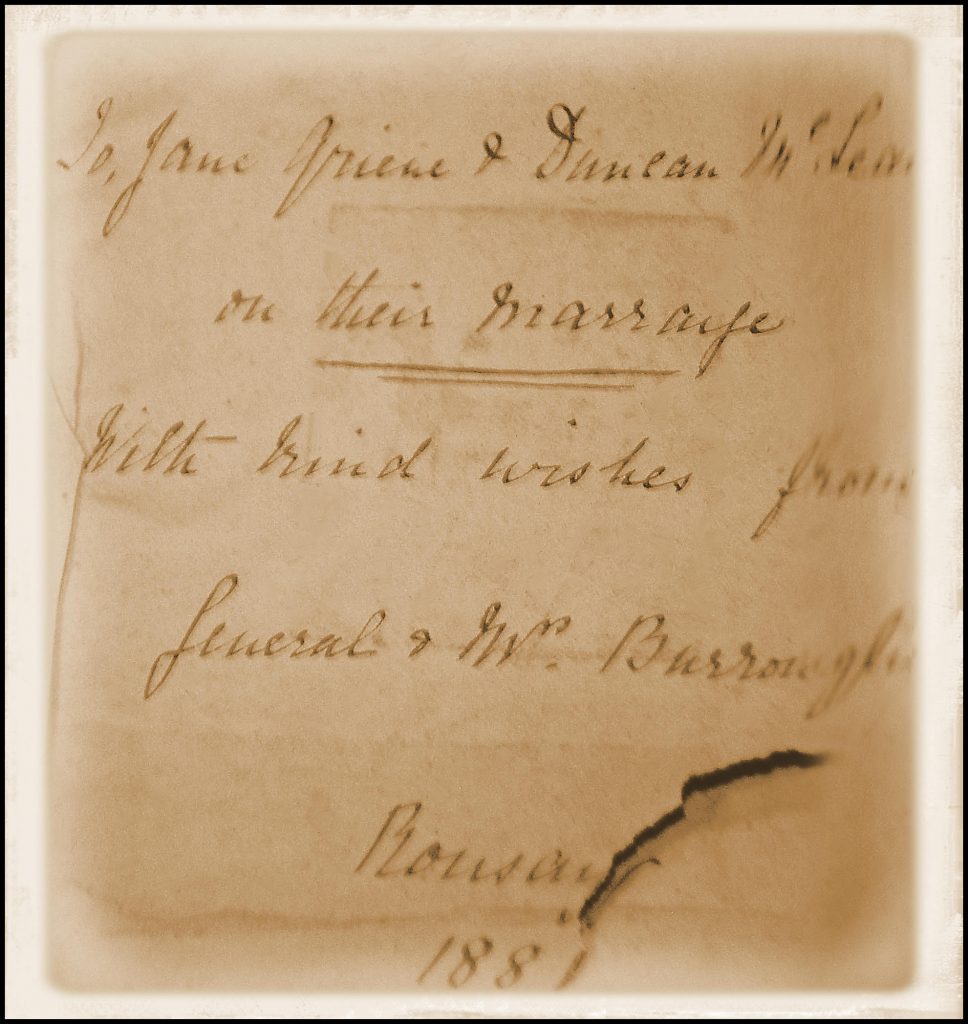 Duncan and Jane had three children: Maggie Ann, born in 1882; Kenneth, in 1885; and John James, who was born in 1888. He was to lose his life by drowning off Stronsay at the age of 21.
Maggie Ann McLean was 23 years of age when she married John William Wyllie of Burray. They had six children: John Robert, born in 1904; Mary Alexina, in 1911; James William, in1914; Magnus, in 1916; Maggie Ann, in 1919; and Evelyn Bruce (Eva), who was born in 1926.
Kenneth McLean [born 1885] earned a living as a carpenter, and both he and his wife Mary Jane Kemp, were 28 years of age when they married in the Shapinsay Drill Hall on February 3rd 1914. Mary Jane was the daughter of farmer William Kemp and Mary Groundwater, who lived in Balfour Village on the island. Kenneth and Mary Jane emigrated to the United States, setting up home in the Bronx, New York City.



Wedding gift: To celebrate the occasion
Jane and Duncan were presented with
a bible by General and Mrs Burroughs.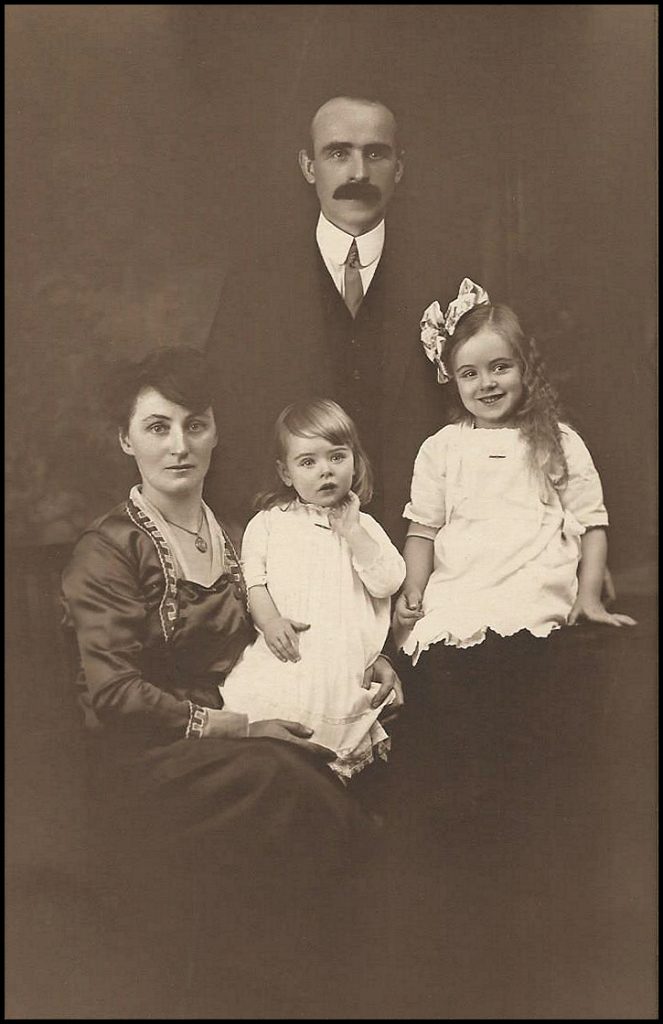 Kenneth and Mary Jane had two daughters, Mary Jane, born in March 1915, and Marguerita, who was born in November 1917. Kenneth's grandson Ken Harth [Mary Jane's son] writes: 'My grandfather was afraid that when he came off the boat that he did not have the required $20. They asked the man ahead of him and behind him. The only rationale he had was he was carrying his tool box and they figured he had a trade. I still have that box. I also have his carpenters chest that I believe was kind of a final requirement to become a carpenter. One of the jobs he did was converting the Queen Mary into a troop ship for WW 2. I still have some of the brass fittings from that job. He was a devoted mason and was master of his lodge and the Grand Sword Bearer for the State of New York. To my knowledge the last time my grandparents went back to Scotland was 1923. My grandfather was paradoxical. His favorite Celtic song was Danny Boy. He also maintained that "There wasn't an Irishman born that could play the pipes!" My grandfather died in 1968, my grandmother died in 1984.'





To the left: Kenneth and Mary Jane, with daughters Mary Jane and Marguerita. Below left is Mary Jane with her mother-in-law Jane during a visit to Breval c.1923 – and to
the right is Kenneth, showing off his mastery of the pipes.
These three photos are courtesy of Ken Harth.
---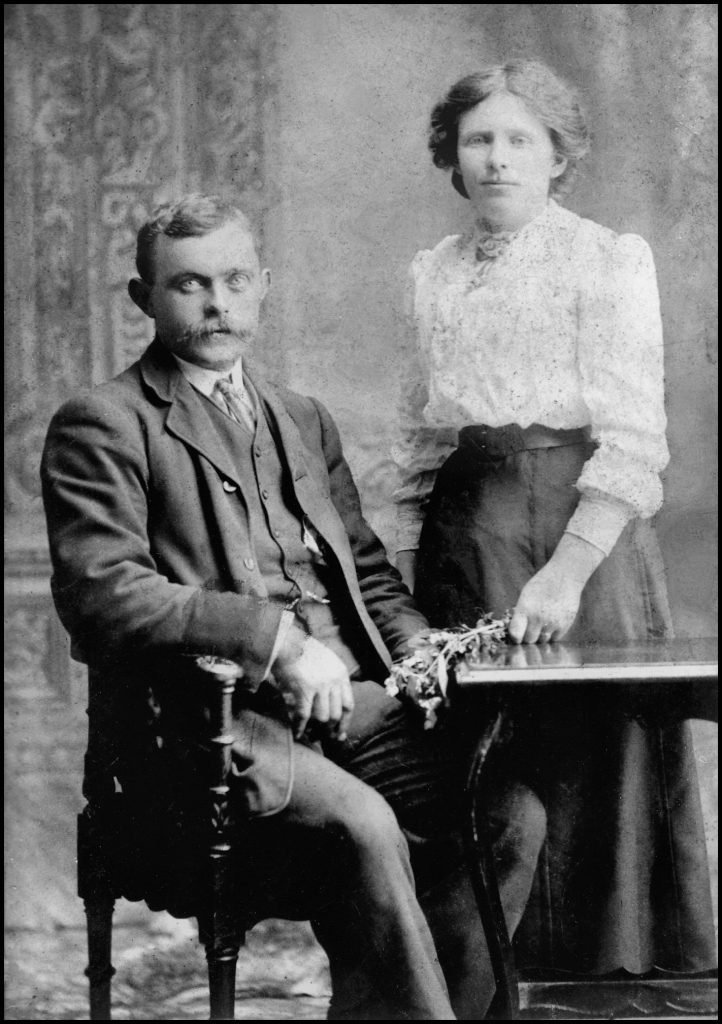 Later occupants of Breval were the Munro family. Alexander James Munro was the son of Alexander Munro and Christina Stephen who lived at Old School, which at that time housed the Sourin Post Office. Born in 1884 Alexander was a 28-year-old stonemason when he married Agnes Lyon, 21-year-old daughter of Robert and Catherine Lyon of Ervadale. The wedding ceremony took place on October 2nd 1912 at Sourin Public School 'after publication according to the forms of the Established Church of Scotland' – the officiating minister being the Reverend Alexander Spark. It was a busy afternoon for all concerned in the Munro household, for that same afternoon, and at the same place, Alexander's older sister Malcolmina was also married. After banns and publication according to the forms of the United Free Church of Scotland, 34-year-old postmistress Malcolmina married 36-year-old grocer James Bowie, from Glasgow. This ceremony was carried out by the Reverend Alexander Irvine Pirie.
Alexander and his wife Agnes [pictured to the right] had eleven children: Georgina Jessie was born in 1913; Lionel Edward in 1914; Daisy Williamina in 1916; Alexander James Byng in 1919; Cathleen Christine in 1920; Margaret Ann in 1923; Andrew Hunter in 1924; Norman Herbert in 1926; Robert Watson Lyon in 1927; Agnes Dorothy in 1929; and Hugh, who was born in 1930.

All black & white photos are from the Tommy Gibson Collection unless otherwise stated.
My thanks to Ken Harth, Surfside Beach, South Carolina, for sharing family photos
and detailed information regarding his grandfather Kenneth.
Thanks also to Bertie Gillespie, Longhope, for information regarding
his Munro relatives who lived at Breval.