Mounthooly, on the southern slopes of Cat Hill above Westness and close to Blowhigh, was occupied in the mid-1800s by farm labourer Alexander Johnston and his wife Isabella. Alexander was born in Birsay in 1799 and Isabella was born in Stromness in 1788.
The census of 1861 reveals that Alexander and Isabella had moved down the hill to Gue, Mounthooly then being occupied by Mary Reid, an unmarried 41-year-old agricultural labourer.
---
Blowhigh was the name given to an old cottage on the slope of Ward Hill above Westness. It was used as a hospital during the smallpox epidemics in Sept/Oct 1836 and again in 1850/51. In the mid-1850's it was occupied by Jane Reid, daughter of 'old' George Reid and Barbara Logie. She married John Harcus in 1838 and they lived at 'Upper Mounsay', Quandale. By the time the 1851 census was carried out John had died, Jane being described as a widowed farmer. Her children John, James, Jane, and Henrietta lived with her and they attended the nearby parochial school.
John later earned a living as a tailor; James qualified as a teacher; Jane married John Logie, his second marriage, and they had three children, Alexander, Mary, and Lizzie; Henrietta was a domestic servant. She later married Robert Pearson of Kirkgate and they lived at Castlehill in Wasbister for a time. Later Henrietta and her son Sandy lived at Vacquoy.
---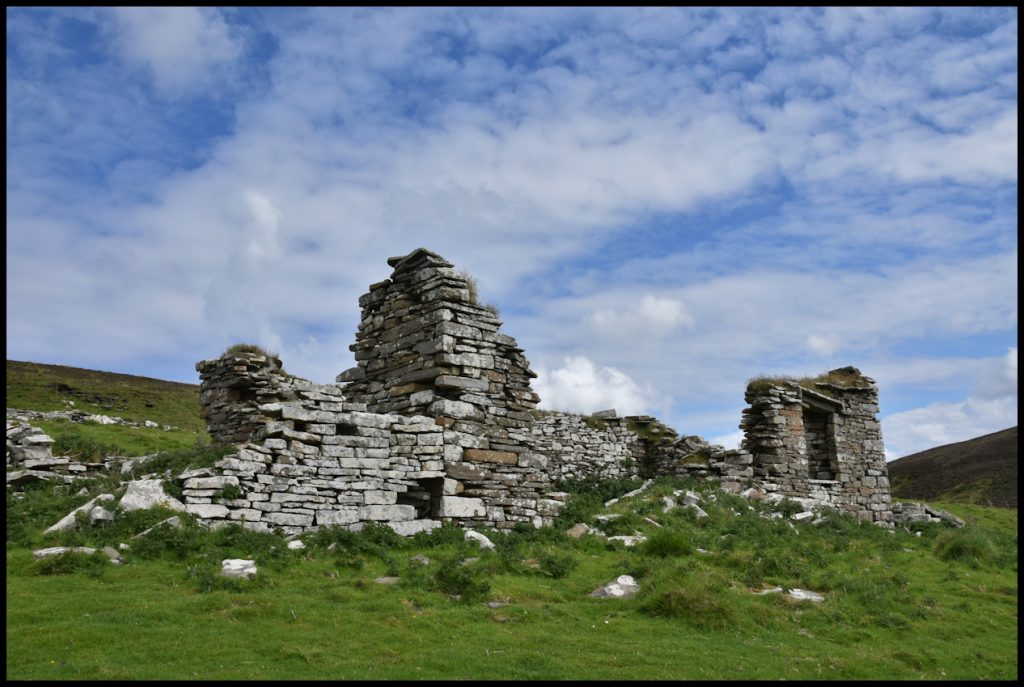 Hillycliff, also spelt Helyieklif, was an old cottage high up on a steep slope of Ward Hill, above Westness, built by Mr William Traill of Woodwick for Thomas Louttit, his gardener at Westness House.
In 1861 it was the home of the Logie family. John Logie was the son of John Logie and Mary Craigie who lived just down the hill at Gue, Westness and he was born on January 8th 1826. He married Cecilia Gibson, daughter of John Gibson and Barbara Craigie of Vacquoy, who was born on November 1st 1834, and they had eight children; John, Alexander, William, Charles, Annabella, Minna, James, and Hugh.
In the 1871 census, the cottage was called Heliole and 44-year-old John was described as a gamekeeper. His wife Cecilia died in 1874. John then married Jane Harcus, daughter of John Harcus and Jean Reid of Blowhigh, and they had three children; twins Alexander and Mary, born in 1878, and Lizzie. It was not long before the family moved to Pier Cottage.