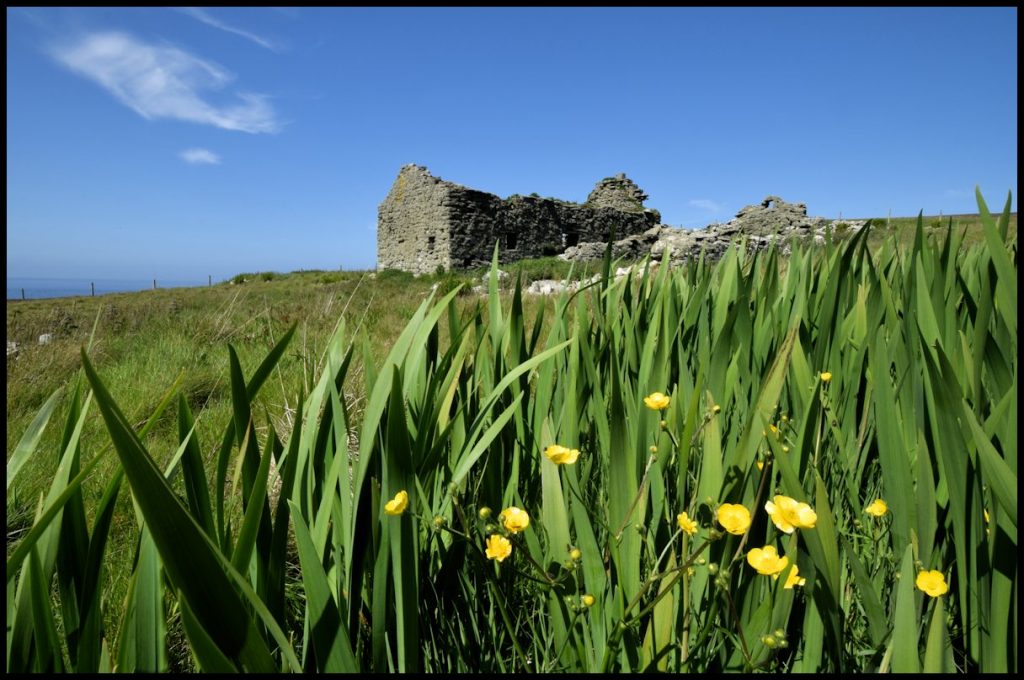 This is Tofts – a deserted and ruinous house in Quandale, Rousay, almost in the centre of that wide valley which looks out to the Atlantic. Although small it must at one time have been a house of distinction, and originally a place of some importance.
Its pre-eminence is confirmed by a 1668 sasine by which William Douglas of Egilsay disposed of Tofts to his son 'with the priviledge of the uppa thereof as the samen has been in use in all times bygane past memorie of man.' The uppa, the first rig in each field or block of rigs distributed among run-rig sharers, was a privilege reserved for the most important house in the community.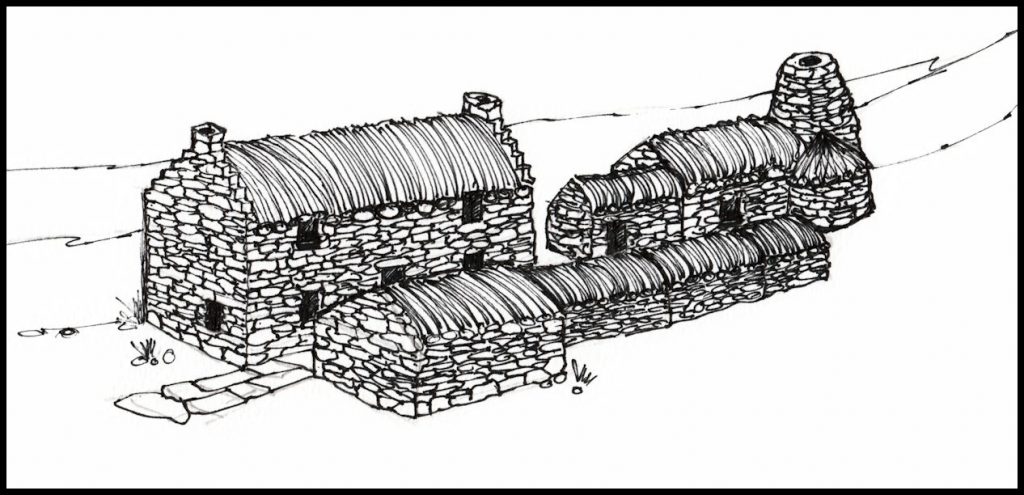 Tofts consisted of two lower rooms, each 12ft. 6in. by 12 feet and separated by a passageway running straight through the house connecting a front and back door. Stone window seats of good construction were a feature of the design and one downstairs room had a fireplace. The upper storey was reached by a stairway from within one of the lower rooms and consisted of two further rooms with low sloping ceilings.
Arguing that the two doors, the narrow passage, the deep-set windows and the stair leading from the lower room rather than the passage are all features designed for defence, novelist turned historian Joseph Storer Clouston dated the building from before 1471, when persistent raids by Lewismen ceased. Such a dating seems highly conjectural, but there is no doubt that Tofts was old and had once been a place of importance.
Unlike the traditional Orkney farm, Tofts had quite separate outbuildings. These consisted of a barn with its threshing floor between two doors, a corn kiln, and a byre. Despite its original importance, by quite an early date Tofts had very little land.
In 1601 it consisted of only a half pennyland of udal land and, although it was occupied by a single tenant, John a Toftis, it did not belong to a single owner but was shared by Craigies and Yorstons. It would appear that Tofts was a victim of the sub-division which udal inheritance often caused.
Deprived of much of its land Tofts became the dower house and in 1705 it was occupied by Jean Traill, the widow of Magnus Craigie of Skaill.
Had Tofts retained its importance, it might have become a large farm gradually absorbing its smaller neighbours in the traditional Orkney way, but the very nucleus of the community had decayed.
Mary Downie, the firstborn child of George Downie and Janet Murray, was born at Tofts on June 5th 1814. and their second child, Margaret, was also born there on June 22nd 1817. Their third child William was born on November 1st 1820 at Nether Quandale, and their other child Isabella was born on July 20th 1823 at 'Quendale in the hill.'
1837 November 10. From the John o' Groat Journal.

THUNDER STORM IN THE ISLE OF ROUSAY. – On Thursday, 26th ultimo, about half-past 10. P.M., the farm house of Tofts of Skeaburgh-head, in the north end of the Isle of Rousay, was struck by lightning. Only one clap (loud and long) was heard by the inmates. The electric fluid had entered by what is called the cellar end of the house, which it levelled to the ground, tearing up the very foundation. Three wooden beds, a press, and some chests were literally smashed to splinters. It then appears to have gone through the fire house, every door and every pane of glass in which was broken; a dog was killed while lying before the fire at one of the servant's feet, yet all the family escaped unhurt, although they were for a considerable time in a state of stupor. The byre also had been struck at the same instant; it too, was levelled with the ground, and three cows in it were killed. The wind was from the south, blowing a gale, with heavy showers of rain and hail.
The 1841 census was carried out on June 7th, and by this time Tofts, with 13 acres of arable land, was tenanted by 74-year-old farmer Magnus Murray, living there with his 60-year-old wife Janet, and their two children, 20-year-old James and Mary who was 15 years of age. Magnus was of the same economic status as the other crofters, although his holding still remained marginally the biggest and he paid rather more rent than anybody else did. He is said to have been the first farmer in Rousay to own a horse-drawn cart.
At this time Magnus was paying £15.12.0, though in 1842 the rent was lowered to £13.0.0. Rents were high for such exposed land and the Quandale community was generally 10% to 30% in arrears, a greater degree of indebtedness than in any other part of Rousay. Yet not all tenants were in arrears. Magnus Murray paid regularly until the last years of his life when a debt accumulated which his widow had some difficulty in clearing.
The Quandale crofters were given notice to quit after the harvest of 1845, the surrounding fertile pasture land having been cleared and converted into a sheep-walk by the laird, George William Traill. The Murrays moved across the valley to the farm of Whome, but Magnus died early the following year. His body was interred at the foot of the eastern gable-end of St. Mary's, the Westside kirk.
Janet died some time in the 1850's. In 1858 her son James, who was an agricultural labourer, married Janet Louttit, daughter of Alexander Louttit and his first wife Barbara Craigie of Lower Blackhammer, who was born in December 1816. They lived at nearby Greystane and had a daughter Janet, who was born in 1859.
James's sister Mary was married to Robert Logie. He was a shepherd at Westness and was the son of John Logie and Mary Craigie, born on September 2nd 1833. Mary and Robert lived at Geo, where they raised a family of seven children, born between 1858 and 1871.