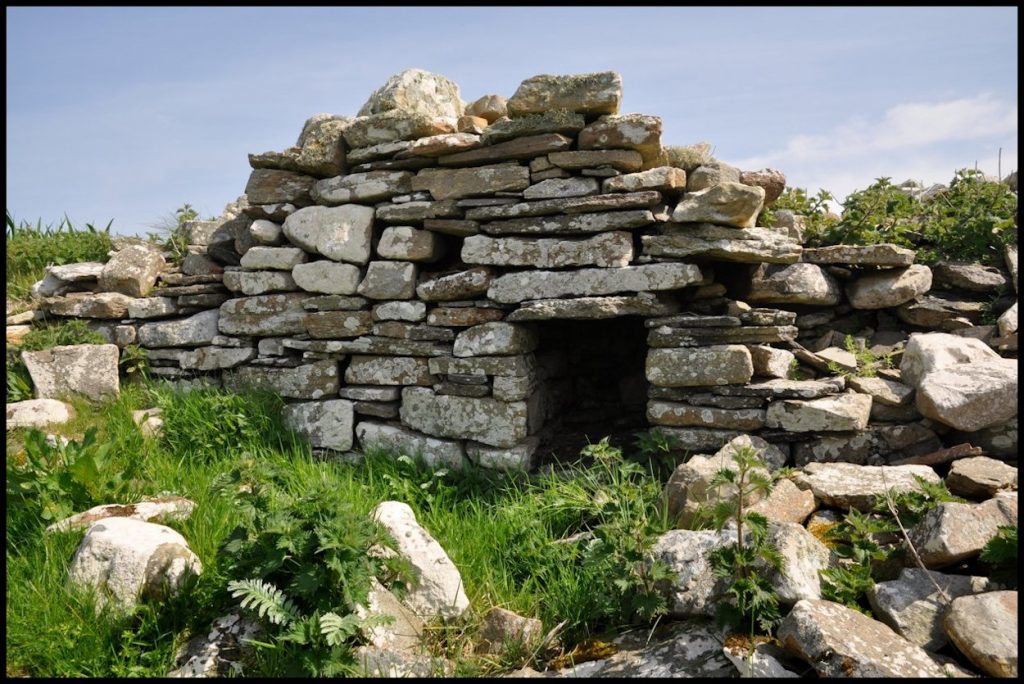 Mid Quandale was the name of a croft situated in the vicinity of the buildings of Windbreak and Tofts at Quandale. It was amalgamated with Nether Quandale before 1841, and the census of that year reveals that members of the Craigie family were living there. The annual rent was £15, but this was lowered to £11 the following year.
Head of the household was 60-year-old Hugh Craigie. He was the son of Hugh Craigie and Janet Marwick of Brough, Westside, and was born in 1778. He married Isabella Craigie, who was born in 1781, and they raised a family of ten children; Hugh was born on September 11th 1804, Janet on May 14th 1807, then another Janet on July 20th 1808, Henry on January 30th 1811, Mary on April 14th 1813, and William on September 7th 1815. All these children were born at Brough. Betty was born on November 19th 1817 at Nether Quandale, and the last three children were born at Mid Quandale; Grace on April 20th 1820, Peter on June 15th 1823, and John, who was born on March 11th 1828.
Meanwhile, at Upper Quandale in 1841 tenant Hugh Inkster paid annual rent of £8 8s 0d. In 1843 William McInlay was paying £11. He later moved into the Wash-house at Viera Lodge.
The Craigies were forced to move out of Mid Quandale during the 1845 clearance, and the parents and two of their children moved to Quoydeith in Wasbister. Hugh and Janet's oldest son, also christened Hugh, married Margaret Harrold in 1823, and they lived at New Grindly, Brinian. The family emigrated to New Zealand in 1848 after the death of their elder daughter Jean, but tragically the younger daughter Betty died on the voyage.