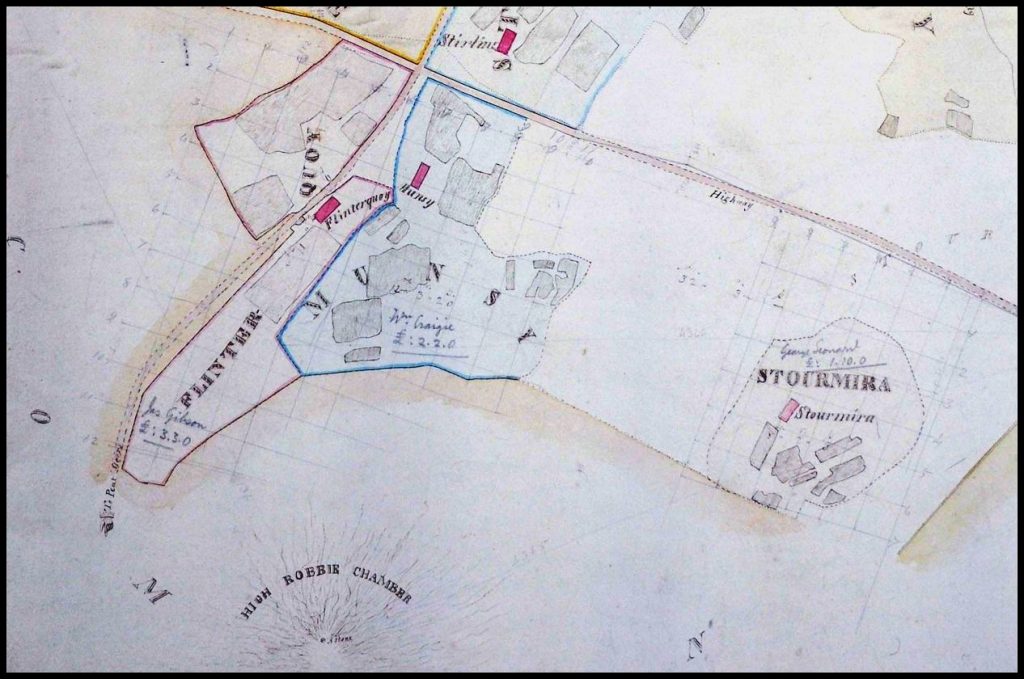 The image above is a section of a 'Plan of the Township of Quendale in the Island of Rousay, the property of George W. Traill of Viera'.
Drawn by G. Robson, Rousay c1850.
[Courtesy of the Firth Family of Vacquoy]
Munzie was a park and house-site on the lower slope of Mansemass Hill above the public road in Quandale. All that remains of the buildings today is a single site, outside the dyke, the others being completely cleared and the land used for nothing but pasture.
Known as Moansie in the 1824 Rousay Birth Register, and Upper Mincy in the 1832 register, the origin is uncertain, but one cannot fail to note the resemblance to the name of the hill. In his book The Place-Names of Rousay, Hugh Marwick thought the name might have been the local pronunciation of the house-name found recorded in the Rousay Birth Register sometimes as Magnus Hill. Referring to that register he found that in 1824 a birth took place at 'Magnus Hill,' and another at 'Moansie,' and the father in each case was William Craigie! But the fact that the mothers were different proves that these houses were definitely not the same.
The 1841 census reveals that four families were living on this site. The afore-mentioned William Craigie, a 45-year-old farmer, lived at Mounsay with his 50-year-old wife Mary, paying rent of £1 12s 3d.
The first of the three families living at Upper Mounsay was 35-year-old John Hercus and his 25-year-old wife Jean Reid, who was the daughter of George Reid and Barbara Logie of Pow, Westside. They had four children; John, James, Jane, and Henrietta. John was paying 15s. Rent at this time.
Also living at Upper was John's mother Christy, who was then in her 75th year, and his sister Betsy, a 30-year-old plaiter.
Five members of the Low family also lived there; 50-year-old widow Margaret Low, 25-year-old son John was a seaman, 20-year-old twins David, who earned his living as a tailor, and Margaret, and the youngest was 15-year-old Ann.
The census recorded a change of tenancy by 1851. Upper Mouncey was then occupied by Barbara Craigie, a 64-year-old widow, her unmarried 32-year-old daughter Cicilia, who was an agricultural labourer, and her five year-old grand-daughter Jane Rendall, who was a scholar. Barbara's late husband was William Craigie of Quoygray, Wasbister.
Mouncey itself was occupied by 59-year-old farmer William Corsie and his 44-year-old wife Betsy and one-year-old son Malcolm. William paid rent of £3 13s 6d. 1855 the whole of Munzie was added to Westness farm and William Corsie went to Faroe, Sourin.
1861 saw just one family at Mouncie, 58-year-old agricultural labourer William Sabiston, his 50-year-old wife Jean, and their three children, William, Mary, and Jane, all scholars.
Ten years on, and William Sabiston had passed away. His widow Jean earned a living knitting stockings, elder daughter Mary made ends meet as a dressmaker, while younger daughter Jane was also a knitter of stockings, despite being an imbecile – as recorded in the census. That census also reveals the presence of Jean's 3-year-old grandson Robert.
By 1881, unmarried mother Mary Sabiston was still in residence at Munsie, with her 13-year-old son Robert Gillespie, and her unmarried sister Jane. In 1897 Munzie was unroofed, the flagstones being used to cover the byre at Overbister [Everybist], Wasbister.
By1891 the three Sabiston siblings were living together at Bridgend, Westness. William was a 44-year-old farm servant at Westness, as was his 23-year-old nephew Robert Gillespie; William's sister and Robert's mother Mary was 41 years of age and employed as a housekeeper, and Jane, unmarried and by this time a 39-year-old annuitant.
By the time the 1901 census was carried out on April 6th Robert Gillespie was married, and living in the Old School buildings above Quandale. Employed as a shepherd Robert lived there with his 26-year-old wife Wilhelmina and their children Mary, aged six, and Robert who was two. Also living with them was Robert's mother Mary, now fifty years of age.
Ten years on and the1911 census tells us Mary was now living on Wyre, for her son Robert Gillespie farmed and employed others at Helziegetha. The household then consisted of Robert, Williamina [as it was spelled in the census – though we are reliably informed the spelling on her birth certificate is Wilimina!], daughter Mary, and two sons, Robert and 8-month-old William. Mary by this time was in the 60th year of her age.
According to the Orkney Ordnance Survey Name Book of 1879-1880, Volume 16, Munzie, or Monzie, had its name and various modes of spelling authenticated by Mr Robert Logie, Shepherd, Westness, Rousay, the Revd Alexander Macgregor Rose, Evie, and Mr John Craigie, Merchant, Hullion, Rousay. The names applied to a cottage situate at 22 chains south west of Stoormeadow, it was built of stone, thatched, and one storey high – and the property of General Burroughs C.B.