COTAFEA is a house in Frotoft to the south of the public road, between Langstane and Gripps, the site of which is now the excellent Taversoe Hotel.
William Mainland, born in 1788, was the son of James and Mary Mainland of Banks in Sourin. In 1813 he married Sicilia Mainland and they had six children; Marjory, Ann, William, James, Christopher and Hugh, who were born between 1814 and 1822.
In 1824 William married his second wife, Barbara Reid, oldest daughter of George Reid and Barbara Logie of Pow, Westside, who was born in 1801. They had two children while they lived at Banks, Sourin, George and Mary who were born in 1826 and 1827. The family then moved to Cotafea, where a further five children, Jean, Peter, John, Harriet, and Ritchie, were born between 1830 and 1843.
In 1847 William was paying £7 10s 0d rent. He was 69 years of age when he died in 1857. His widow Barbara then had to find the money to pay the rent, which had risen to £11 5s 0d by that time. She died in 1863 at the age of 61.

By 1871 their 36-year-old son John and his family were living at Cotafea, then called No.6 Frotoft. In 1863 he married Mary Reid, daughter of George Reid and Janet Harcus of Wasdale, who was born on March 28th 1835. They had three children; John, born on March 5th 1864, George William, on February 8th 1867, and Mary Reid, who was born on July 29th 1872, and pictured to the right. The annual rent for Cotafea between 1876 and 1887 was £13.
In the early 1900s Cotafea was occupied by the Sinclair family. Tom Sinclair was a son of Thomas Sinclair, Swandale, and Mary Gibson, Broland, and he was born on December 28th 1876. In 1905 he married Mary Inkster, daughter of Hugh Inkster, Ervadale and Shetland, and his first wife Isabella Kirkness, Quoyostray, and she was born in 1880 when they were living at Greenfield, Unst, Shetland. Thomas and Mary had four children; Thomas, born in 1907; Ann [known as Cissie] in 1908; Mary Isabel, [Mabel], born in 1910; and Lily.
The Sinclair family moved to Banks, Frotoft, and Tom Sinclair, father and son, ran the post-boat between Rousay and Evie for many years – and their story can be read under the heading of Banks, Frotoft in the main menu.
---
GRIPPS, also known as No 7, Frotoft, was built in 1846-7 at a cost of £48.19s.1d. Its first tenant was Magnus Marwick who, having moved there from Nears, paid rent of £5.10.0. Magnus, born in 1795, was the second and youngest son of Magnus Marwick and Christy Craigie. On December 19th 1828 he married 35-year-old Rebecca Craigie, daughter of Rowland Craigie and Janet Craigie, and they had three children; Mary, born in October 1829; William, in April 1832, but died before the 1841 census; and Ann, who was born in April 1834, who died before the 1861 census.
On November 8th 1861, elder daughter Mary married her first cousin, 31-year-old James Marwick, the son of Rowland Marwick and his second wife Isabel Craigie of Nears. In 1871 James was head of the household and farming 10 acres at Gripps and by that time he and Mary had four daughters; Mary Robertson, born in August 1863; Ann, in October 1865; Margaret Robertson, who was born in July 1867; and Sarah Mainland, in October 1868.
Rebecca Craigie Marwick died in April 1863 in front of Tratland from "suicide by drowning in a fit of insanity."  Her husband Magnus died at Gripps in 1879 at the age of 84. Between 1879-1887 James paid an annual rent of £8.
James Marwick's half-brother Magnus was 27 years old when he emigrated to Canada in 1843 with his sister Christina and their 24-year-old cousin James Clouston, son of David Clouston [weaver, living at Moan, Wasbister] and Janet Alexander (Barbara Marwick's (sister of Rowland Marwick) daughter). The men were allocated 50 acres of land each: Magnus's was on Conc. 11, lot 33, east half, Brant Township, Bruce County, Ontario, and James Clouston's 50 acres was on the west half of Conc. 11, lot 33. A handwritten note to the land agent dated Oct. 19, 1854 exists to this day, stating that Magnus deposited 5 pounds for the north half of lot 33. The 1861 census lists him as owning a 100-acre farm worth $300 with a one-storey log house. In fact he only had three acres cultivated with potatoes, turnips and spring wheat which made family members today think he wasn't the greatest farmer! The 1881 census has Magnus and Christina living together on the farm, but he died in 1886 and left the farm to his sister.
It was then she asked her half-brother James to leave Rousay and come to Canada and help her on the farm. It was in 1888 that James, his wife Mary, and their three daughters left Orkney and crossed the Atlantic. Unfortunately James died in 1891, and Christina passed away in 1902, leaving the farm to her three nieces, Annie, Maggie, and Sarah. By 1903 though, the girls had started to sell off the land, half to surviving members of the Clouston family and half to the Thater family. By that time Annie and Sarah were married, and Maggie and mother Mary were living with Annie and her husband in Toronto.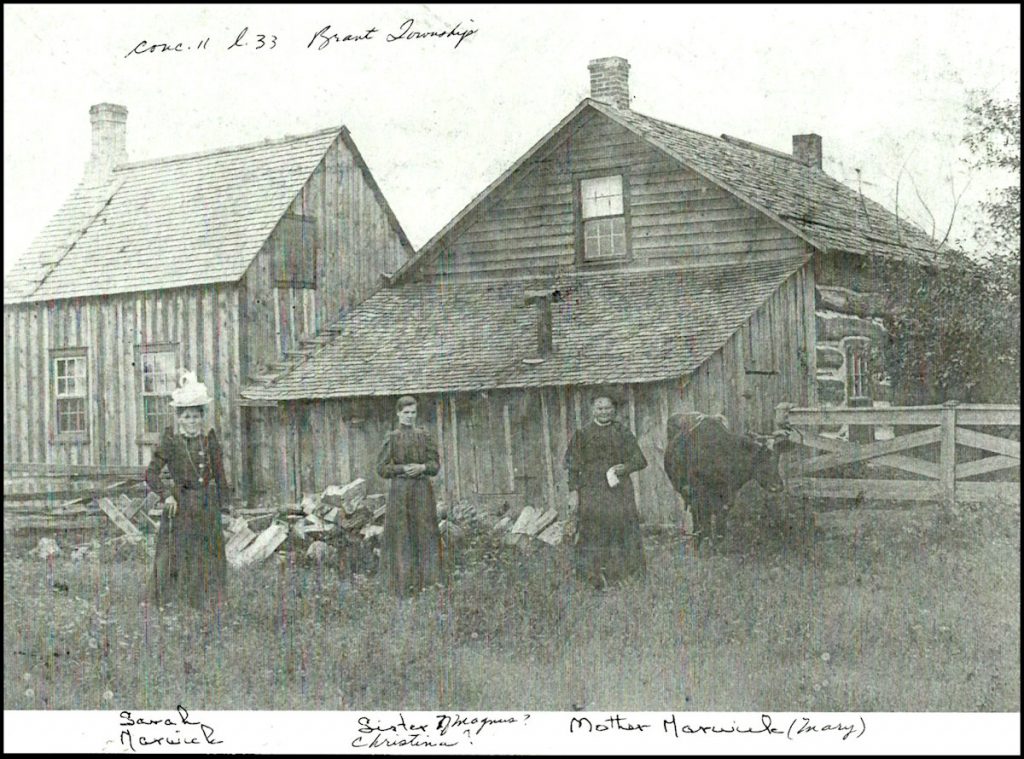 My grateful thanks to Sandra Grant, of London, Ontario – great granddaughter of Sarah Mainland Marwick, for the use of her information and photographs.
Regarding a correction in the name of the lady in the middle of the above photo Sandra comments: 'I think it is Annie – she had a longer face than Maggie. My grandmother (Sarah's daughter-in-law) was pretty good about labelling pictures but I notice that one has my dad's writing on it. I do wish more ancestors wrote names on photos!'
Meanwhile, back in 1891 Gripps was the home of James Mainland Craigie, a 32-year-old farmer and postman. He was the son of John Craigie, the 'Young Laird,' and Sarah Sinclair of Hullion, one of twins born on July 19th 1858. He married Maggie Mainland, daughter of John Mainland and Mary Sinclair of the Bu, Wyre, and they had two daughters, Adelaide, born on December 28th 1884, and Maggie, born on November 1st 1885. James was a postman first in Rousay and later in Firth on the Mainland.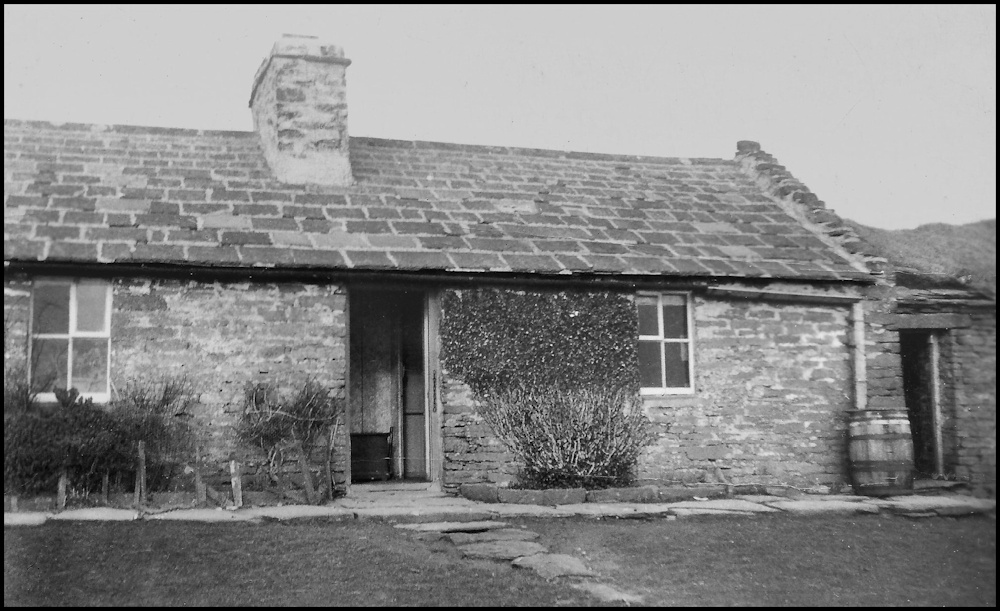 In 1894 William Logie was the tenant of Gripps, paying £7 5s 0d rent for the property with 6 acres of arable and 4 acres of pasture land, the 1901 census describing William as 37-year-old farmer and post boatman. William's mother was Betty Logie, whose parents were Alexander Logie, merchant, Quoygrinnie/Cott, Westside, and Isabel Harold. William married Isabella Robertson, daughter of John Robertson, Banks, Frotoft, and Isabella Corsie of Nears. William and Isabella had three sons, Charles, John, and William.
Sadly Isabella, or Isie o' Gripps as she was known, suffered complications during a pregnancy, leading to heart failure and her demise at 2pm on February 13th 1910. The census of the following year showed William living up at Mount Pleasant with eight-year-old son John.
[The three photos above, and all those in black and white under
the Cotafea heading are courtesy of Tommy Gibson.]