There were two shops on the island at this time – Edith Gibson is behind the counter of hers at Hullion – while at the Pier shop, Steebly [Jim Craigie] has a laugh with his wife Mina, as she serves customers there. He was born above the stables at Trumland House, hence his nickname!
James Campbell Bruce Craigie – Jim o' Deithe – born October 2nd 1895. Jim was a postman, firstly on Rousay and later in Sandwick where he lived at Ravenswood, Quoyloo. He is best-known for his fiddle music, having composed many, many tunes over the years. Tunes with a Rousay flavour such as Maggie Watson's Farewell to Blackhammer, Netherbow, The Road to Hammer-Chunky, Whal's Rost – the list is endless, and his music is still played and recorded today by a wealth of Orkney musicians.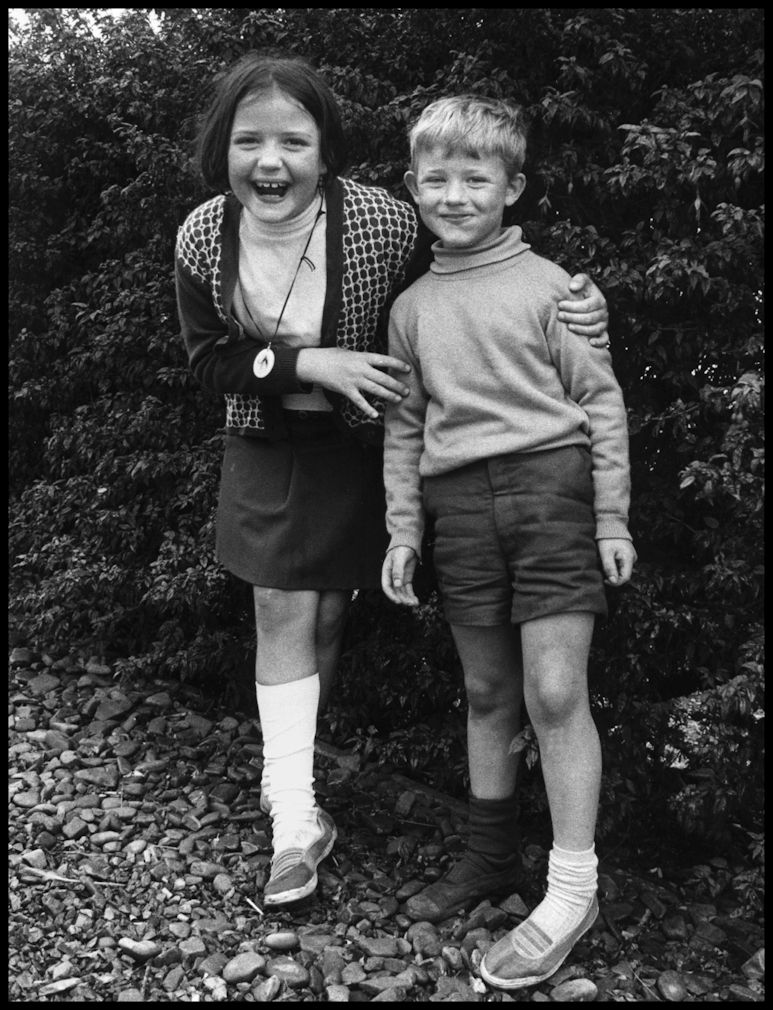 Ingrid and Robert Mainland of Nears – note the shoes and socks! Ingrid graduated from Durham University with a BA Hons in Archaeology, later specialising in archaeozoology. Robert took over the farm at Nears from his father John, and is also a builder of very fine houses on the island.


Below are some photos of Mansie Flaws and his ferry boat Shalder, taken during my first visit to Rousay in 1975. Another vessel, the Osprey, was known as the Rousay Post Boat and Mansie and his sons ran this and the Shalder between Tingwall and Rousay. Another boat they used at the time was the Alert which is still in Rousay today. When Mansie retired son Ian purchased the Solan and carried on the run, until Orkney Ferries' mv Eynhallow started regular crossings between the two piers – crewed by Ian and his sons, and since Ian's retirement his nephew Callum Flaws took over as one of the skippers of the Eynhallow.
Mansie Flaws in wheelhouse-door of the Shalder, with John Inkster [left] eldest son of John (Jolk) and Dorothy Inkster (née Mainland) – and Frank Harris on the right, who lived at Yorville with his wife May. Frank was a member of the magic circle and once had a brush with the authorities who refused him permission to drive backwards, blindfolded, through the streets of Thurso! – The photo to the right shows the Rev Tom Johnston helping a bairn aboard – into the safe hands of Mansie.
I posted these photos of Mansie on the Orkney Past & Present Facebook page. David Spence allowed me to reproduce the following comment he made having seen the photos: "He is my grandfather, he retired to Kirkwall and was always turning wood into something, a very talented man with the lathe, he had the Alert up outside his house and restored it and among other things he made spinning wheels that were shipped all over the world to people he had met over the years while he ran the ferrys. A very talented fiddle player and would play the trumph to tourists on the boats too. He was a big man with a giant heart and a giant smile."
Mabel and Bill Flaws of Hammerfield. In 1938 Bill, then 35 years old, married
Mabel Sinclair, the daughter of Thomas Sinclair and Mary Inkster of Banks,
Frotoft, who was christened Mary Isabel in 1910.
Mabel and Bill are pictured at their Hammerfield home, with faithful dog Spot.
Below is Hugh Grieve of Saviskaill, repairing a dyke on his land above Grithen.