Now we come to the houses of old in the Sourin valley, a vast swathe of land between Kierfea Hill to the North, the peat banks of Brown Hill to the West, Blotchniefiold, the Hass of Goustie, and Knitchen Hill to the south, and following the Suso Burn from the Muckle Water to where it flows into the sea by the old meal mill and Lopness in the East. At the time of the first census, carried out on June 7th 1841, there were 307 folk living in 55 dwellings in Sourin.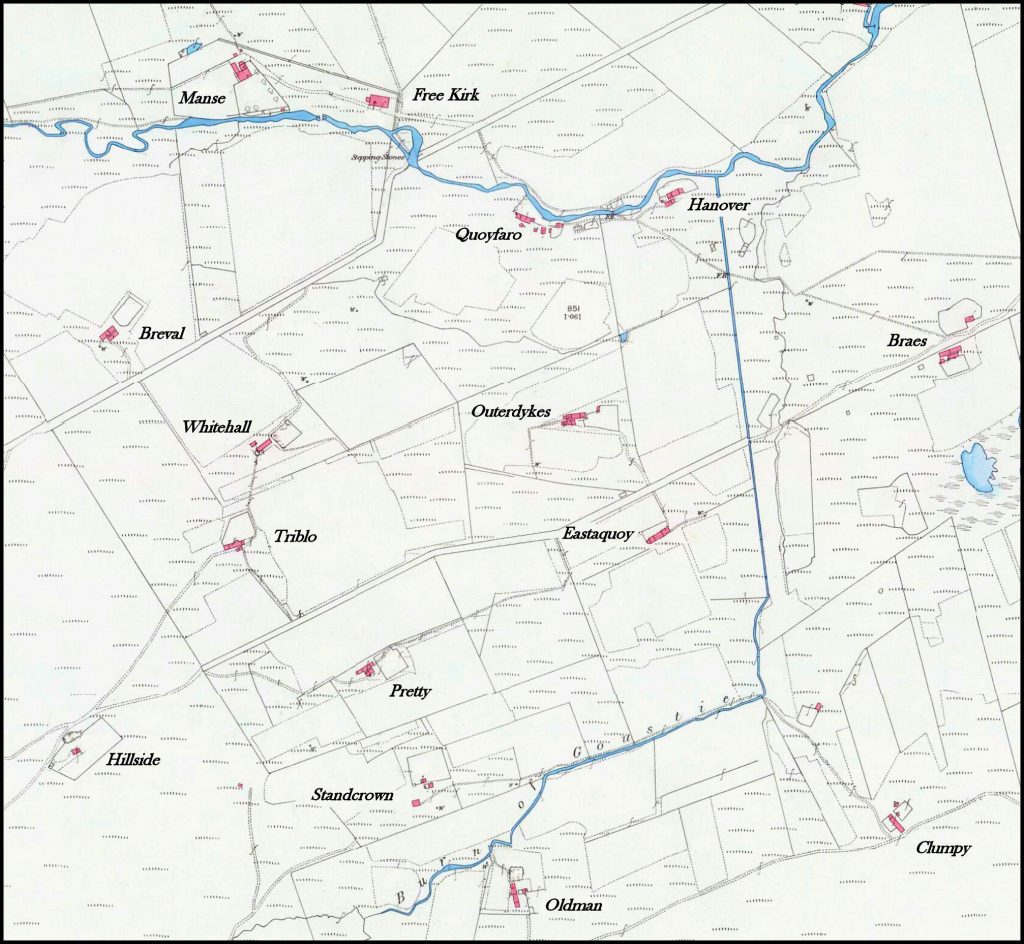 The first of these we visit are the small hill crofts of Clumpy and Lower Clumpy, located to the west of Quoys and Braes. In 1851, 68-year-old pauper and widower Hugh Marwick, a retired miller, and his 64-year-old widowed sister Margaret Mowat, both born in Westray, lived at Clumpy, where they tended to the needs of nephew William Mowat who was a 30-year-old invalid. The rent at this time was 12s.
In the census of 1861 the croft was spelt Clumpie, and its occupants were 65-year-old widow Christie Yorston and her 23-year-old daughter Lydia Downie, who was employed as a domestic servant. Lydia was born on April 25th 1839, her parents on her birth certificate being George Downie and Christie Yorstane. Christie reverted to her maiden surname on the death of husband, as was common in those days. That same year Upper Clumpie was occupied by the Grieve family. Farmer and fisherman James Grieve was the son of James Grieve and Elizabeth Davie, and he was born in Egilsay on March 24th 1816. In 1845, when he was living at Nethermill, he married Margaret Craigie, the eldest daughter of James Craigie and his first wife Betty Marwick of Claybank, Wasbister, who was born on November 1st 1815. They had four children; twins Jane and Margaret, who were born on December 31st 1845; Mary, in 1849; and James, who was born in 1852.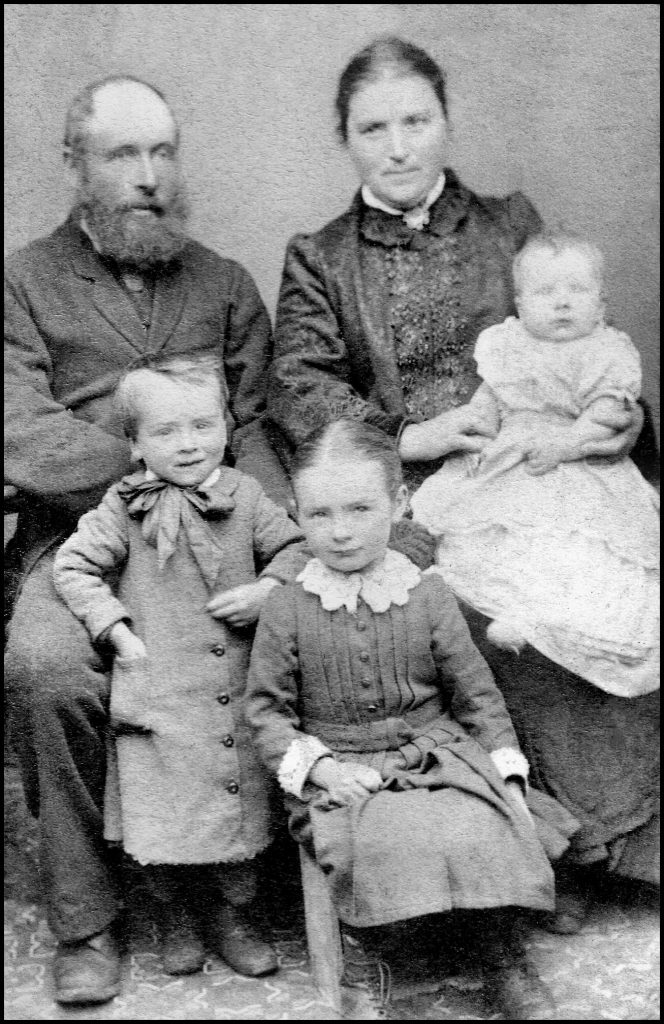 By 1881 James Grieve was farming 15 acres of land at Clumpy. His daughter Jane had married Duncan McLean from Ross-shire and they also lived at Clumpy, Duncan earning a living as a general labourer. In 1888 the rent was £2.10.0. for the 5 acres arable and 10 acres pasture.
James Grieve had died by 1891, and by then his widow Margaret was in her 76th year. Daughter Jane and her husband were now living at Lower Clumpy, and they had three children: Maggie Ann, born in 1882; Kenneth, in 1885; and John James, who was born in 1888, but who later drowned off Stronsay when he was 21 years of age. Jane's husband was employed as a roadman in Rousay, and Duncan's Quarry, near the top of the Leean road, is named after him.
Duncan and Jane McLean with their children,
Maggie Ann [front], Kenneth [left], and
John James on his mother's knee.
Duncan, Jane and son John moved to Breval, or Bravehill as it was called in the census of 1901. Jane's twin sister Margaret was fifty-two years old when she married ploughman William Sabiston, Brigsend, Westness, who was also born in 1845, the son of William Sabiston and Jane Louttit. The wedding ceremony, held at Clumpy on March 24th 1899, was performed by the Rev Alexander Spark and witnessed by William Grieve and Maggie Ann McLean.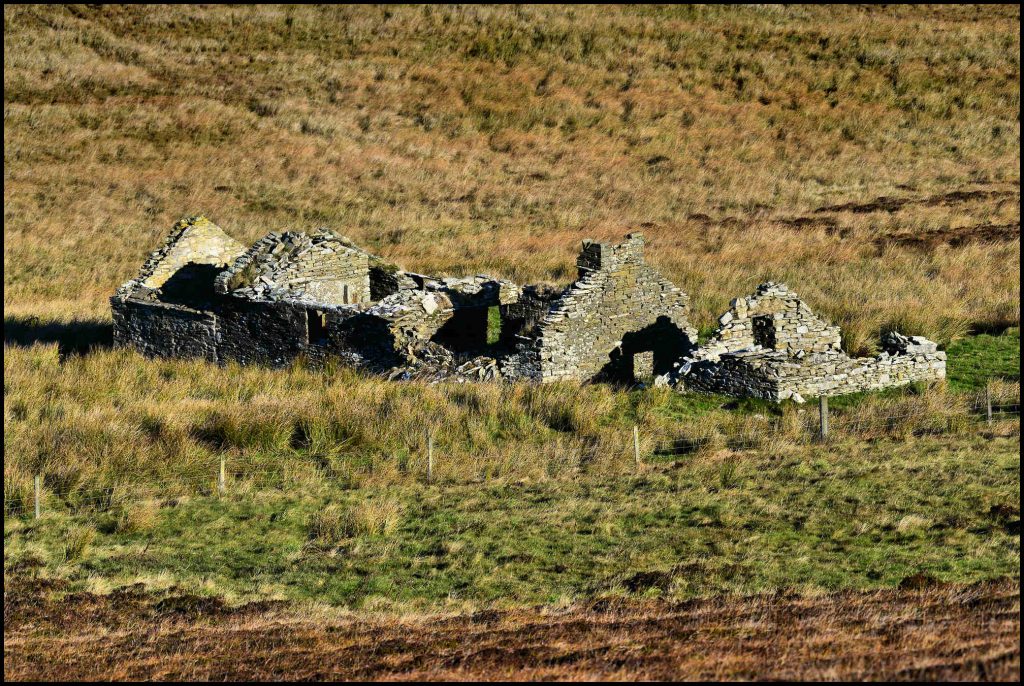 The Harcus family were the final residents of Clumpy. Born in 1894 John Harcus was the son of Angus and Jessie Harcus of New Glen, Westray. A gunner in the Siege Artillery based at Catterick, Yorkshire, he was 23 years of age when he married 21-year-old housemaid Helen Craigie at Balfour Cottage, Shapinsay, on March 22nd 1918. Helen was the daughter of James Craigie and Helen Louttit, and was living at Breck, Rousay, at the time. The ceremony was performed by the Reverend Granville Cuthbert Hepburn Ramage, the United  Free Church minister in Shapinsay, and witnessed by James Craigie and Mary Harcus. John and Helen had four children: Helen Craigie (known as Nellie) was born in Westray in 1920. The family then moved across the firth to Rousay, where three sons were born – Angus, in 1922, John, in 1924, and James, who was born in 1930.

OLDMAN
According to Volume 16 of the Orkney Ordnance Survey Name Book of 1879/80 Oldman 'applies to a small farm situate 13 chains S.E. from Pretty. The whole of the above houses are one storey, built of stone, thatched and in fair repair. Proprietor Colonel Burroughs, C.B. Rousay.'
Oldman was the name of a hill croft in Sourin on the south bank of a burn of that name, close to the crofts of Clumpy and Pretty. This is a transferred house name, for the original Oldman was on the Westside, between the present third and fourth fields out from Westness Farm. The tenants there were cleared out from the Westside, and their lands laid down as a sheep-walk. Some of the evicted folk settled on new sites in Sourin – as in this case – and the old house name was applied to the new buildings on this site. Unfortunately the reason for original name is unknown.
In 1813 Peter Yorston, who was born in 1788 at Corse, married Rebecca Craigie, daughter of Mitchell Craigie and Ann Mainland of Hullion, who was born in 1783. They had three children: Peter, born in May 1814; Mary, in July 1816; and Ann, who was born in January 1823.
Peter, the oldest of the three children, was a 24-year-old fisherman when he married 22-year-old Lydia Turnbull of Evie on December 20th 1838. They had five children: May, who was born in 1841; John, born in August 1843; Peter, in May 1848; Harriet, in August 1851; and Robert, who was born in December 1854.
As the years went by Peter farmed the land at Oldman and in 1871 the annual rent for the 18-acre site stood at £8. He had the assistance of wife Lydia and 31-year-old daughter Mary, while 17-year-old son Robert was employed as a small grocer.
By 1881, another of their sons, also named Peter, was the new tenant of Oldman, now 33 acres in size. In 1870 he married Mary Kirkness, daughter of John Kirkness and Mary Alexander of Quoyostray, who was born in 1849. They had five children; Peter, born in 1871; Jemima Mary, in 1874; Elizabeth (Lilla), in 1878; James Kirkness, in 1880; and John Alexander, who was born in 1883. Tragedy struck the Yorston family in 1879 – when eight-year-old Peter and five-year-old Jemima both died of diphtheria, Peter at 2.30am on July 13th and Jemima five days later at half-past midnight on Friday the 18th.
Peter was paying £10 rent in 1885, but by this time he was also tenant of Eastaquoy. This was reduced by the Crofter's Commission in 1888 and he paid an annual rent for both properties of £7 10s 0d.
Peter Yorston died on October 15th 1913 at the age of 65. His wife Mary Kirkness passed away on June 9th 1925, in her 79th year. They were interred in the Wasbister kirkyard in the same grave as their children, Peter and Jemima.



HILLSIDE
This was a pauper's residence, situated 14 chains [just over 300 yards] S.W. from 'Triblo' & 16 chains [350 yards] S.W. from Pretty. There is only one record of its occupancy, in 1871, the pauper in question being 61-year-old widow Cecilia Leonard. The highest rate of pay for paupers at that time was about £4 a year – but at least they had a roof over their heads.
Cecilia was the daughter of Hugh Inkster, Tou, and Isabel Craigie, Corse, and was born on October 24th 1810. She married James Leonard, Grain, later Quoygray, the son of John and Isabella Leonard, who was born on May 8th 1811. They had seven children: Mary, who was born in July 1839, but died young; John Inkster, born in June 1841; Anna Hercus, in August 1843; Mary, in May 1845; Sarah Inkster, born in October 1847; Margaret, in 1849; and James Inkster, who was born in December 1854. Husband James passed away in 1864 at the age of 53. Cecilia died in February 1895, in her 84th year.



STANDCROWN
Widow Pearson was the occupant of Standcrown for many years, costing her 9s. 6d. a year to rent between 1833 and 1873. She was the daughter of farmer Robert Pearson and Margaret Downie. On May 5th 1829 she married farmer John Rendall. He was 27 years old when he died on May 15th 1833, and Mary therefore assumed her maiden name on his demise.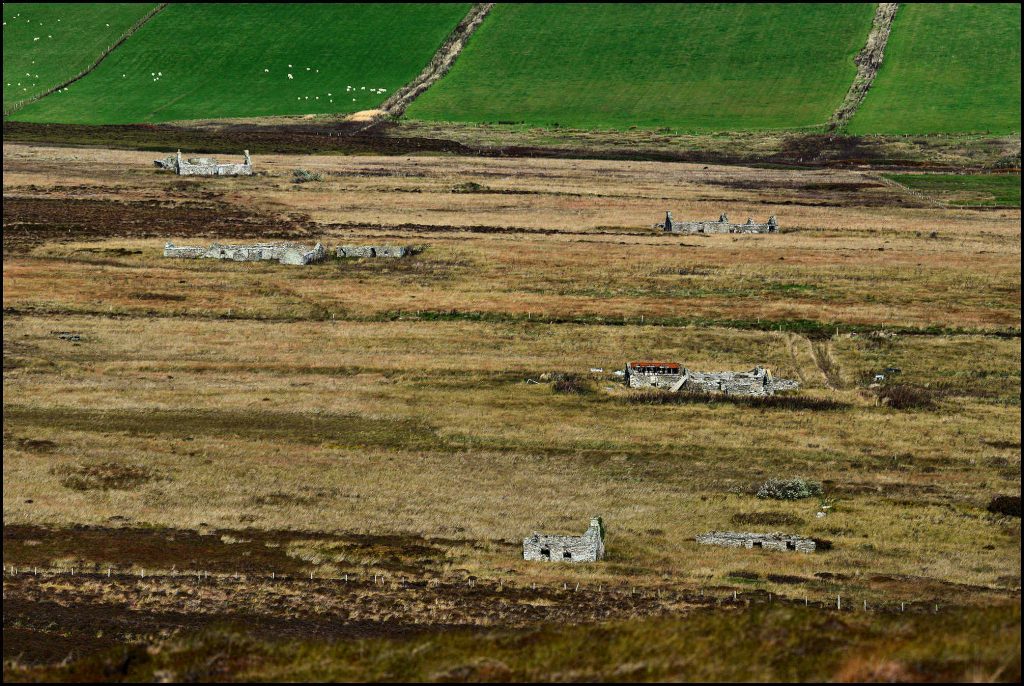 Mary always had company at Standcrown. At the time of the 1841 census her older sister Barbary, and 14-year-old Christie Costie were under the same roof. Barbary passed on, but Christie made a living from various means over the years, making herring nets, working as a farm servant, and knitting various items. Mary Pearson died in 1873 at the age of 89.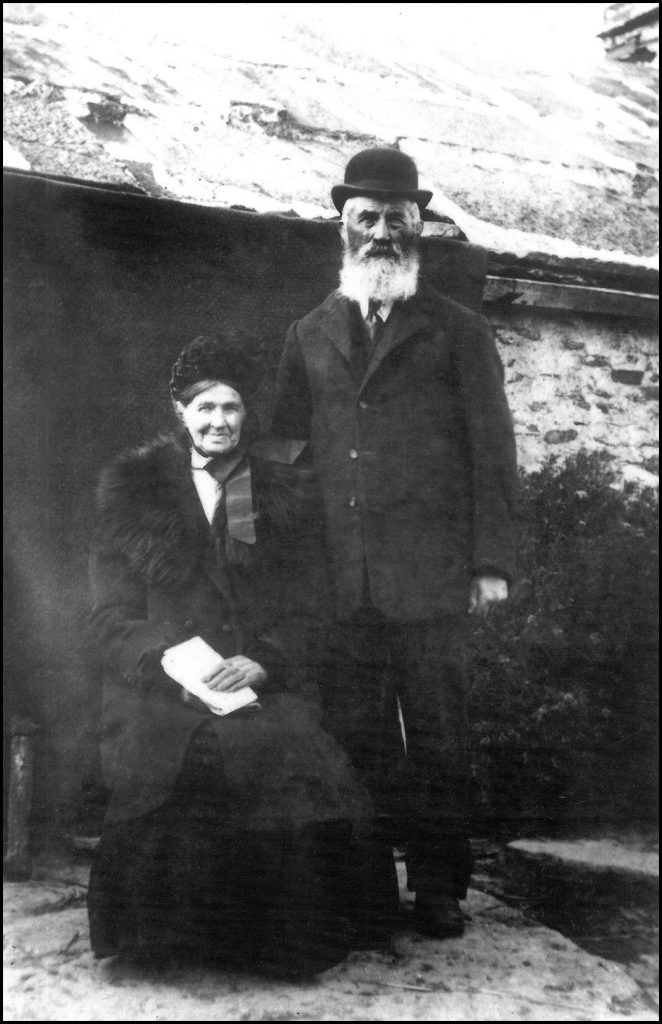 The house was known by various spellings over the years: Stine-Croonie, Stencrownie, and more commonly Styno, and it was occupied for the next fifty years by crofter/fisherman James Gardner Grieve and his wife Isabella. James was the son of James Grieve, Nethermill, and Margaret Craigie, Claybank, and he was born in March 1852. In April 1872 he married Isabella Alexander, daughter of James Alexander and Douglas Garson of Netherskaill, Egilsay, who was born in November 1845. They had three children; James Alexander was born in August 1873; Isabella Elizabeth, in 1876, and Mary Logie, who was born in 1880. By 1887 James was paying £3 rent, but this was reduced by the Crofter's Commission in 1888 to £2. The area of land covered 4 acres arable and 11 acres pasture.










James and Isabella are pictured to the left in their latter years.
William Craigie and his wife Margaret were later occupants of Standcrown. William was the son of coach driver William Flett Craigie and Isabella Leonard of Geo, Westside, and he was born in October 1874. His wife Margaret Grieve Leonard was the daughter of Malcolm Leonard and Mary Craigie of Upper Grips, later Quoys, Sourin, and she was born in November 1868. Margaret had a son by John Yorston Grieve, son of Alexander Grieve and Margaret Alexander, Nethermill. Born in 1884 he was christened, John. His father John died in 1889 at the age of 30.
On July 12th 1894 Margaret Grieve Leonard and William Craigie were married in the Sourin Free Kirk by the Rev. Robert Bonellie. At the time William was a 19-year-old farm servant working on the farm of Braebuster, Deerness, while Maggie was a 24-year-old domestic servant. At some point they moved south, to Leith, where William was employed as a marine engineer. They had five children: Isabella Leonard Craigie was born in September 1895. On August 26th 1915 she married ship plater John Maule Ferguson. Mary Jane Craigie was born in September 1897. On February 19th 1917 she married seaman David Tod Addison. James William was born in September 1898, but died when he was just six years old. Annie (Nan) Craigie was born in June 1900. She married David Flanagan on October 23rd 1918, and their daughter Williamina (known as Billie) was born the following year. Malcolm was born in June 1905, but died when he was 12 years of age.
William and Maggie returned to Standcrown, but Maggie died in 1948 and William passed away at Nethermill in 1965 at the age of 91.


PRETTY
Pretty was the name of a croft between those of Standcrown and Triblo in Sourin, the official name being Standpretty, but that was not used locally.
39-year-old farmer and fisherman James Cooper lived here in 1841. He was the son of Hugh Cooper and Jean Craigie, and was born on July 10th 1802. On July 15th 1831 he married Betty Craigie, daughter of William Craigie and Betty Leonard of Cruar, born on June 17th 1805. They had three children: William, born in February 1832; James, in March 1835; and Betsy, who was just five months old when the census was carried out on June 7th that year. In 1845 James paid an annual rent of £2 5s 0d, which by 1865 had exactly doubled.
In 1871 James was in his 68th year, wife, called Betsy in the census, was 66, and their unmarried 30-year-old daughter Betsy was employed on the farm. Their 34-year-old fisherman son James and his family also lived at Pretty. His wife was 29-year-old Harriet Smeaton Craigie, daughter of James and Barbara Craigie and they had ten children between 1863 and 1883. James Craigie was born in September 1863; twins Betsy and Harriet were born in October 1864; William Craigie was born in August 1866; Mary, in November 1868; Susannah, in April 1872; Margaret Ann, in 1873; John, in 1877; Frederick, in 1881; and George Stevenson, who was born in 1883.
In 1874 the rent at Pretty had risen to £5. James Cooper died in 1875 at the age of 73, and his son James took over the tenancy. The 1881 census reveals the fact that thirteen folk were then living at Pretty. Widowed Betsy was 73 years of age at this time. Living with her were two other Betsys – her 40-year-old unmarried daughter, and 11-year-old granddaughter. Son James, his wife Harriet and five of their children were in residence – as was another Cooper – the widowed wife of James's brother William. At the time of his marriage William was a 39-year-old seaman in the merchant service, his home address given as Helzie-Githa, Wyre. On January 23rd 1871 he married 21-year-old Mary Ann [known as May] Linklater, daughter of Magnus and Catherine Linklater, of Lubbadale, Hillside, Birsay. They had a daughter, Margaret Ann, born in 1872, but she died just three years later, on the afternoon of November 23rd having suffered from bronchitis for three weeks. Her father William died at 9.30 on the morning of February 3rd 1881, "supposed to have been suffering from consumption for one year," according to his death certificate. The 1881 census was carried out on April 4th, and his widow May was living at Pretty with her two daughters, five-year-old Mary Elizabeth, and four-year-old Mary Ann.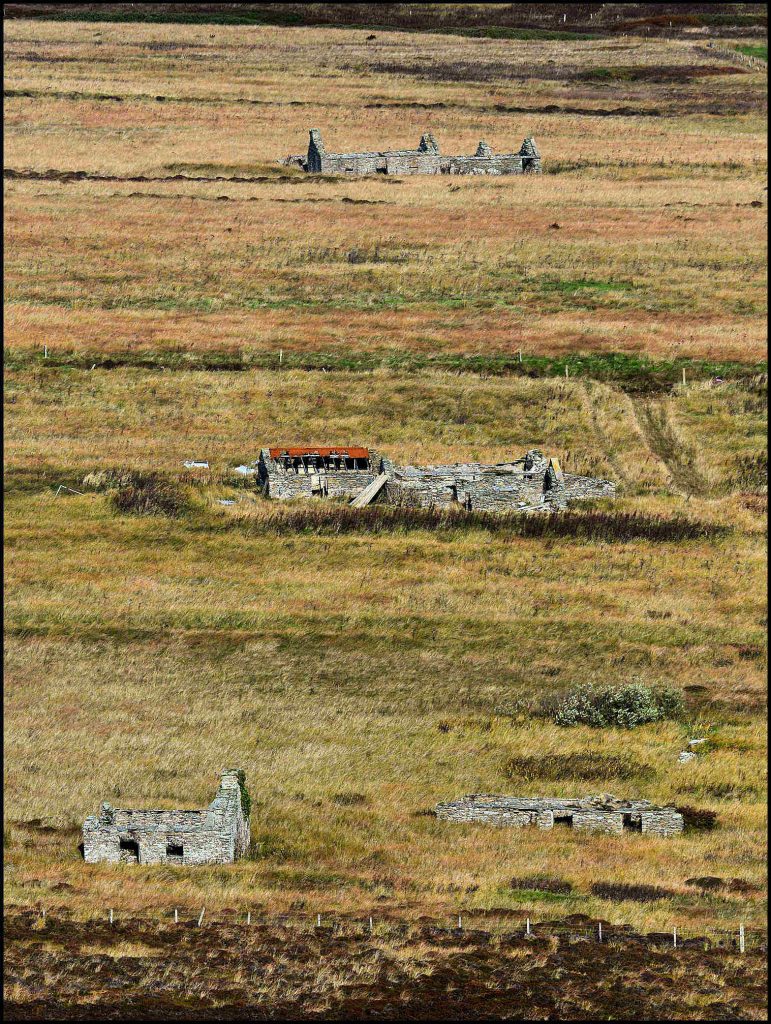 Betsy Cooper died in 1882 at the age of 76, though no death certificate was completed. The Napier Commission had been set up as a response to crofter and cottar demonstrations against excessively high rents, lack of security of tenure on land that had been in families for generations, and the forced evictions of crofters. During the commissions sessions held in Kirkwall in July 1883, reference was made to an incident concerning Betsy Cooper and the island's laird. Speaking on behalf of the Rousay crofters at the meeting, James Leonard, crofter and mason, Digro, was asked by one of the commissioners, Charles Fraser-MacIntosh MP, if he had anything else to state besides what had already been heard on behalf of the people who had sent him there.
Leonard said he had to state that there was such an amount of landlord-terror hanging on them – he was asked to state that – that they would be pleased if the Commission would do what they could to have the cause of that terror removed. You could not fail to see that that terror existed. He had a statement from another crofter, but he didn't think it necessary to read it.
Mr Fraser-MackIntosh told him he could leave it with the commissioners. James Leonard said he wished to refer to something that was mentioned in a previous statement. The expression occurred – "wanton and unrighteous conduct." He gave an example of that, which involved the case of a woman in the island whom the proprietor visited, when she was on her death-bed. She had a small croft, and she would have to leave it, because he was going to give it to another person – a stranger. She said she would never leave it until she was put to a house from which no man could remove her. He said – "What house is that?" – and she said – "Where I will be buried;" and he struck his stick on the ground and said, "Would you like to be buried here on this floor?"
Mr Fraser-MacIntosh asked – "What is your authority for making that statement: was it the poor woman herself?" Leonard replied – "More than that; there are witnesses beside me who can speak to it."
Later, in reply to questions from the commissioners, the laird, Lt. General Frederick William Traill-Burroughs, said he could say nothing about the story concerning Mrs Cooper on her deathbed, and he didn't remember any such thing.
As the Rousay Crofters' Movement centred around the Sourin Free Kirk community it was inevitable that the minister, the Reverend Archibald MacCallum, should be drawn into the conflict. He told the commissioners he – "heard it from the lips of the woman herself and also from her daughter."
The laird replied that that was possible, but he didn't remember it.
Mr Fraser Mackintosh: "Would you not express an opinion now, that if you said it you regret it? The laird replied: "If I did say it, I am exceedingly sorry for it; but both I and my wife were very kind to the old woman and did everything we could for her. I wanted to give her land to her son and to let her remain. But she and her son quarrelled, and she would not hear of the proposal; and I believe she died on bad terms with him. If it is true that I said any such thing I am sorry for it; but I don't believe I said it. They may have twisted something I said to mean that, but I did not certainly mean that….."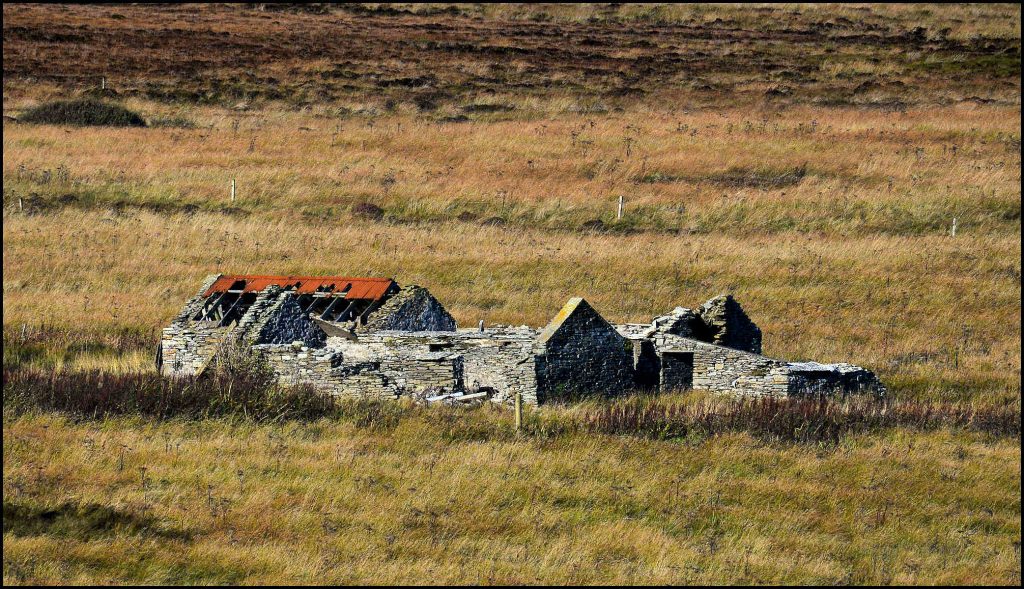 In 1883 James Cooper paid five guineas rent, but in 1888 this was reduced by the Crofters Commission to £4. At this time Pretty consisted of 10 acres arable and 10 acres pasture land.
At the time of the 1891 census the late Betsy Cooper's daughter Betsy, then fifty years of age, was living at Pretty with her three-year-old nephew Allan Cooper. Harriet Cooper died in 1889. Her husband James was away from Pretty when the census was carried out, his 16-year-old daughter Maggie Ann being described as head of the household and looking after her younger brothers, John, Frederick, and George. May Cooper, then earning a living as a charwoman, had moved to 'The Hill' with daughters Mary Elizabeth, then a 15-year-old sewing maid, and fourteen-year-old Mary Ann, who was at school. 'The Hill' was in fact a second house named Hillside in the district, this one being a small dwelling between Curquoy and Brittany. May was still living there in 1901, earning a living as a woolspinner and knitter.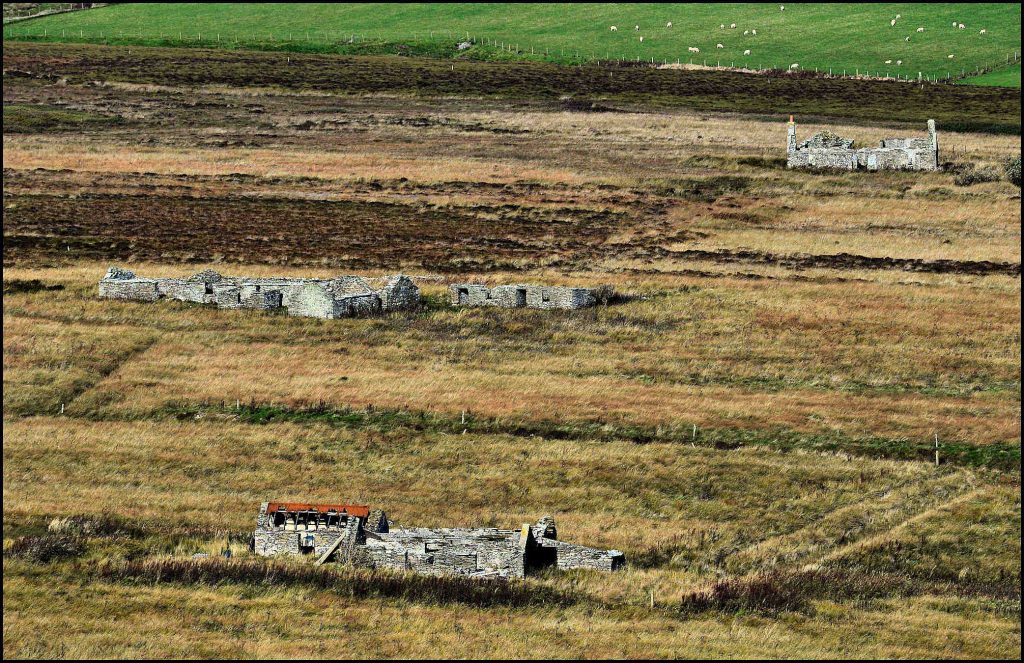 Pretty was now occupied by 46-year-old crofter John Mowat and his wife Jane. John was the son of crofter George Mowat and Mary Yorston, Evie, and he was born in 1855. He was a 42-year-old widower when he married 46-year-old Jane Johnston at Kirkha', Brinian, on February 19th 1897. The officiating minister was the Rev. Alexander Irvine Pirie and the witnesses were Rousay postman Danny MacKay and Jane's older sister Jemima. Christened Jane Walker Johnston, she was the sixth of nine children of John Johnston and Elizabeth Reid, and she was born on January 6th 1851. Jane had two children before her marriage, John Harrold in 1870, and Elizabeth Reid, who was born on June 26th 1877.
All black & white photos are courtesy of the Tommy Gibson Collection.
The map section is 'Reproduced with the permission of the National Library of Scotland'
– though it has been altered somewhat to improve its legibility.