In 1893 James Sinclair of Newhouse, then in his 75th year, and 56-year-old John Reid of Tratland, operated the small open post boat which plied between Rousay and Evie. On Wednesday October 11th, while crossing Eynhallow Sound, the boat was lost in a south-westerly gale. It was struck by a squall and overturned, claiming the lives of not only James and John, but also 35-year-old Lydia Craigie, wife of Robert Gibson, originally of Langskaill, and three of her children, David 9, Maggie Jessie 6, and Lily Ann 4, who were being conveyed as passengers. Another boat in vicinity saw the boatmen and passengers clinging briefly to the upturned hull but could do nothing to help, and several days later the mail boat was washed ashore on Papa Stronsay.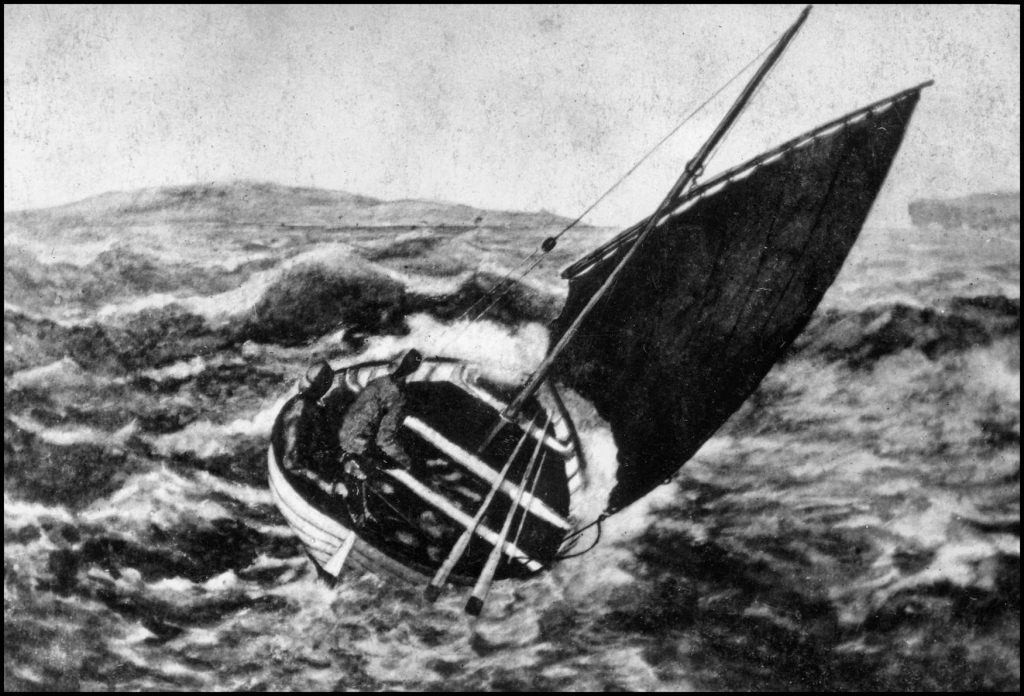 A painting of the Rousay post boat that capsized between Evie and Rousay in 1893,
with the loss of six lives
The bodies of James and John were recovered and interred in the Westside kirkyard – 68 years after James's father was lost nearby at Scabra Head. Lydia and her three children's lives are commemorated on a headstone in the kirkyard at Stenness, the family having earlier moved to Lochend in that parish. Lydia's name is also inscribed on the family headstone in the Wester kirkyard on Rousay.
[Click here > Loss of the Rousay Post Boat < to read a full account of the tragedy]
Thomas Sinclair of Banks, son of Thomas Sinclair of Swandale and Hurtiso and Mary Gibson of Broland, took over the running of the new Rousay post boat. In 1905 Thomas junior married Mary Inkster, daughter of Hugh Inkster of Westness and Isabella Kirkness of Quoyostray. In 1907 they had a son, also named Thomas, and together they ran the Rousay – Evie post-boat for many years. Thomas junior married Bella Flaws of Wyre and they had two children, Thomas and Muriel – and my thanks go to them for sharing their collection of photographs of the boats used in the crossing over the years.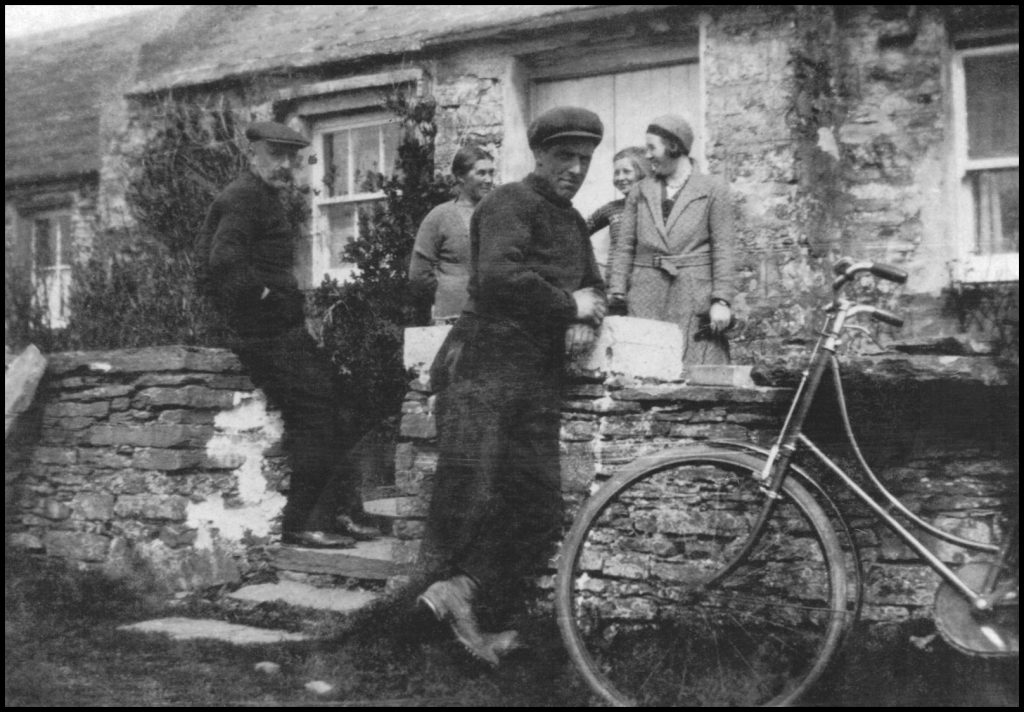 Tom Sinclair [sen], wife Mary, son Tom [jun] & daughters Lilly & Mabel at Banks, Frotoft.
Photos by Kirkwall photographer J. Omand showing the post boat at sea in the early 1900s
Above left: Rousay post boat men Tom Sinclair Sr, Banks, and Geordie Reid, Tratland. c1920
The Rousay post boat in a breeze. Tom Sinclair [sen] and Geordie Reid steering
Above left: Jim Gibson and Mr Sinclair landing the mail at Hullion on a Friday morning in
September, 1922 – Right: Tom Sinclair at the helm of the Rousay post boat c.1934,
Mrs Wilson and son Darney. The gentleman with them is unknown.
The post boat approaching Hullion pier c.1930
Loading mail onto the Alpha at Evie pier c1930 – George Reid, Tratland, and Thomas Sinclair jr
crossing to Evie with the post boat c1930
A photo dated August 1933 – Boats at the Evie pier, c1932
Above left: Bert Harcus, Burrian, waiting to board the Rousay post boat – On the right: Mrs Wilson and son Darney, steering is John Marwick, Breek, Jimmy Yorston sen, and Tom Sinclair jun
Below the broch of Midhowe during excavation work in the 1930s – Tom Sinclair steering the Alpha
Above left: It wasn't only mail and locals that were carried over in the post boats. 1930s popular
singer Robert Wilson [on the right in sunglasses] and his fellow performers gave a concert on
Rousay. – To the right: Tom Sinclair and Major Bill Spence transferring mail
Not only passengers – but sheep had to be taken to and from Eynhallow! – The young lad in some
of these photos is Thomas, the third generation of Sinclairs to man the Rousay post boat.
Thomas talks about his time on the post boat:- In my memory we had the run with post daily except Sunday and also three runs in the week (Monday,Thursday and Saturday) to connect with a bus at Evie, going at nine o'clock in the morning and returning at four in the afternoon and six on a Saturday. Fares varied over the years of course but I remember it was two shillings for an adult and children went free. A private hire cost ten shillings. That was about the time that I was crewman with him. Early 1950s.
Tom Sn, Tom Jr, with John Marwick steering – Unloading with Albert Munro
Tom sen. having a blether with his friend Mr Stevenson, Crismo, Evie. – Toms, sen & jun, in the Alpha, early 1950s'
Other folk have shared their memories of crossing to and from Rousay:
I crossed many times when I came home on leave; twa things that always stuck in me memory, one was if it was a rough day Tom would steer by helm at the stern & if it was really coarse the pipe he was smoking was held upside down tae keep the baccy dry; the other thing I mind him apologising about noise his new Lister diesel was making compared tae the ould petrol / paraffin Kelvin as she was so quiet you could barely hear it. Great times!! [Bertie Gillespie]
Fred Garson sent me 'a photo of a photo!' He said; The boat is the Bella at the Evie pier, the motorbike on the front is mine with me back on, Tom Sinclair and Davy Pirie, Heddle Omand, Ronald Stevenson's cap, and Darny Wilson (his folk had Sjo Brekka as a holiday home). [Fred Garson] – The photo on the right shows Tom o Banks with Sheila [Mainland] Lyon and husband Hugh Lyon and her brother John Mainland, Nears. Photo taken by her sister Rhoda in 1961.
I remember once in the early 70's we were making ready to sail over to Eynhallow from the Evie jetty. One of the people who was coming over that day was a young boy about 13-14 years old from England. He wanted to row around in the dinghy while we were making ready so we said that he had to stay close into the jetty. In a very short time we saw him rowing out towards the moorings and we shouted to him. He paid no attention, and it seemed that in a matter of minutes the tide started to take him out towards the Burgar Roost. We hurried up to get the boat ready and head out after him, but then we saw Tammo Sinclair coming across with the bus/post boat and we pointed to the peedie idiot in the dinghy. Tammo changed course and headed after the boy. I think the dinghy would have been between Howe and Grugar before Tammo caught him. Tammo took him in tow and when we got the boy ashore at the jetty he was decidely whitefaced. He was very well behaved the whole of the rest of the day! [Stewart G. Miller]
And that isn't the only person he has rescued from Burgar Roost. [Muriel Johnston]
Bertie, do you remember what Tammos other boat was called? She was pulled up in a geo just west of the pier, the same peedie pier as Sheila Lyon spoke aboot. I remember him out with it a couple of times; the last time I saw her she was in poor shape. I think he used her when the Bella was being refitted. Going back to the Lister diesel, I remember the engine bed came loose with the vibration and he had to get it sorted, was letting in a fair bit of water. [Leslie Craigie]
I think the new steering wheel wid tie in as I'm sure he had the Bella updated wae a higher & more modern wheelhouse? [Bertie Gillespie]
Thats right Bertie, he put on a higher wheelhouse and also changed the engine from a petrol Lister to a diesel one. [Leslie Craigie]
I remember that the old engine was rather temperamental. He always seemed to be fiddling with it. I don't remember the wheelhouse though. It was just and open boat and steering was done by a conventional tiller, no wheel. [Ron Spence]
Hi Leslie I can vaguely mind Tom having a second ferry boat I doubt me memory fails on her name I wonder if Thomas might know her name ?? [Bertie Gillespie]
Somebody was asking the name of the other boat we had! Well it was the Alpha – she belonged to my grandfather and was built by Mackay's boat builders in Finstown. She was slightly smaller and shallower drafted which made her handy at the pathetic little piers that we used. We put a canvas dodger on her which proved such a success that we put the wooden one that you see on the Bella later. [Thomas Sinclair]
Yes if Tom o Banks crossed it was safe to go. One memorable crossing – a coorse night and not suitable to cross from Aikerness to Rousay untill around midnight with a precious cargo of horse harness for a ploughing match the following day. My friend Mary and I sat sheltered in the bow o his boat listening to the harness bells and singing hymns as we crossed the rough sea for our weekend home from KGS. [Rhoda Stevenson]
[Tam was]…..A lovely bloke …used to let me 'help' him on the crossing when I was on holidays at Yorville as a youngster. Would see him walking past with the thigh waders rolled down heading for the dingy, and chase after him. He must have been pretty patient as I must have been a right pain in the arse ! [Simon Harris]
[The Bella is]…..still on the go seen here renamed Hopeful lying in Lerwck marina 2015….. she's been in Shetland a few years noo; the boy that owns her has a couple o jiggers on her and goes fishing for cod, ling and mackerel usually off Sumbourgh heed, weather permitting. [Gary Nicolson]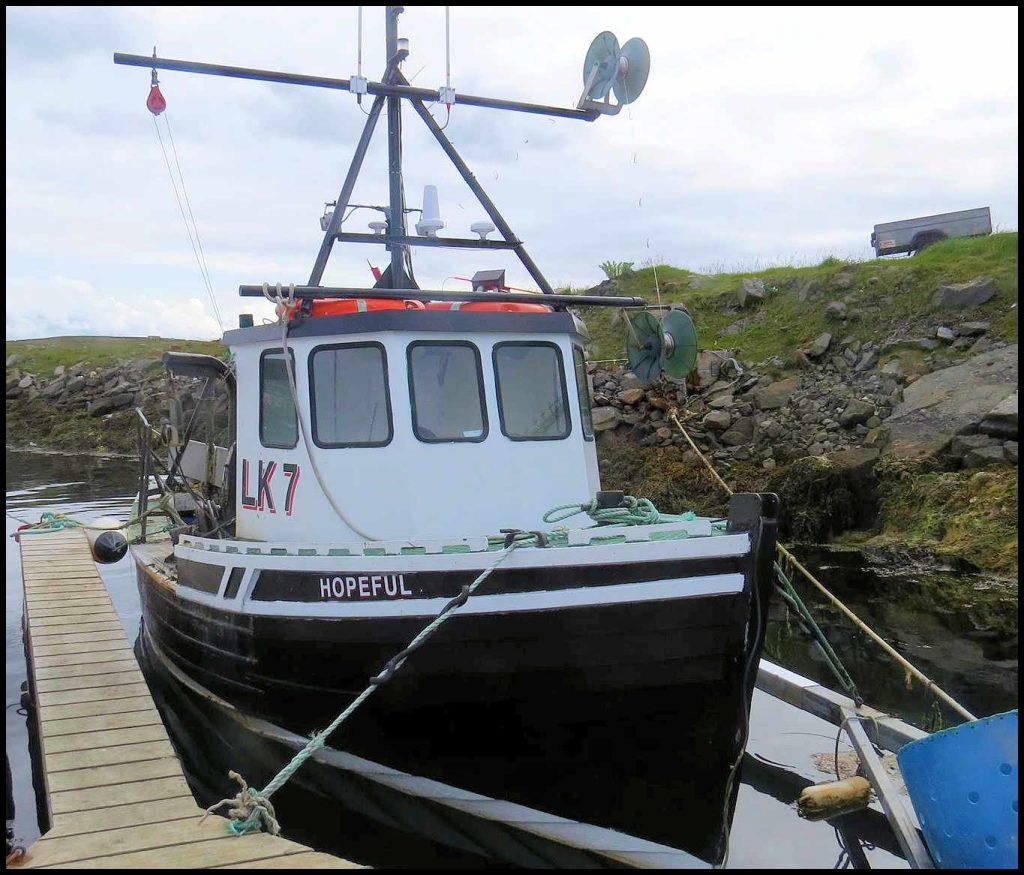 Buey she's looking good. The last time I seen the Bella was in the mid 80s when Martin Williamson had her while he was in Longhope. I had the odd hairy trip tae Flotta & a bit o fishing for mackerel & dodging the US Navy on exercise in the Pentland Firth !!! [Bertie Gillespie]