Redlums – Midgarth – Windbreck – Kingarly – Gorehouse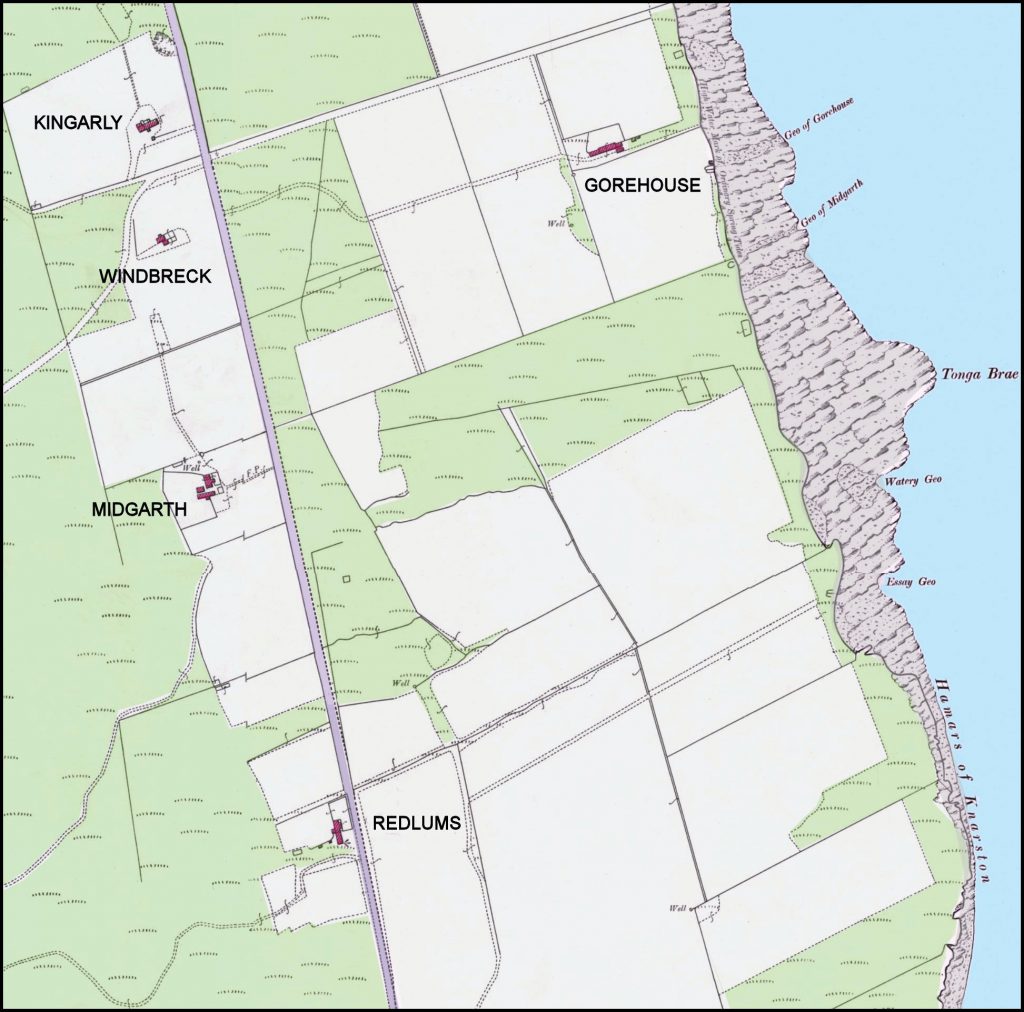 REDLUMS
Redlums is the name of a deserted cottage above the road north of Knarston – so named from the colour of its chimney tops in the past.
In 1845 it was occupied by Margaret Craigie, housekeeper to the Rev Patterson, and she paid £1. 2s. 0d. rent. In 1849 this had dropped to 2s. but by 1853 it had risen to 7 shillings. In the census of 1841 the house went by the name of Newhouse, with Redlums in brackets. The 1851 census described Margaret is being a 66-year-old unmarried 'gentlewoman.'
By 1871, John Louttit and his family moved into Redlums, having spent the last twenty years at Scar, on the hill above Westness. John, a fisherman, was born on December 21st 1818. He married Jane Wilson of Orphir, and between 1845 and 1866 they had thirteen children – seven boys and six girls. First-born was John Robertson, in May 1845; then Catherine Alison, in 1846; William, in November 1848; James, in February 1851; Alexander Lyall, in April 1853; Scarth Robert, in March 1855; Henry, in 1857; Jane Mary in June 1859; Margaret in 1860; David, in 1861; twins Anne and Christie, born in November 1863; and finally Elizabeth Reid, who was born in January 1866.
John was paying an annual rent of £3 between 1878/87, but in 1888 this dropped to £2 having been adjusted by the Crofters Commission. At this time Redlums consisted of 1 acre arable and 10 acres of pasture land.
In the early 1900s Redlums was occupied by bachelor James Mainland. He was the son of Chambers Mainland and Isabella Gibson, and was born in Onziebust, Egilsay, on November 10th 1846. According to his birth certificate he was 'baptised shortly thereafter before witnesses.'
By the time the next census was carried out William Sabiston was in residence. He was the son of agricultural labourer William Sabiston and Jane Louttit of Munzie, Quandale, and was born in 1846. He married housemaid Margaret Grieve on March 24th 1899. She was the daughter of crofter/fisherman James Grieve and Margaret Craigie, of Clumpy in Sourin. The bride and groom were both 52 years of age when the wedding ceremony took place at Clumpy, officiated by the Reverend Alexander Spark, the witnesses being William Grieve and Maggie Ann McLean. Registrar Hugh Marwick's impeccable handwriting made this particular marriage certificate very easy to read – unlike some!
---
MIDGARTH
Midgarth was a house and croft in Sourin above the public road on a slope of the hill between Banks and Knarston.
Farmer/fisherman James Inkster and his family lived here in the 1850's. James was the son of John Inkster and Jean Craigie of Gorn, near Innister, and Meeran, below Falquoy, and he was born on June 12th 1804. He married Margaret Inkster, the daughter of Hugh Inkster and Isabel Craigie of Tou, who was born on August 10th 1805, and between 1829 and 1845 they had seven children: James was born in May 1829; Jean, in July 1834; John, in July 1836; Margaret, in June 1838; another Margaret, in July 1840; Mary, in December 1842; and Hugh, who was born in February 1845. The family moved from Gorn to Midgarth, but when his father died James returned to Gorn in Wasbister to farm the 18½ acres of land there.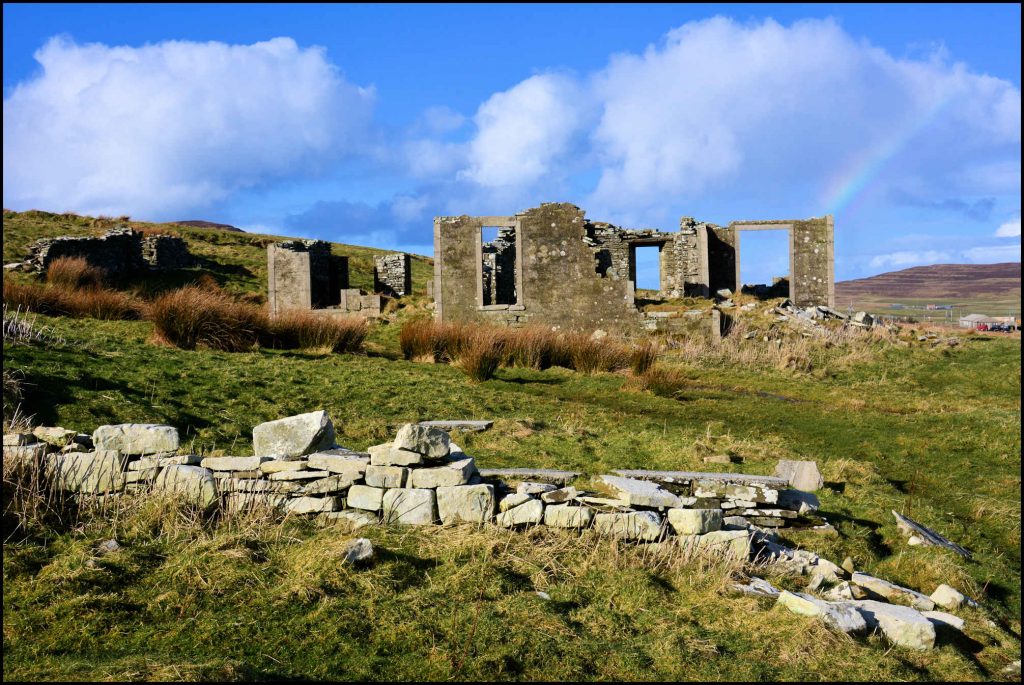 So there was a change of tenancy at Midgarth, farmer James Marwick and his family living there by the time the 1861 census was carried out. Between 1858 and 1866 the rent was £2.10.0. a year. James was born in Westray in 1794 and he married Christian Groundwater in 1824. She was the daughter of John Groundwater and Ann Harrold and was born on the island of Eynhallow in 1791. They had three children, James, John, and Mary Wood.
In 1861 son John was employed as a house carpenter and sister Mary was a seamstress. Their brother James, then a 35-year-old agricultural labourer, was married to Elizabeth Allan from Eday and they too lived at Midgarth with their two-year-old daughter Mary. Christy Groundwater's younger sister Mary, described in the census as an unmarried 70-year-old pauper, also lived there.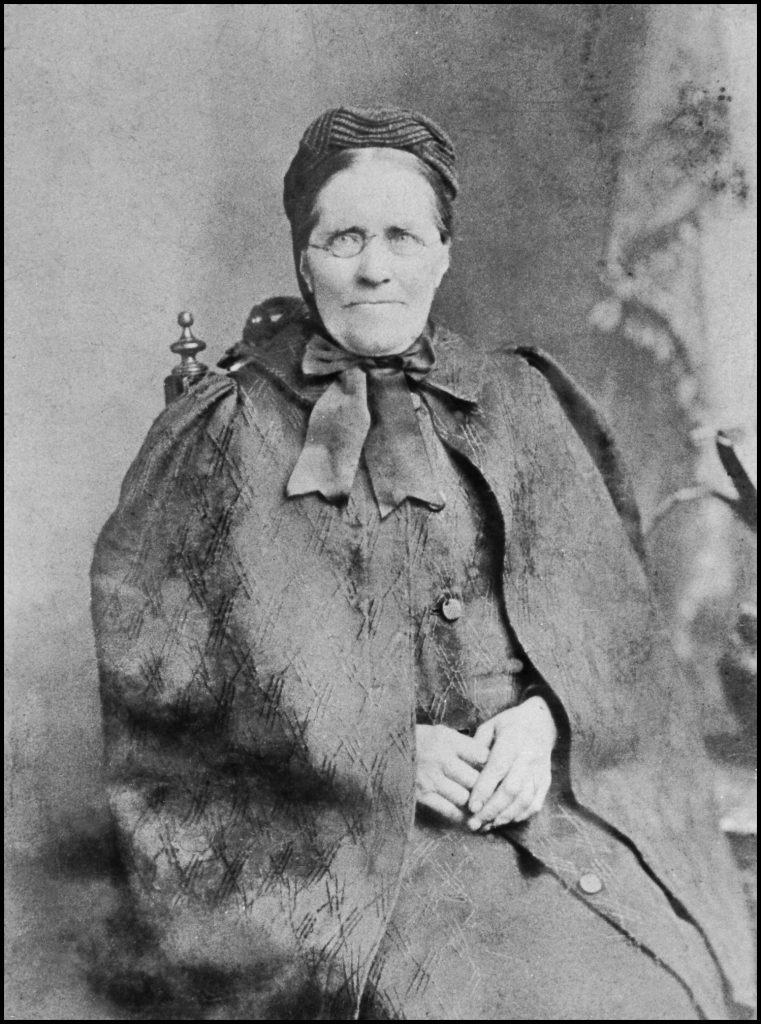 By 1881 John Marwick was the sole tenant of Midgar, as it was then called, and by that time he was a 51-year-old farmer of 13 acres. John was paying an annual rent of £6.0.0. but this was reduced to £3.10.0. by the Crofters Commission in 1888.
In 1872 he married 31-year-old Mary Yorston, the daughter of Peter and Lydia Yorston of Oldman, and they had four children; Mary Mowat, who was born on April 27th 1873; Ann Robina, on July 27th 1874; May Jemima, on November 28th 1875; and Alexander Allardice [named after the island's United Presbyterian minister at the time], who was born on April 13th 1878.






Mary Yorston, wife of John Marwick of Midgarth
The census of 1891 reveals Midgarth not only had John, Mary, Annabina and Alexander under its roof – they had a quartet of lodgers too. James McLaughlan was described as a 60-year-old widower, a tramp, born in Kirkwall, and three pedlars; William Gordon (28) from Glasgow; Donald McFee (23) from Wick, and Henry Klein, a 26-year-old from Germany.
Alexander Allardice Marwick left Rousay as a young man, and according to Robert Craigie Marwick in his book Rousay Roots….."he was a shadowy sort of figure, spending most of his life in Glasgow. The house at Midgar, which was a small thatched cottage, came into his hands after his sister May died.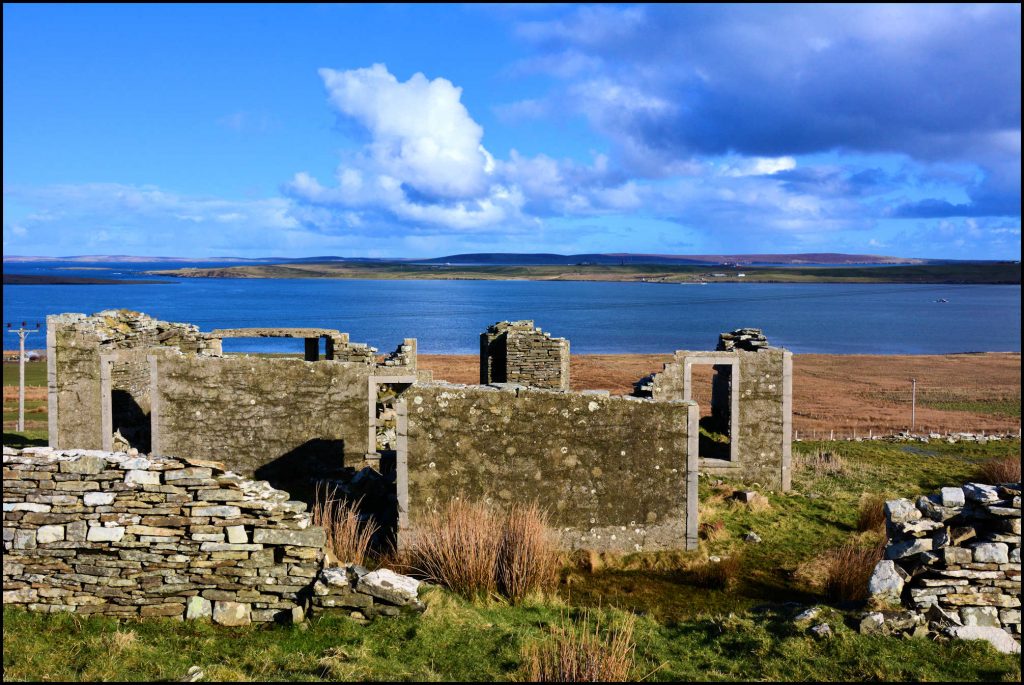 In 1921, "The Duke," as he was nicknamed because of the airs and graces he adopted, had the old house demolished, and a large two-storey one erected in its place. He ran out of funds before all his plans were completed, and the house was never occupied, except for short holiday periods. No one in Rousay seems to have known the source of Alexander's apparent wealth – nor how he lost it. At one time he owned several farms in Sourin, including Gorehouse, Banks, Hurtiso, and Scockness. A subsequent owner removed the roof of Midgar to be used elsewhere, and parts of the walls were demolished at about the same time."
---
WINDBRECK
Windbreck was a small cottage in Sourin, north of Midgarth. In the 1841 census it was spelt Windbraik. 60-year-old pauper Robert Wurke and his 65-year-old wife Maida lived there, supported by their son Robert, who was a 20-year-old fisherman. The annual rent at this time was 5 shillings.
In the Rousay census for 1851 the house was spelt Windbrake. Despite being only ten years hence, Robert Work was recorded as a 74-year-old pauper and his wife Marjory was 72 years old. From Windbrake they had a good view of the island of their birth – Egilsay.
Their daughter Isabella, born in 1816, occupied the croft and worked the land for many years. She was single, and 79 years of age when she died at Windbreck at 7pm on May 23rd 1895. Her death certificate confirms her father as being Robert Work, and her mother's maiden name – Marjory Grieve.
---
KINGARLY
Kingarly, or Barebreck, or even Barebrakes, were the various names of the same croft between Windbreck and Quoys in Sourin. In Volume 16 of the Orkney Ordnance Survey Name Books, 1879-80, the spelling of Kingarly is authenticated by Mr Thomas Reid, Inspector of Poor, Sourin, Mr Robert Grieve, Whitehall, and the Rev. William Gardener, Manse. In the 1841 census it was called Nether Kingly, and occupied by 70-year-old hemp spinner Christie Leonard.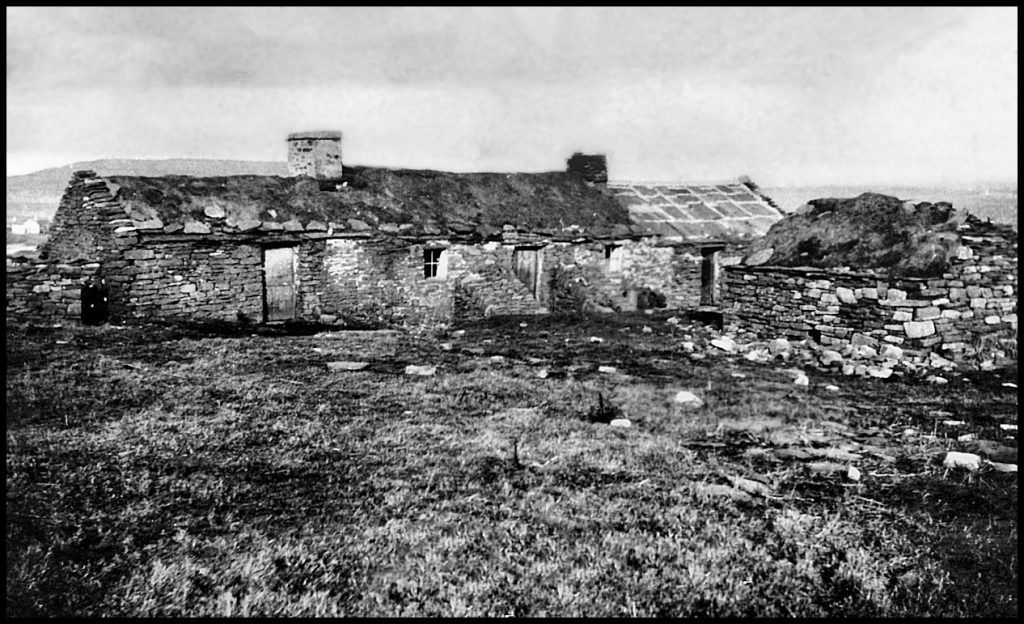 In 1872 David Costie was the tenant, paying rent of £1.0.0. He lived there with his wife Christie, step-daughter Margaret Craigie, who was an invalid, and daughter Fanny, who at that time was a 21-year-old domestic servant. Their son Alexander was the next tenant. In 1881 he was 45 years of age and married to Betsy Gibbon, who was one year older. They had ten children; Hugh was born in 1859; Alexander, in 1861; John, in 1863; William, in 1866; then came two girls – Betsy, who was born in 1867, and Mary, in 1870. James was born in1873; Margaret, in 1877; Robert, in 1880; and finally Jane, who was born in 1882.
The photo above shows Betsy Costie [née Gibbon] and her daughter Jane, who was born at Barebrake [Kingarly] on May 14th 1882. Jane Grieve Costie married 33-year-old James Foubister, a farmer at West Burnside, St Andrews, Orkney, on October 15th 1914. The ceremony, held at the Paterson Manse in Kirkwall, was officiated by the Rev. George Miller, and witnessed by James Stevenson and Janet Kent Costie.  Jane and James went on to raise two sons, James and John.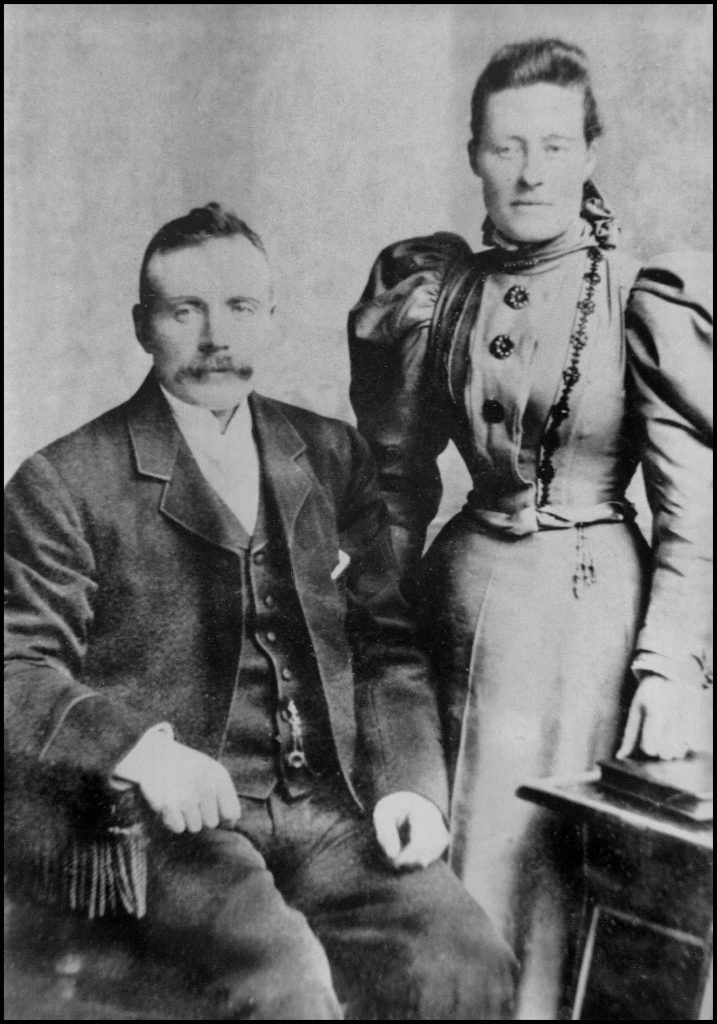 Above is Hugh Costie and wife Christina McKay. Hugh, born in 1859, was a 37-year-old boatman when he married 31-year-old domestic servant Christina in June 1896. At that time he was living at 32 Albert Street, Kirkwall, and her address was Bayview House, Kirkwall. She was the daughter of crofter Thomas MacKay and Jacobina Sutherland, and she was born on March 16th 1865 when they were living at Garson, Flotta.
In 1888 the Kingarly rent was adjusted to £2.0.0. by the Crofter's Commission, though Alexander resigned being a crofter soon afterwards. At this time Kingarly consisted of 4 acres arable, but no pasture. The census of 1891, carried out on April 5th, reveals Betsy was a widow – Alexander having died just three months earlier on January 9th. Their son William, born in 1866, was a widower – his young bride Mary Jane Leonard having died of peritonitis on August 21st 1885, just 18 years of age. She was the daughter of Malcolm Leonard and Mary Craigie of Grips, later Quoys, Sourin.
On December 31st 1908 William married 33-year-old Annie Robina Marwick, the daughter of John Marwick and May Yorston of Midgarth. The Reverend Alexander Irvine Pirie was the officiating minister, and the witnesses were James T. R. Marwick and Hugh Costie. In 1914 William was paying annual rent on two properties – 10 shillings for the house and land at Kingarly, and £1 10s. for the land but unoccupied nearby house of Windbreck.
Journeyman stonemason Alexander Costie, born at Kingarly in 1862, was 24 years of age when he married 19-year-old Isabella Kent, daughter of farmer Thomas Kent and Robina Inkster of Musland, Westray, on April 30th 1886. They raised a family of twelve children. First-born was Janet Kent, born in September 1886. Alexander/Ali, was born in 1888; Betsy/Bessie, in 1891; Robina, in 1892; Isabella, in 1894; Joan Mary, in 1897; Thomas, in 1899; David, in 1901; Christina/Teenie, in 1903; James William, in 1905; Reta, in 1907; and lastly Hugh, who was born in 1910.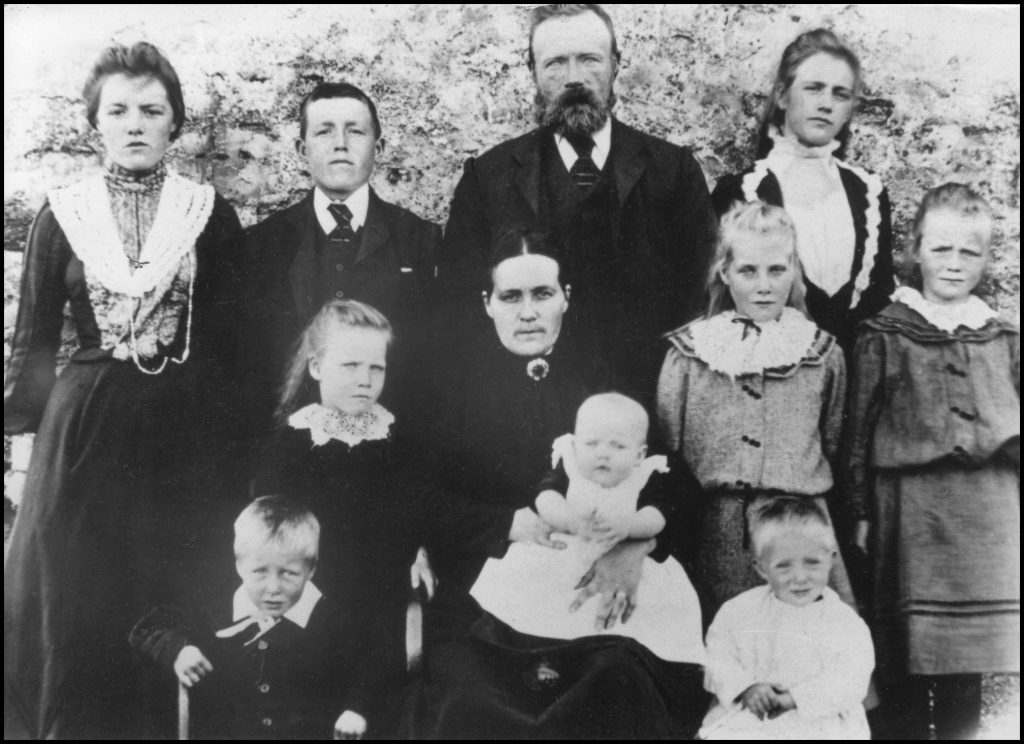 ---
GOREHOUSE
What we know today as Gorehouse was in the past called Goarhouse, a croft in Sourin adjacent to The Goard of Banks, from which the name arises. Goard was a name applied to several Rousay fields or stretches of pasture, from the Old Norse word gjorde. Earliest tenants are known to have been William Inkster in 1798 and James Craigie in 1799.
The census of 1841 has it spelled Gorhouse, and the 1851 census reveals another spelling – that of Upper Georhouse, occupied by 30-year-old farmer and plasterer James Mainland of Egilsay, his wife Jane Gibson, and 9-month-old daughter Martha. Immediately below that census entry is 'Shorehouse', where 84-year-old widowed farmer William Craigie, also from Egilsay, lived. He is on record as paying an annual rent of £2 7s 0d at 'Gorehouse'. Immediately below that entry is another – Upper Shorehouse, occupied by another Egilsay man, James Grieve, then a 35-year-old farmer/fisherman. With him was his wife Margaret Craigie, and three daughters, twins Jane and Margaret, and Mary. Between 1862 and 1878 James paid £10 rent, which rose to £12 in 1879.
In 1888 farmer and mason James Mainland was paying £7 6s 0d for Gorehouse's 17 acres arable and 10 acres pasture, this having been fixed by the Crofter's Commission. James was the son of Leslie and Jean Mainland of Avalshay, and was born on April 1st 1820. He married Jane Gibson and they had three children; Martha, born on June 16th 1850, James, on June 16th 1854, and Isabella Anne, who was born on September 4th 1859.
Martha married John Mainland who lived a few hundred yards away at Banks. James married Mary Louttit of Digro, and Isabella married twice – firstly stonemason John Kirkness of Grain. He built a new house at Grain, but died shortly afterwards. Isabella's second marriage was to Hugh Marwick of Whitemeadows, later Grain.
James Mainland senior was 89 years of age when he passed away in December 1909. According to the 1911 census his widow Jane was in her 84th year and still living at Gorehouse with her son James, his wife Mary, and their niece Ellen Craigie, who was 14 years old and assisting in work on the croft.
Jane Mainland was 87 years old when she died at Gorehouse in the early hours of September 10th 1914. Her death certificate reveals she was the daughter of Thomas Gibson and Isabella Harcus – the only record of them being so.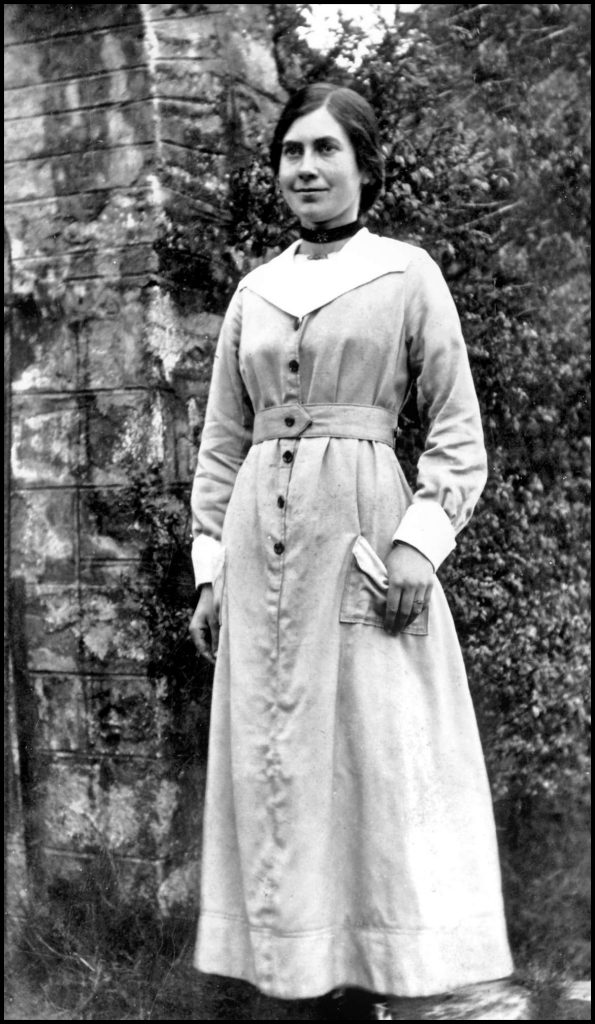 Ellen Craigie, mentioned above and pictured on the right, was christened Helen when she was born in February 1896, the daughter of fisherman James Craigie, Cruar, and Helen Louttit, Digro. She married John Harcus from Westray, Gorehouse, and later St Ola. John was the son of Angus and Jessie Harcus of The Glen, Westray, and he was born in 1895. Helen and John were married at Balfour Cottage, Shapinsay on March 22nd 1918 while John, who was a Siege Artillery gunner, was on leave from his camp based in Catterick, Yorkshire. They had four children; Helen [Nellie], Angus, John, and James.
[All black & white photographs on this page are courtesy of the Tommy Gibson Collection.]