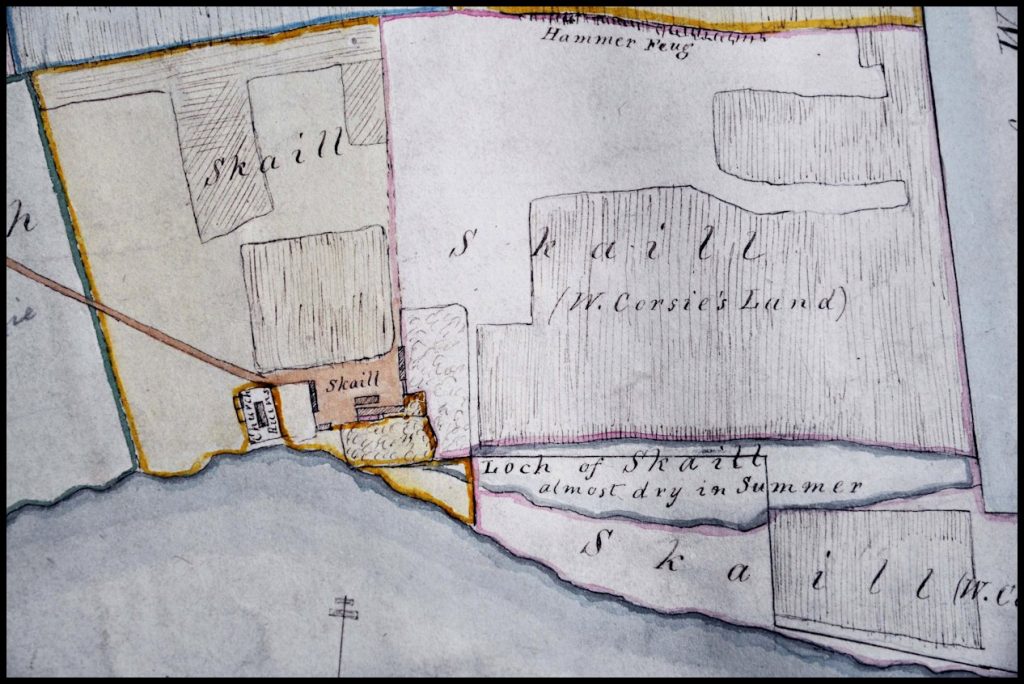 Skaill is a deserted farm on the Westside, adjacent to The Wirk and St Mary's, the old parish kirk. In Old Norse the word skáli means hall or house.
Marjory Sandilands was the tenant of Skaill from 1586 to 1593, followed by Hugh Craigie from 1626 to 1651, and Magnus Craigie from 1651 to 1679. George Moss held the tenancy briefly in 1735, as did John Robertson in 1736. James Donaldson was there between 1781 and 1785, but then it reverted to Hugh Craigie and his brother Henry, between 1785 and 1793. James Yorston and Hugh Craigie were joint tenants from 1793 to 1796, but between 1796 and 1799, James Yorston was the lone tenant, as was William Louttit in 1799.
In the early 1800's Drummond Louttit and William Corsie were joint tenants. Drummond was born about 1774, and he married 27-year-old Betty Flaws on September 7th 1804, and they had seven children between 1807 and 1823. Drummond farmed the land which surrounded the farm at Skaill.
William Corsie was the son of William Corsie and Margaret Harkus and he was born on September 30th 1799. He married Janet Louttit, one of twin daughters born to William Louttit and Isabella Craigie of Faraclett on January 19th 1803. Between 1826 and 1844 they had eight children, the second oldest of whom was Harriet, who later married the Rev. James Gardner.
By 1851 Drummond Louttit and his family had moved to Scar and William Corsie was the sole tenant of Skaill, paying an annual rent of £12 9s. 6d. Daughters Harriet and Eliza were employed at home, 18-year-old son John worked on the farm, and youngsters James, Allan, and Lydia were all at school at this time. His oldest son, 25-year-old William, was an agricultural labourer, and his 25-year-old wife Harriet and their six-month-old son Charles also lived at Skaill.
William and Janet Corsie both died in 1863, at the ages of 64 and 60 respectively.
In the early 1860's, Skaill was occupied by stonemason Alexander Gibson and his wife Janet Marwick. Alexander was the son of James Gibson and Katherine Inkster of Stennisgorn, Wasbister, and was born in 1789. On January 10th 1822 he married 23-year-old Janet Carmichael Marwick, the daughter of David and Janet Marwick of Force (Furse), Wasbister and they had six children born between 1823 and 1838; Betty and John Inkster were born at Stennisgorn; Janet and Mary Sarle were born at Bucket, Wasbister; David was born at Hulterburn (Kirkgate); and James was born at Pow, Westside. Later the family lived at Geo, Westness, and latter still the parents lived at Skaill. Alexander died in 1873 when he was 84 years of age, and Janet died in 1878 at the age of 81.
Also living at Skaill at this time was Barbara Smith, an unmarried 38-year-old general servant, her widowed mother Ellen Yorston who was 74, and her two nephews, 17-year-old George Smith, a house carpenter, and his brother John, who was 13.
In 1871, Barbara was employed as an agricultural labourer and nephew John earned a living as a tailor. In April of that year when the census forms were completed, they had visitors staying with them, 22-year-old Georgina Harcus, who was married to Hugh Inkster of Gorn, and her two children John (3) and Helen (1). Georgina was born in Westray, and was the daughter of John Harcus and Barbara Smith. [Whether these two Barbaras are one and the same I have been unable to ascertain.]
Barbara Smith was the last tenant of Skaill. The census of 1881 tells us she was 57 years of age and still employed as an agricultural labourer – but ten years later Skaill was empty. Barbara had moved into Westness Cottage with her 23-year-old grandson John Inkster, who was employed as a farm servant.