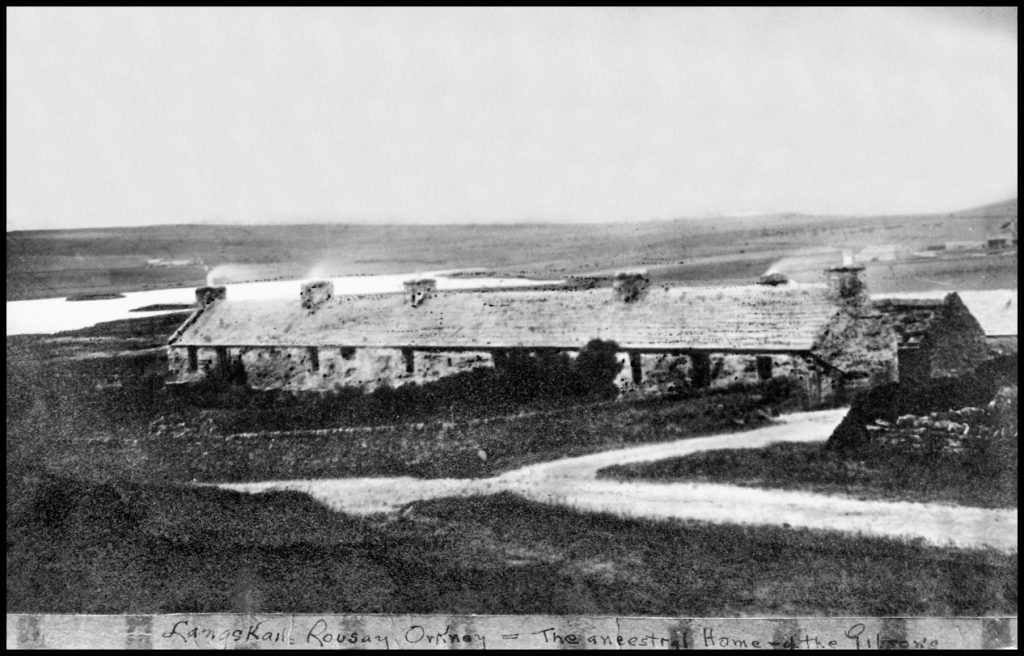 Two old photos featuring Langskaill and its land – the smoking lums of
the long house, and herding sheep on foot and horseback.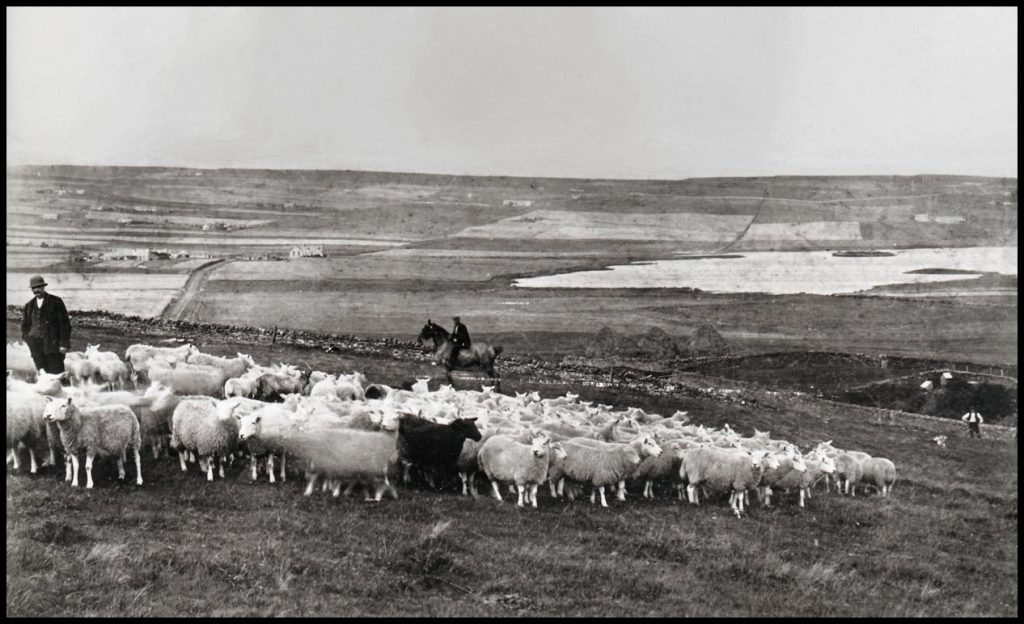 Above left is 'Fiery Bill' Inkster of Cogar. Born in 1860, he was the first of ten children born to William Inkster of Cogar and Mary Gibson of Langskaill. He was married twice, firstly to Jean Learmonth of Innister and latterly to Sarah Folsetter of Dale, Evie.

The text from a newspaper cutting below tells of his working life:-
Isabella Louttit of Maybank, Wasbister, and her husband Walter Muir of Breckan, later Warrenfield, St Ola. Isabella, daughter of William Louttit of Maybank and Margaret Gibson of Broland, was born in 1878. Walter came to Rousay and worked as a farm servant at Saviskaill. They had eight children, Maggie Jessie, Bessie, Walter, Bella, Clara, Ronald, Thomas, and Robert.
The New Firemaster of Aberdeen. – Mr Wm. Inkster, who was yesterday appointed firemaster of Aberdeen, is a native of Rousay, Orkney Islands, and is in his 36th year. A ship carpenter to trade, he sailed in foreign-going vessels for eight years. It was in April 1889, that he became a member of the Metropolitan Fire Brigade, and being located at the Whitechapel Station, he has had many opportunities of acquiring both a practical and theoretical knowledge of the most approved methods of dealing with conflagrations large and small. In the construction and repair of fire appliances his five years' experience in the workshops of the brigade at headquarters has been of much advantage to him. He has also taken considerable interest in the internal construction of buildings, and in what he considers the best methods of providing for the security of the inmates. On several occasions Mr Inkster has visited this city, and has a very good knowledge of the main thoroughfares and principal streets. Capt. Simmonds, late chief officer of the London Fire Brigade, in a testimonial, says that Mr Inkster is a man of good abilities, and thoroughly understands the duties of a fireman.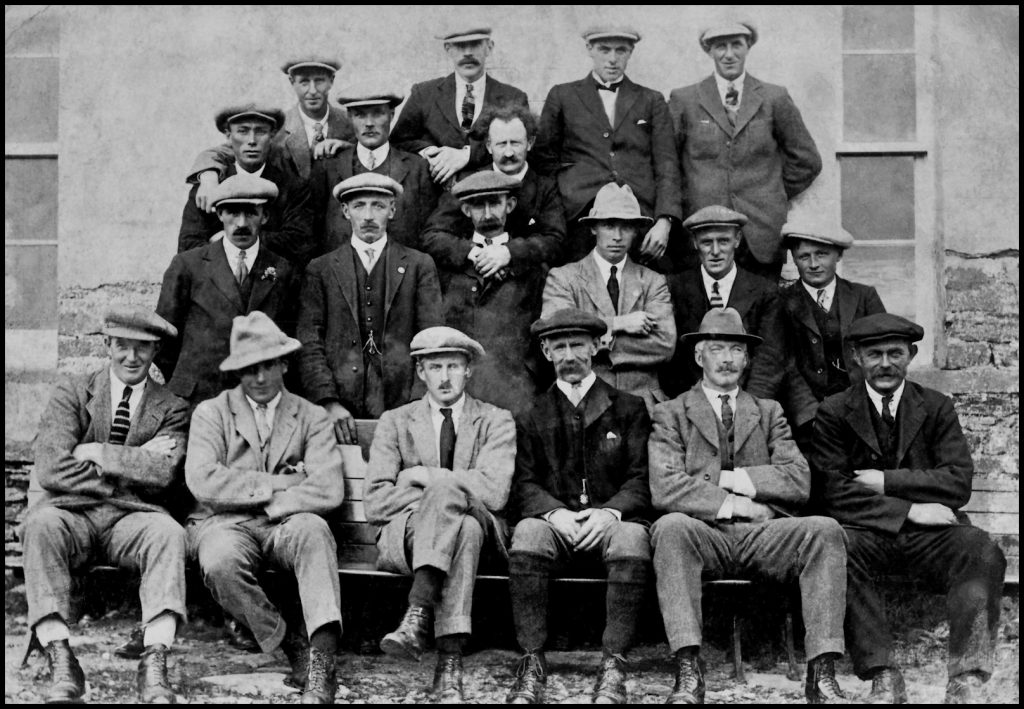 Wasbister School: 'The Old Comrades', c1923.

Back row, from left: Boggy Shearer; Robert Sinclair, Newhouse; John Marwick, Breek; ? Shearer, Trumland; ?; James Marwick, Grain; John Craigie, Cruar.
Middle row: Tom Marwick, Grain; James Taylor, Swandale; William Grieve, Digro; James Craigie, Deithe; James Leslie, Whitemeadows; Albert Munro, Old School.
Front row: James Clouston, Tou; Hugh Craigie, Deithe; James Craigie, Corse;
James William Grieve, Whitehall; Sandy Logie, Cubbieroo; James Munro, Breval.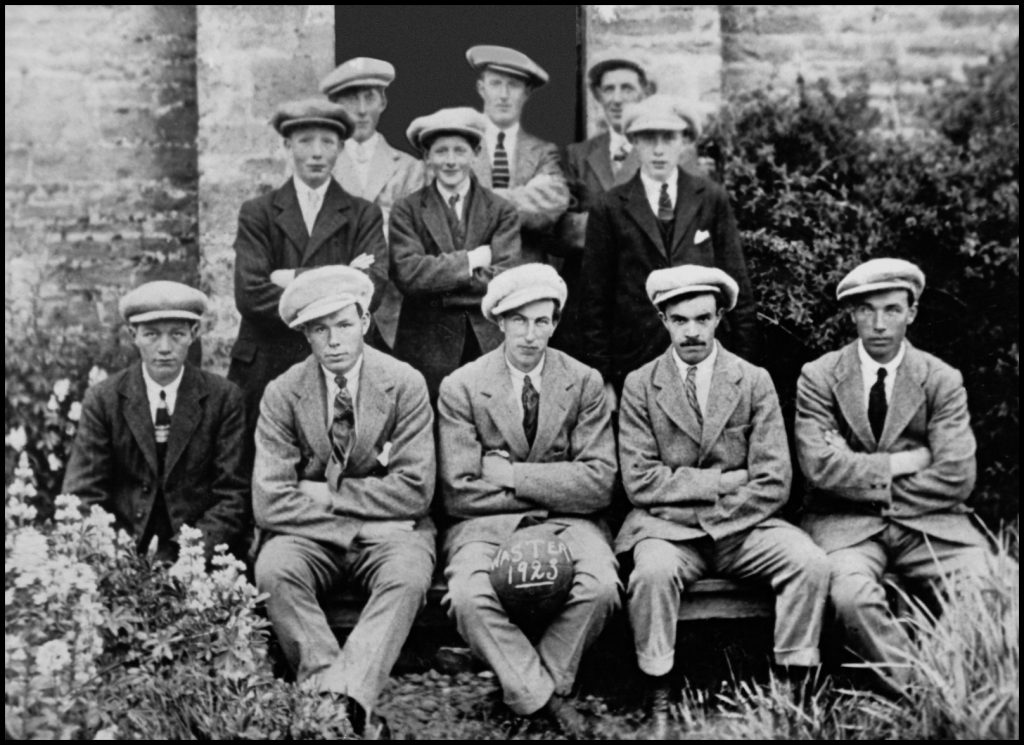 Wasbister football team, 1923

Back row, left to right: James Craigie, Feolquoy; James Clouston, Tou;
James Marwick, Grain.
Middle row: Hugh Sinclair, Sketquoy; George Craigie, Feolquoy; ?.
Front row: Bill Flaws, Hammerfield; Robert Inkster, Furse; Malcolm Hourie, Maybank; William Craigie, Ivybank; James Craigie, Deithe.
Sally and Clara Craigie photographed in 1922, and their younger sister Cathleen c1950. Their parents were John Craigie of Furse and Ann Russell of Brendale.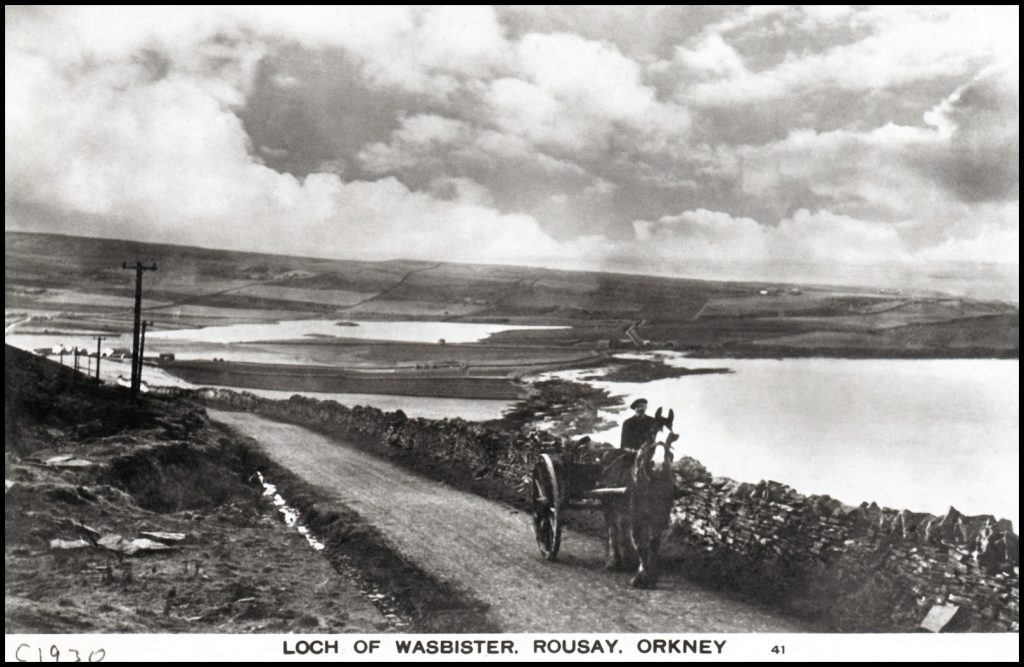 Robert Sinclair with his horse and cart going up the Leean, c1930. Robert of Stennisgorn, later Skatequoy, married Margaret Flaws of Hammerfield;
they had four children – Robert, born in 1891, George in 1893,
Annabella in 1903, and Hugh, who was born in 1906.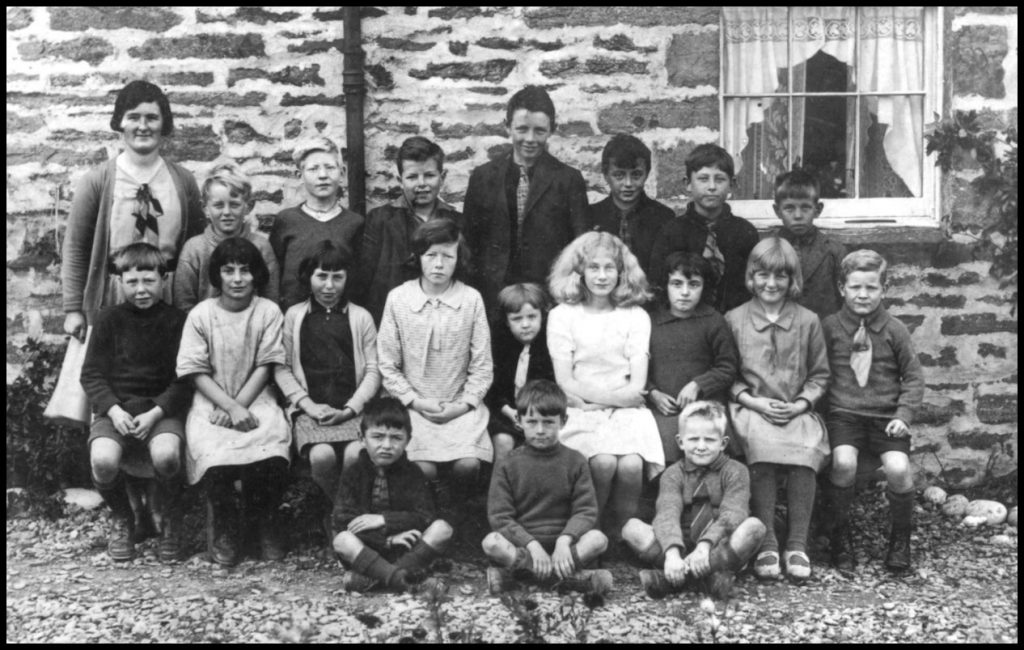 Wasbister School, 1931

Back row: Miss Tina Mathieson, Stanley Moar, William Marwick, David Wards,
Sinclair Craigie, Thomas Donaldson, Thomas Marwick, James Craigie.
Middle: Jim Sinclair, Clara Donaldson, Agnes Marwick, Netta Sinclair, Jean Marwick, Kathleen Craigie, Clem Donaldson, Anna Marwick, Robert Marwick.
Front: William Donaldson, Jim Leslie, Donald Marwick.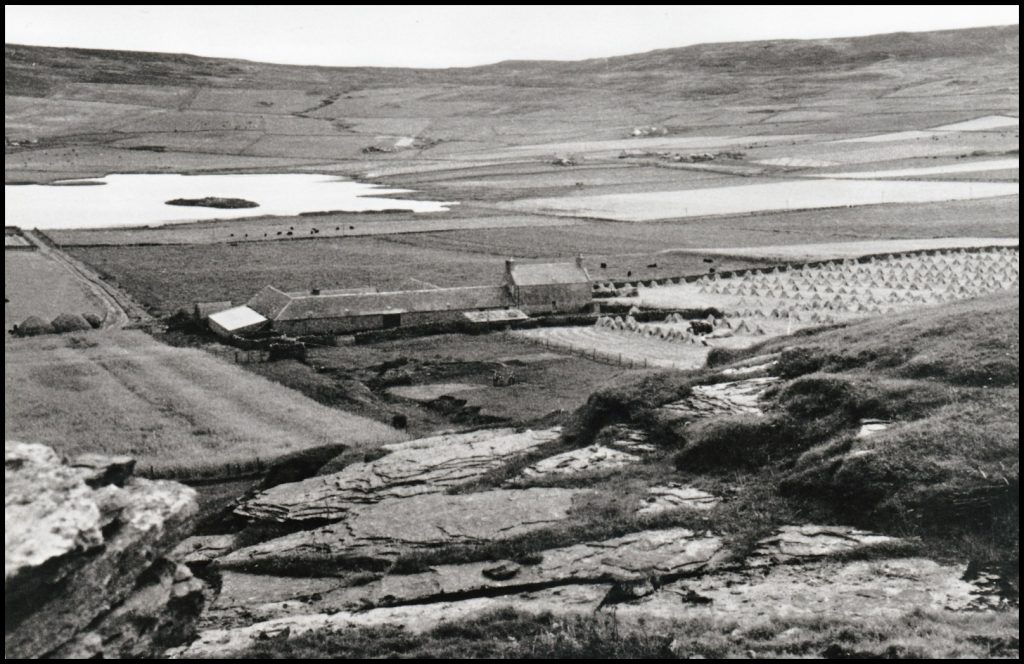 Harvest time at Furse – 1955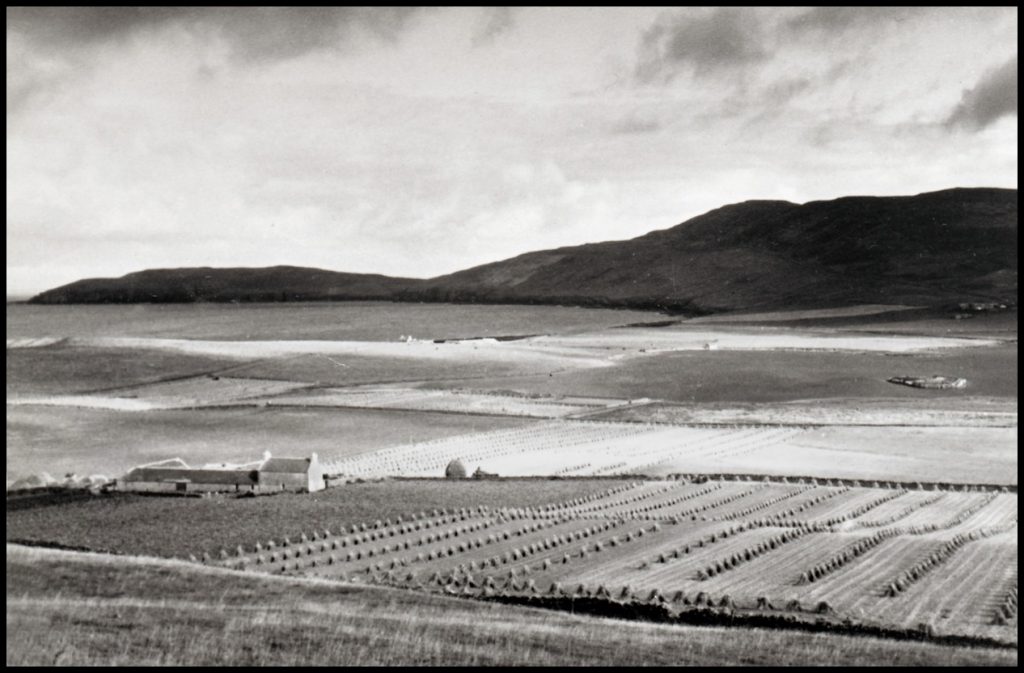 All the black & white photos above are courtesy of the Tommy Gibson Collection.
Above left is a modern day view of Wester from the old peat track leading up to Loomachun. On the right, the Wester Loch, with Cogar, Ivybank and the old
school to the left, Feolquoy in the centre, Vacquoy and Nedyar to the right.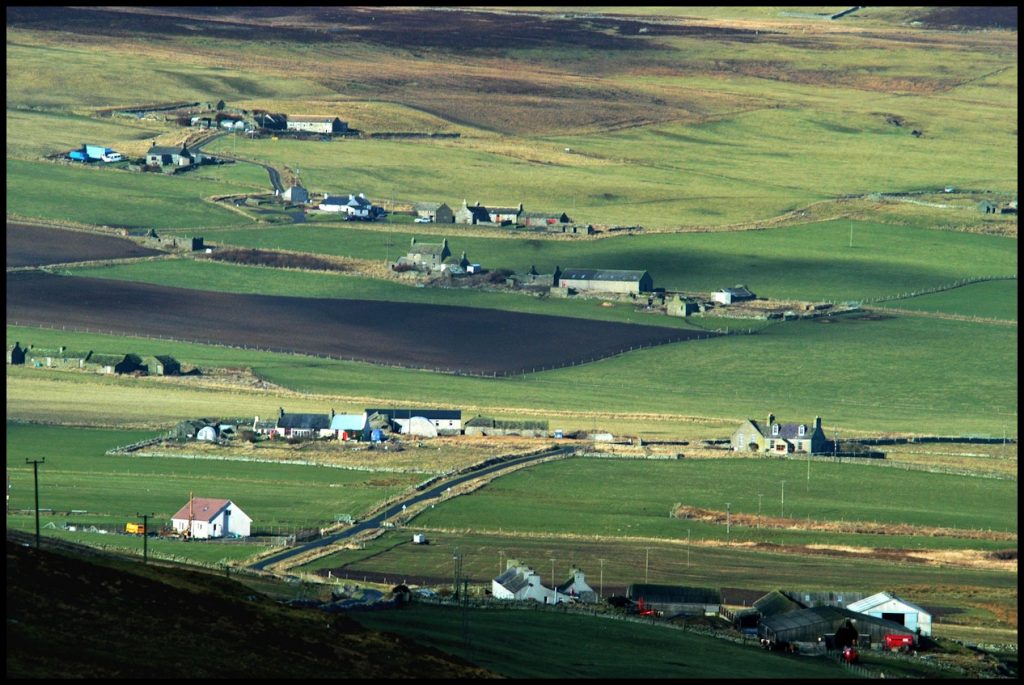 A long lens shot from halfway up the Leean, with Nedyar and Langskaill in the foreground; Quoys, Ivybank, Cogar and the old school; the old smiddy, Quoygray/Quoyostray, Tou and Tou Cottage; and Hammerfield
and Lower Hammerfield top left.