Newhouse, locally known as News, is an old farm above Hullion in Frotoft, and a good place to start to talk about the Sinclair family of old.
Thomas Sinclair, who was born about the year 1680, is the earliest traceable ancestor of many Rousay people. His son Peter lived at Faraclett, married Marian Murray, and had four sons; George, Archibald, John, and James.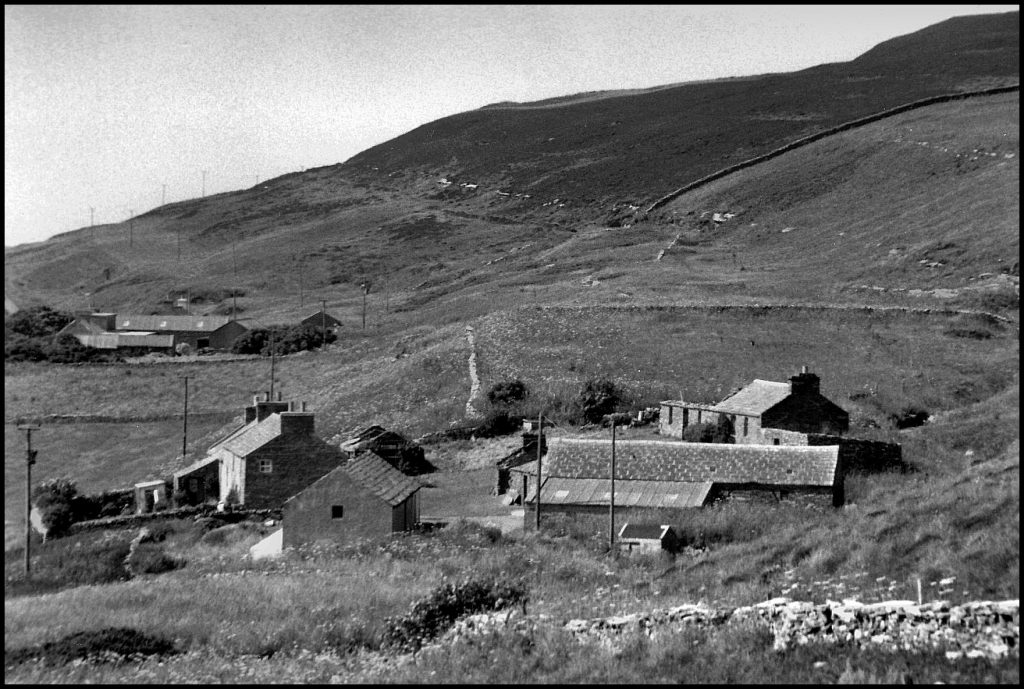 George lived at Brendale, and is recorded as having been at Faraclett in 1771 and 1788. His eldest son Archibald, was born at Wasthouse on Knarston on May 1st 1752. He lived at Pow between 1774 and 1789, and he married Bell Louttit from Mouncey, Quandale. Their oldest son James was born at Pow in 1783.
James Sinclair lived at Newhouse and in 1808 he married 28-year-old Maidie Hourston, the daughter of James Hourston and Marian Craigie of Sound, Egilsay. They had six children: Mary was born on July 17th 1809 at Bergodale (Guidal); Margaret, on April 9th 1813 at Brendale; Janet, who was born on December 24th 1815 at News; James, on August 21st 1818 at News; Hugh, on March 1st 1821 also at News; and John, who was also born there on March 20th 1824.
In December 1825 James Sinclair was drowned when his boat sank off Scabra Head. Also lost in the accident were 13-year-old Alexander Mainland of Tratland and one of his elder half-brothers, James or Robert, through his father's first marriage to Margaret Sinclair.
The following is the inscription on James' gravestone in the Westside kirkyard:-

Here lies the body of James Sinclair
husband of Mey Hourston
who was drowned
on the reef of Skebray
the 20th December 1825
aged 41 years.
His wife Maidie, or Mey, or even Marjory as she was called in the censuses, continued to run the farm at News, and as the children grew up they were either employed on the farm or in the house.
By 1861, Marjory was described as a 76-year-old landed proprietor, and son John, 36, and daughter Janet, 42, both unmarried, still lived with her at News. Oldest son James, then a 42-year-old fisherman, was also living there with his own family. He was married to Mary Inkster Craigie, the daughter of John Craigie and Margaret Inkster of Hullion and they had two children; Ann Craigie, born on June 24th 1848, and James Hugh Craigie on June 25th 1854.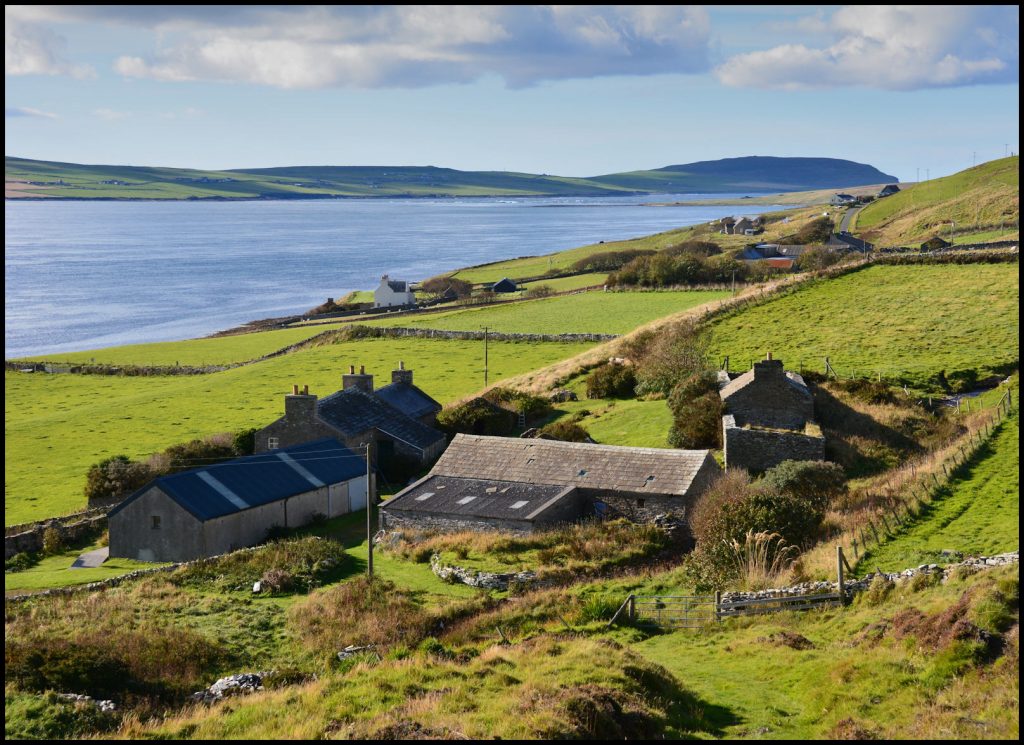 By 1891, the size of the land at News had grown to 120 acres. James Sinclair had retired from the land, and his son James Hugh Craigie Sinclair had taken over the running of the farm. He was married to Margaret McKinlay of Sound, Egilsay, and they had six children: Hugh, born in December 1882; James, in April 1885; John William, in April 1887; Harry Hourston, in October 1889; Robert, born in September 1892; and Mary Ann, in June 1896.

In 1893 the sea was to claim another member of the Sinclair family. James the elder, then in his 75th year, operated the small open mail boat, which plied between Rousay and Evie, with 56-year-old John Reid of Tratland. On Wednesday October 11th 1893, while crossing Eynhallow Sound, the boat was lost in a south-westerly gale. It was struck by a squall and overturned, claiming the lives of not only James and John, but also 35-year-old Lydia Craigie, wife of Robert Gibson, originally of Langskaill, and three of her children, David 9, Maggie Jessie 6, and Lily Ann 4, who were being conveyed as passengers. Another boat in vicinity saw the boatmen and passengers clinging briefly to the upturned hull but could do nothing to help, and several days later the mail boat was washed ashore on Papa Stronsay.
The bodies of James and John were recovered and interred in the Westside kirkyard – 68 years after James's father was lost nearby at Scabra Head. Lydia and her three children's lives are commemorated on a headstone in the kirkyard at Stenness, the family having earlier moved to Lochend in that parish. Lydia's name is also inscribed on the family headstone in the Wester kirkyard on Rousay.
This is how The Orcadian and Orkney Herald newspapers reported the tragedy:
SAD BOATING ACCIDENT IN EYNHALLOW SOUND
MAIL BOAT AND SIX LIVES LOST
A terrible boating accident occurred in Orkney on Wednesday, resulting in the loss of six lives. The island of Rousay is separated from the mainland by Eynhallow Sound, which is about two miles in breadth, and through which the tide runs with great velocity. With a south-westerly gale, such as was raging on Wednesday, there is always a nasty sea in this Sound; but notwithstanding this, the little boat which plies between Rousay and the mainland with the mails, successfully made the run to Evie that forenoon. After taking on board the mails from the South, and Mrs Gibson, of Lochside, Stenness, and her three children, the boat left Evie on the home journey. When only a short distance from the land, however, the boat was struck by a sudden squall, and the agonised spectators on shore saw it overturn with its living freight. Boat and occupants were swept away with the tide, before any assistance could be rendered – and crew, passengers, and mails were lost. The boat was managed by two Rousay men – one named John Reid, (56 years of age), residing at [Tratland] Frotoft, and the other named James Sinclair, (75 years of age), residing at Newhouse, Frotoft. Mrs Gibson, who with her three children had been lost, was going across to Rousay to visit some friends. When the upturned mail boat was last seen, it was rapidly drifting out of Eynhallow Sound.
Later information regarding the accident is to the effect that when the ill-fated boat left Evie on Wednesday, it was close reefed. All went well while it was under the lea of the land, but immediately it rounded Aikerness Point, it was struck by a squall and was upset. The two boatmen – Reid and Sinclair – were seen clinging to the boat for a minute or two, but it partly righted itself throwing them in the water – and they were never seen again. A small boat manned by William Wood, Wads, and John Mowat, Woodwick, Evie, was at that moment within 150 yards of the scene of the accident, but owing to the terrific gale then blowing, had great difficulty in getting up to the place, and by that time men, woman, and children had disappeared. A boat manned by David Miller, merchant, and Magnus Mowat, Evie, also put off from the shore, but could get no trace of the unfortunate people who were on board the mail boat. The boat was seen to turn over several times, and was carried away past Rousay towards the Atlantic. [The Orcadian – Saturday, October 14, 1893]
LOSS OF SIX LIVES
SAD BOAT ACCIDENT
A sad boat accident, resulting in the loss of six lives, occurred in Eynhallow Sound about noon on Wednesday. A small square-sterned boat, which was temporarily being used to carry the mails between Evie and Rousay, capsized off Aikerness, Evie, soon after starting for Rousay. The boat had safely crossed from Rousay earlier in the day, and though there is always a rapid tide through the sound, and a strong gale was blowing from the south-west, the men did not think there was any danger. Beside the two boatmen, John Reid and James Sinclair, there were on board Mrs. Gibson, jr., of Lochside, Stenness, and three of her children. The boat was close-reefed, and was only a short distance from the shore when she was suddenly struck by a squall and capsized. She turned over several times and then drifted northwards between the island of Eynhallow and Rousay out to the Atlantic. The woman and children seem to have gone down almost at once, but the men were seen for a little time, Reid clinging to the bottom of the boat till it turned over again and he lost his hold. The accident was seen from the shore, and steps were at once taken to render help. A boat which was lobster-fishing in the neighbourhood and boats from the shore went to the spot where the accident had occurred and after the drifting boat, but were too late to render any assistance. Much sympathy is felt with the relatives of those who have lost their lives. The two mail-bags came ashore at Westness, Rousay, on Friday, and the mails were delivered the following day. Many of the addresses were almost illegible. The oars and loose boards in the bottom of the boat have also been washed ashore, but no trace of the missing bodies has yet been found. [Orkney Herald]
THE RECENT BOATING DISASTER
Some further accounts are coming to hand of the terrible boating disaster which occurred at Evie on Wednesday last. It seems that though a severe gale of south-westerly wind was blowing, neither crew nor passengers had any misgivings regarding the two-miles' passage across Eynhallow Sound. Mrs Gibson and her children seemed quite delighted at the prospect of the sail. The boat, however, had scarcely rounded Aikerness Point when it was swamped by the sudden squall. Mrs Gibson and her three children were never again seen, but one of the two boatmen, John Reid, was observed scrambling onto the keel of the boat. He was only there a few minutes, however, when the little craft gave a heavy lurch, pitching the unfortunate man once more into the sea. The two mail bags which were in the boat have been washed ashore at Rousay. A small boat, 10½ feet keel, square-sterned, and painted light blue outside, supposed to be the one lost at Evie, was driven ashore on the north side of Papa Stronsay last week. It has three fixed thwarts in it, two fitted for a mast, evidently for either a smack or lug rig, but there were no traces of either a mast or sail attached. It had a square iron rollock on each side, fastened with a chain, and two small sail thimbles, fastened one on each quarter, evidently for the sheet. Feeling allusion was made to the sad event in many of the pulpits in Orkney last Sunday. None of the bodies have yet been recovered. [The Orcadian – Saturday, October 21, 1893]
BODY FOUND
The body of a boy, son of Mr Gibson, jr. Lochside, Stenness, and one of the children drowned through the capsizing of the Rousay post boat in Eynhallow Sound on October 11th, came ashore near Burgar, Evie, on Tuesday last week. [Orkney Herald – November 15, 1893]
BODIES FOUND
The body of a man, which has been identified as that of John Reid, one of the boatmen who were drowned by the capsizing of the Rousay post boat in Eynhallow Sound on the 11th of October, came ashore on Saturday on the west side of the Sand of Evie. The body of Mrs Gibson, Lochside, Stenness, who was lost in the same accident, has been found at Rousay. [Orkney Herald – November 22, 1893]
BODY FOUND
The body of James Sinclair, one of the boatmen lost in the Rousay post boat on the 11th October in Eynhallow Sound, was found on Saturday morning. This makes the fourth body that has been found of the six lost by the accident. [Orkney Herald – December 13, 1893]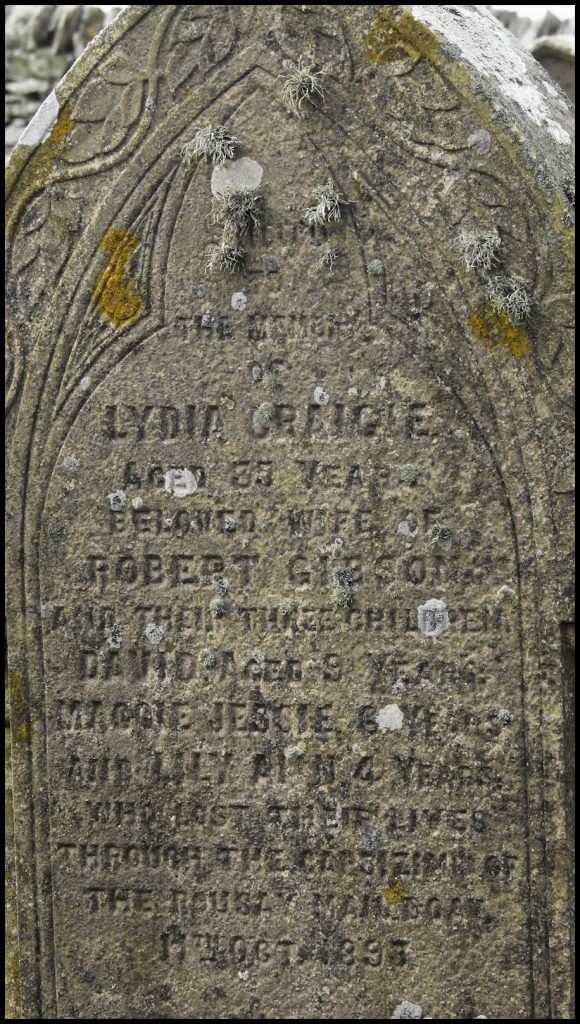 The gravestones of Robert Sinclair and John Reid, in the Westside Kirkyard – and that of Lydia Craigie, wife of Robert Gibson, and their three children in the Stenness kirkyard
A painting of the Rousay post boat that was lost between Evie and Rousay in 1893
with the loss of six lives

ROUSAY – PRESENTATION TO A SABBATH-SCHOOL TEACHER
Frotoft School was on Tuesday night last week the scene of a large and interesting meeting, when Mr. James Mainland, of Tratland, was presented by the scholars of the Sabbath-school with a Bible in recognition of his long and valued services as a teacher. The Rev. A Irvine Pirie made the presentation in name of the scholars, and in doing so said that Mr Mainland had been a teacher in the school for forty-seven years, that owing to advancing age he felt himself unable to continue longer in the work, and that consequently the scholars and other friends desired to express to him their gratitude for all his faithful services, and the earnest hope that he may be long spared amongst them. Mr Pirie stated that Mr Mainland had in the school as his colleague the late Mr James Sinclair, of Newhouse, who for the long period of fifty-four years had laboured as a Sabbath-school teacher. If Mr Sinclair had been spared he would doubtless have received a similar expression of good feeling and gratitude. He had, however, been taken from them to receive a higher award, and his class had heartily united with the rest in offering this token of esteem and affection to Mr Mainland. Mr Mainland, who was much affected, said in reply that he did not know how to thank them all for this unexpected kindness. His labours in the school had been one of his greatest sources of pleasure, but since his old much-esteemed friend and fellow-labourer, Mr Sinclair, had been taken away, and also his own beloved son-in-law by that sore boat accident, he felt he was not able to meet his class as formerly. The burden of increasing years was also telling upon him, so that he had resolved to retire from the school. He had seen a great number of his class go out into the world, and set up homes for themselves, and when he heard of them doing well he was as proud of it as if they were members of his own family. He looked upon them all as his children, and his prayer was that the choicest blessings of the gospel may ever rest upon them. The members of the Bible class enlivened the proceedings by singing a number of beautiful hymns.
…………………….
ROUSAY MAILS
SIR, – I observe in your last issue a statement that during the previous week the mail boat went only twice to Evie, Your informant might make himself more certain as to facts before publishing them, as the mail boat went three times notwithstanding the stormy character of the weather. As this mis-statement must wound hearts already sore enough from the recent sad mail-boat fatality, I deem it a duty to correct it. I will add that, while we have been accustomed to such faithful daily service between Rousay and Evie by those who have paid dearly with their lives, we have already found in their successors men as faithful and as brave, against whom if we have any complaint, that complaint must be that they should venture to cross those wild seas in uncertain weather, which the public would rather they should not. – Yours, &c.,
ALEXANDER SPARK.
Rousay Manse, 15th Dec. 1893.

[The Orcadian]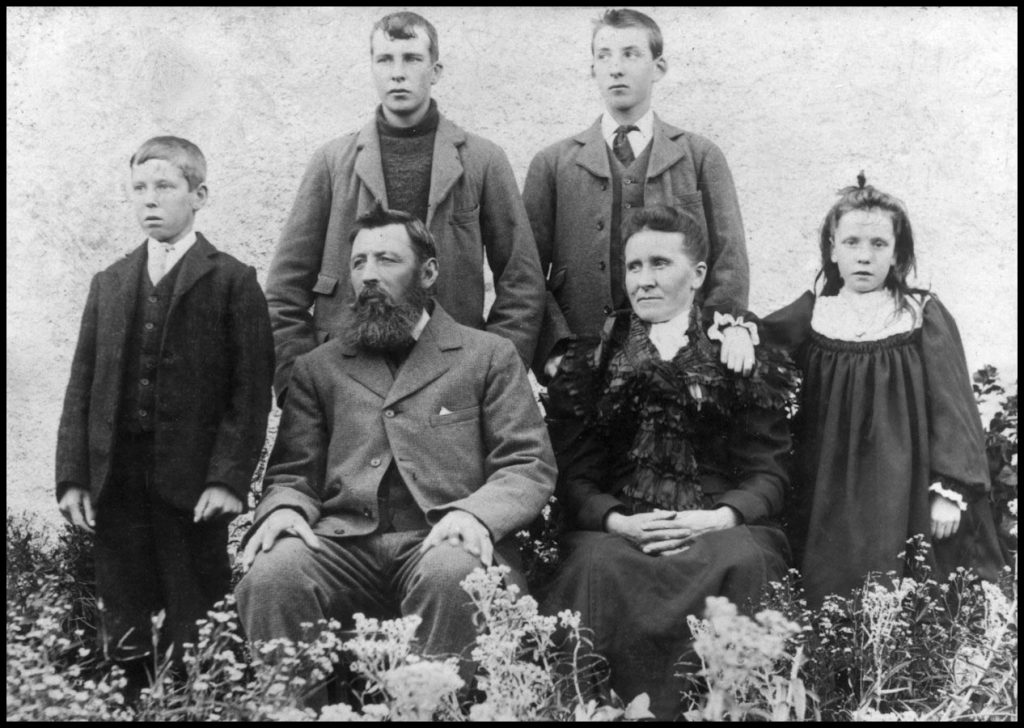 James Hugh Sinclair, his wife Margaret, and children John and Harry [rear],
Robert and Mary Anne. c1900
When the 1911 census was carried out the first mention of a shop at News was made. Head of the household was farmer/employer James Hugh Sinclair, now in his 56th year. Wife Margaret was 53, and they had been married for precisely 33 years, three months, and three days! 21-year-old son Harry was employed as a ploughman, Robert was an eighteen-year-old apprentice grocer, Mary Ann was a fourteen-year-old scholar, and John M Craigie was the 32-year-old shop keeper/grocer.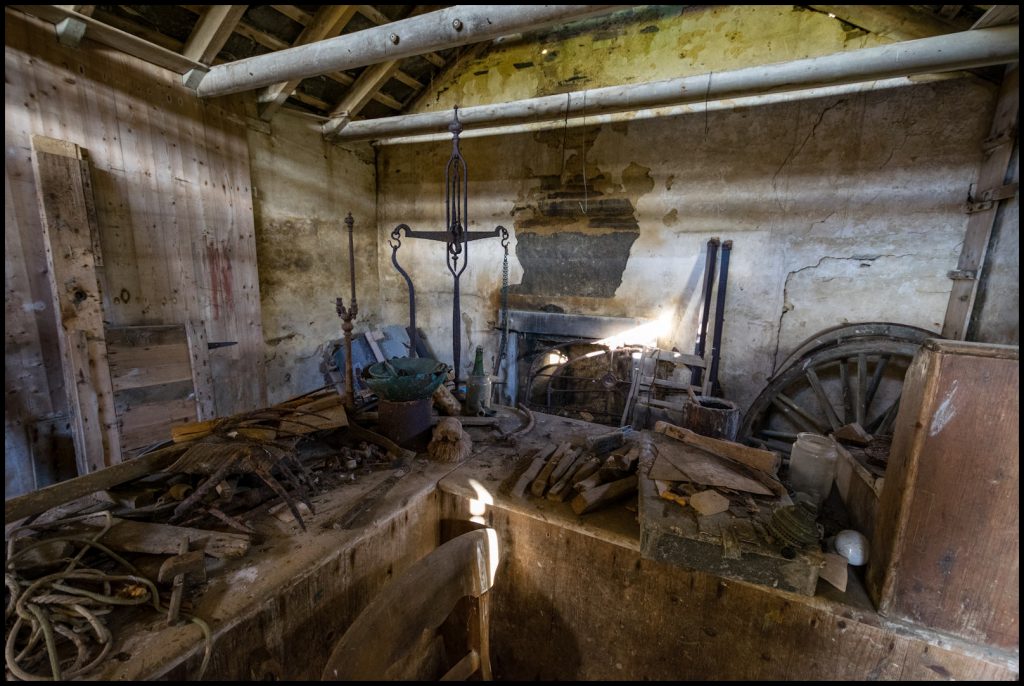 Today's view of the News shop interior, still housing many implements from the distant past.