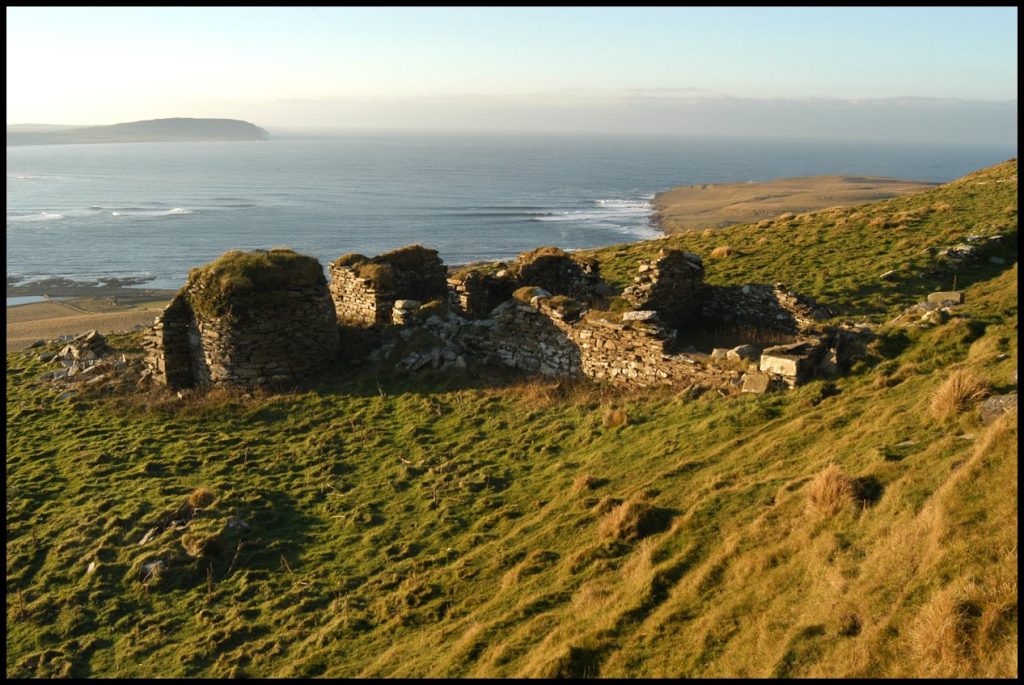 Ha'gate was an old house-site on the Westside, way up and virtually out of sight from the public road. In the census of 1841 the house was spelt Hawgate, and in 1851 Haa-gate. Living there then was Christian Flaws, a 50-year-old widow, and her daughter Mary Louttit, who was an eleven-year-old scholar. (A woman sometimes resumed her maiden name when she became a widow. Christy Flaws is a case in point. She was the daughter of James Flaws and Helen Flett and was christened on September 16th 1798. She married William Louttit on February 18th 1836, and daughter Mary was born in 1840.)
William Mainland was the son of David Mainland and Margaret Sinclair of Tratland. Born on January 25th 1795, he married Jane Sinclair in 1822. They lived at Clook, Frotoft and raised a family of six children before moving to Eynhallow where they lived in what was called the East House, part of the old monastic building there. A malignant fever broke out on the island in 1851, and caused the death of several members of the four crofter families who lived in the thatch-roofed houses. It claimed the lives of two of William's children, Janet and William. Their mother Jane died in 1852, and they were all laid to rest in the Westside kirkyard. Eynhallow was evacuated and the survivors moved back to Rousay.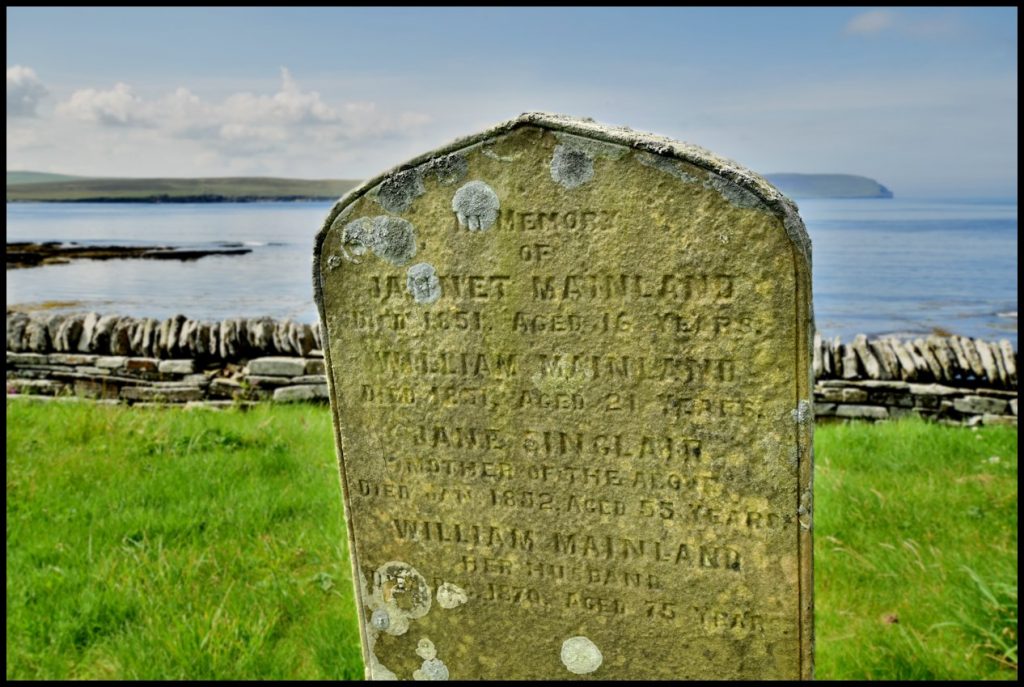 William later married Christy Flaws and they lived together at Highgate, as it was called in the census of 1861. He was then a 65-year-old agricultural labourer and Christy was in her 61st year. William died in 1870 and he was buried beside his first wife and two children.
The census of 1871 tells the sad story of Christy Mainland, widowed for the second time in her 72 years and living alone at Hallgate, as it was then called.
===============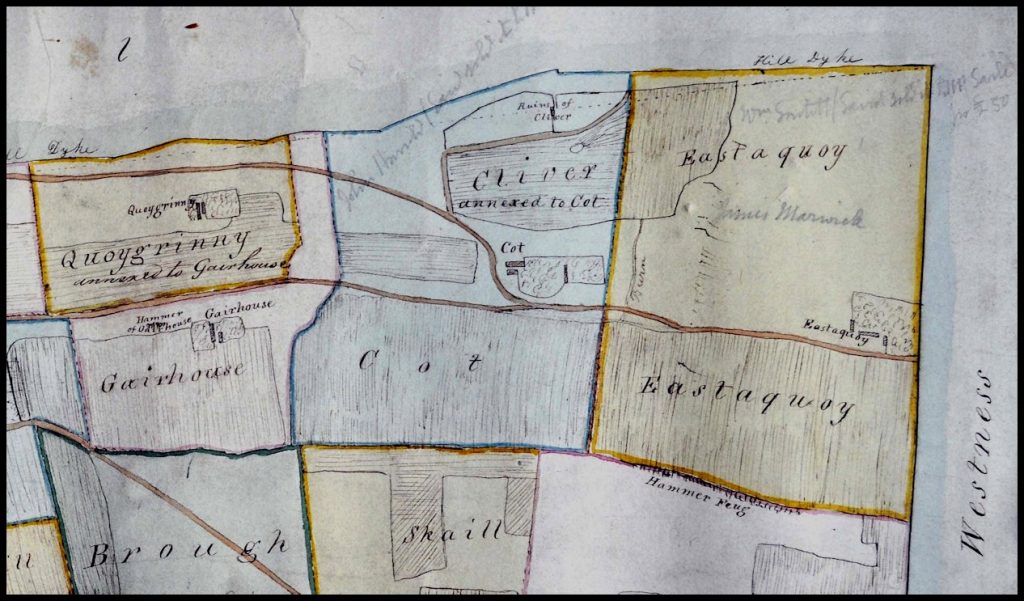 Cot was the name of an old cottage that stood near the public road above Skaill and Brough on the Westside. In 1851 it housed two tenants. Firstly there was 45-year-old farm labourer George Henderson, his wife Jane, who was 33, and their children Isaac, Helen, John, Robert, and George. Their ages ranged from 12 years to 12 months. The other tenant was Donald Sutherland, a 27-year-old shepherd, who lived there with Betsy Shearer, a 40-year-old house servant.
Ten years later there was just one tenant, a 22-year-old shepherd named James Oliver, born in Berwick, who lived there with his 19-year-old wife Eliza and 12-month-old daughter Elizabeth.
In 1871 Cot was occupied by unmarried sisters Marion and Betsy Logie, who were 42 and 44 years of age respectively, and they were employed as day labourers. They were the daughters of Alexander Logie and Isabel Harrold of Quoygrinnie. Betsy's seven-year-old son, William, who was a schoolboy, lived with them and they occupied Cot for more than 20 years.
Cliver was an old cottage at the foot of the Sinian Hammers, a steep rocky hillside near the curve of the public road close to Cot on the Westside. This was the home of Peter Louttit who was born in 1778. He married 18-year-old Jean Craigie in 1808, and they had seven children; Peter and Jean were born in 1815 and 1816 at North House, James and Mary were born in 1818 and 1821 at Upper Quandale, Charles and John were born in 1824 and 1827 at Garson, and the youngest, David, was born on June 29th 1835, at Cliver.
Gairhouse, also spelled Garhouse, Guardhouse and Guarhouse in Rousay birth records in 1827 and 1855 respectively – is a vanished house on the Westside, below Quoygrinnie. In 1841 it was occupied by twenty-five-year-old fisherman David Craigie, his wife Jean Louttit and their twelve-month-old son James.
Eastaquoy was an old farm above Skaill on the Westside, occupied in 1737 by Magnus Bichan. In 1851 the head of the household was 53-year-old farmer James Marwick. James's parents were Hugh Marwick and Betsy Sinclair of Scockness and he was one of their ten sons or "ten devils" as their mother used to call them.
He married Jean Marwick and they had five children, all born when the family was living at Pow, Sourin. William was born on October 1st 1827, James, on November 3rd 1829, Robina, on January 9th 1832, Ann, on June 18th 1834, and another Ann on April 14th 1836. James then married Janet Craigie on August 5th 1836, and she also bore him five children when living at Eastaquoy; John was born on March 31st 1838, Eleanor Traill on August 27th 1839, Hugh on January 21st 1842, Craigie on July 16th 1845, and David who was born on July 11th 1853. During the clearances the Marwick family were evicted from the Westside and they moved to Sourin, taking the name Eastaquoy with them. Between 1856 and 1866 James was paying an annual rent of £2.