Sketquoy used to be the most outlying farm on the north side of Wasbister. Years ago it incorporated the old farms of Stennisgorn and Grudwick. Pronounced sket-wi, or more formally sket-kwai, it appears in a Brough charter of 1608 as Skataquoy, and in another 17th century charter as Skitquoy – but on the Ordnance Survey map of today it is spelt Skatequoy.
James Craigie was tenant in 1737 and Hugh Gibson in 1799. The latter was married to Janet Inkster and between 1794 and 1812 they had seven children. The second oldest of these was Hugh, born in 1795. He was 30 years old when he married Janet Craigie, daughter of Hugh and Janet Craigie of Skaill, Westside, who was born on May 1st 1797 at Saviskaill. The wedding was at nearby Cogar in 1825, and they had seven children between 1826 and 1843. Hugh farmed the 30-odd acres for many years, but eventually he died in 1861 at the age of 66, and his wife Janet died in 1863, also at the age of 66.
In 1863 son John was tenant of Sketquoy, paying £26 rent. In 1872 he paid £30, and the size of the farm was then 46.4 acres. John was born on January 21st 1839 and was 28 years old when he married 19-year-old Margaret Louttit, the daughter of William Louttit and Christina Cormack of Faraclett. Between 1869 and 1884 they had eight children. In 1888 the rent was £24, having been fixed by the Crofters Commission. John gave up Sketquoy and took on Hurtiso and the Mill of Sourin, and they later moved again, to Faraclett.
Above left: Sketquoy in winter – a snow-capped Fitty Hill on Westray across
the firth. To the right is a view from the cliffs behind Sketquoy – from
Sacquoy Head to the Lobust, with Costa Head on Mainland
and the Brough of Birsay in the distance.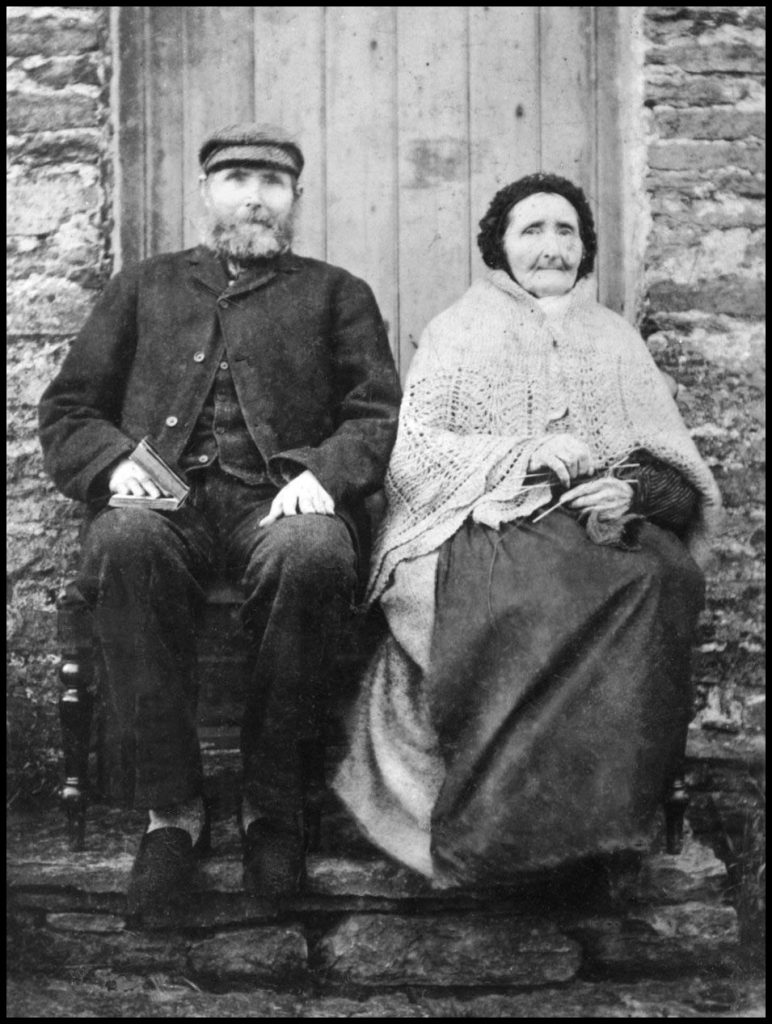 In 1889 Sketquoy was occupied by Hugh Sinclair. 75 acres of pasture land at the Brings had been added and the rent at this time was £30. Hugh was the son of James Sinclair and Maidie Hourston of Newhouse. Born on March 1st 1821, he married Isabella Gibson of Langskaill in 1844. The couple, pictured to the right, lived at Stennisgorn, and between 1846 and 1862 they had ten children. When the Gibsons moved out and the farms were amalgamated, Hugh took over the tenancy of Sketquoy. Isabella died in 1903, at the age of 76, and Hugh died in 1909, aged 88.
Hugh and Isabella's son Robert, born in January 1864, took over the running of the farm at Sketquoy. He married Margaret Flaws, daughter of David Flaws and Margaret Louttit of Hammerfield, and she was born in 1872. They had four children; Robert, born in 1891; George, in 1893; Annabella, in 1906; and Hugh, who was born in 1903.