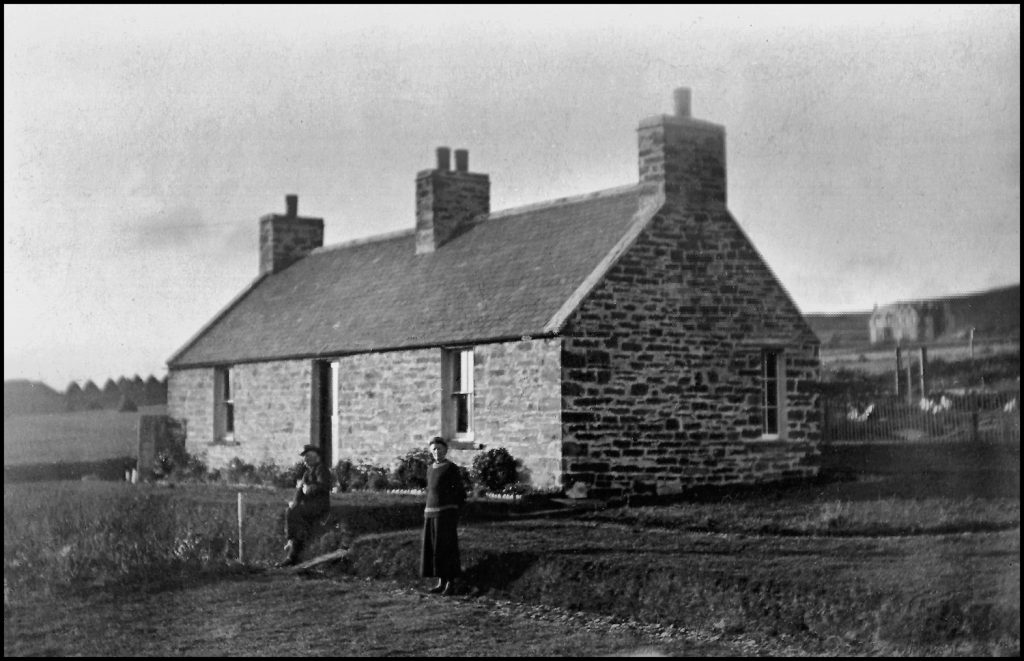 Frederick Traill Inkster was the son of Hugh Inkster, Ervadale, and his first wife Isabella Kirkness, Quoyostray. He was born on September 7th 1868 in Unst, Shetland, where his father Hugh had moved to farm 40 acres of land at Greenfield, Haroldswick. Isabella died in childbirth in August 1882. Hugh returned to Rousay and married Isabella's first cousin, Mary Kirkness of Grain. They travelled back to Unst and went on to have another six children. In 1894 Hugh, Mary and all thirteen children from both marriages returned to Rousay, where Hugh took over the tenancy of Westness Farm.
Above left: The Inkster family of Westness. Back row (l to r) – Ann, Janet, Lily, Mimie, and Mary. Middle row – Hugh and Mary (the parents), Isabella, and Fred. Front row – David and Robert. – To the right is Fred, with his sisters, Ann, Mimie, Janet, Mary and Lilly. – The quality and composition of these two photographs is exceptional, and I feel confident in saying they were the work of John Logie, artistic butler at Trumland House at this time.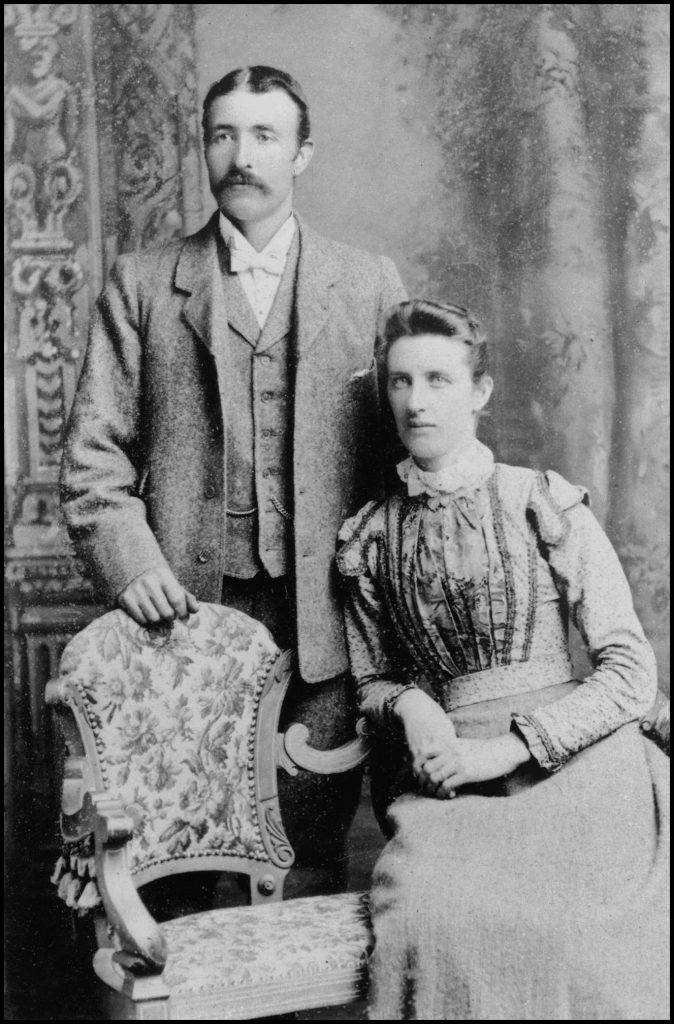 Fred Inkster moved from his father Hugh's farm at Westness to farm land at Furse and Innister in Wasbister. At No. 3 Frotoft (Brough) on February 3rd 1898 he married 28-year-old Isabella Drever Craigie, daughter of James Craigie, Claybank, and Isabella Kirkness, Quoyostray, and soon after that he took over the tenancy of Trumland Home Farm in the early 1900s.
When Fred retired from farming in 1922 he had a house built on a triangle of land he retained, east of Trumland farm buildings. He called the house Greenfield, the same as the name of the farm in Shetland where he was born.
Fred served as a County Councillor for the island and was also a Justice of the Peace. He passed away in May 1944 at the age of 75, and his wife Isabella died in March 1953 in her 83rd year.
Isabella's niece Maggie Ann Corsie Craigie was the daughter of John Kirkness Craigie and Annabella Scarth of Corse, and she was born in 1906. On November 11th 1926 she married James William Grieve of Westness in 1926 and they moved into Greenfield after Isabella's death. Jim was the son of Malcolm Costie Grieve and Lizzie Thompson. At the time of their marriage Jim was employed as a chauffeur for Walter Grant's sisters who lived at Westness House, and Maggie was a 'table-maid.'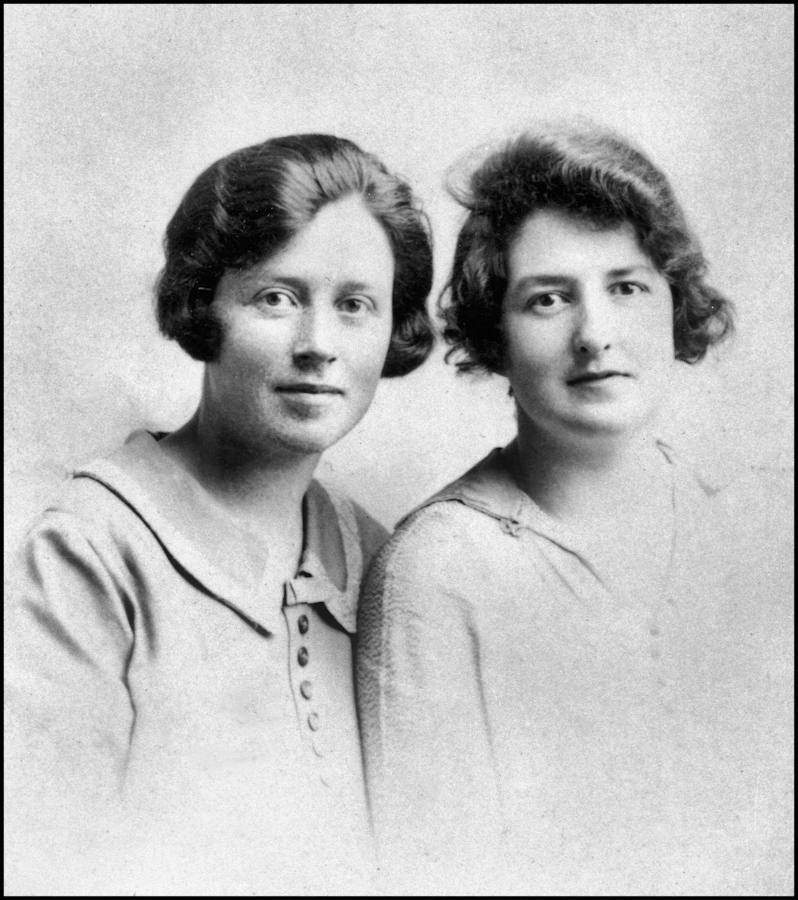 Maggie Grieve passed away in 1958, and Jim in the late 1970s. Greenfield was then occupied by Maggie's nephew Ronald Stevenson, who was a farm worker at Westness. Ronald was the son of James William Stevenson and Isabella Inkster Craigie of Corse [Maggie's sister]. The house was later bought by Hugh and Margaret Mainland in 1979, who repaired and modernised it, moving in during the following year. The garage was enlarged, and an extension built between it and the house, and that is where Margaret had the Post Office. In June 2008 Hugh and Margaret sold Greenfield to Erica Flaws and Danny Hall.
Maggie Grieve on the right, with her friend Edda Mainland, Nears c1920
Below: Two aerial views of Greenfield, the one above left taken in 1990 and that to the right in 2016
[Credit goes to Ron Spence, Banchory, for information and family photos of Fred and Isie Inkster;
Tommy Gibson for photos of Jim and Maggie Grieve, and to Hugh and Bruce Mainland and
Erica Flaws and Danny Hall for their contributions]
---
Having posted the photos of Jim and Maggie Grieve on social media a few folk were forthcoming with memories of them, Bertie Gillespie commenting first. 'Jeemso' mentioned below, was Jim Craigie, Maggie's brother, and he lived at Corse. Cousins Leslie Craigie, Anna Laurenson and Alistair Craigie, all related to Jeemso's brothers and sisters, share their memories of him:-
*Bertie Gillespie [now Lyness] writes: Me only claim tae fame in 1956. I bought a motor bike off Jim Grieve, he lived in this house, it was a BSA 500 Sloper 1932 vintage. It cost me a whole £1. Oooh a bargain !! Wae the girder forks she was a non runner when I bought it; me dad had an identical model so in good Rousay tradition I made one out o the two!
*Leslie Craigie writes: Ah Max, that is my father's sister Maggie, she was the one that died young, I have never seen a photo of her before, that's made my week.
*Anna Laurenson replies: I hiv 2 memories o Greenfield that stick wae me. One was Jim's collection o clocks. Lord knows hoo many he had bit I can mind him gan roond windan them all up. They were mainly all strikan clocks so you can imagine the noise every hour! Also dae you mind all the glass balls or buoys they had? Must have been hundreds I think. They had them lining the edge o the garden. Used tae fascinate me when I wis peedie! My last memory o Jim was at my wedding. I think he danced every single dance!
*L.C.: Thats right Anna, I mind the clocks indeed, being a peedie kid I had never seen so many, I mind the multi coloured fishing floats at Briarlea as well.
*A.L.: Don't think that means a lot tae me though. Wan thing I do mind at Briarlea wis the thing that Jeemso rigged up for speakan back and fore atween him and Briarlea. He wis a right knacky chap!
*Alistair Craigie comments: He meed hid oot o auld gas masks (carbon granules, tobacco tins). He also meed a waal in his workshop oot o jamjars fur storage! He was a genius!
*L.C.: Thats right Anna, I mind when I was about maybe 7 or 8 he had made a wheel barrow, he had a steel float for a wheel, would go anywhere, about 30 years later Dyson made the roller barrow, looked exactly the same.
*L.C.: He was also linesman with GPO, he invented a tool to join broken lines from the ground, same thing again GPO invented exactly the same thing.
*A.C.: I remember that tool!
*L.C.: He also had electric lights at Corse with a wind generator and a bank of batteries.
*L.C.: And his contraption to clean the byre straight into the cart, haha, I could go on and on!
*L.C.: Do you remember the whisky still up in the peat hill between Peedie water and Muckle water? I remember Uncle Jock showing me it in the peat cutting, it was half burried in the peat, must have been old as the hills!
*A.L.: I mind the jam jar wall indeed. Hid used tae fascinate me. Whit a great idea that wis! Mind the byre scraper tae Leslie. Never saw the still bit noo when you say it sure I heard aboot it indeed. Used tae love gan tae Jeemso's peedie wooden hoose at the back o Corse tae see whit I could see.
*L.C.: Auntie Mary's wasnt hid?
*A.L.: That rings a bell tae.
*L.C.: Was our grandad's auntie that stayed there when it was built.
*A.L.: That's right. Mind noo indeed. Think your memories a lot better than mine!
*L.C.: Just sticks in me mind, mind going into Corse when I would have been maybe 6 or 7, was amazing, he had a prop for a Spitfire and all kinds of things in there, a young lad's dream, anyway he caught me and I remember I wet myself, he petrified me!
*A.L.: All I can say tae that Leslie is hahaha!