Quoyostray was a farm in Wasbister, occupied by three tenants and their families in the early 1800's. In 1841 the oldest of these, at the age of 85, was farmer John Kirkness, the son of John Kirkness and Christy Inkster. He married Barbara Craigie, the daughter of George Craigie and Janet Brand, who was born in 1781. They lived up on the hill at Pliverha', where their five children, John, Isabel, James, Janet, and Mary, were born between 1817 and 1824.
They then moved to Quoyostray, and by 1841 their eldest son John, born on April 26th 1817, was living there with his 25-year-old wife Mary Alexander. She was the daughter of James Alexander and Barbara Marwick of Breckan, having been born at Cutclaws on February 24th 1815. Between 1840 and 1859 John and Mary had nine children, the youngest of these dying at the age of three weeks. Mary herself died in 1862 at the age of 47.
The other tenant at Quoyostray in 1841 was 60-year-old farmer Henry Craigie. He was the son of Hugh Craigie and Janet Marwick, and he married Mary Craigie in 1815. She was the daughter of Hugh and Janet Craigie of Skaill, Westside, and was born on July 28th 1794 at Lerquoy, an old house in Wasbister. Henry and Mary had eight children between 1816 and 1837. They later moved to Blackhammer where Henry died in 1862 aged 84, and Mary died there in 1873, at the age of 79.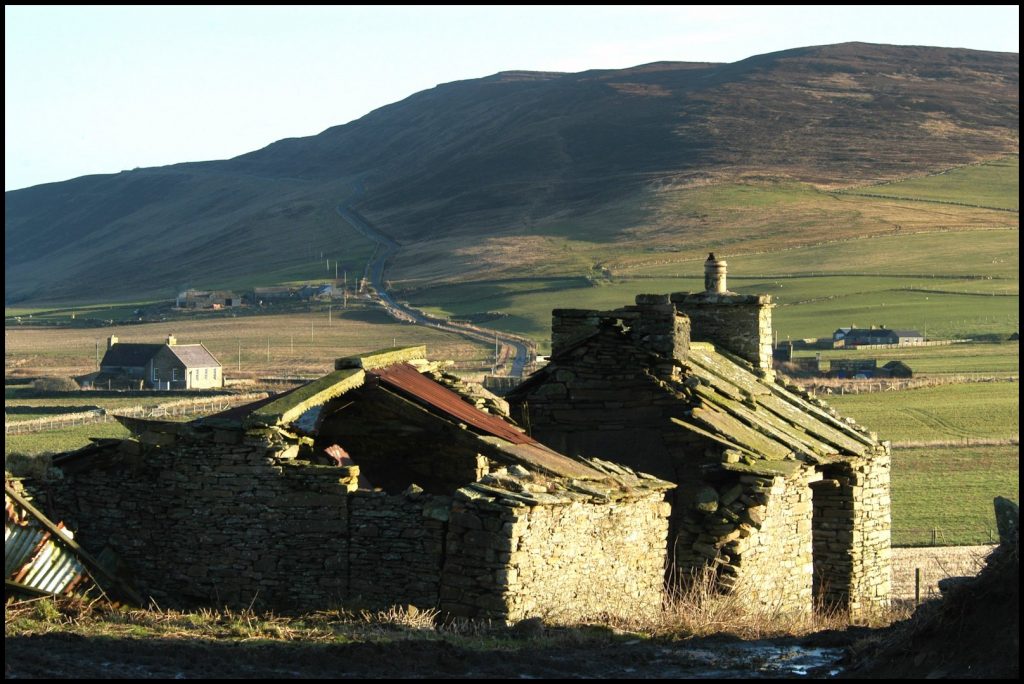 In 1861 retired farmer John Kirkness, now a widower, was in his 100th year according to the census of that year. He was still living at Quoyostray – his 36-year-old unmarried daughter Mary looking after him.
Ten years later his son John, himself now a widower and in his 53rd year, was farming the 48 acres at Quoyostray with the assistance of his children. In 1873 the extent of the land was 151.5 acres, for which the annual rent was £20. John's eldest daughter Mary had married grocer and fisherman Peter Yorston of Oldman, Sourin, and they too lived on the farm before moving into Oldman.
In 1891, second oldest son Frederick and his sister Eliza Robson were joint tenants at Quoyostray. The annual rent at this time was £30, and the total acreage was 181.096, plus 130 acres of grazing at Twelve Hours Tower. Frederick, then 35 years old, had married Betsy Mackay, who had been housekeeper to her brother William, the school-master in Wasbister. They had five children; Mary, who was born in 1876; Frederick in 1878; Mark in 1879; James in 1880; and John in 1887. Mary died in 1894 at the age of 18 and her brother Frederick died in 1898, aged 20. Between these two years, in 1896, their father Frederick died, at the age of 43, though his wife Betsy reached the age of 82, before dying herself in 1935.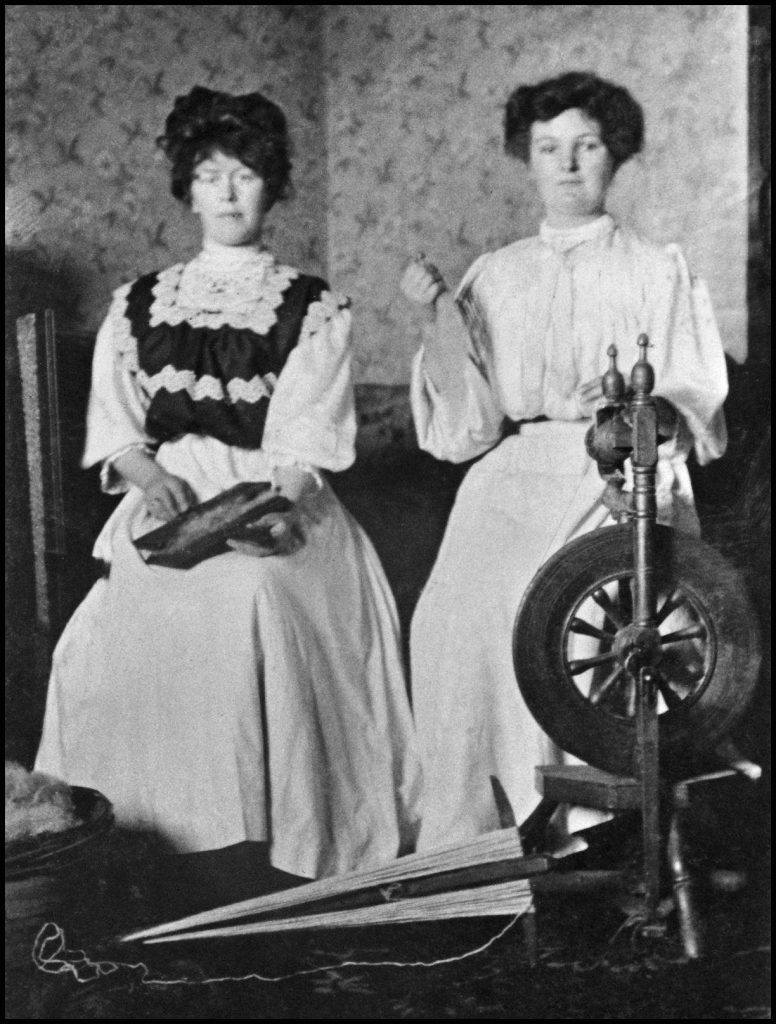 The photo to the right shows Mattie Wards, teacher at the Wasbister school, and Anna Craigie, Hullion, on the right. Mattie was the wife of Mark Kirkness, son of Frederick Kirkness and Betsy Mackay, mentioned above. Mark and Mattie had two children, Frederick and Thora. Son Fred was a crew-member of the Fraserburgh lifeboat and on January 21st 1970, while on service to the Danish fishing vessel Opal, the lifeboat The Duchess of Kent capsized with the loss of five of her crew of six – including Mechanic Fred Kirkness.
Eliza Robson Kirkness, who was born in 1850, married Hugh Inkster, the son of David Inkster and Janet Gibson of Saviskaill and later Brittany, Sourin. Eliza and Hugh were married in 1878 and they had a son, David James, who was born on December 31st of that year. Five months later Hugh was dead. He drowned in the Westray Firth on May 14th, at the age of 29 years. Eliza continued to live at Quoyostray where she had a shop for many years. She died there on May 20th 1927, aged 76 years.
======================
Quoygray was a house in Wasbister adjacent to Quoyostray. In 1738 William Yorston was the tenant, and in 1799 William Marwick lived here. Between 1841 and 1851 William McInlay was the tenant, paying £5.10.0. rent. William came to Quoygray from the Wash-house at Viera Lodge, and before that from Upper Quandale.
James Kirkness was the son of John Kirkness and Barbara Craigie of Pliverha', later Quoyostray, and he was born on October 9th 1820. He married 21-year-old Grace Craigie, the daughter of Hugh and Isabel Craigie of Brough, Westside. James and Grace lived at Quoygray, where they brought up their five children.
By 1871 they had moved to Grain, and James's nephew Magnus Kirkness, who was a blacksmith, lived at Quoygray with his wife Isabella Gibson of Vacquoy. Magnus was the son of John Kirkness of Quoyostray and Mary Alexander of Breckan, and was born in 1840. Isabella was the daughter of John Gibson of Vacquoy and Barbara Craigie, one of twins born at Grithin. Magnus and Isabella married in 1869 had four children; John, born in 1871; Frederick, who was born in 1872; Isabella, born in 1877; and Mary, who was born in 1881. The census of 1901 revealed that young Isabella was a dressmaker, and her sister Mary was an art student.