Cubbieroo is a cottage at the roadside in the Brinian and named from a nearby mound, traditionally known as 'Cubbie Roo's Burden.'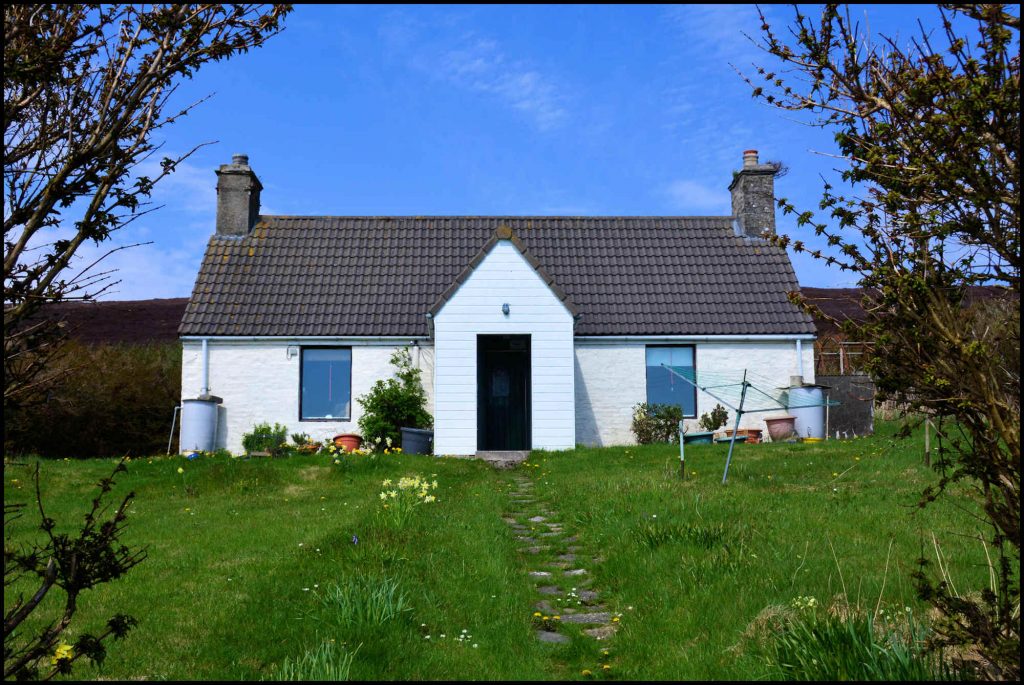 Cubbie Roo is the modern form of the name of a famous Saga chieftain, Kolbein Hrúga, who had his seat in Wyre. A cubbie was the name given to a large, round, straw basket carried on the back by a shoulder strap. Rousay tradition has it that Cubbie Roo once proposed to build a bridge between Rousay and Wyre, and for that purpose was carrying a cubbie-load of stones when the fettle or shoulder strap broke at this spot, and the mound of stones represents his fallen burden. Actually it is a pre-historic chambered burial cairn which had collapsed in upon itself – and the cottage was named after what is now a circular heather-covered mount – a scheduled archaeological monument, pictured below.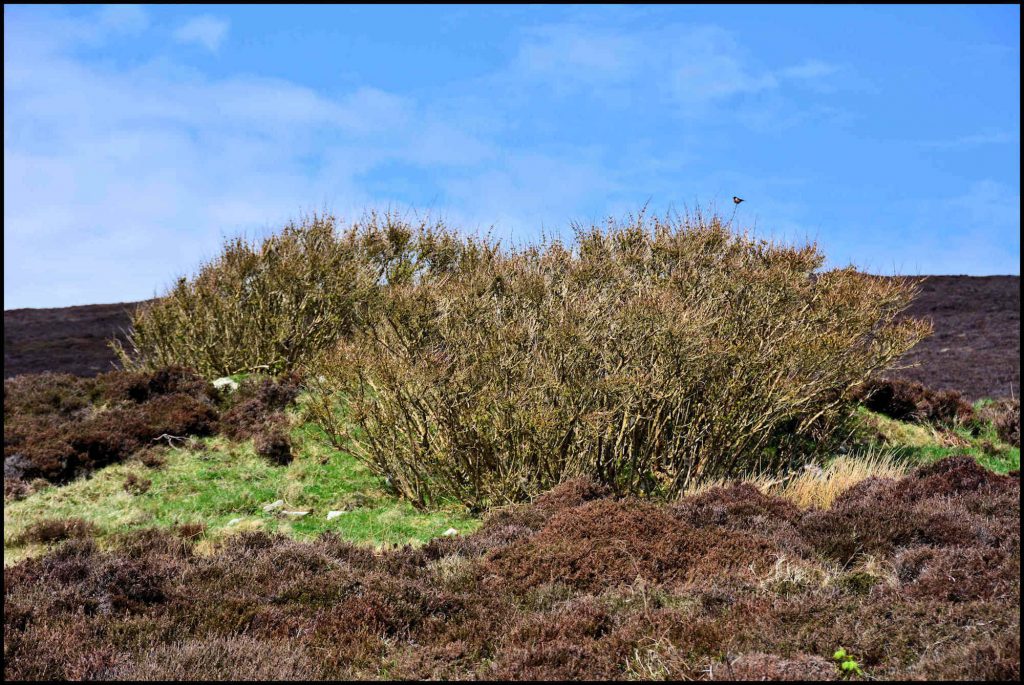 Somehow or other Cubbie Roo's name is commemorated all over Orkney as that of a giant who used to hurl boulders from one island to another. Another old story about Cubbie Roo places him on the island of Westray some miles to the north, from where he flung a huge rock at an enemy giant on Kierfea Hill in Rousay. It fell rather short of its mark and now lies near the shore in the Leean in Wasbister. It is known as the Finger Steen. Those who look for them will still find on the rock the imprints of the giant's fingers.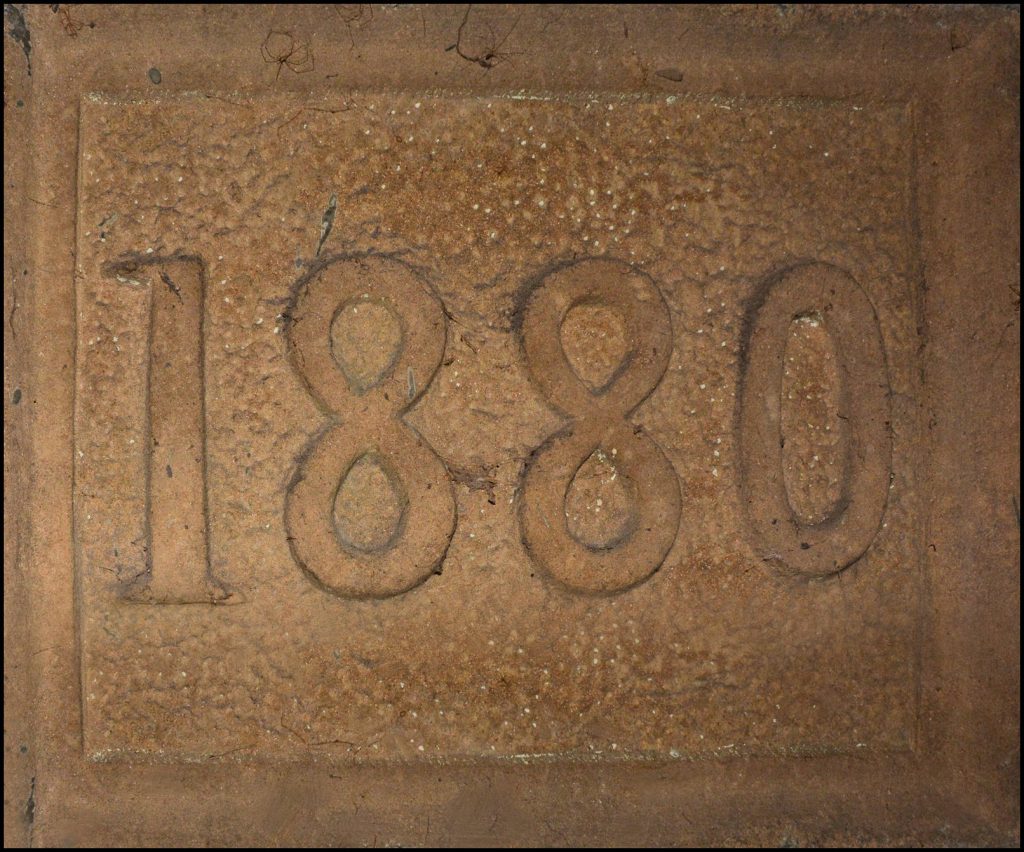 The house was built in 1880, proof of which still extsts in the stone plaque above the inner front door. Its first occupant, according to the census of 1881, was widower James Harrold, a 60-year-old stonemason. He was the son of Alexander Harrold and Marabell Corston of Wyre, born about 1820 at Boray, Gairsay. In November 1846 he married Bella Gibson, daughter of Hugh Gibson and Janet Marwick, who was born on August 20th 1821 at Newark. They had four children: Ann, born in 1848; Margaret, in 1852; John, in 1854; and James, who was born in 1856.
Bella died in September 1878, and the census records widower James living at 'Kibbieroo' with his 27-year-old son John and his family, 28-year-old wife Isabella, and children, three-year-old Alexander and William who was two. In November 1882 James married Margaret Mainland, one of the triplets born on February 23rd 1839 to Alexander Drever Mainland and his wife Janet Kirkness of Cruseday, Frotoft.
In 1891 the cottage was spelt Cibbierue in the census, and 64-year-old widow Sarah Craigie lived there with her daughter Sarah and three grandchildren. In 1851 Sarah, the daughter of John Sinclair and Magdalene Craigie of Tratland, married John Craigie of Hullion, known as 'The Young Laird'. They had seven children between 1853 and 1867; John Inksetter, Anne Marwick, twins James Mainland and Margaret Marwick, Sarah, Hugh and Robert.
At the start of a new century Cubbieroo was occupied by 43-year-old fisherman John Mainland, his 34-year-old wife Isabella, and their 10-month-old son Robert. John was the son of John Mainland, Bu, Wyre, and Mary Sinclair, Tratland. John's first wife was Annie Louttit, daughter of John Louttit and Jane Wilson, Reedlums, but she died in 1893 at the age of just 29. His second wife Isabella was the daughter of Robert Stevenson, Kirbist, Egilsay, and Margaret Marwick, Woo, and she was born in February 1867. Their firstborn was the already mentioned Robert, and they went on to have four more children – John Sinclair, born in 1901; Mary in 1902; and twins James William and Maggie Jessie Ann [Emmanetta] who were born in 1905. They later moved to Westness farm.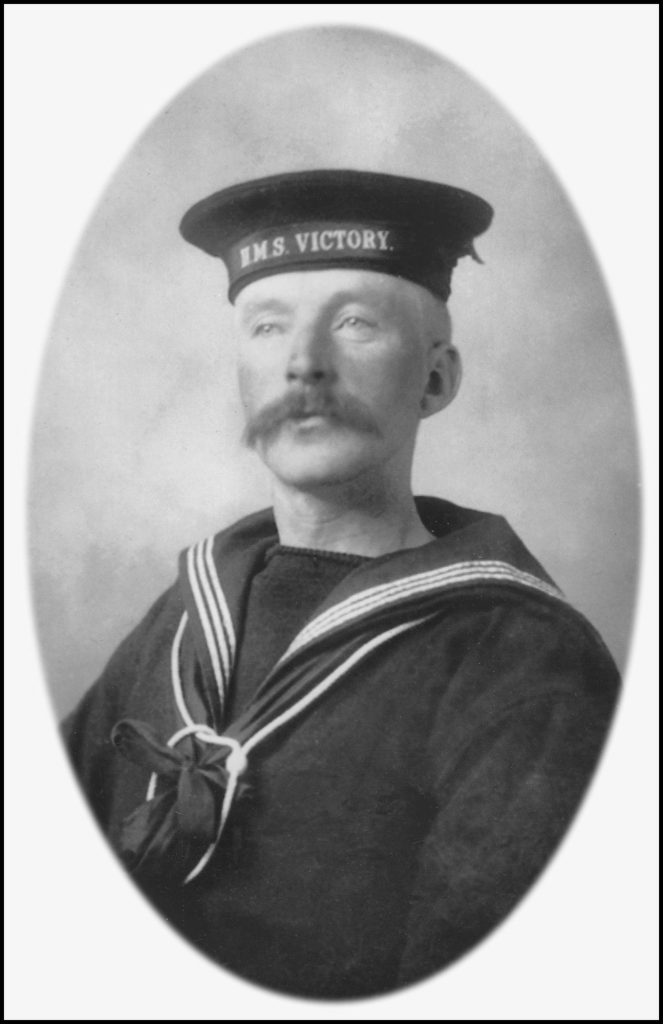 Later occupants were retired farmer James Robertson and his daughter Bella, who used to live at Hunclett. After they moved on another resident at Cubbieroo was Alexander Logie, the son of John Logie, Geo, Westness, and his second wife Jane Harcus, Blowhigh, he and his twin sister Mary being born in 1878. Sandy joined the Royal Navy and served aboard HMS Victory, which was used as a gunnery school in Portsmouth Harbour when the photograph was taken, c1914. He was the half-brother of Trumland House butler John Logie and joiner Charlie Burroughs Logie. He died in 1954 aged 75.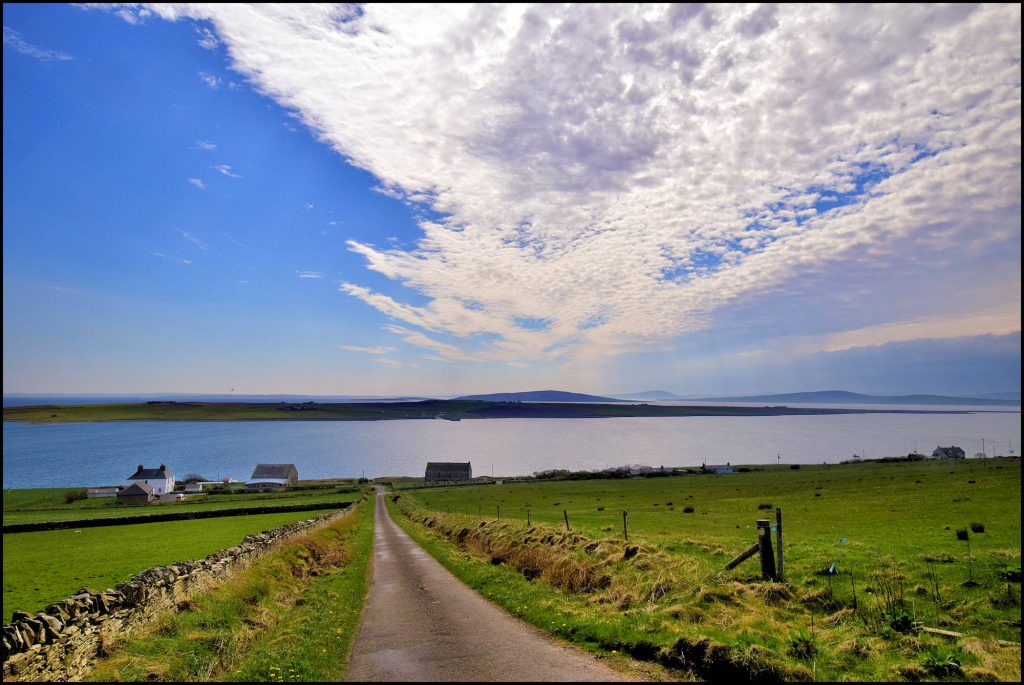 The photo above shows the steep 'Doctor's Brae, just along the road from Cubbieroo. Having posted the image on Orkney Past & Present it prompted a few memories from the past…..
Bertie Gillespie: I mind this Brae weel when I wis a young chap I can mind it being a lot steeper than it looks on this photo mind ye it's maybe because the push bikes brakes were no very good & you built up a fair speed by the time ye got tae the bottom ??
Mary Hargreaves: It was always scary going down there in the Land Rover. Not quite as bad as when my mum used to turn by reversing down the old pier, but close. There was always that moment after the turn when you realised you were sliding off the seat and were about to face plant into the dashboard. At least until we all had to have seatbelts.
Richard Gregory: Brill. Very much my hunting ground. Is much steeper at the top and yes Mary in a LR is very much a leap of faith. Was most exciting when we had to get one of Lilleys gennies up there… Another story that might have involved a contemporary of myself…. no comment!! Once found a very well respected American's Renault Five on its side just to starboard of the exit and the said State-side citizen on our couch early one morning.. not necessarily in that sequence!
---
Bellona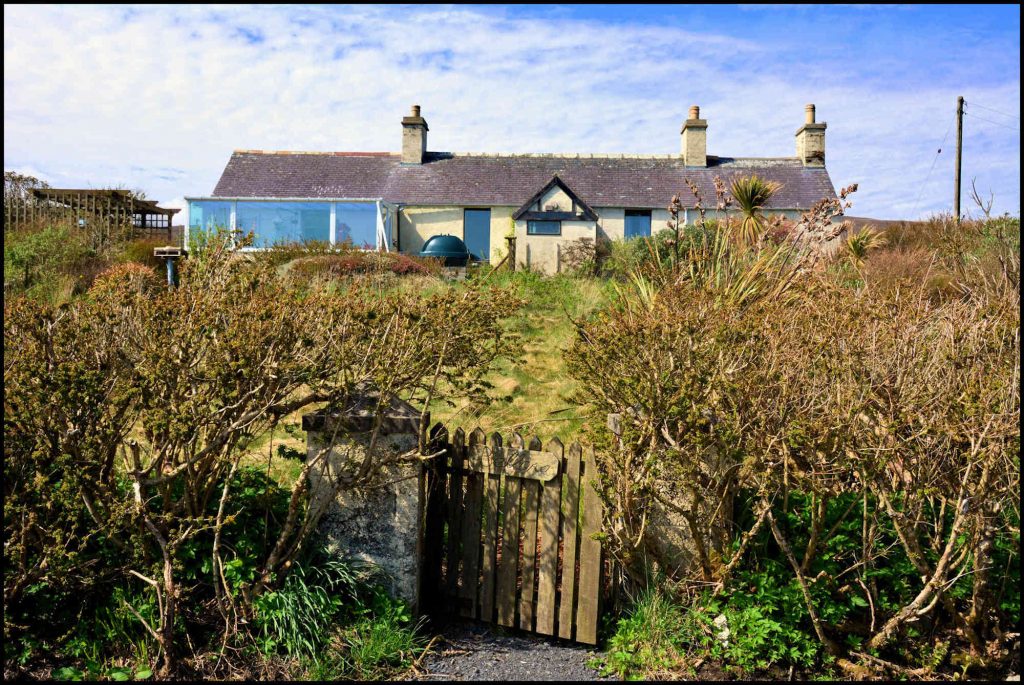 Now we ease into Sourin, the parish boundary between it and the Brinian being at the top of the 'Doctor's Brae.' The first house we come to is Bellona [pictured above recently], a cottage at the side of the road near Avalshay, built in 1877 for William Charlesworth. He was sergeant of the Rousay-based 9th Orkney Artillery Volunteers [formed on December 30th 1874], his dwelling being named by the laird, General Burroughs, after the Roman Goddess of War. Before moving to Rousay William and his family lived in Stronsay where he was a sergeant in the Coast Brigade of the Royal Artillery.
In the 1881 census Charlesworth is described as being 45 years of age and a Chelsea Pensioner. He lived at Bellona with his 45-year-old wife Jane and son Thomas who was 14 years of age, and paid rent of just 1 shilling.
Hugh Sinclair, above left c.1900, and to the right in Greenock at the age of 83.
In the centre is his daughter Sarah, mentioned below.
Hugh Sinclair was the son of Hugh Sinclair, Newhouse, later Stennisgorn, and Isabella Gibson, Langskaill, and he was born in October 1853. He married Sarah Craigie, daughter of John Craigie, Hullion, and Sarah Sinclair, Tratland, and she was born in September 1861. They lived at Bellona and had three children: Sarah, born in July 1882; Bella, in August 1883; and John, who was born in October 1886. Hugh ended his working life as harbour master at Greenock.
In 1891, 37-year-old widower John Harrold lived at Bellona having moved a matter of yards along the road from Cubbieroo. He was a mason, and at that time paid £4 rent. He lived there with his three sons, Alexander, William, and Charles, who at that time were all scholars. John was the son of James Harrold, Boray, Gairsay and his first wife Bella Gibson, Lower Burness, and his wife Isabella was from Orphir.
James Lowe, a 52-year-old agricultural labourer, his wife Mary, also 52, daughter Mary Jane, 19, and 17-year-old son James, were the occupants of Bellona in the early 1900s. James senior was the son of James Low and Christina Hourston, Quoyjennie, Frotoft, and he married Mary in 1880. She was the daughter of Gilbert Craigie, Turbitail, Wasbister, and Jean Gibson, at nearby Lower Burness, and she was born at Burness in August 1848. Their son James was later a gardener at Westness House.
Come the census of 1911, Bellona was home to the Robertson sisters: Betsy, 77, was a retired cook; Jane, a 72-year-old retired nurse; and Ann, 69, a retired laundry maid. Their parents were David Robertson [1806 – 1899], South Tofts, Egilsay, and Barbara Craigie [d1888].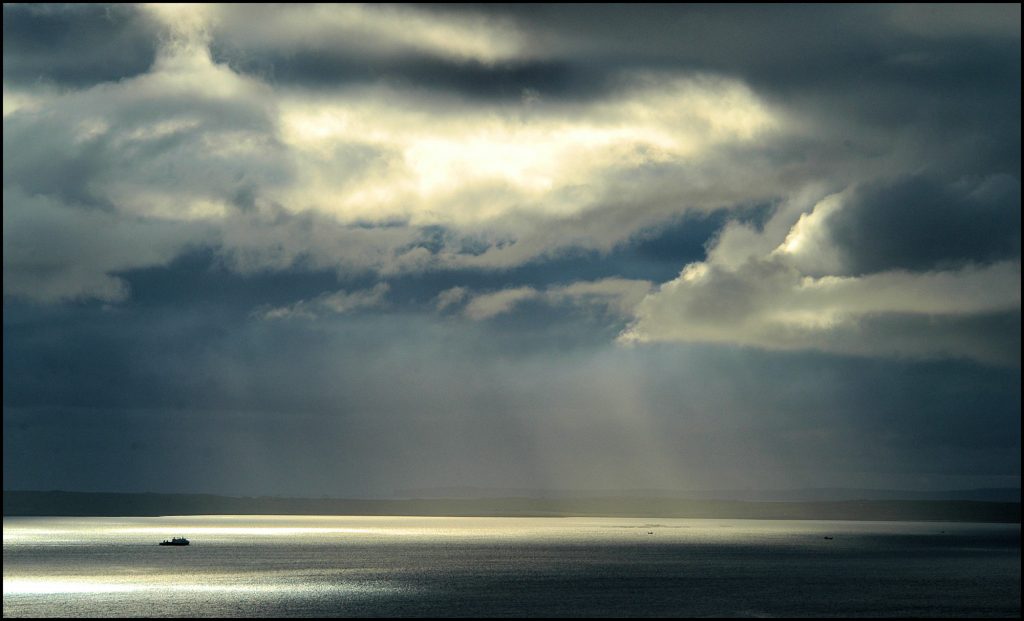 ---
The heading mentioned Cubbieroo, Bellona….and more. Well, here is 'more' – and it refers to four 'vanished' houses – Ladyhammer, Kitchenhall, Topsquare, and New Grindly. The only place these dwellings are mentioned are in the 1841/51 census – and I am assuming all in the Brinian, the next houses to be mentioned being Kirkha' and the United Presbyterian Manse. Hugh Marwick does not allude to them them in his 'Place-Names of Rousay', and they are not mentioned in Volume 16 of the Ordnance Survey Name Books of 1879-1880, which covers the whole of Rousay, Egilsay and Wyre.
Ladyhammer, or Leedihammer, was occupied in the early 1840s by 29-year-old fisherman John Johnston and his family. The son of Charles Johnston and Janet Harrold of Wyre, john was born c.1812. He married Elizabeth Reid, daughter of George Reid and Barbara Logie of Pow, Westside, who was born in 1815. Between 1838 and 1857 they raised nine children – six boys; John, Robert, William, James, Charles, and David, and three girls; Jemima, Jean, and Agnes. By 1861 the Johnston family had moved to Kirkha' and Ladyhammer was then occupied by Mary Marwick, a 40-year-old fisherman's widow and her six-year-old daughter Jessie. [See below]
Kitchenhall was occupied by 75-year-old pauper Robert Grieve and his 55-year-old wife Elizabeth in 1841. In 1851, 33-year-old fisherman William Marwick lived there with his family. William was the son of Hugh Marwick and Mary Yorston of Clook, Frotoft, and he was born on January 31st 1818. In 1846 he married Mary Craigie of Knapknowes, daughter of Hugh Craigie and Mary Yorston, who was one of twins born on April 26th 1819. They had three children; William, who was born on March 30th 1848; Peter, on December 11th 1850; and Jessie Alexina, who was born on June 11th 1854. William Marwick died in 1855, and Kitchenhall was never occupied again. His widow Mary moved into Ladyhammer, and towards the end of the 1800s she was living at 'Brinian Cottage', but she died in 1900 when she was in her 80th year.
Topsquare was occupied by 30-year-old Margaret Smith and her five-year-old daughter Betsy in the 1840s. Later occupants were stonemason William Robertson and his family. William was the son of Alexander Robertson and Margaret Irvine of Egilsay and he was born on January 3rd 1810. In 1844, he married Elizabeth Harcus, the daughter of William Harcus and Christy Flaws, who was born in 1809, and they had four children; twins John and William, who were born on November 16th 1846, Alexander on April 23rd 1849, and James, born on May 10th 1851. At the time of the 1851 census William's widowed mother-in-law, at that time in her 90th year, lived with the family at Topsquare
New Grindly was the name of a house between Topsquare and Kirkha' at the Brinian. When the census of 1841 was carried out it was occupied by 35-year-old fisherman Hugh Craigie and his family. Hugh was the son of Hugh and Isabel Craigie of Brough, Westside, and he was born on September 11th 1804. In 1823 Hugh was 19-years-old when he married Margaret Harrold (maiden surname Marwick – her second marriage). They had three children; Jean, Betty and Richard. The family emigrated to Dunedin in New Zealand in 1848 after the death of their elder daughter Jean. Sadly Betty, the younger daughter, died during the voyage. With them went Sinclair and James Harrold, Margaret's sons by her first marriage, and their wives, Barbara Sinclair, and Agnes Grieve.
[All black & white photos courtesy of the Tommy Gibson Collection.]