ERVADALE
In the 1503 land rental of Rousay, Ervadale was taxed as a 3-penny land farm in Sourin on the southern breast of Kierfea Hill between Wasdale and Brendale. Called Ovirdaill in 1563, and Overdale in another Rental of 1595, Hugh Leonard and James Craigie were joint tenants in 1653, and in 1740 John Craigie was the sole tenant. The land was valued in terms of early Norse money as ouncelands and pennylands. The old Norse silver mark was sub-divided into 8 ounces and in Orkney the ounce was divided again into 18 pennies – the land being valued as urislands (ouncelands) and pennylands – 1 urisland consisting of 18 pennylands.
The property was called Irvadale in the 1841 census. It was then occupied by 46-year-old farmer William Inkster and his family. He was the son of William Inkster and Robina Rendall and was born in 1795. He married Margaret Gibson, the daughter of William Inkster and Margaret Marwick, who was also born in 1795. Between 1823 and 1839 they had seven children; Bethynia, who was born in April 1823; Christian, in August 1825; Ann, in August 1827; William, in October 1829; Margaret, in July 1832 [she married John Craigie, son of John Craigie and Marion Louttit, Hurtiso, later Myres, raising a family of seven – all but the first two being born in Unst, Shetland]; James, in March 1836; and Hugh, who was born in February 1839. Hugh had a particularly interesting life, ranging from Ervadale, Rousay, to Greenfield, Shetland, and back to Westness Farm, Rousay. Click > here < to read more about him.
By 1845 the Inksters had moved to Finyo, a house on the farm of Banks in Sourin, and later to nearby Quoys. Arvodale, as it was then spelled in the census, was occupied by 48-year-old farmer John Marwick who had moved there from Banks, and he paid an annual rent of £15.8.0. John was the son of Hugh Marwick and Betsy Sinclair, another of her 'ten devils,' born on January 31st 1803. On February 2nd 1829, he married Betsy Mainland, daughter of James Mainland and Christian Louttit of Cotafea, who was born there on June 25th 1806. They had no children of their own, but adopted their nephew James Marwick, who was born in September 1831, the son of John's brother Robert, whose wife Bell was Betsy's sister.
When James Marwick was 25 years old he married Mary Baikie on March 4th 1856, daughter of Peter Baikie and Helen Moar of Evie, and between 1857 and 1865 they had five children: James was born in January 1857 [married Jane Drummond Harcus, North Pharay, and went to Hamilton, Ontario]; John, in April 1858 [married Mary Mitchell, Shapinsay, and went to South Ronaldsay]; George Ritchie [christened after the Rev. George Ritchie, at whose manse Mary had worked prior to her marriage] born in February 1860 [married Betsy Gibson, Knarston]; Robert [married Janet Bertram Johnston, Musselburgh, and went to Victoria, British Columbia], in October 1862; and David Baikie, who was born in November 1865 [he married Elizabeth Norquay, and they went to South Chicago, USA]. At this time James earned a living as a ploughman, and eventually in 1871 he was a farmer in his own right, and head of the household of the 63-acre farm at Ervadale. They lived in Hurtiso for a while, before moving to Bankburn, South Ronaldsay.
In 1881, the land at Ervadale was farmed by John Mainland, who paid £40.0.0. rent for the 43 acres arable and 32 acres of pasture land. John was the son of Alexander Mainland and Janet Kirkness, Cruseday, and he was one of triplets born on February 23rd 1839. His first wife was Margaret Craigie, daughter of Magnus Craigie and Christian Craigie, House-finzie, or Finyo, Sourin, though she died in April 1880. Later that same year, on November 4th, John married Mary Craigie Gibson, daughter of Hugh Gibson [who was a twin], and his third wife Margaret Harcus, Burness, Wasbister, who was born in December 1835 when they were living at Geo, Westside. John and Mary later lived at No. 3 Frotoft, or Brough, and moved from there to Ervadale. They had no children, but lived on the farm with Mary and John Corsie Mainland, the children of John's first marriage to Margaret Craigie. Mary was born on June 8th 1866, and John on July 28th 1869.
After John and Mary moved to Stronsay, the Moodie family, from Saltess, Lady, Sanday, occupied Ervadale. The 1901 census records Benjamin Moodie being 48 years of age and living in one part of the house at Ervadale with his children, and his mother Janet being kept company by her daughter Janet in another. Benjamin was the son of Benjamin Moodie and Jannet Drever, and he was born on May 4th 1852 at Saltess, in Lady parish, Sanday. In 1882 he married Mary Sinclair, daughter of David Sinclair and Margaret Muir, Tangbrae, Cross parish, Sanday, who was born in June 1853. She and Benjamin had five children: Maggie Ann, who was born in 1885; twins Benjamin Drever and David Sinclair in 1887; and another set of twins, Mary and James Skethaway, who were born in January 1889. Their mother Mary passed away just before the 1901 census was carried out.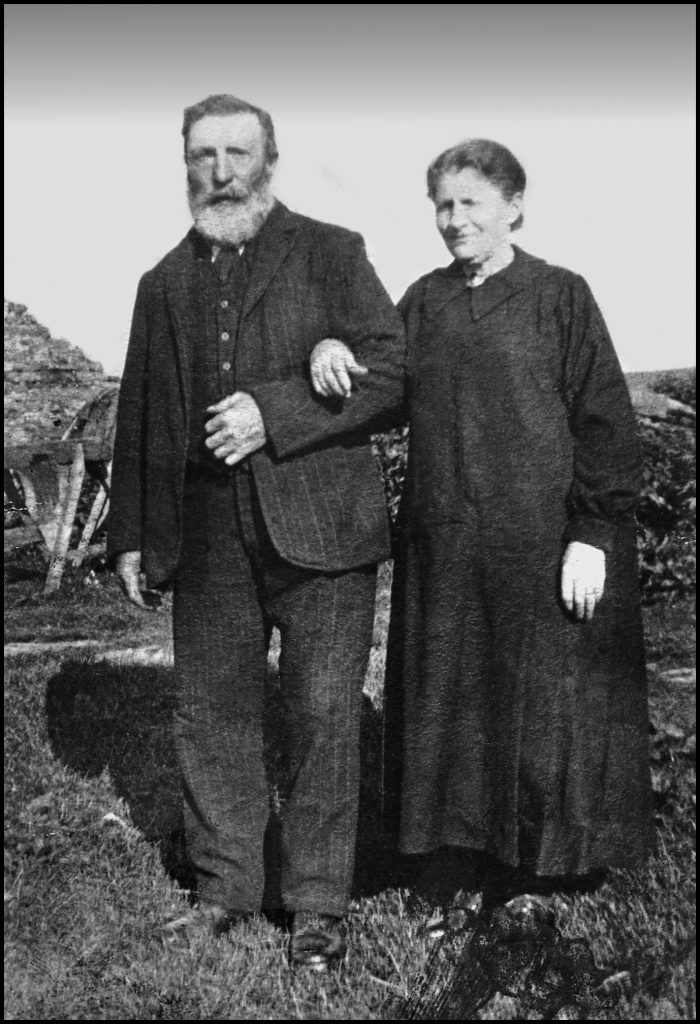 After Benjamin moved to North Folster, Birsay, Ervadale was occupied by Robert Lyon and his family from Graemsay. Robert Watson Lyon was the son of George Lyon and Margaret Linklater of Breckan, Graemsay, and he was born there on November 18th 1855. On February 28th 1885 he married Catherine Lyon, daughter of Hugh Lyon [1816-1898] and Isabella Sinclair of Clett, Graemsay, and she was born there on November 15th 1858. They had five children: Margaret Ann, born in November 1885; Georgina, in June 1888; Agnes, in September 1891; James Robert, in May 1895; and Catherine, who was born in 1897. – Robert and Catherine are pictured to the right in their latter years
In 1916 James Robert Lyon married Margaret Jean Craigie, daughter of Hugh Harold Craigie, Ha'breck, Wyre, later Swandale, and Mary Mainland, Ervadale, who was born in November 1893. They had seven children: Margaret Mary, born 1916 [married Thomas Donaldson, Vacquoy, later Coldomo, Stenness]; Catherine Isabella, born 1919 [first married James Marwick, Innister, then Hugh Mainland, Sailan]; James, born 1920 [later Dounby, married Annie Smith]; Ann, born 1923 [married William Wood, Aikerness, Evie]; Hugh, born 1925 [married Sheila Mainland, Nears, later Hestwall, Sandwick]; Robert Watson, born 1929 [later Clook, Stromness, married Rene Hourie]; and Elizabeth Craigie [Elsie], born 1932 [married John Marwick, Falquoy, later Redland, Stromness].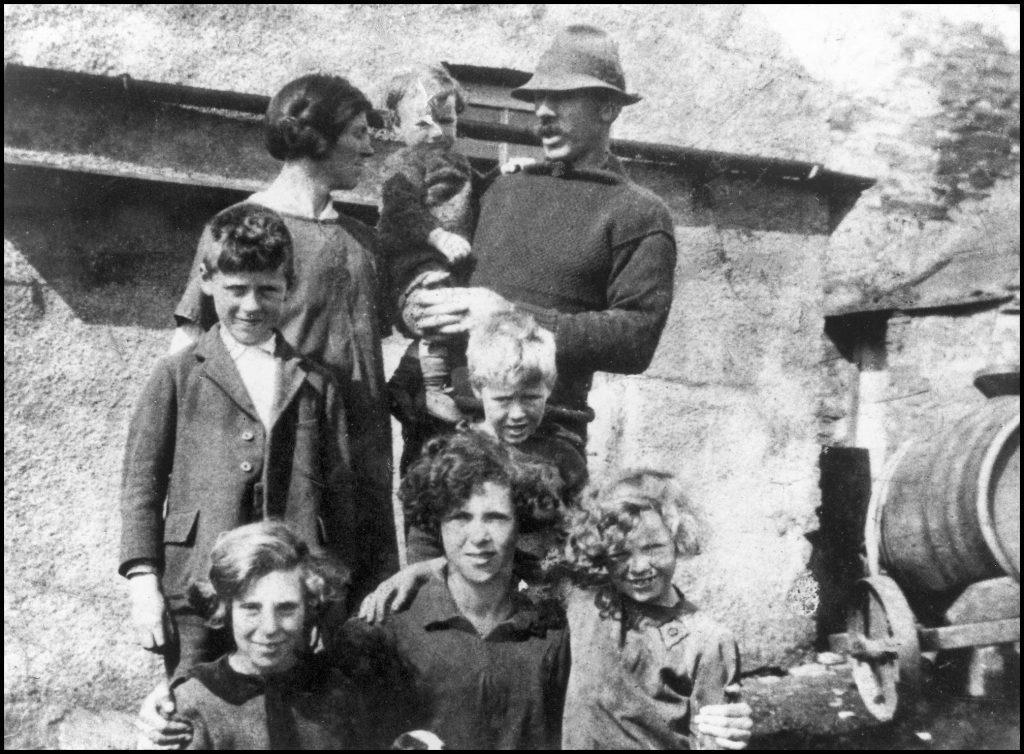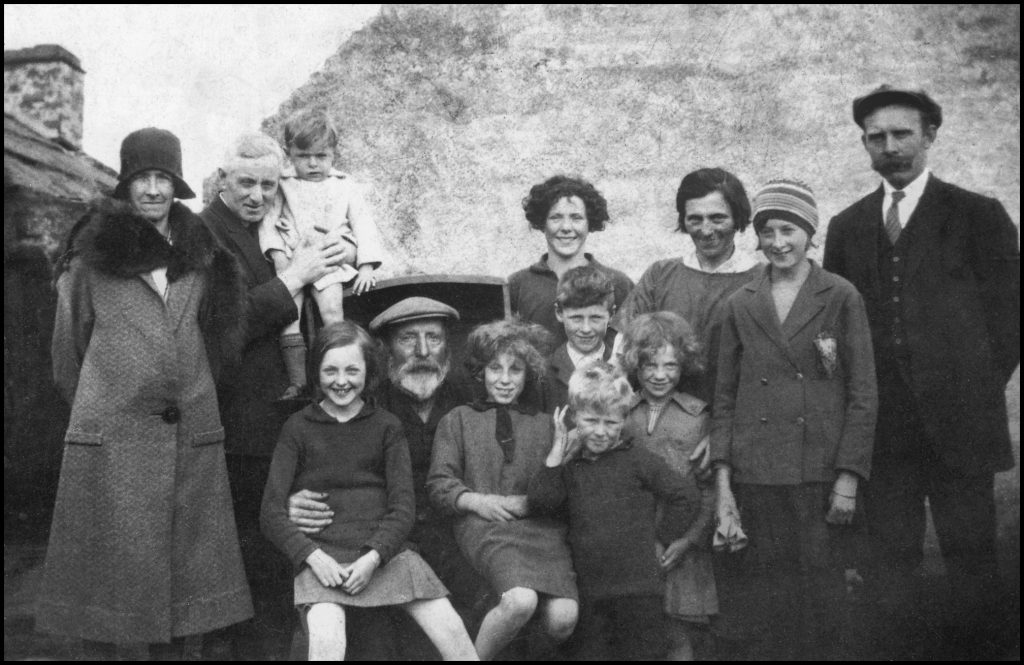 Beryl Simpson writes: Robert Watson Lyon was my great-grandad through Catherine and Bertie Gillespie's great-grandad through Agnes. They lived on Graemsay, then moved to Stromness, but moved to Rousay when their peedie lass died and great granny blamed the drinking water for her death. The lived at Ervadale and our great grand parents died the same day [16 May 1943] never knowing the other was dead. Granny said it was hard on them but the best way for them to go. They are buried in the Brinian kirkyard.


BRENDALE
Brendale, an old farm in Sourin to the east of Ervadale, was occupied by George Sinclair in 1653, John Moss in 1737, John Craigie in 1739 and Thomas Mowat in 1740.
Hugh Marwick, in his Place-names of Rousay, has a suggestion as to the origin of the name Brendale. Many years ago Rousay land was taxed in such a way that original farmland was split into 'units' or subdivisions of some larger original settlement. The very names of two of these – Ervadale and Brendale – tend to confirm such a conclusion. Though the earliest extant spelling of each name would imply that the termination is simply our -dale (or valley : Old Norse dalr), the present-day pronunciation still proclaims otherwise. These names are pronounced locally Brendeal (-dil) and Ervadeal (-dil), whereas real -dale names in Rousay are pronounced -dəl, e.g. Swandale (Swan-dəl), Quendale (Kwan-dəl). But still more convincing is the fact that neither lies in a dale at all; both are situated on the south shoulder of Kierfea! The termination in each case is, then, he suggests, Old Norse deild, a share, portion, divisional part.
In 1845 James Gibson was the tenant of Brendale and he was paying an annual rent of £13.17.0. James, the son of John Gibson and Christy Mainland Marwick, was born c.1781 at Bigland, and he married 24-year-old Christian Harcus on January 9th 1807. This was a common name for girls in Rousay families until the early 1800s when the form 'Christina' became more common. They lived at Brendale and had ten children: John was born in December 1808; William, in April 1811; Jean, in May 1813; Ann, in October 1815; Margaret, in April 1818; Christian, in June 1820; Isabella, in June 1822; James, in May 1825; another James, in March 1828; and another James, who was born in July 1829. Sadly all three James' died in infancy.
James died in 1866 at the age of 85; his wife Christie having herself died in 1861 aged 78. Their 59-year-old son William, a bachelor, took over the running of the 69-acre farm at Brendale, the rent for which, by this time, was £21.0.0. per annum. Living with him was his unmarried 55-year-old sister Ann, 31-year-old niece Margaret Gibson, who was an agricultural labourer, and two cousins, 15-year-old James, who was a farm servant, and Jessie, who was then a scholar nine years of age and also employed as a herd. William gave up working the land at Brendale due to bad health, and ended his days living at nearby Filliehall where he passed away on December 10th 1884.
When William Corsie moved into Brendale in the early 1880s, from Geramount in Frotoft, he had to pay £42.0.0. rent for the farm's 36 acres arable and 35 acres pastureland. William and his wife Ann Smeaton Leonard were in their latter years by then, eventually retiring from farming in 1889. They then lived in Albert Street, Kirkwall, and were featured on the front page of The Orcadian when they celebrated their diamond wedding anniversary in 1913. [Click > here < to read the newspaper report.] The eldest of their thirteen offspring was christened Margaret Mainland Corsie, having been born in March 1854. In 1873 she married Hugh Smith Robertson, son of David Robertson and Barbara Craigie, South Tofts, Egilsay, who was born in September 1847. They had six children: Hugh Corsie, who was born in 1874; Margaret, in 1875; William, in 1876; Elizabeth Jane, in 1878; David, in 1883; and Annie, who was born in 1885.
Brendale had a new tenant – farmer John Russell from Evie. He was the son of Magnus Russell and Jane Wood, Craya, Evie, and he was born there on September 13th 1838. On May 8th 1873 he married Margaret Ann Moar Harper, daughter of blacksmith Peter Harper and Isabella Folsetter, Lylie, Birsay, and she was born in 1849. They had ten children: Williamina Wood, who was born in 1874; Lydia Wood, in 1875; Jane, in 1877; Margaret, in 1879; Mary Jane, in 1880; John, in 1881; Ann Seatter, in 1882; William, in 1885; James, in 1888; and Catherine, who was born in 1890.
Above left: John Russell, born 1881. Centre: his brother James on the left, with Willie
Corsie, Knarston, son of John Corsie, Brendale, and Margaret Skethaway, Knarston.
He married Lydia Baikie, Sourin school teacher. Above right: James' wife
Agnes Munro, mentioned below.
John Russell was 88 years of age when he passed away at Brendale on October 21st 1926. Head of the household then was his son James Roy Sinclair Russell, born at noon on July 27th 1888. On September 4th 1914 he married 34-year-old Agnes Macdonald Munro, the daughter of Alexander Munro and Christina Stephen. The ceremony was held at Old School, Sourin, where Agnes was the postmistress. The officiating minister was the Rev Alexander Irvine Pirie, and the witnesses were Hugh Munro and Mary Gillespie. James and Agnes had four children: Roy Sinclair, who was born in 1918; Hugh Alexander, in 1919; Chrissie Davina, in 1921; and Nessie Alberta (Netta), who was born in 1925.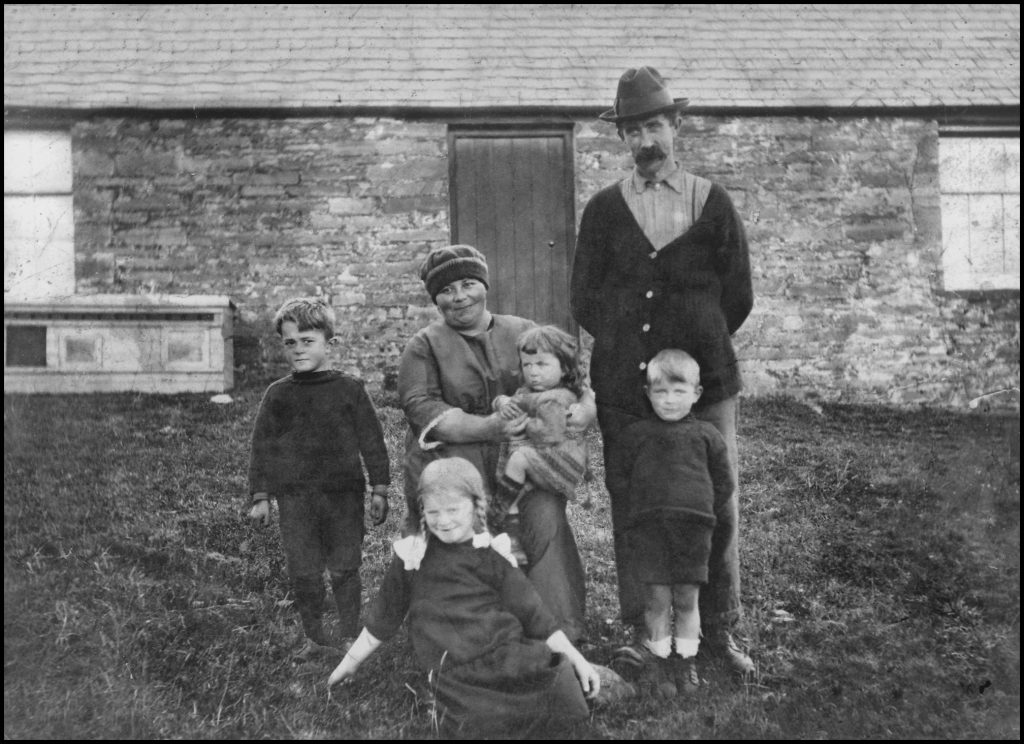 [All photographs courtesy of the Tommy Gibson Collection]